HOME
Welcome to
Junior Reds
Football Club
London FA
Charter 
Standard
Community Club
---
CAN YOU HELP A TEAM?
Ever thought of getting involved with Junior Reds FC?
The club is totally dependant on volunteers to coach and manage a wide spectrum of teams ranging from Under 7's right through to the Senior squads.
We are always looking for new volunteers to help out within the club and have the following opportunities available :-
Coaches

Managers

Assistant Coaches

Assistant Managers
You don't have to be an experienced FA Level 1 or 2 coach as enthusiasm and reliability are just as important.
If you're interested and want to help then please contact:
Clive Chivers on 07504 264157 or e-mail clive.chivers@juniorredsfc.com
---
SATURDAY SOCCER CLUB
The Saturday Soccer Club operates every Saturday morning in Bexleyheath and is open to any ability from 5 to 10 years of age (I.e reception to Year 5). The sessions operate on a simple pay and play "casual" basis. Click on the link to find out more Saturday Soccer Club
---
LATEST NEWS
JR Robins support the Kent FA Youth Council's, 'Swearing – Lets Tackle It' Campaign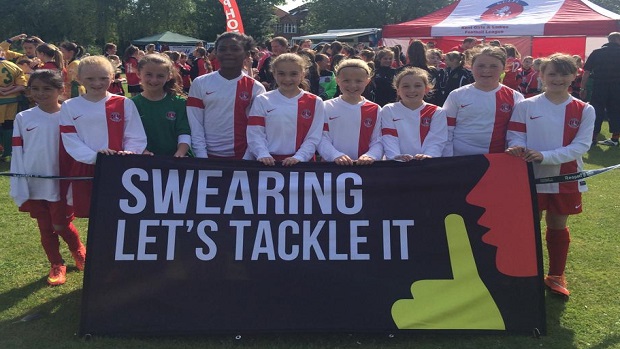 The following news story is taken from the Kent FA website:-
Over a year since the Kent FA's ground breaking Youth Council proudly launched its award-winning SWEARING – Let's Tackle It' campaign, the organisation's Youth Ambassadors continue to eradicate foul and abusive language in the game.
Working hard with partner leagues, the SWEARING – Let's Tackle It message continues to travel around the county.
This weekend, Youth Ambassadors attended the Kent Girls and Ladies League finals to further emphasise the need to make football a positive and fun environment for everyone.
The event, which welcomed hundreds upon hundreds of female footballers of all age groups from across Kent, proved to be a perfect back drop for the Youth Ambassadors to engage clubs, coaches, referees and players.
Youth Ambassador Laurel Collins, who is leading the SWEARING – Let's Tackle It project, was delighted with the reaction the campaign received.
Collins said, "We've been taking SWEARING – Let's Tackle It all over the county to several league finals from the adult's game to Kent's girls and ladies league. The purpose of our campaign was to universally challenge the idea that certain language and behaviour is acceptable on the touch lines. The Kent FA Youth Council believes that foul and abusive language can have a huge impact on people; whether the referee, a player or a supporter."
"Our message is clear in our campaign video, but going out into the Kent football community like we've been doing, helps us build relationships, speak to leagues and clubs and explain a little bit more and share best practice."
"We've received some great feedback to the concept with a number of clubs and leagues being really proactive and supporting us. Whether that's by including the campaign branding on their website, social media or within their ground, to approaching us to be part of their end of season occasions."
"We'll be looking to continue to embed this campaign, considering how we can add an educational element to further ensure Kent football remains ahead of the game in tackling this issue."
Watch the Youth Council's video on the Kent FA YouTube channel by clicking here.
For further details please contact Lee Suter (Football Development Officer) on 01622 792 140 lee.suter@kentfa.com
Read more at http://www.kentfa.com/news/2015/may/youth-ambassadors-continue-to-tackle-swearing#k0DJkMeBvQVkwfmg.99
---
Bob Staggs Memorial Shield Finals
Four Junior Reds teams took part in Sunday 17th May 15 Shield Finals.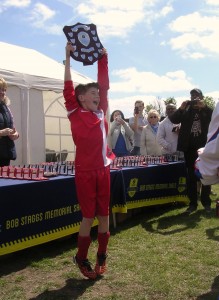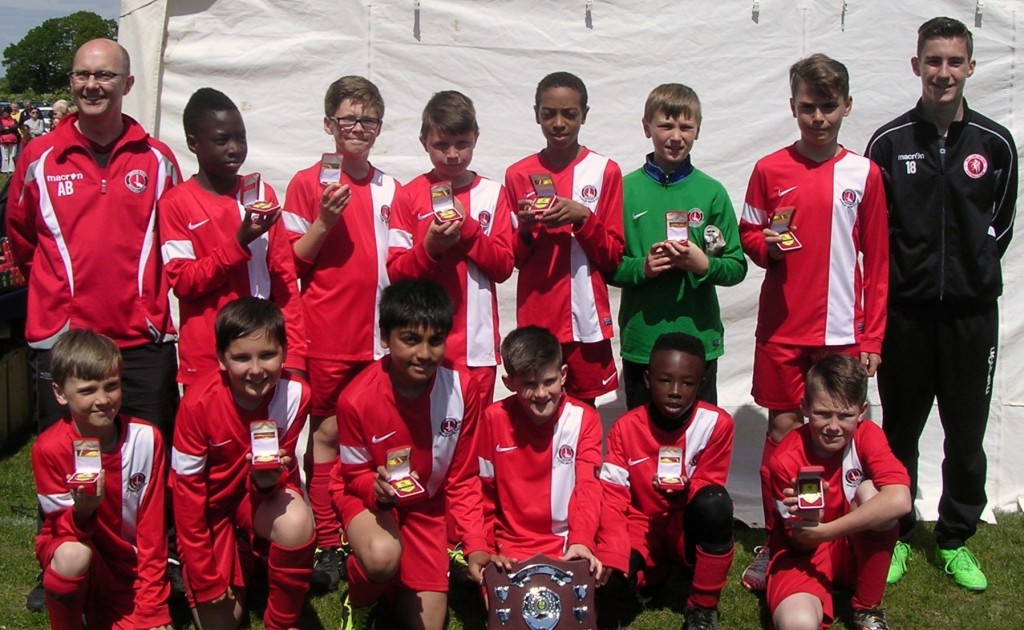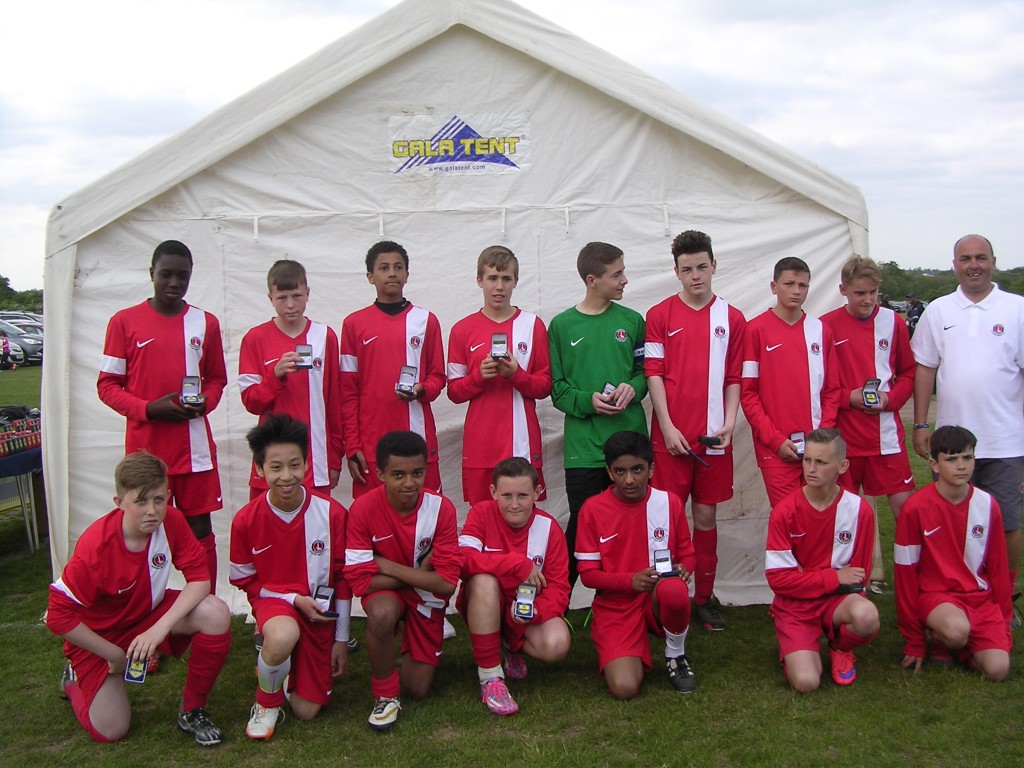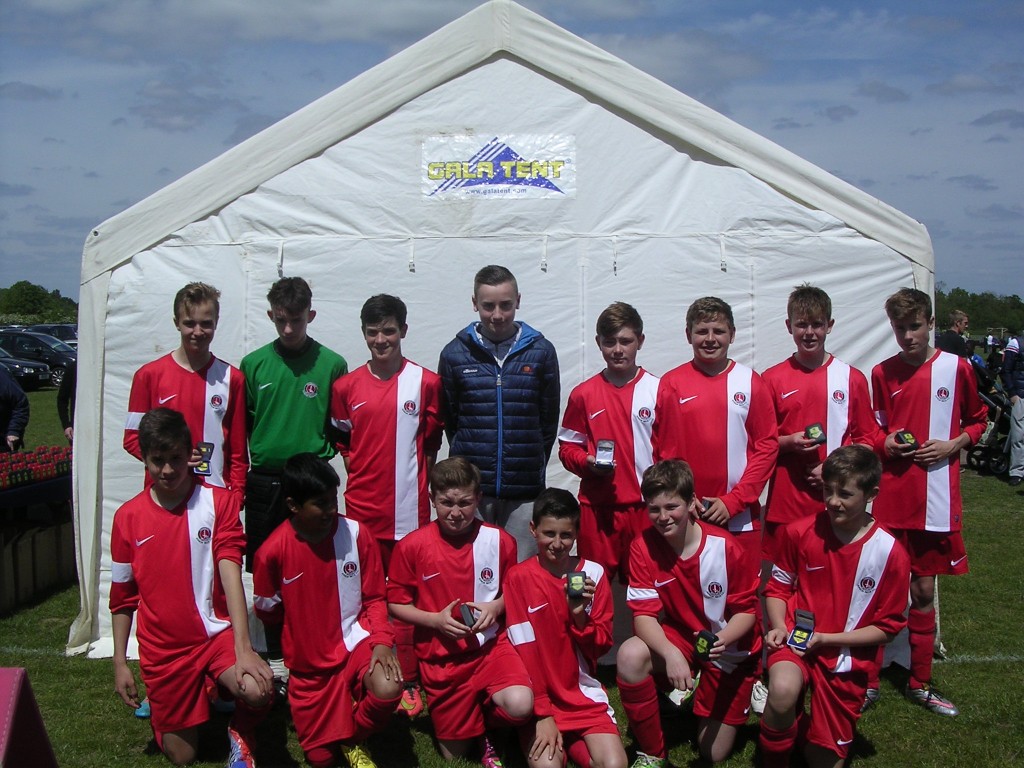 The U11 Spartans and the U12 Valiants were both victorious, with Spartans winning 3-0 against Our Lady Youth Orange and the Valiants winning 3-2 against North Kent Aces.
Our U14 Valiants and U14 Warriors both put up spirited performances but unfortunately couldn't get the result they richly deserved.
Well done to all for reaching their respective finals and congratulations to U11 Spartans (Purple Shield) & U12 Valiants (Red Shield). 
---
Girls win Cup final in their first season
Congratulations go to the Junior Reds Under 11 Girls for winning the "Tina Marshall" Cup final in their first season – a remarkable achievement.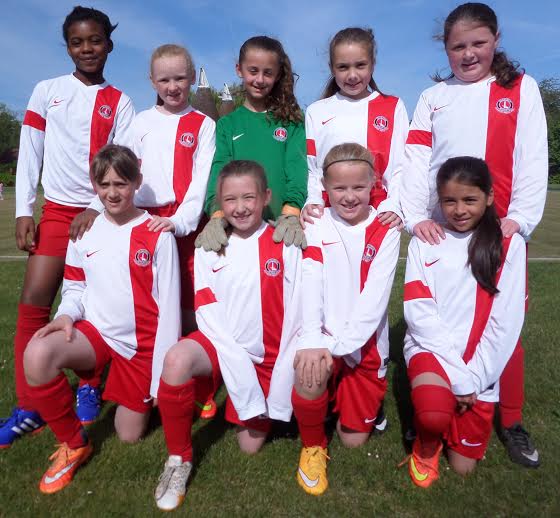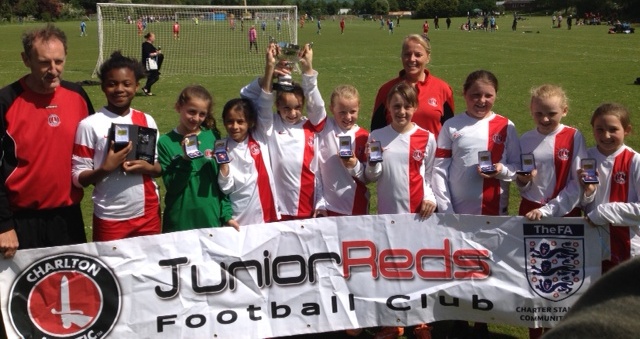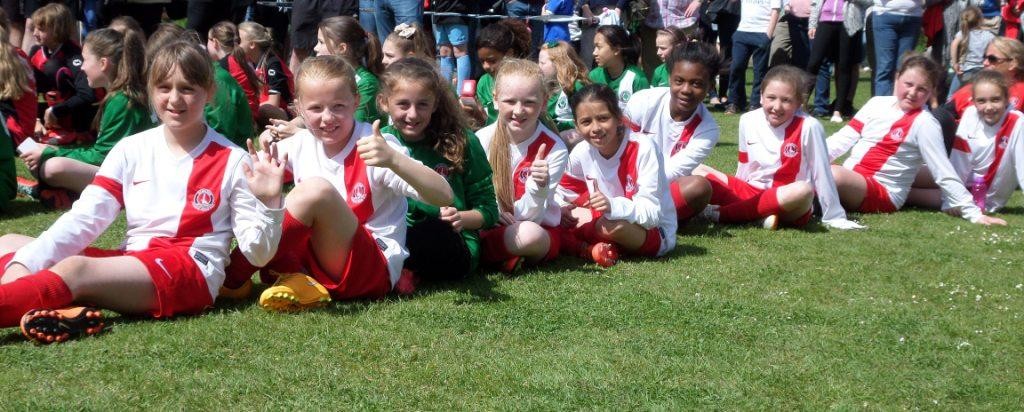 The Girls were up against Castle Colts from Maidstone in a final played at the home of the Kent FA Headquarters in Aylesford. All Girls played to a high standard with some skill on a fine playing surface. Two goals from Libby Miller and one from Paula Umora sealed a 3 goals to one victory. A perfect finish to end the season.
Club Secretary- Andy Wood – Commented " A fantastic first season for the girls. All the hard work of the players and coaching staff has been rewarded with not only a cup win but also a strong third place finish in the U11 West Division of the Kent League. My congratulations go to Grainne and the girls and I would like to add a special thanks to Club Chairman – Clive Chivers – for having the ambition,drive and commitment to make the girls section the success that it is."
The Girls will be playing 9 a side football next season and require a couple of additional players. If interested contact Grainne Feeney on 07828 164 557
---
Tina Marshall Cup Final: JR Robins vs Castle Colts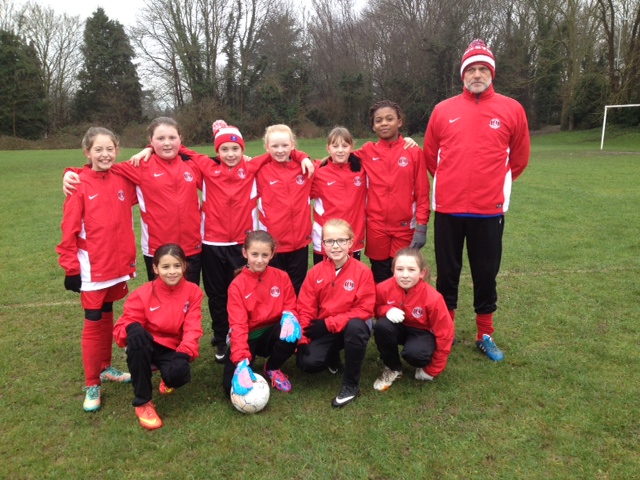 Congratulations go to our girls Junior Reds Robins U11 squad who have also reached the Tina Marshall cup final.
The girls will be facing Castle Colts from Allington, Maidstone. The final is to be played on Sunday 17th May at Cobdown Sports and Social Club, Station Road, ME20 6 Aylesford, Kent. Kick Off at 10.00am
Well done to all those involved with the team, a great achievement for your first season together. Best of luck in the final.
---
More Bob Staggs Memorial Shield Finalists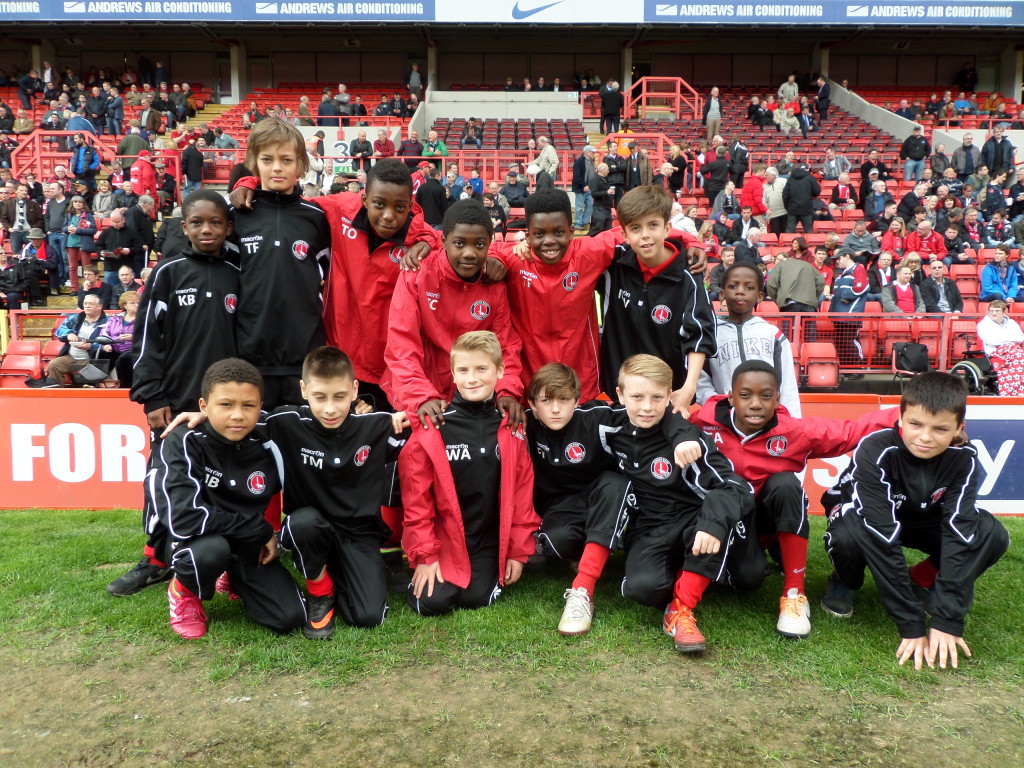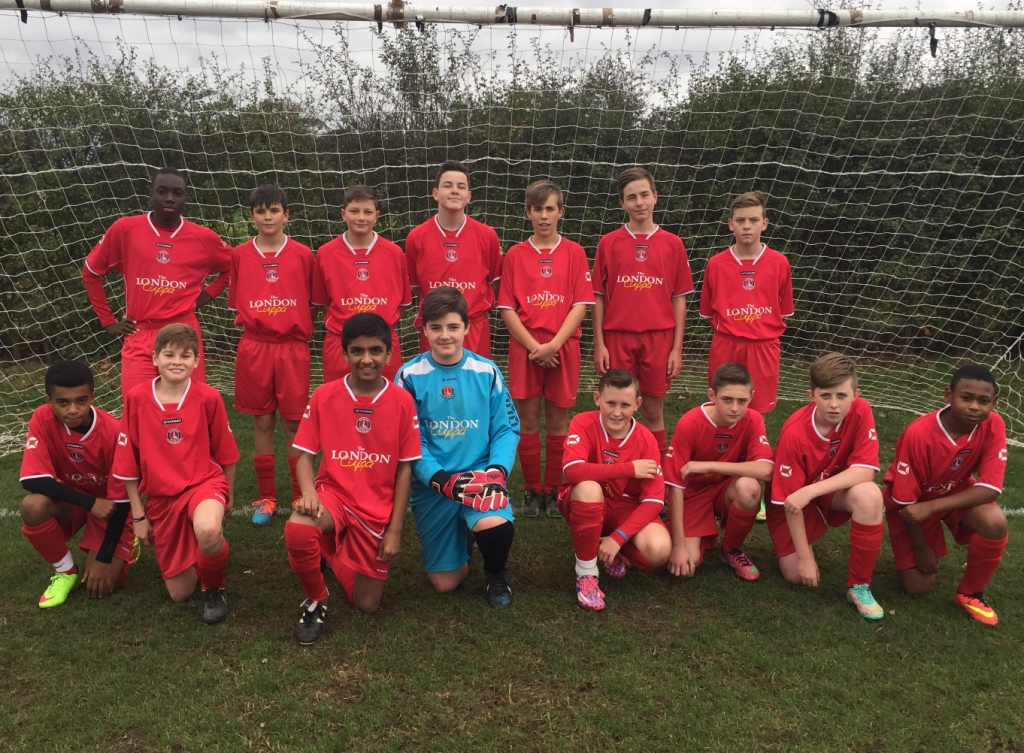 Congratulations to JR Valiants U12 and JR Valiants U14 who have both made it through to their respective Selkent Bob Staggs memorial shield finals.
Valiants U14's will be facing Swanscombe Tigers and Valiants U12's opponents are still to be confirmed.  Both finals are to take place on the 17th May 2015 at Petts Wood FC's ground at Barnet Wood Lane, Hayes.
Well done to all those involved with both teams and good luck in the finals.
---
JR Valliants U7's Challnge Cup Final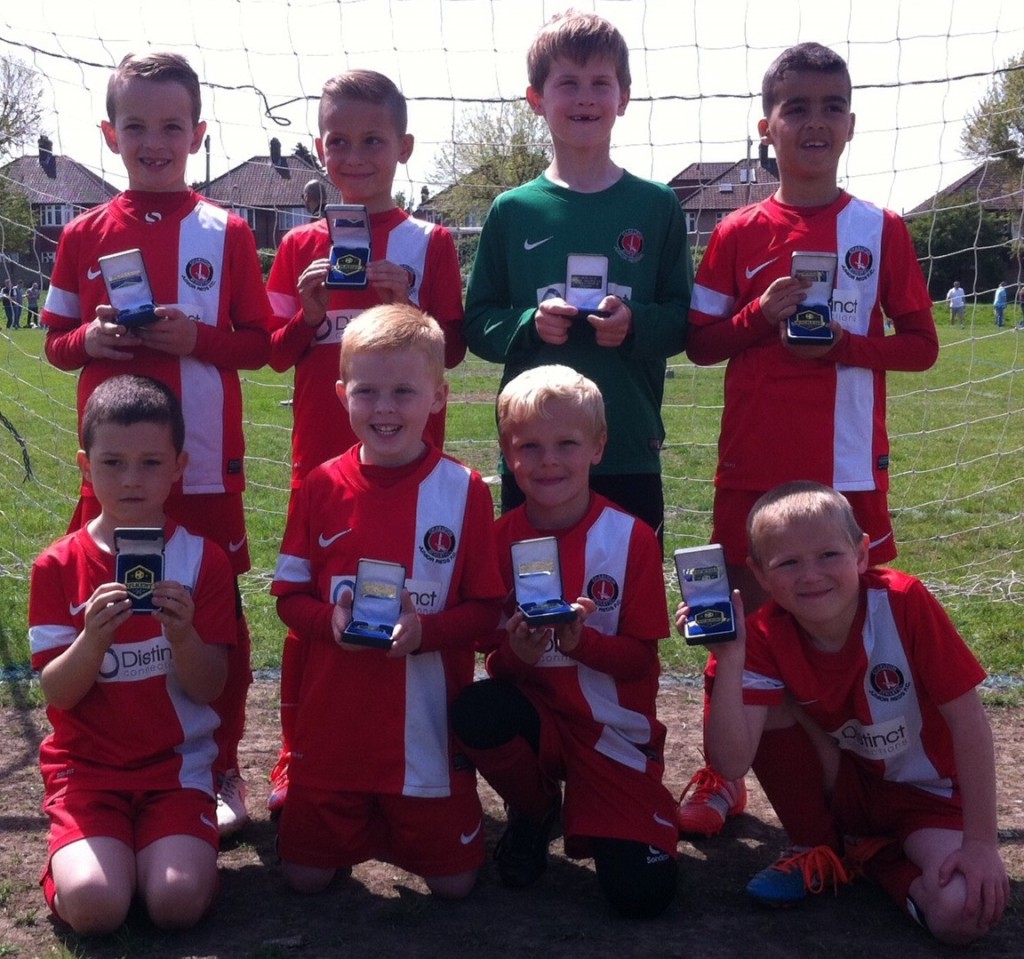 Junior Reds Valiants finished as runners up in this mornings U7 Challenge Cup Final.
It was a pulsating final between three outstanding teams. Junior Reds drew 2-2 against Dartford and then came back from 3-0 down to narrowly lose 3-2. In the final game AFC Allstars beat Dartford 3-2 to lift the cup.
In a final twist, Junior Reds and Dartford had to play off for the runners up medals. This ended 0-0 so they went to penalties and Junior Reds ran out 3-2 winners.
Well played to the Valiants, who are pictured with their runners up medals and congratulations to AFC Allstars on winning the cup.
---
Under 9 Sabres at The Valley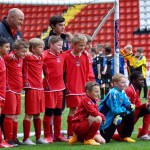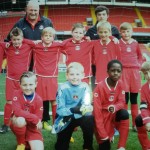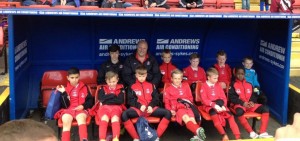 The Under 9 Sabres are pictured here taking part in a youth tournament held at Charlton Athletic FC ground the Valley on Saturday 9th May. The team drew three games and lost one.
We hope you all enjoyed playing on Charltons pitch lads!
---
Bob Staggs Memorial Shield Finals
Congratulations to JR Spartans U11 and JR Warriors U14 who have both made it through to their respective Selkent Bob Staggs memorial shield finals.
Spartans will be facing Our Lady Youth Orange and Warriors will be be up against Gravesham Town.  Both finals are to take place on the 17th May 2015 at Petts Wood FC's ground at Barnet Wood Lane, Hayes.
Well done to all those involved with both teams and good luck in the finals.
---
Date for the diary – Season 14-15 Annual Presentation Day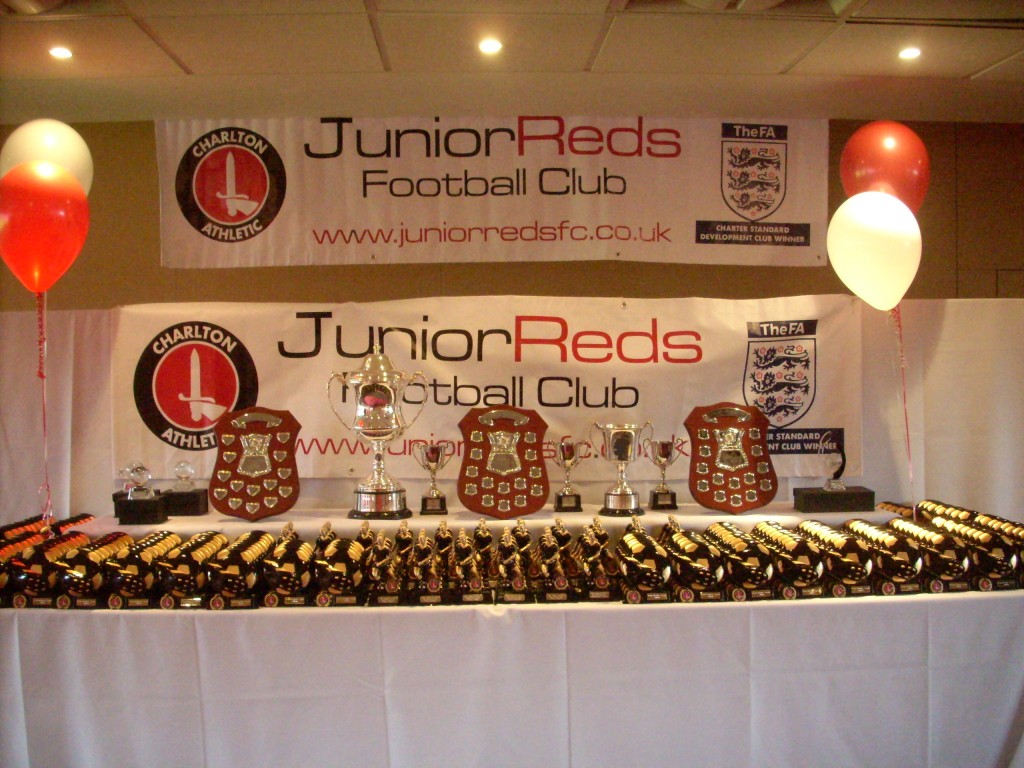 We can announce that the annual teams presentation day is planned for Sunday 28th June 15.
The presentations will take place at Charlton Athletic Football Club. More details to be released shortly.  
Team managers please remember to get you nominations for Players Player, Managers Player and Club Sportsman to Danny Masters and your end of season summary note for the annual presentation programme completed and returned to Stephen Allix. All information is needed on or before the 24th May 2015. 
---
FA Skills team support Junior Reds Girls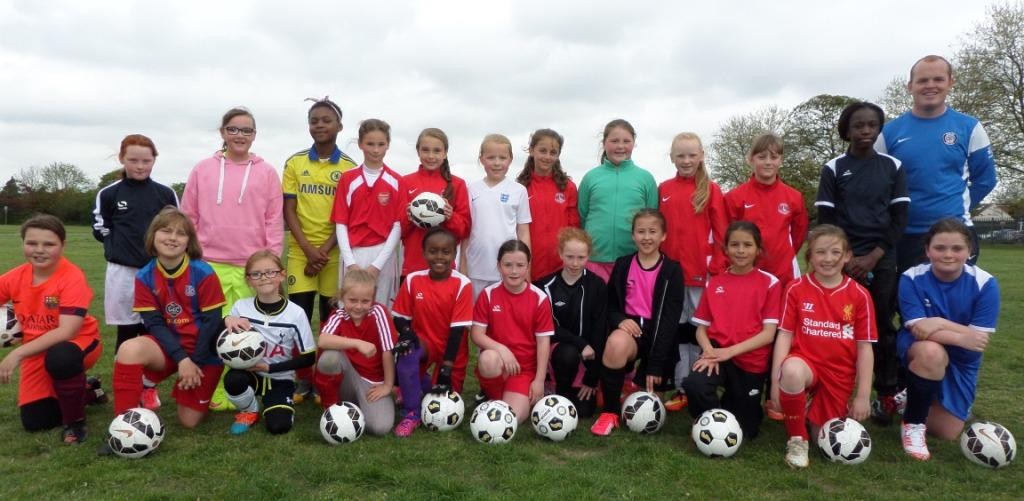 The Junior Reds Girls football section has been fortunate to have received some expert Coaching from the FA skills team over the last few weeks. Andrew Hill, a UEFA "B" Coach, has been in attendance providing advice and support to the Girls and Coaches alike. This has given the Club an excellent opportunity to introduce new ideas which are always welcome.
Pictured is Andy and the Girls after a training session on a Saturday morning at Bexleyheath Academy.
Players interested in joining the Under 9 – 14 Girls teams for next season should contact Grainne Feeney on 07828 164 557 or Clive Chivers on 07504 264 157 or email Clive@juniorredsfc.co.uk
---
U14 Valiants meet Alan Curbishley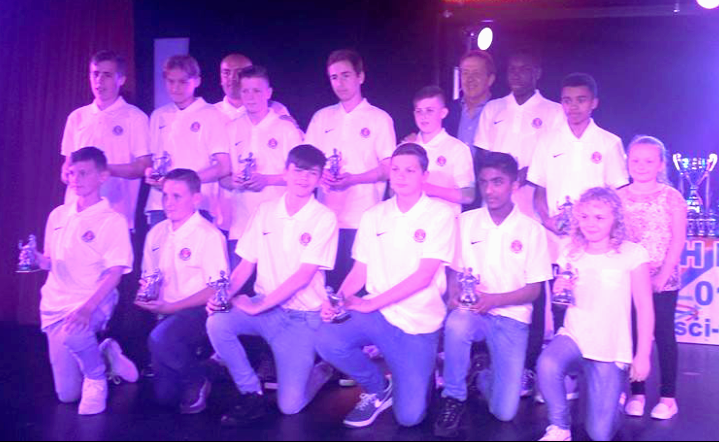 Following the Under 14 Valiants participation in the May Bank Holiday tournament at Hastings, East Sussex, look who was presenting the team with their tournament medals. Yes it was none other than ex-Addicks manager Alan Curbishley.
Well done Valiants hope you had a great weekend of football.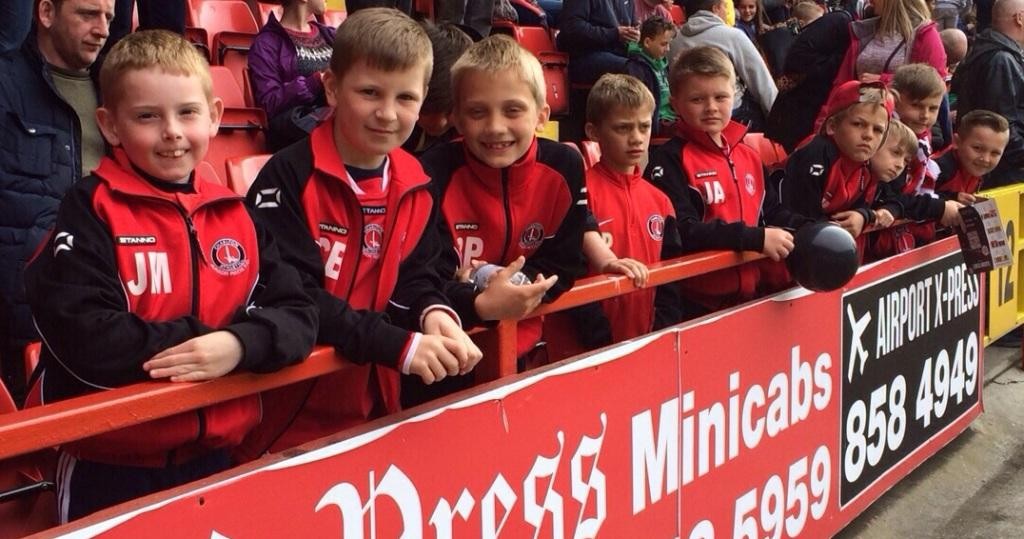 The under 9 Sabres enjoyed a day at the Valley watching Charlton v Bournemouth last weekend. The squad had a great afternoon but unfortunately Charlton didn't finish the season with a win, however the boys did get to see Bournemouth AFC the Championship league winners lift the cup.
---
Spartak U8 at Welling United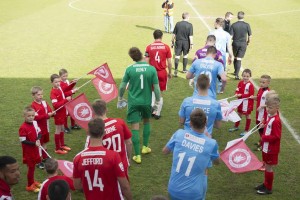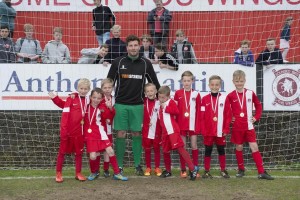 On the final day of the Vanarama Conference season Junior Reds Spartak U8's were lucky enough to be the team of the week at Welling United. The boys were on the pitch at the start of the game to lead the guard of honour, then had a chance to take penalties at half time against first team goalkeeper Mike McEntegart.
Unfortunatly Spartak's unbeaten league form didn't rub off on the Wings as they went down 1-0 to a Southport 35 yard wonder goal.
---
Giving Girls football a boost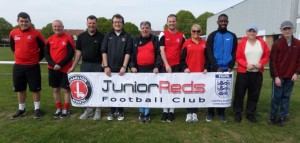 To promote Girls football in the local area Junior Reds held a football tournament in April at their mini soccer home ground at Danson Youth Centre.
Six Primary Schools took part –  Bedonwell, Dartford Bridge, Northumberland Heath, Pelham, St. Stephens, and Willow Bank – entering a total of nine teams in the School Year 3-4 and 5-6 competitions. London Football Association Coaches were in attendance for a communal "warm up" session and to present trophies.
The eventual winners were Bedonwell School for the Year 5-6 competition and St. Stephens for the Year 3-4 competition. The two teams are pictured below.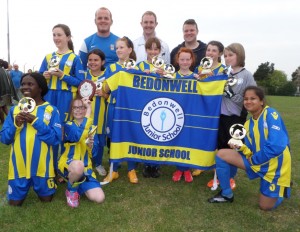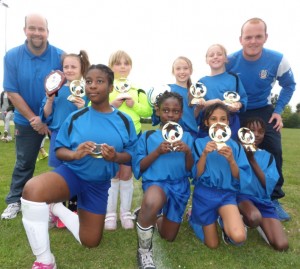 Club Chairman, Clive Chivers, said "Junior Reds Football Club do not traditionally organise football tournaments. We did, however, decide to make an exception as we felt Girls football is sadly underrepresented in the local area. Several Schools were invited to attend an exclusive Girls football completion and we were delighted by the positive responses received. A large number of the Club Coaches volunteered to assist and my thanks go to all. Several are pictured before the start of the event.
We currently have just one Under 11 Girls football team. We are keen to provide greater football opportunities at other age groups for next season and in particular to forms Girls teams in the Under 9, 10, 11, 12, 13 and 14 age groups, being current School years 3 to 7. If interested contact either Grainne Feeney on 07828 164 557 or myself on 07504 264 157 or email Clive@juniorredsfc.co.uk. The Girls football group can be found at Bexleyheath Academy on Saturday mornings (starting 10.00am)"
---
ABOUT THE CLUB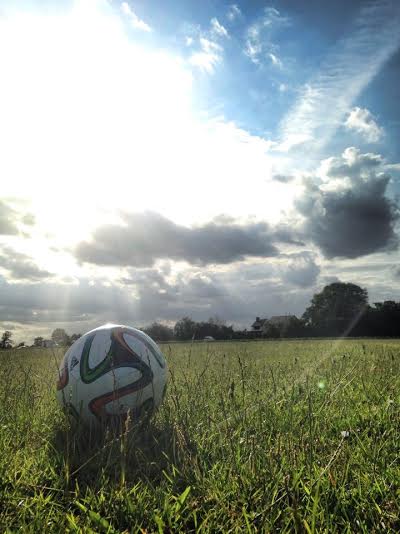 The Junior Reds Football Club was formed in 2001 to provide boys and girls, between the ages of six and eighteen, with the opportunity to compete in local Sunday Football Leagues in South East  London and  North Kent. The Club has steadily grown and now has 42 teams competing in the Kent Youth League, Bexley  and  District Junior League  or the South East London and Kent Youth League (SELKENT). 
Click here to find out more details of the clubs history.
---
PLAYER & MANAGER RECRUITMENT
If you are interested in joining the Junior Reds, please contact:
Mobile: 07968 946256 or e-mail angela.wood@juniorredsfc.com
Clive Chivers, 

Club Secretary
Mobile: 07504 264157 or e-mail clive.chivers@juniorredsfc.com
Daniel Masters, 

Club Recruitment Officer
Mobile: 07957 740270 or e-mail daniel.masters@juniorredsfc.com
---