HOME
Welcome to
Junior Reds
Football Club
London FA
Charter 
Standard
Community Club
---
CAN YOU HELP A TEAM?
Ever thought of getting involved with Junior Reds FC?
The club is totally dependant on volunteers to coach and manage a wide spectrum of teams ranging from Under 7's right through to the Senior squads.
We are always looking for new volunteers to help out within the club and have the following opportunities available :-
Coaches

Managers

Assistant Coaches

Assistant Managers
You don't have to be an experienced FA Level 1 or 2 coach as enthusiasm and reliability are just as important.
If you're interested and want to help then please contact:
Clive Chivers on 07504 264157 or e-mail clive.chivers@juniorredsfc.com
---
SATURDAY SOCCER CLUB
The Saturday Soccer Club operates every Saturday morning in Bexleyheath and is open to any ability from 5 to 10 years of age (I.e reception to Year 5). The sessions operate on a simple pay and play "casual" basis. Click on the link to find out more Saturday Soccer Club
---
LATEST NEWS
U14 Spartans win their league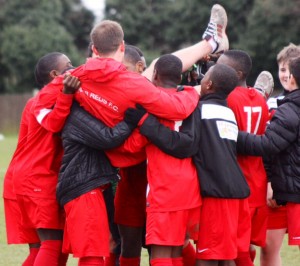 The U14's Spartans were crowned Champions of the Selkent U14B West Division.
The Spartans have secured the title with a game to spare after winning 14 out of their 15 league games so far this season.
Sam Lilburn, Manager of the Spartans said "I am extremely proud of what the boys have achieved this season.  They have worked so hard at training and have performed to an exceptional standard during their matches on a Sunday.  The B West league is a very competitive one and is full of teams that have pushed us all the way, so to win this league in the manner that we have is an outstanding achievement".
Congratulations to Sam and the boys for a great achievement.
---
Jack Petchey Award – March 2015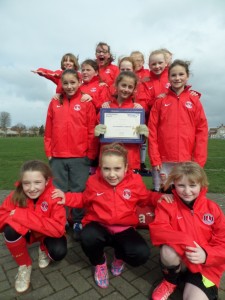 The winner of the Jack Petchey award for March is Mia.
Mia plays for our new girls team the under 11 Junior Reds Robins. "She has been an incredible asset to the team, especially as she stepped up when we didn't have a goalie, despite that not being her usual position. She is enthusiastic, and a real team player"
Congratulations and well done Mia on this thoroughly deserved award.
---
Meet the Ground Steward (Number 2) – Sam Hamilton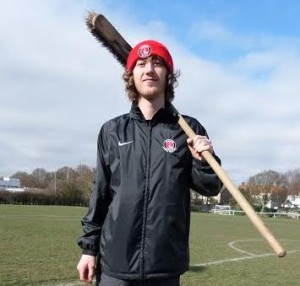 The Club are fortunate to have two Stewards attending to our mini soccer ground at Danson Youth Centre on match days.
Sam Hamilton (pictured) will be seen alternate Sundays and shares the role with John Keane.
Do say "hello" when you see him next and of course help him to keep the ground tidy.
---
Team of the Month – February 2015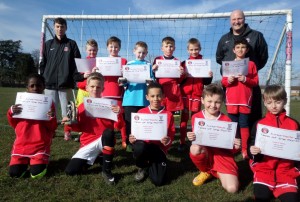 February recognition for the Under 9 Sabres.
Congratulations go to all the lads and Coaches in picking up the coveted "Team of the Month" award for February. The team have made excellent progress over the whole season with some fine performances in February. Pictured are the lads with their award during a break in training at Bexleyheath Academy.
Manager Darren Barlow said "I am very proud of the boys, they have come such a long way over the past year. They are a great bunch of kids to coach, very enthusiastic, they play for one another which shows on the pitch &  formed part of the reason we gained promotion & had great results in the new Division. Its great the team were recognised for their achievements with this award. Well done Sabres" 
---
Jack Petchey Award – February 2015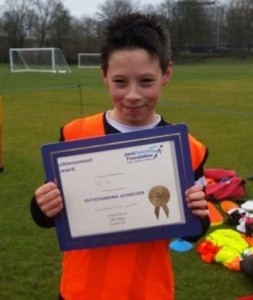 Toby from the U12 Athletic is the February winner of the Jack Petchey Achievement Award.
Toby's Manager Daniel Masters said; "Toby is my team captain and sets a superb example. At training he pays a real interest in how we set up the drills and, once we explain the topic of the session, provides support to us coaches and encouragement to the players. A real maturity for someone of his age. 
His attitude towards improving as a player has recently been rewarded by being selected to represent his district. I cannot praise this lad highly enough, not only as a 
player but as a young man, and if you were to watch him play he is a real credit to both our team and the club."                                                                                                                                                                                    
---
Charlton Mascot (Addicks vs Norwich)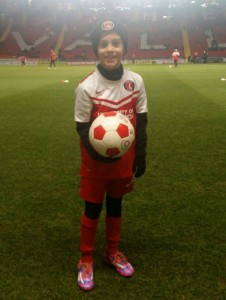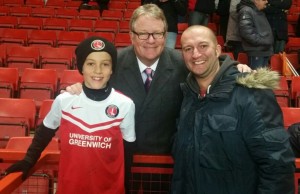 Max our goalie for the U8 Spartak's, was lucky enough to be the Charlton's Mascot at the Norwich match on Tuesday night (10th Feb 15) at the Valley.
Max is pictured on the pitch before the game and also with his dad Graham when they meet fellow Charlton fan and comedian Jim Davidson OBE.
---
Jack Petchey Award – January 2015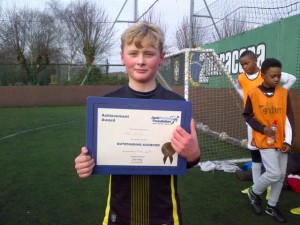 The January winner of the Jack Petchey award is Kai of the under 12 Spartans.
His manager had the following to add "Kai has been nominated for his performances and dedication to the Sabres. He has not missed a game (including friendlies) and has helped his team to win the shield last Summer and various other tournaments. He is a key player in the squad and is always supportive of his team mates with a positive attitude."
Well done from all at Juniior Reds FC.
---
Meet John – one of our new ground stewards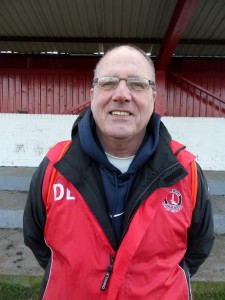 Recently our long serving Ground Steward at Danson Youth Centre, Dave Blackman, sadly retired.
Happily we are in the course of recruiting two new Ground Stewards.
The first is John Kearns. John will be in attendance alternate weeks looking after the ground. John will also be active with the new Under 11 girls teams.
Please do say "hello" when you see him and give him support so he quickly becomes part of the Club.
---
New Under 11's Girls "Roses" team need players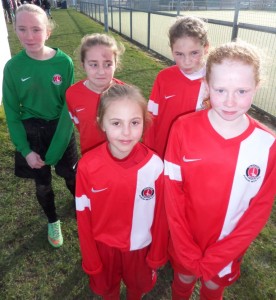 A new Junior Reds Girls team at Under 11's took to the field for the very first time in February.
They played their first game and gave a very good account of themselves losing just 2-0 against an established team. The girls worked hard but ultimately tired legs began to show against the opposition with several substitutes.
Coach Clive explained "We already have one established girls team at under 11's and we have decided with the additional players that coming along to training each Saturday to form a second girls squad. The girls are very enthusiastic and we have decided to move forward in playing some friendly matches to widen their playing experience". 
We do however need three more School Year 5 or 6 players to complete our team.
If interested please contact Grainne (Tel: 07828 164557) or Clive (Tel: 07504 264157) or simply just come along at 10.00am to Bexleyheath Academy on a Saturday morning.
We are also looking for three School Year 3 and 4 girl players as we are close to forming another team at Under 9's. These girls also train on a Saturday morning.
---
FA Charter Standard Community Club Status awarded by FA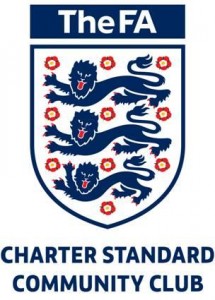 Junior Reds FC has been awarded FA Charter Standard Community Club Status by the Football Association. Only eight other clubs hold this award in London so we join an exclusive group that have attained the very highest level of the FA's Charter Standard Award Scheme.
Charter Standard Coordinator, Andy Wood remarked "Gaining Community Club Status has been part of our Development plan for a number of years now and it's taken a lot of hard work by many volunteers to get us to this stage. My thanks go to all those people, not only from within the club, but also the staff at the London FA with whom I have worked to achieve Community Club status. Well done and thanks to you all".
Junior Reds were first awarded FA Charter Standard status at the "Development" level in 2002. In the last decade several distinctions have been received in recognition of the Club's achievements. The length of time taken to reach Community status is an indication of the very high standards required. Club Chairman Clive Chivers said "I am indebted to all the Managers, Coaches and Administrative helpers in reaching this very high standard and delighted to be only the ninth Club in London to reach the top level. We have over 600 players in the Club and football is provided through the considerable commitment and dedication of over 50 volunteers". A big thanks to all and especially to Andy Wood for driving the application.
---
Kent Ladies and Girls Football League – Junior Reds Robins 2-1 Maidstone Utd.
A brilliant first game of 2015 for the girls with a 2-1 win over previously unbeaten Maidstone Utd today. Well done girls!
They certainly looked the part too in their new tracksuits supplied by sponsor Mortimer Construction, for which we would like to say a big THANK YOU!
---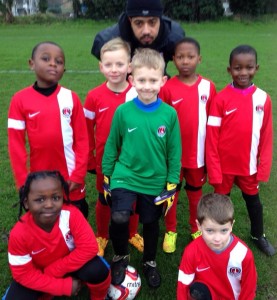 A new Under 7 team has arisen from the "Saturday Soccer Club" at Bexleyheath.
The boys have been coming along regularly for training on a Saturday and have taken a large step up in playing organised games against different opposition each week. The team are the Under 7 Sabres and are managed by Dean  Robinson.
The Sabres got off to a promising start in their first matches on Sunday. The team do still require a goalkeeper as all the boys are keen to play outfield.
If an Under 7 goalkeeper is interested in joining please contact Dean on 07876 820 206. The team train at Bexleyheath Academy on Saturday mornings.
---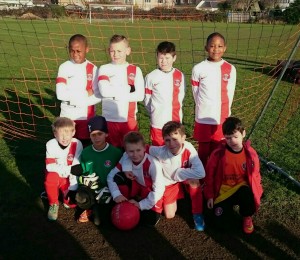 Junior Reds newest team at Under 9's made their debut in January. The lads are seen just before kick off in readiness for their entry into the Selkent League. The team are jointly Managed by Gavin Wakeman and Justin Skinner.
Gavin said "we have worked hard to form a team and the boys are eager to play regular matches. They have not played organised games so far but with their enthusiasm I am sure will quickly develop their skills in match situations."
This is Junior Reds fifth team in the Under 9 age group.
---
ABOUT THE CLUB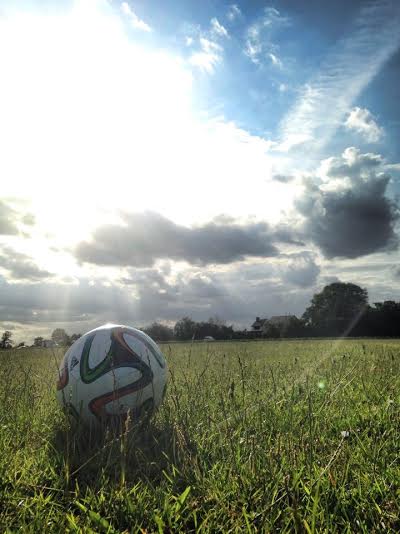 The Junior Reds Football Club was formed in 2001 to provide boys and girls, between the ages of six and eighteen, with the opportunity to compete in local Sunday Football Leagues in South East  London and  North Kent. The Club has steadily grown and now has 42 teams competing in the Kent Youth League, Bexley  and  District Junior League  or the South East London and Kent Youth League (SELKENT). 
Click here to find out more details of the clubs history.
---
PLAYER & MANAGER RECRUITMENT
If you are interested in joining the Junior Reds, please contact:
Mobile: 07968 946256 or e-mail angela.wood@juniorredsfc.com
Clive Chivers, 

Club Secretary
Mobile: 07504 264157 or e-mail clive.chivers@juniorredsfc.com
Daniel Masters, 

Club Recruitment Officer
Mobile: 07957 740270 or e-mail daniel.masters@juniorredsfc.com
---