HOME
---
Welcome to
Junior Reds
Football Club
London FA
Charter 
Standard
Community Club
---
PLAYERS WANTED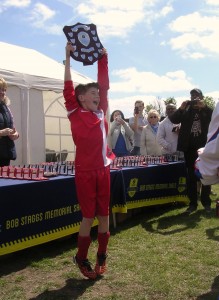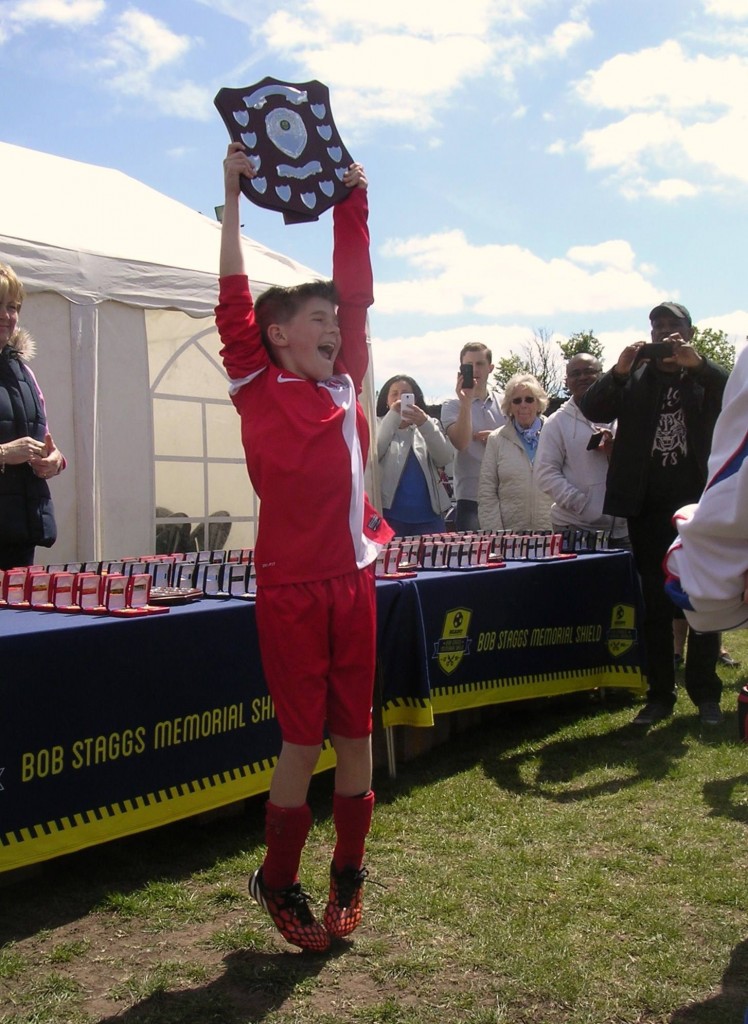 We are currently looking for both Girls and Boys of all ages to join current teams.
Check out our "Players Wanted" page or click on the following link: New Players Wanted 
Alternatively you can contact our player recruitment team: 
Clive Chivers, Club Secretary – Mobile: 07504 264157 or e-mail clive.chivers@juniorredsfc.co.uk
---
SATURDAY SOCCER CLUB
The Saturday Soccer Club operates every Saturday morning in Bexleyheath and is open to any ability from 4 to 9 (i.e. School Year 4). The sessions operate on a simple pay and play "casual" basis. Click on the link to find out more Saturday Soccer Club
---
LATEST NEWS
Jack Petchey Foundation visit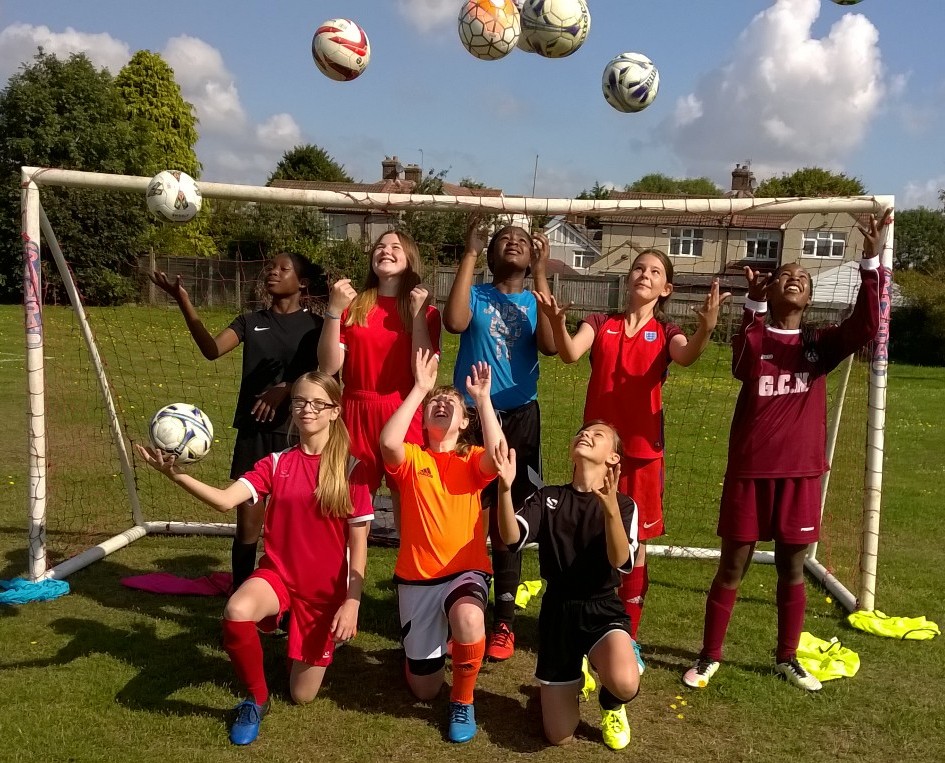 Junior Reds welcomed Jane Evans -Grant Coordinator – from the Jack Petchey Foundation to Bexleyheath Academy on Saturday 2nd September. The club has worked closely with the Foundation for ten years, rewarding achievement for young people between the ages of 11 and 25. Jane was shown around by club coordinator – Clive Hall-Strutt. They spent time watching sessions and speaking to past winners. The Foundation were particularly interested in girls participation and took time out to speak with our new U14 Roses (pictured).
Jane commented "We are proud to have been working with Junior Reds FC for the last 10 years and to have awarded £24,850 in grants on our Achievement Award Scheme.  On a recent visit to the club I was delighted to see so many young people taking part in football activities across the 45 teams. It was wonderful to  see how girls football has developed into 9 teams over the past 4 years! Special recognition goes to  Cliver Hall-Strutt who coordinates the scheme at the club and to the many volunteers give up their time so tirelessly! Well done to you all!"
For further information on the work of the Jack Petchey Foundation, please follow the link http://www.jackpetcheyfoundation.org.uk
---
JR Goalkeeper Training
All team managers please note goalkeeper training schedule for Saturday mornings is as following :-
9.00 – 9.45am – U7/U8/U9

10.00 -10.45am –  U10/U11/U12

11.00 -11.45am – U13 and above
Please ensure your team goalkeepers know their time.
---
New U7 Valiants team formed
Meet the teams – Say hello to our brand new U7 Valiants and their coach Mathew Mundy. The lads have all progressed from our thriving Bexleyheath Saturday Club and have been training together over the summer. They are pictured here before today's friendly with Eltham Town.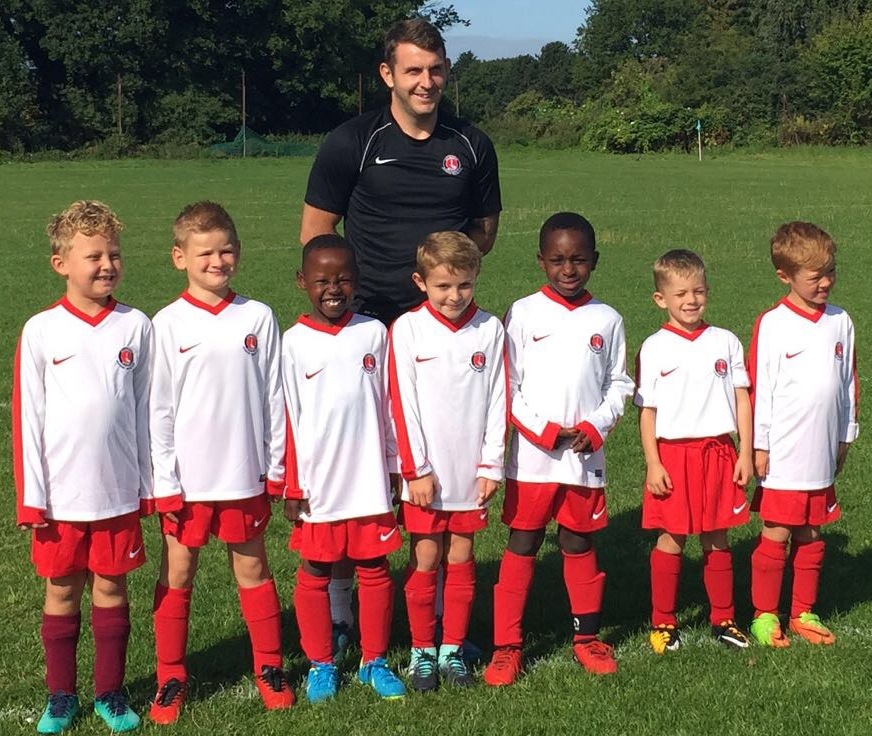 We wish you the best of luck for the season ahead.
---
U13 Knights win Footscray tournament
Our U13 Knights picked their fifth tournament win of the summer, winning the Footscray International Tournament last weekend. They beat French side AS Soisy 4-0 in the final to lift the cup.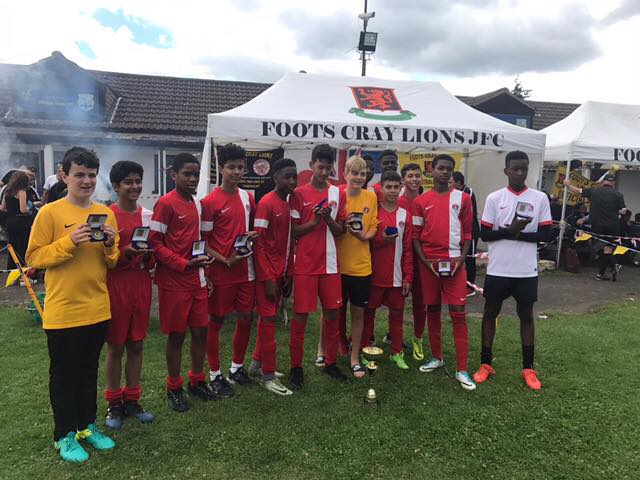 ---
Picnic and a Fun Day at Hall Place
All five of the Junior Reds Girls teams came together in July for a Fun Day at Hall Place in Bexley. A number of non competitive games were played – football and football tennis – by both Parents and girls. Parents brought picnics and had a time to relax on a sunny day. Some Parents went home with stiff muscles though not being as young in body as they are in mind. A good day was had by all.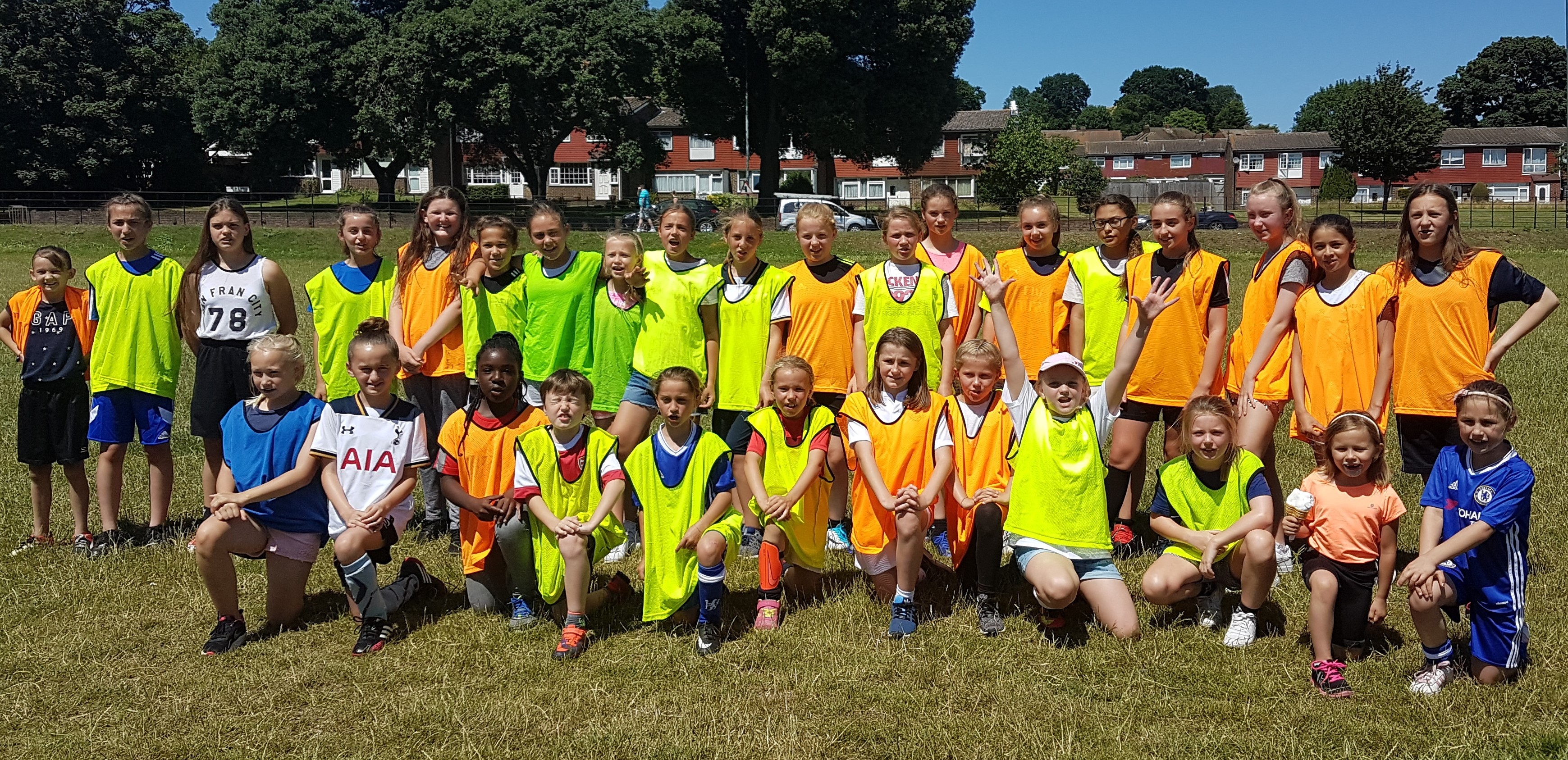 ---
End of season presentation 2017
On Sunday 25th June 2017 the Club held our annual end of 2016/17 season awards at the Valley, Charlton Athletic FC. There was a great turn out by all the teams including the Saturday Soccer Club. Special thanks to Keith Peacock, Paul Mortimer and Jason Pearce for supporting the day and presenting the players with their awards. Dave Lockwood worked hard with the microphone in announcing all the teams to the stage.
 A big thank you and well done to the ever hard working members of the Committee for arranging another successful event.
Many thanks to you all for coming and we will see you all next year!
---
WESFA Manager / Club Secretary of the year award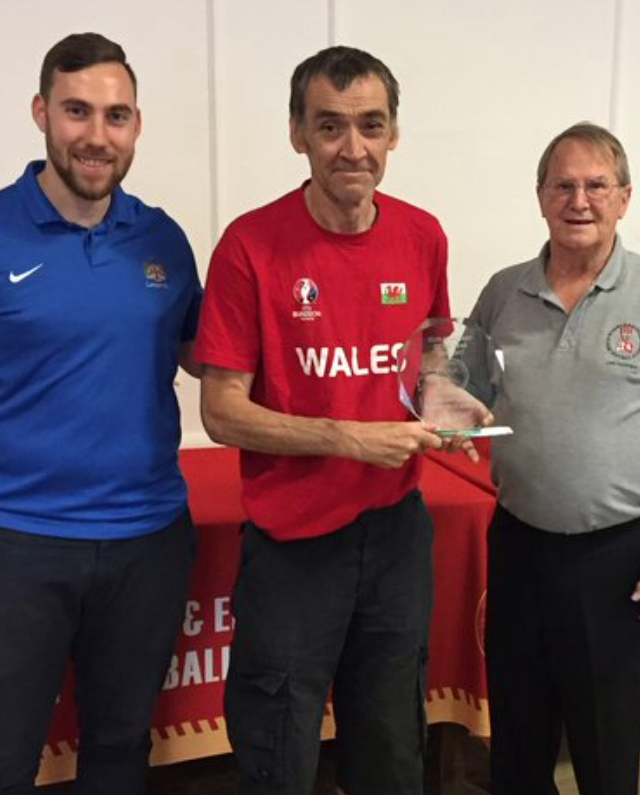 Congratulations to Geraint Jones – Manager and Secretary of Junior Reds (Seniors) Athletic – who is pictured here receiving the Woolwich & Eltham Sunday Football Alliance 'Club Secretary of the Year' Award. Geraint was presented with his award at the League AGM earlier in the week by league president John Sollitt.
Well done Geriant from all at Junior Reds.
---
Huffington Post features Junior Reds Wildcats
Junior Reds 'Wildcats' Girls FC – sponsored by SSE – was featured on the Huffington Post website this week. The video was filmed at Bexleyheath Academy as part of a 'a Wildcats' promotional media day. Visit the Huffington Post video below via the link:
http://www.huffingtonpost.co.uk/entry/these-girls-prove-that-football-isnt-just-for-boys_uk_5949376ae4b0cddbb009aa4b
---
Anchorians Tournament 2017
Our U11 Girls won the Anchorians Tournament on Saturday 24th June. The Girls beat hosts Anchorian Sapphires 1-0 in the final to lift the cup.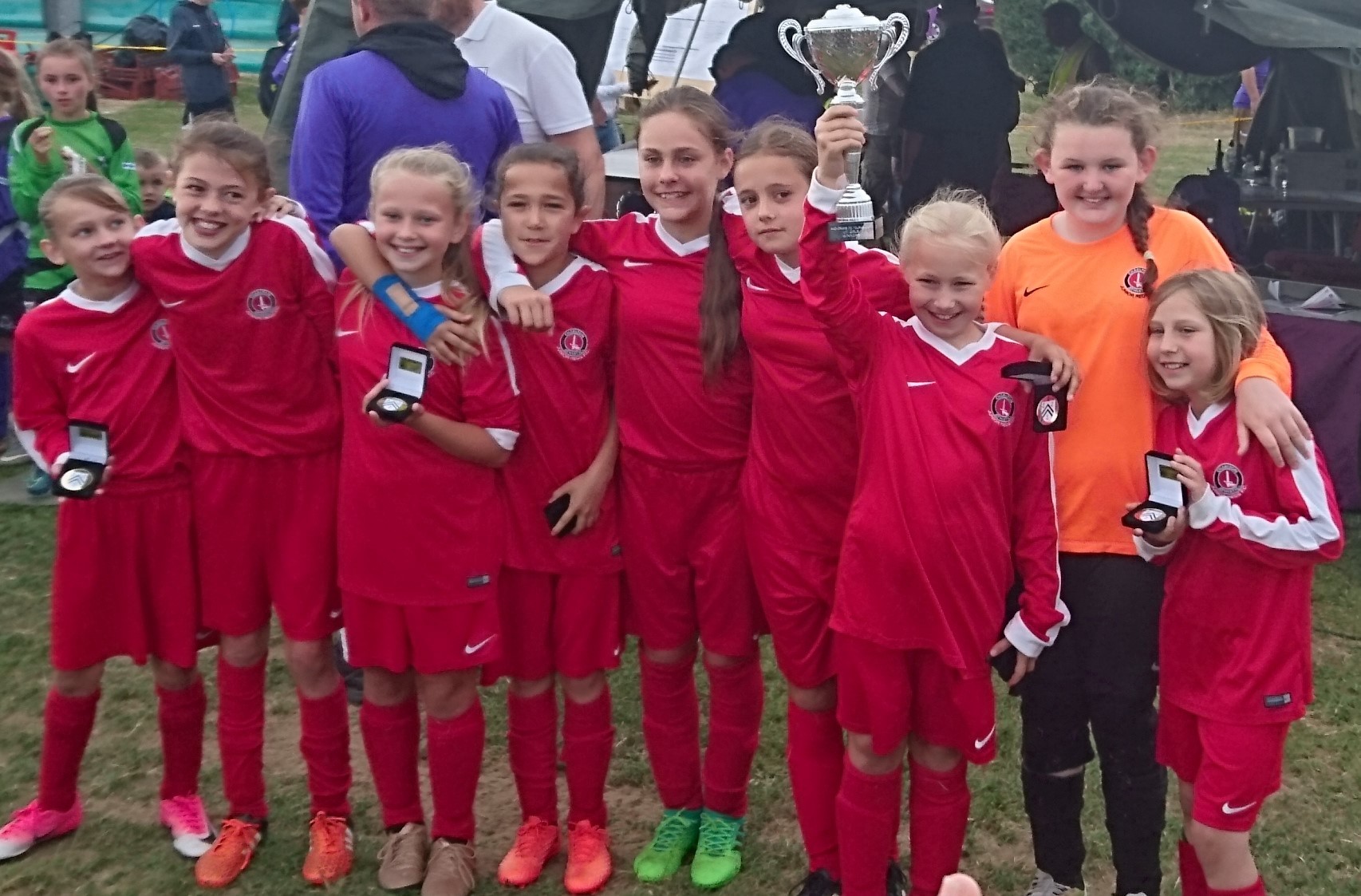 Well done Bob and the girls!
---
Photo session for the Wildcats
Junior Reds 'Wildcats Girls' FC sponsored by SSE welcomed photographers and film units from both the FA and the Huffington Post to a promotional media day last Friday afternoon at Bexleyheath Academy.
Nineteen girls were put through a training session by Junior Reds Coaches helped by players from the Millwall Lionesses courtesy of the WSL.
SSE 'Wildcats Girls' FC was launched by the FA to inspire girls between 5-11 yrs to get involved in sport. Junior Reds is one of six centres across London (two hundred nationwide), to offer organised sessions in a fun and engaging enviroment exclusively for girls.
Junior Reds sessions take place at Bexleyheath Academy (Graham Road entrance) on Friday afternoons between 5:30-6:30pm. Sessions cost £2 and are open to all girls between 5-11yrs.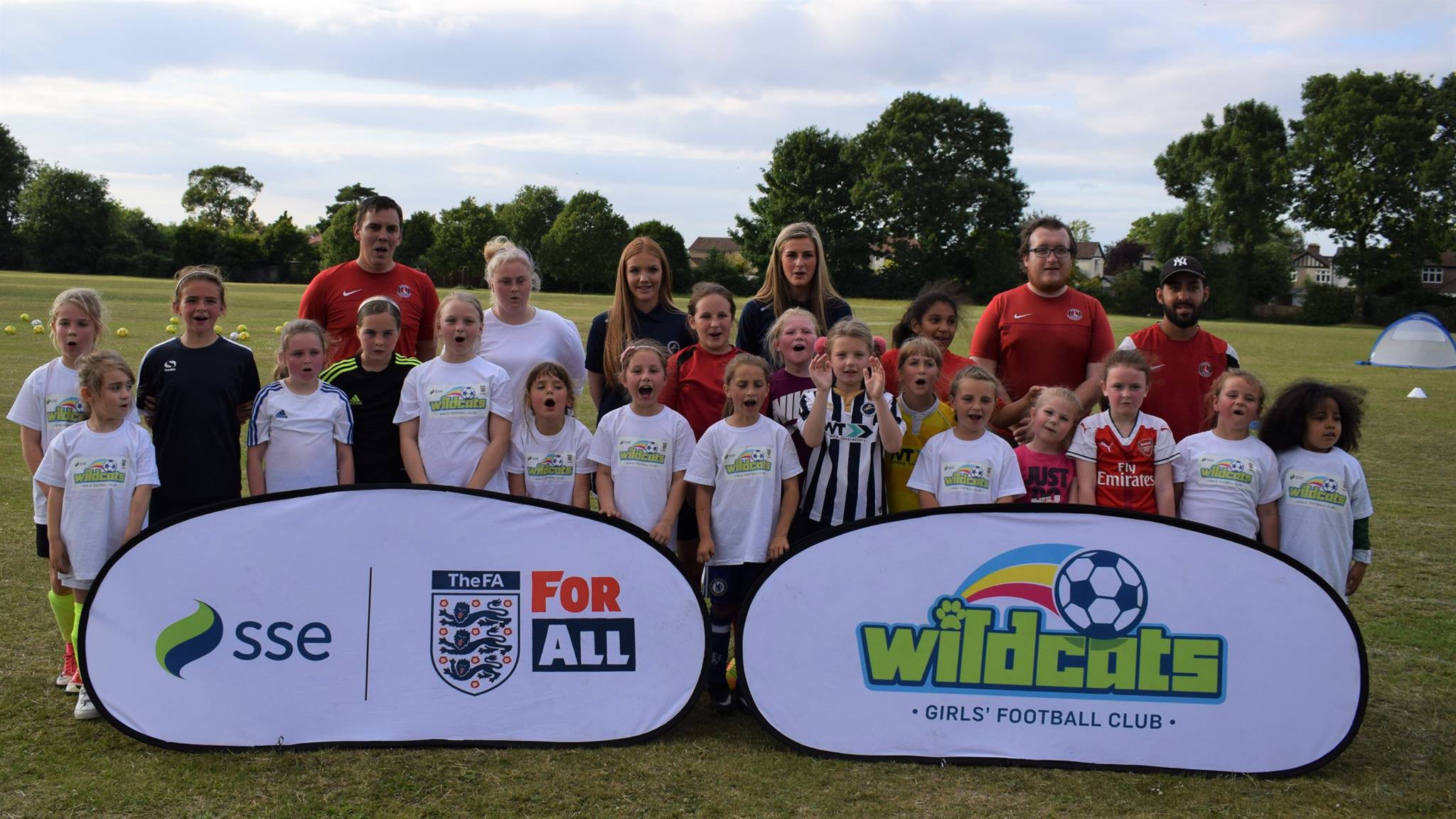 ---
U13 Knights – Paddock Wood Tournament 2017
Our U13 Knights notched up another tournament on the 18th June, winning the Paddock Wood FC Tournament. Playing up a year in the U14 competition, they beat Kings Hill 1-0 in the final.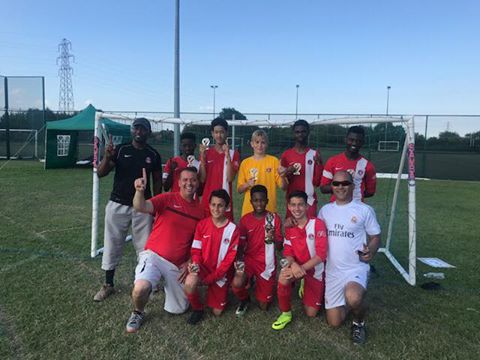 Well done to all!
---
Jack Petchey for June 2017
The winner of the Jack Petchey Award for June is Lewis from the U9 girls squad and the Saturday School.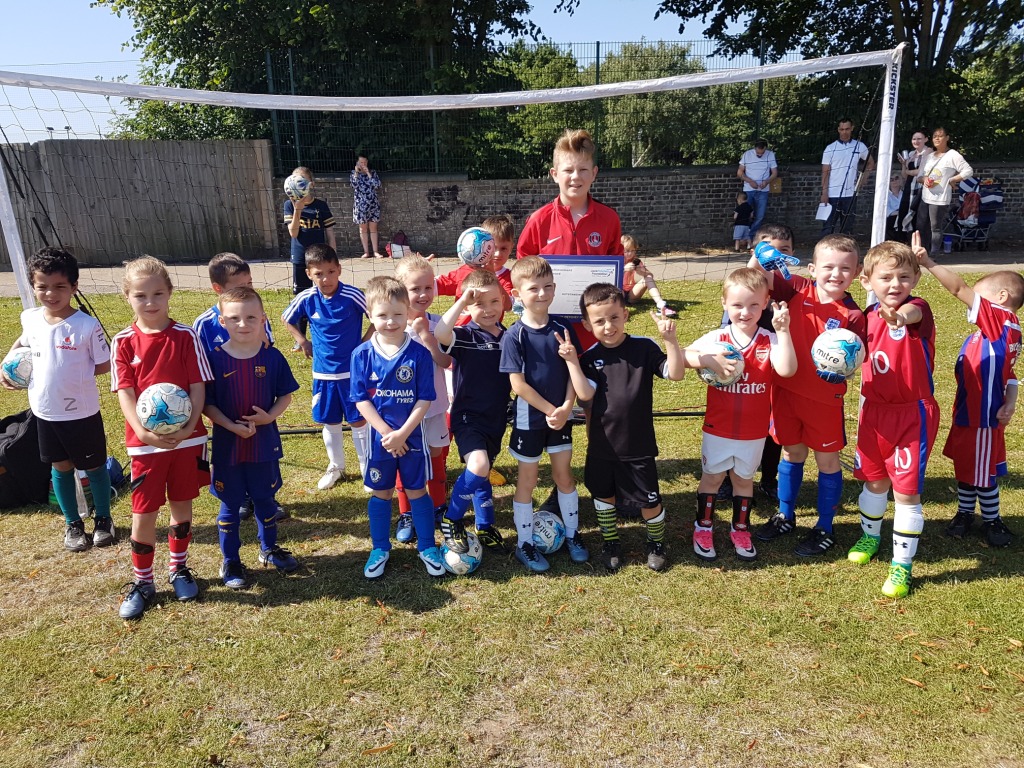 Terry Whittley coach says of Lewis " I would like to nominate Lewis for the award. He is 17 and helps coach the under 9 girls and also assists with the soccer school. Lewis is a very popular member of the team and a good connection between myself and the younger children. He is also refs some games and does whatever he is asked to undertake with enthusiasm."
Congratulations and well done Lewis.
---
U14 Titans at Dartford Tournament
Our U14 Titans won the Dartford FC U14 Tournament on Sunday 13th June 17. Based on the league format, the lads had three wins and two draws, scoring ten without conceding a goal to lift the trophy.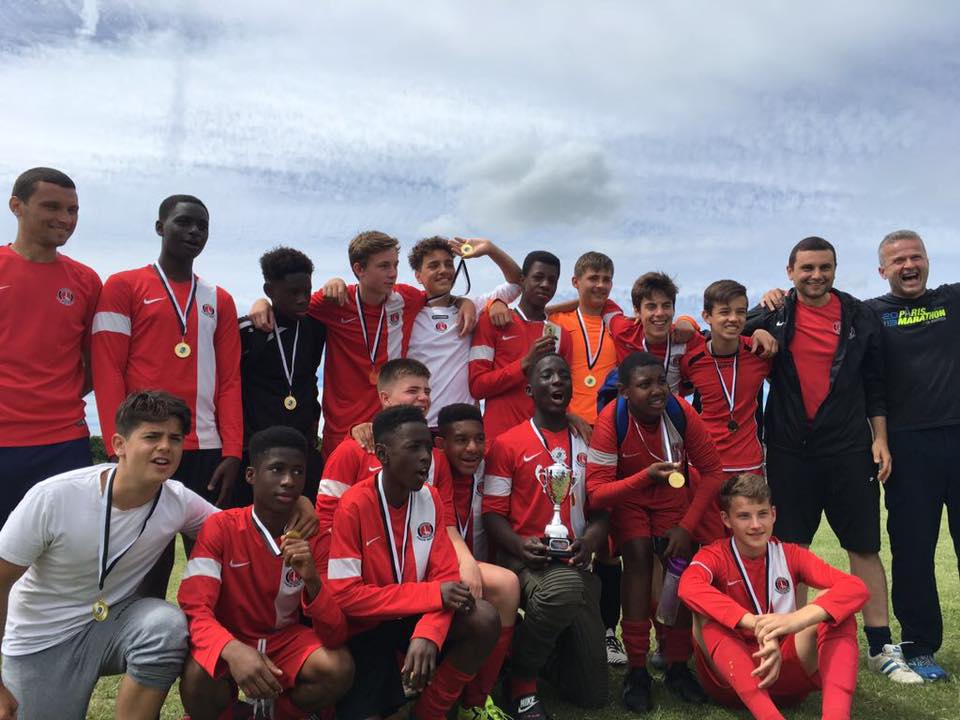 Congratulations to all!
---
A special day at the Palace
No – not Crystal Palace but Buckingham Palace.  Two of our longest serving members, James and Matt Fendick enjoyed a very special day in May receiving Duke of Edinburgh gold awards in a special presentation at Buckingham Palace. James and Matt have been members of the Club as players for many years and in the last couple have been actively involved with coaching the younger Under 7 / 8's and with our goalkeepers. Their contribution to the Club was recognised as part of the Duke of Edinburgh award.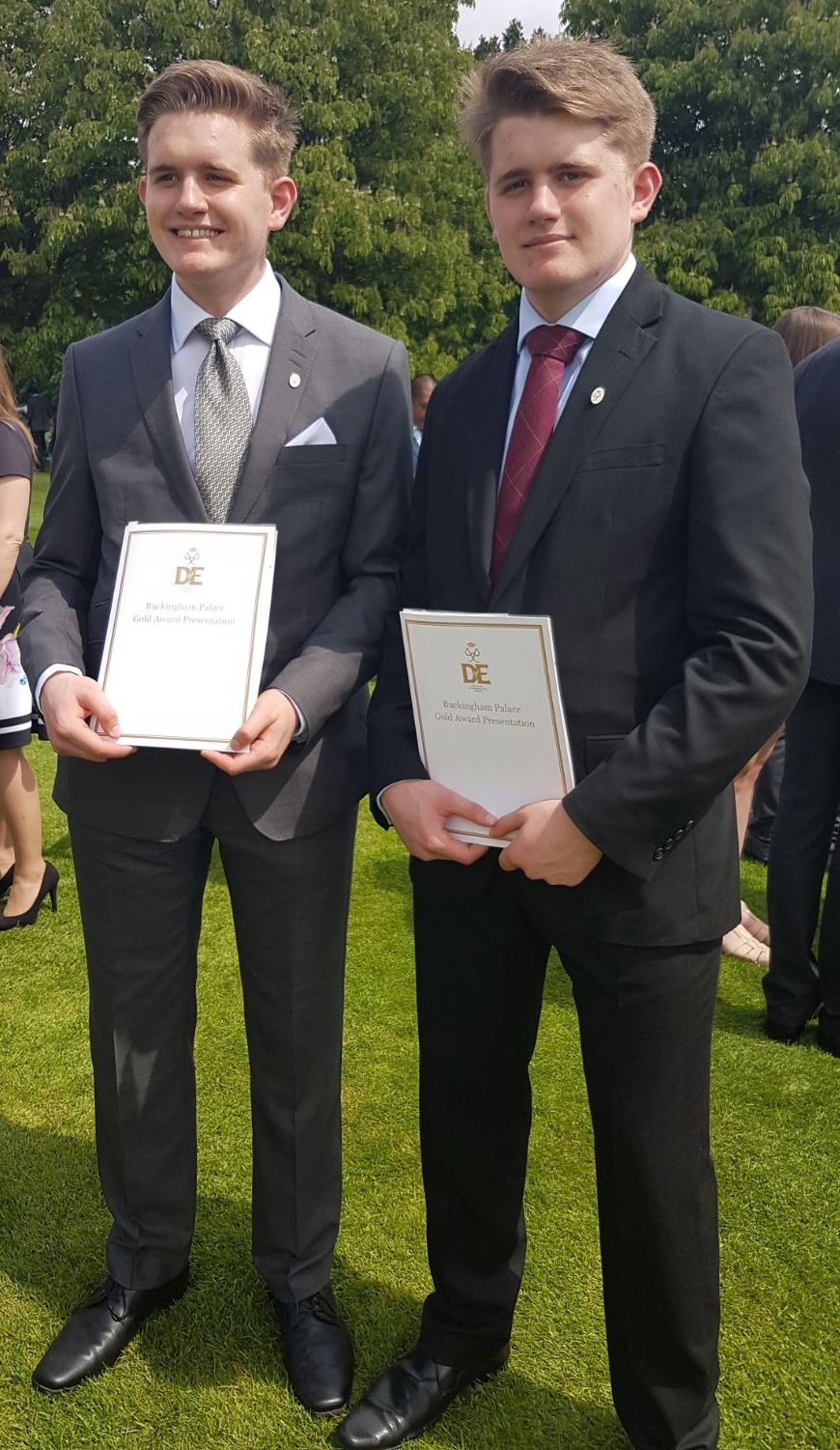 A great achievement boys. Congratulations from everyone at the club.  
---
U13 Knights at Dartford Tournament
Champions! Our U13 Knights (pictured below) won the Dartford FC Tournament on June 11th. Decided on a league basis, the boys remained unbeaten and with some strong defending didn't concede a goal.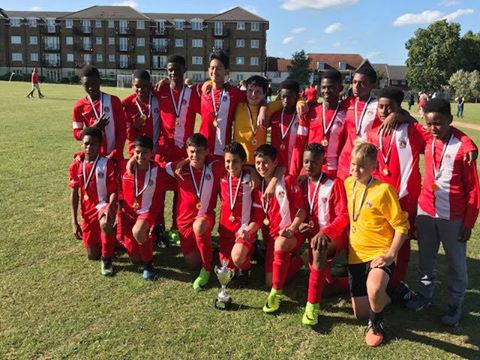 Well done to all!
---
Jack Petchey for May 2017
The winner of the Jack Petchey award for May 2017 is Matthew Cornish.
Mathew has assisted with the Junior Reds Girls teams throughout last season. He is diligent in providing statistical analysis of the Under 13 Girls team matches with a special award for each match. Matthew has been active in support of the Club's initiative to form a Girls Under 16 team for next season. He is reliable and always helpful in all his tasks. Mathew is also a wider volunteer helping in Football Coaching at Longlands Primary School; the local SCOPE Charity shop in Bexleyheath and weekly at Bexleyheath Library.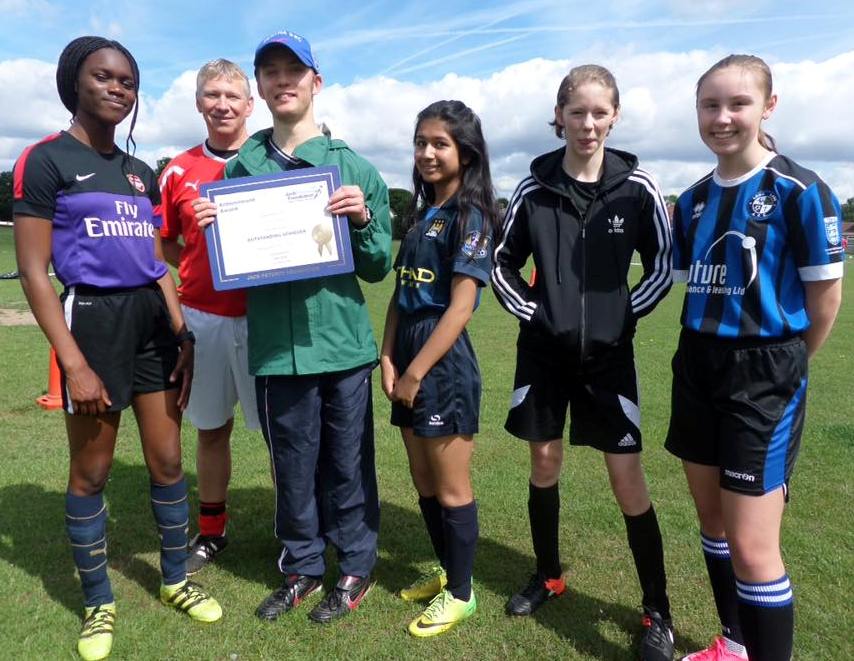 Well done, Mathew, for all your good work in the Community.
---
U10 Girls – Castle Colts tournamnt winners 2017
Our U10 Girls won the Castle Colts Tournament on 3rd June 17. The girls were playing up a year against strong opposition including this year's league winners and runner up including Club Langley and Crayford Arrows. The girls got all the way through to the final, where they beat Kent Football United to lift the trophy (pictured below). 
Congratulations and well done girls!
---
U13 Knights at Stamford Bridge
Our U13 Knights took part in the Chelsea FC Tournament at Stamford Bridge recently. Playing up a year, they were the only U13's taking part against U14 teams from all over the country, the boys played exceptionally wel and eventually finished second.
Well done boys!
---
U11 Girls – Crayford Arrows tournament winners 2017
Our U11 Girls won the Crayford Arrows U12 Tournament on the 3rd June. Playing up a year, the girls beat Crayford Arrows on penalties in the final to lift the trophy (pictured).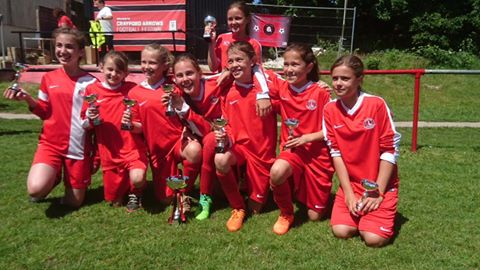 Well done girls!
---
Women's Premier League Play Off Matchh
The women's premier league play off match between Tottenham and Blackburn Ladies was recently hosted at The Valley. Over
20 Junior Red girls had the opportunity to be flag bearers and ball girls during the play-off match between the Northern and Southern Premier League champions.
Many thanks to Naomi Loveless and Katie Phillipson from the FA for their support on the day.
Congratulations to Tottenham Ladies on their win and promotion to the super league.
---
Bob Staggs Memorial Shield 2016/17
Congratulations to our U13 Warriors, U14 Warriors and U14 Titans on winning their respective Selkent Shield Finals on 21st May 2017 and commiserations to our U11 Sabres who were narrowly beaten on penalties in their Shield Final.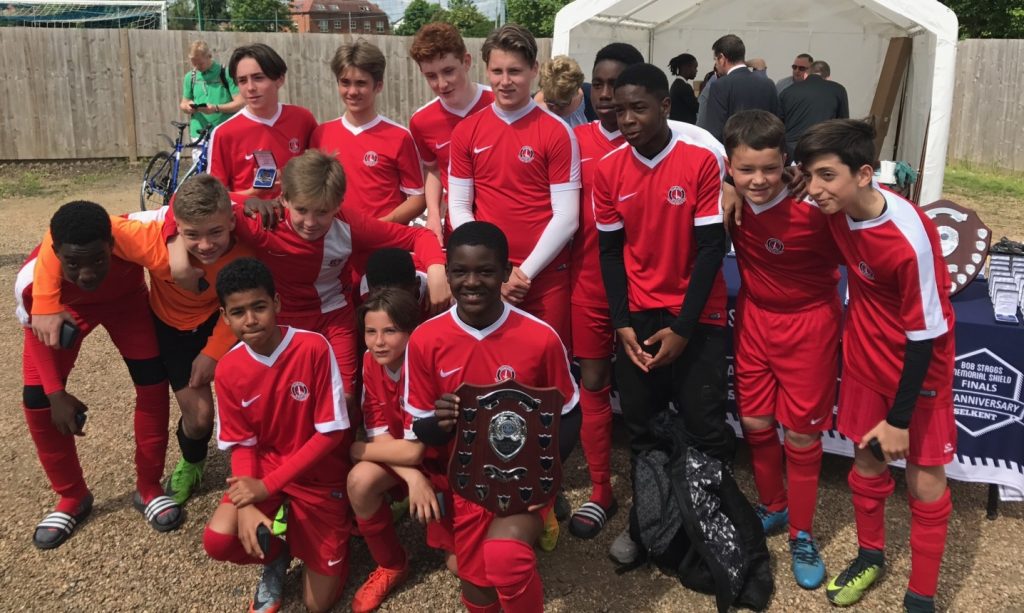 U13 Warriors
---
U13 Knights – Pembury tournament winners 2017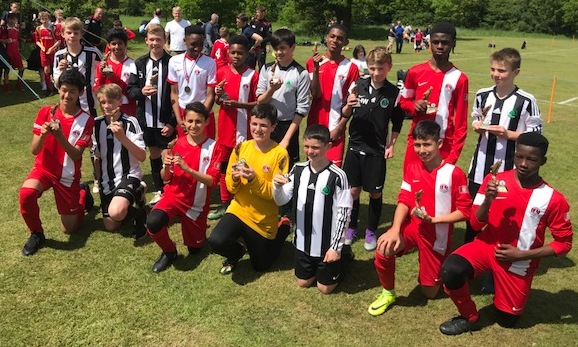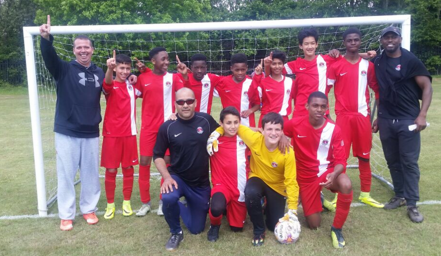 Above are some photos of our U13 Knight who recently took part in the Pembury Tournament on 21st May 17. 
The lads were unbeaten all day and beat hosts Pembury U13's (pictured) on penalties in the final to lift the cup.
Well done boys.
---
Kent Girls & Ladies Football League – Player of the Season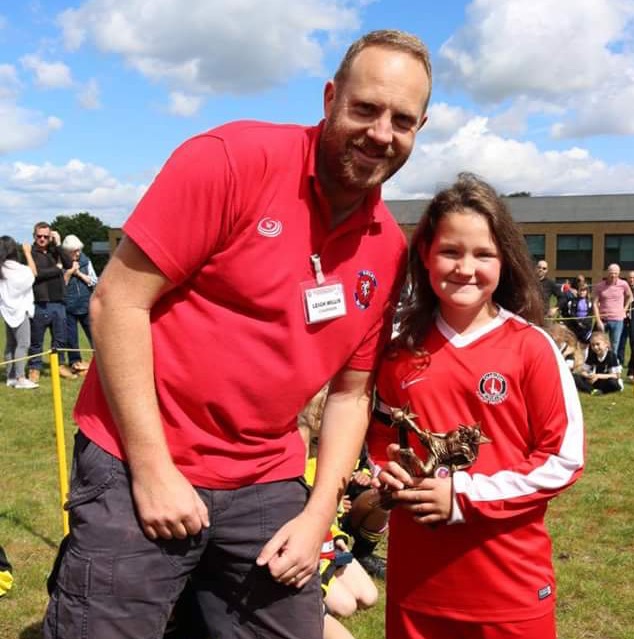 Maiya from our U9 Girls was named as KG&LFL 'Player of the Season' at the recent Finals Day. Maiya is pictured here being presented with her trophy by League Chairman Leigh Willis. The U9 Girls Parents also won the award for 'Best Supporters'.
Congratulations to Maiya and also to the teams supporters for setting a fantastic example.
---
U10 Girls win the KG&LFL league title
Our U10 Girls are pictured here after being presented with their Cup and Medals for winning the KG&LFL U10 League Trophy Competition.
Many congratulations to James and the girls from everyone at the club.
---
U13 Girls win Tina Marshall Cup for third time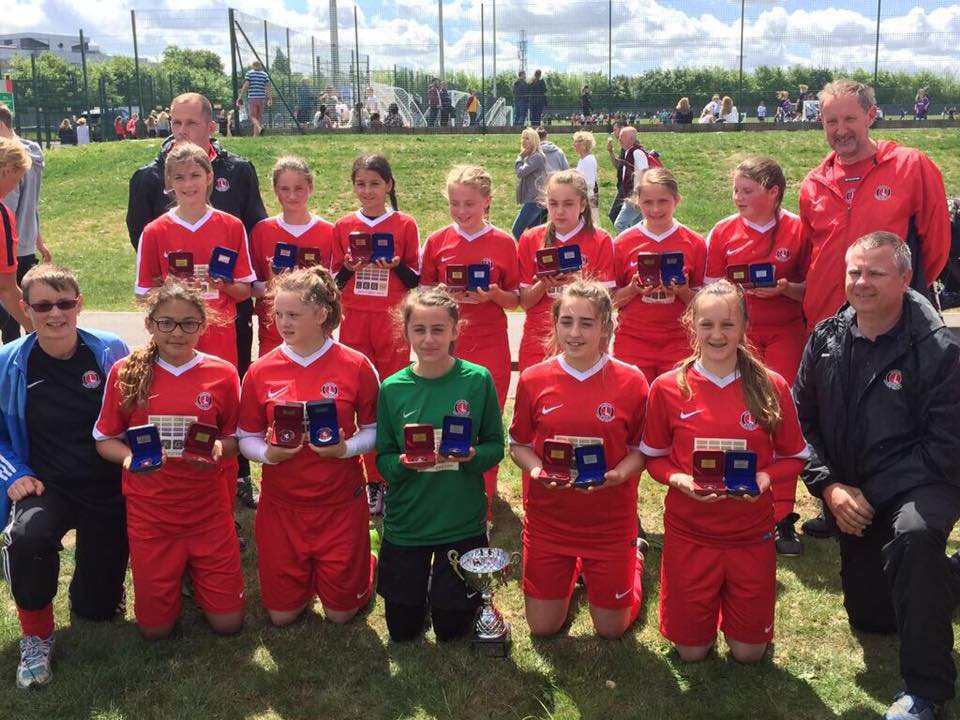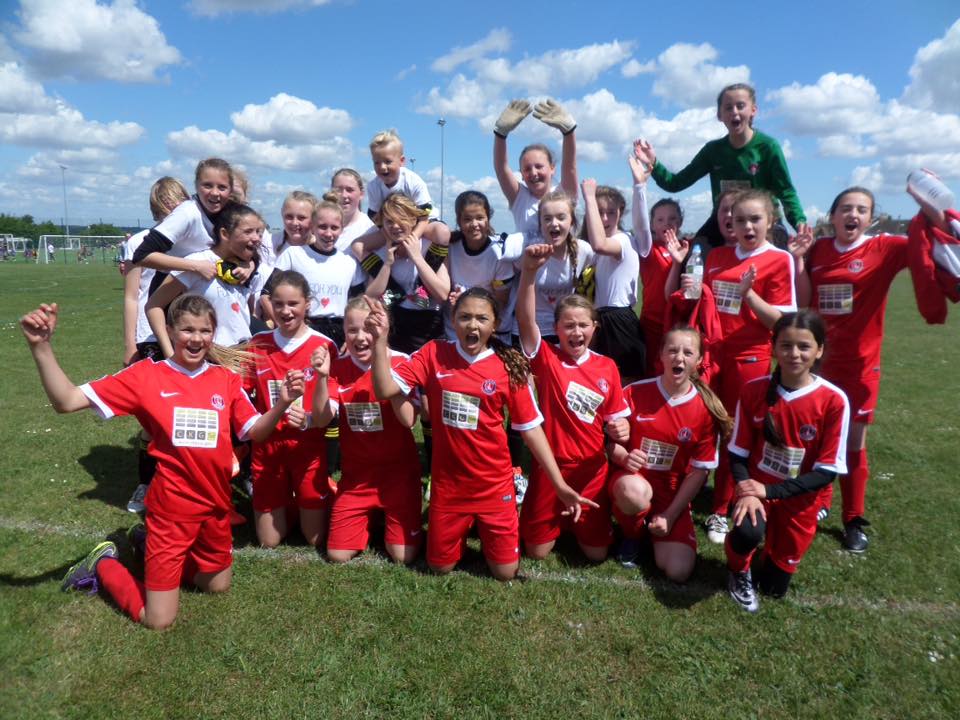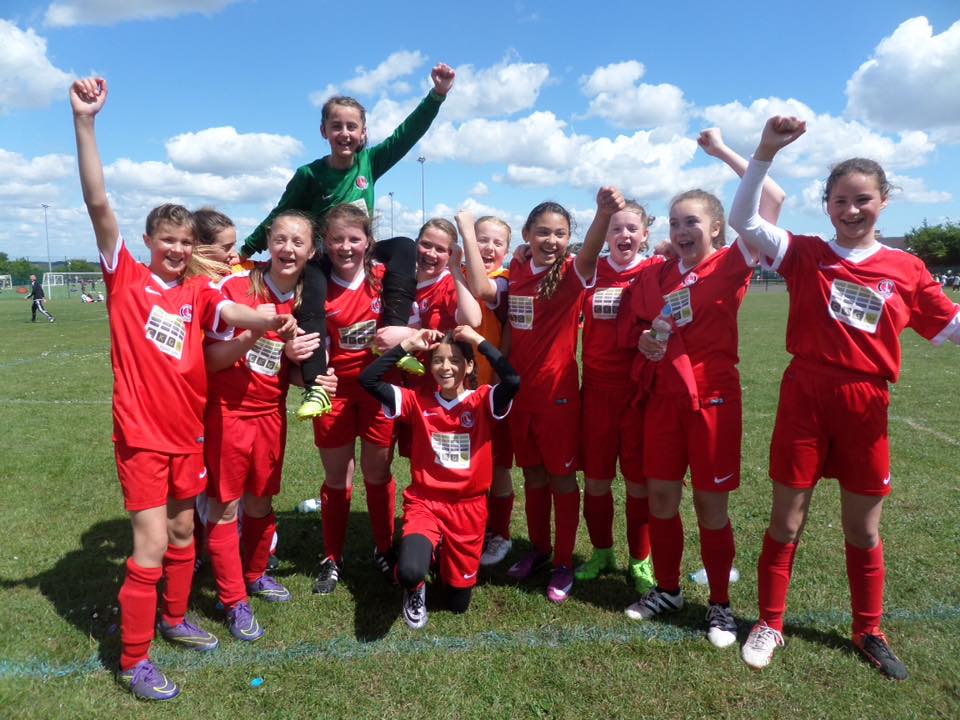 Junior Reds U13 Girls successfully retained the Tina Marshall Cup on the 14th May 17. The Girls played Division 2 Champions Larkfield Ladies in the Final at Brompton Academy School in Gillingham. The girls found themselves a goal down at half time and equalised during the second period through a Libby Miller cross and a Carol Perea close range finish. The match ended 1-1 after extra time and was eventually settled with three successive penalty saves by goalkeeper Mia Fortuna to thwart Larkfield.
Junior Reds Girls have now held the Tina Marshall Cup for consecutive three seasons. Congratulations ladies.
---
Players Wanted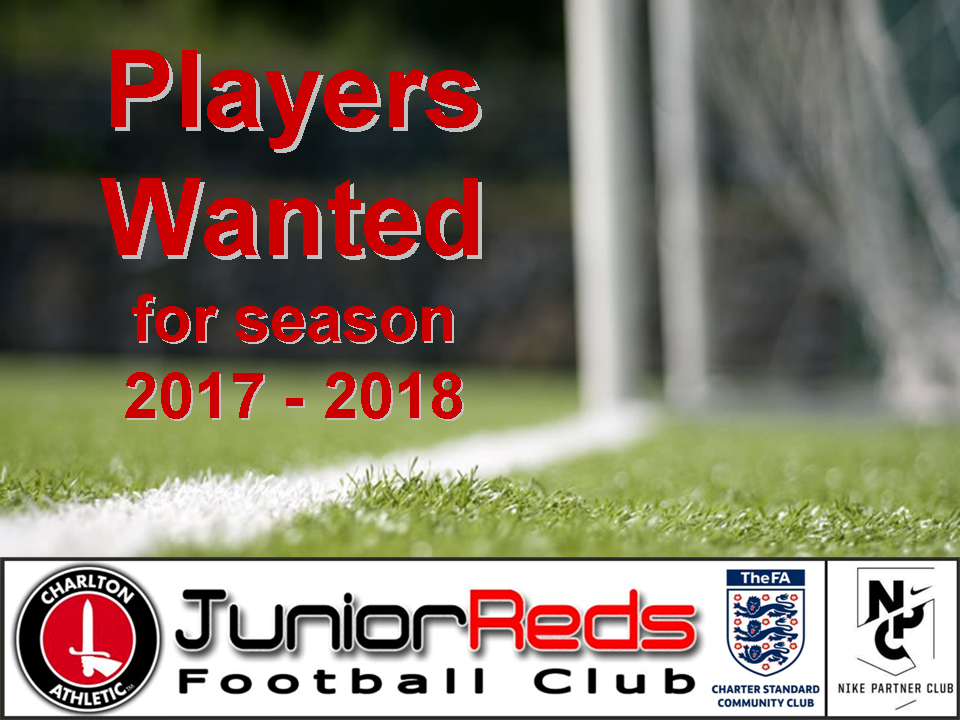 Junior Reds FC are continually seeking new players.  If you are are looking for a team to join check out our "players wanted" page. 
Click on the following link :- Players Wanted Page 
---
U16 Athletic win Selkent divison C
Congratulations to our U16 Athletic on winning the Selkent C Division earlier today.
They were a point behind Phoenix Sports going into their final game and only a win would do. The lads responded brilliantly beating Fastfield Utd 5-0 to clinch the title.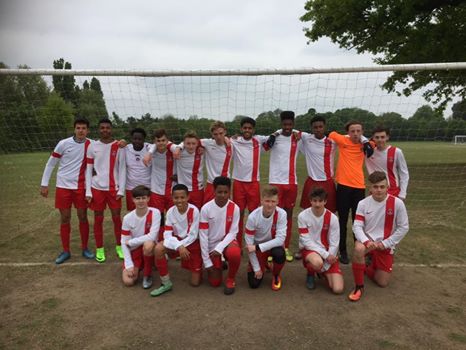 Congratulations boys a great achievement.
---
Junior Reds 3rd Annual Primary School Girls Tournament
Junior Reds FC held its third annual tournament for Primary School Girls teams on Friday 5th May 2017 to help promote Girls football in Bexley.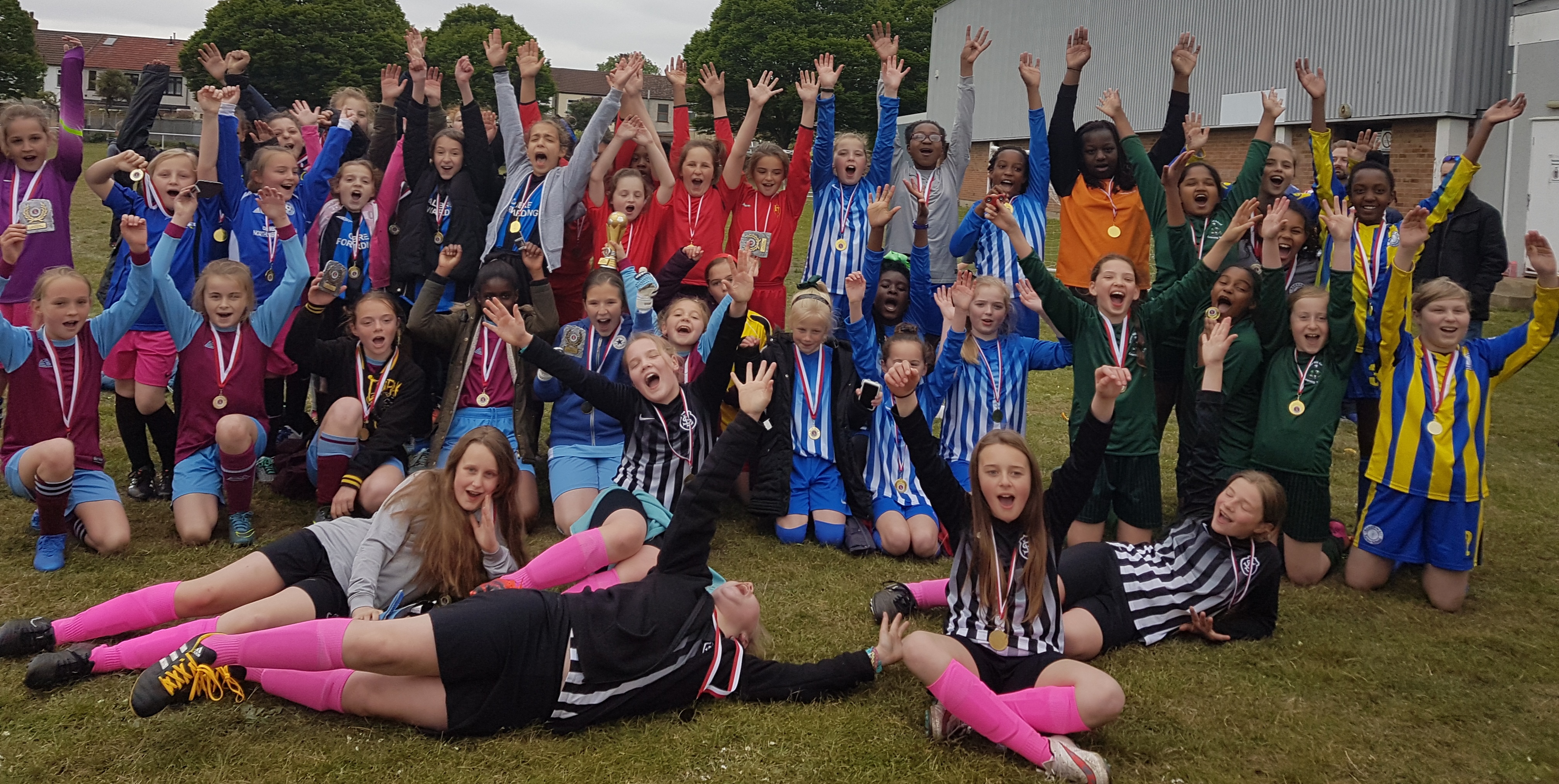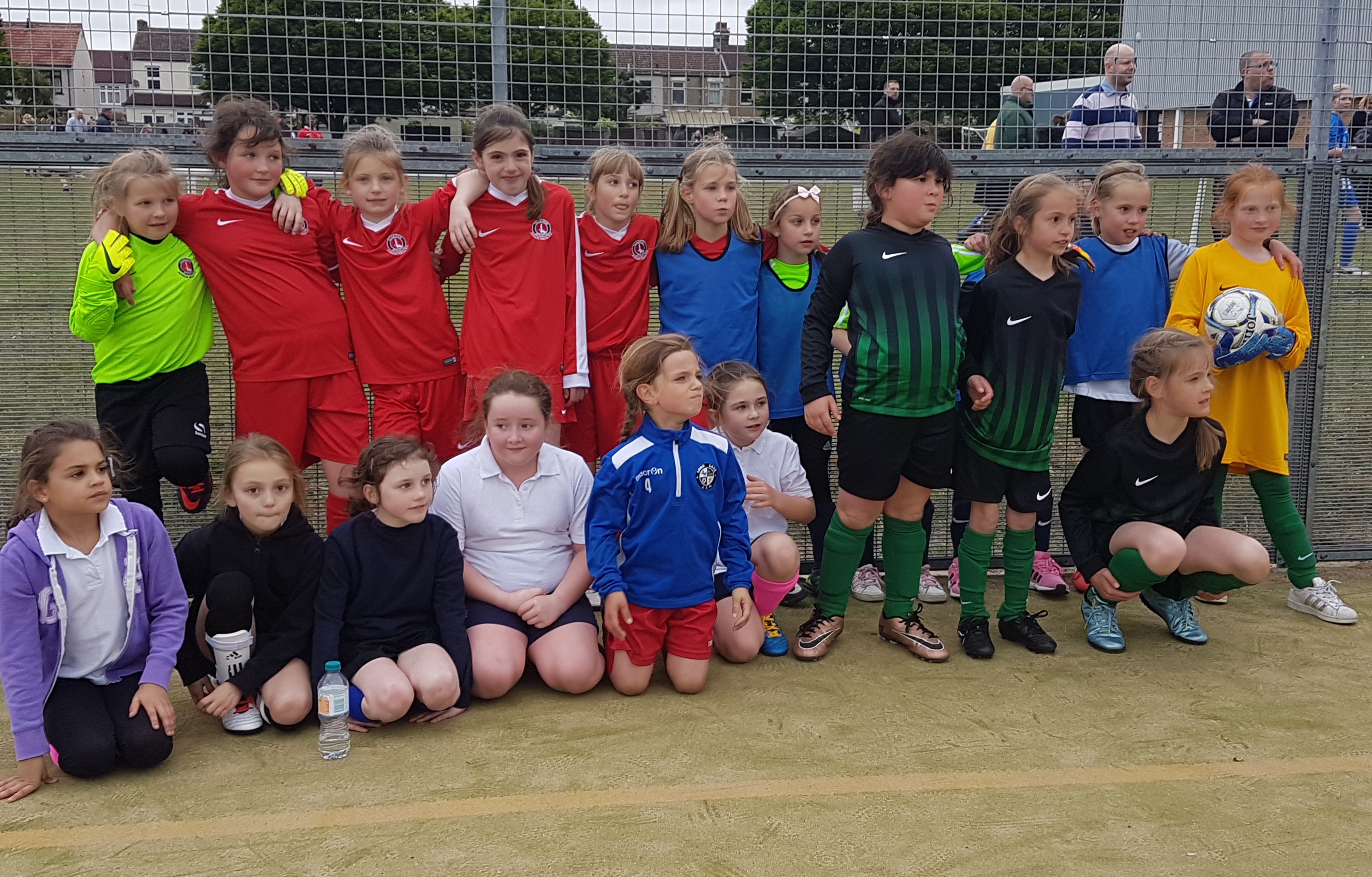 A record nine Schools took part including teams from Gravel Hill, Longlands, Westgate, Fosters, Barnehurst, Saint Thomas Moore, Saint Fidelis, Northumberland Heath and Bedonwell, and took part in games in competitions for School Years 3 – 4 and 5 – 6.
Eventual winners were Barnehurst, beating defending champions for the last two years Bedonwell by one goal to nil in a close fought play- off final match.
All the girls received medals and it is hoped the girls will continue to play and develop their skills.
If your daughter attended this event and wishes to continue playing, maybe in a team, then contact Clive on 07504 264 157 or email clive@juniorredsfc.co.uk for further details.
Well done to all the schools and players that took part and congratulations to Barnehurst Primary School pm winning the tournament.  
---
FA Dream Goals Day at Manchester City
Danielle from our U11 Girls recently won a fantastic Dream Goals Day from the FA and travelled to Manchester recently to lead out the Manchester City Ladies team alongside Steph Houghton. She also got to take penalties against the City Goalkeeper at half time. As part of her prize, Danielle will also attend the Ladies FA Cup Final at Wembley as a VIP guest of the FA.
Congratulations Danielle on winning a fantastic footballing prize.
---
Jack Petchey for April 2017
The winner of the Jack Petchey award for April 2017 is Dave Kew from the Senior Saturday Warriors.
Dave was nominated for the award by his Manager Helder Ribeiro who said " Dave turned up pre-season having never played for a team before. He has become a key player now and starts every game. Dave listens to everything that is asked of him and it tells in our defensive record. He is always one of the first to offer help, pay his subs and appreciates being part of the club. Dave is highly respected by every other member of the team.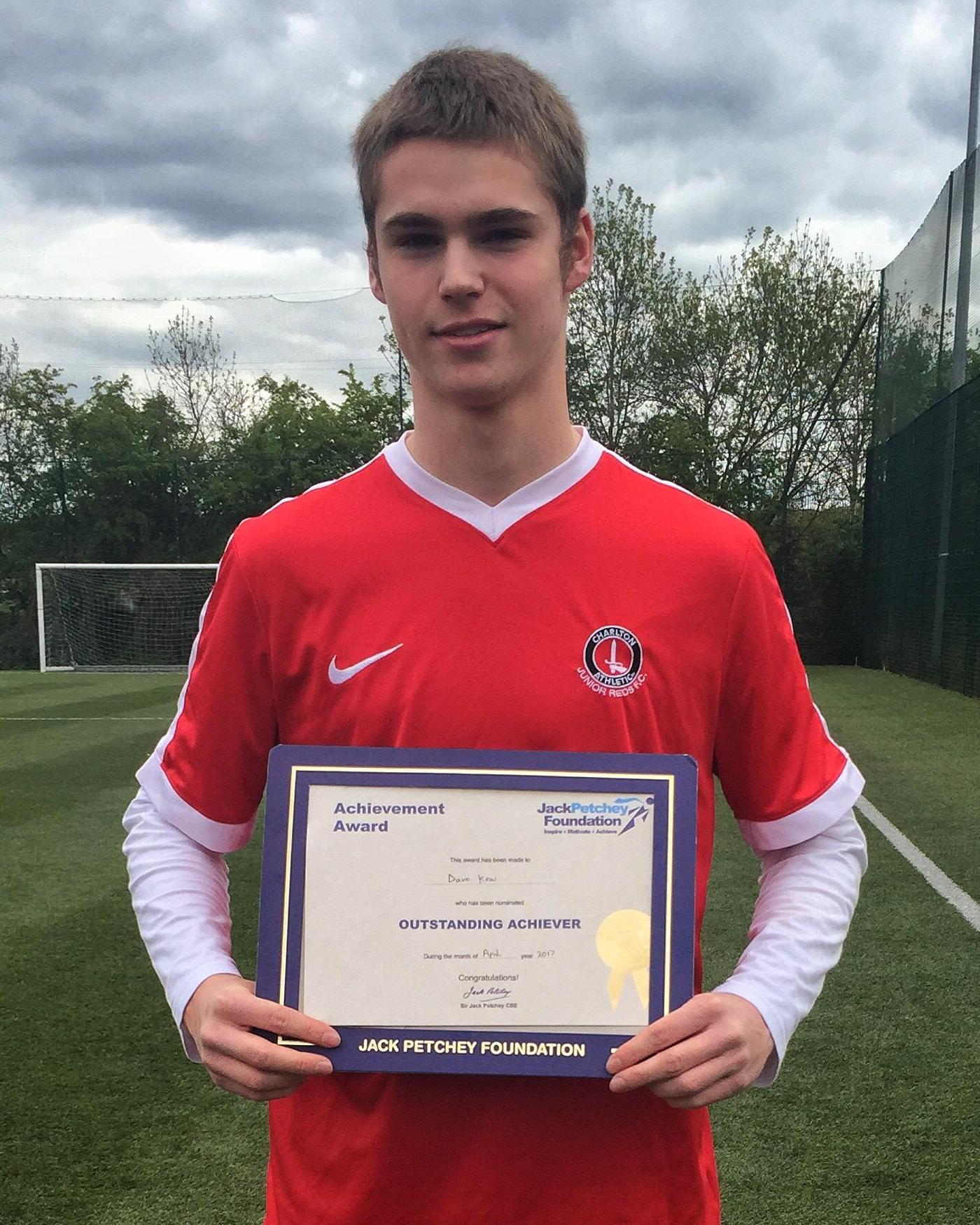 Congratulations Dave from everyone at Junior Reds.
---
Len Wareham Cup Final: Junior Reds Athletic 1-3 Kent Wanderers
A disappointing end to the season for the Junior Reds Senior Athletic at Princes Park this morning (30th April 2017). Despite a Paul Christodoulou goal late in the second half and some fine saves from Kevin Davis in goal we didn't have quite enough against a very good Kent Wanderers side.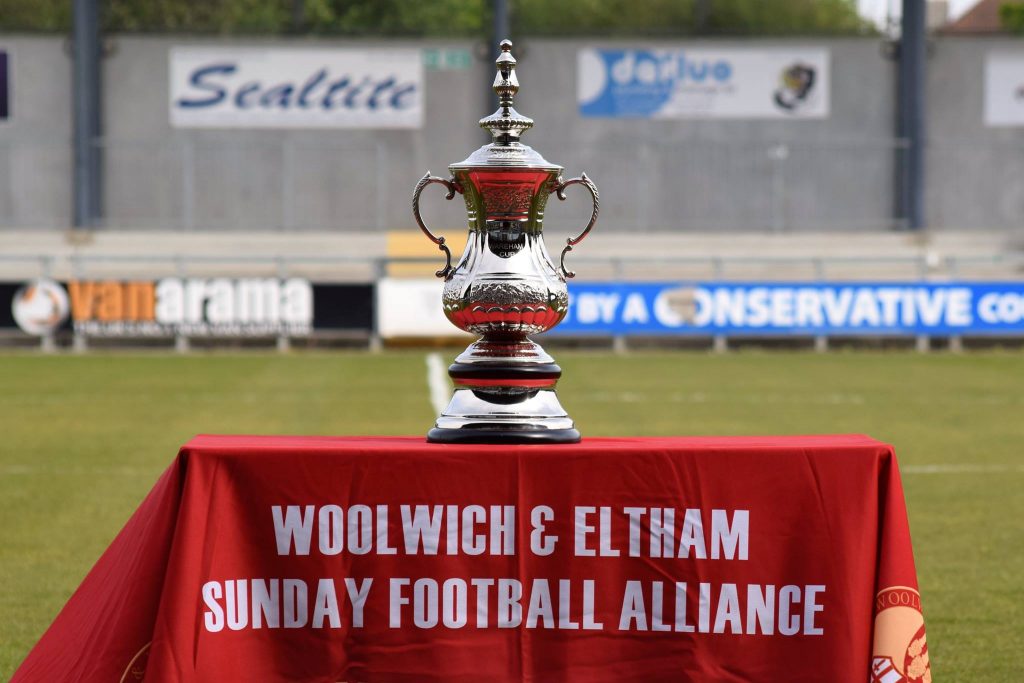 Congratulations to Kent Wanderers on completing the W&ESFA Division Two Cup and League double! and well done to the Junior Reds lads for reaching the final.
---
U13 Spartans crowned league champions
Congratulations to Alan and the U13 Spartans who have won the Selkent 'C' West Division on Sunday 23-04-17 with one game left to play.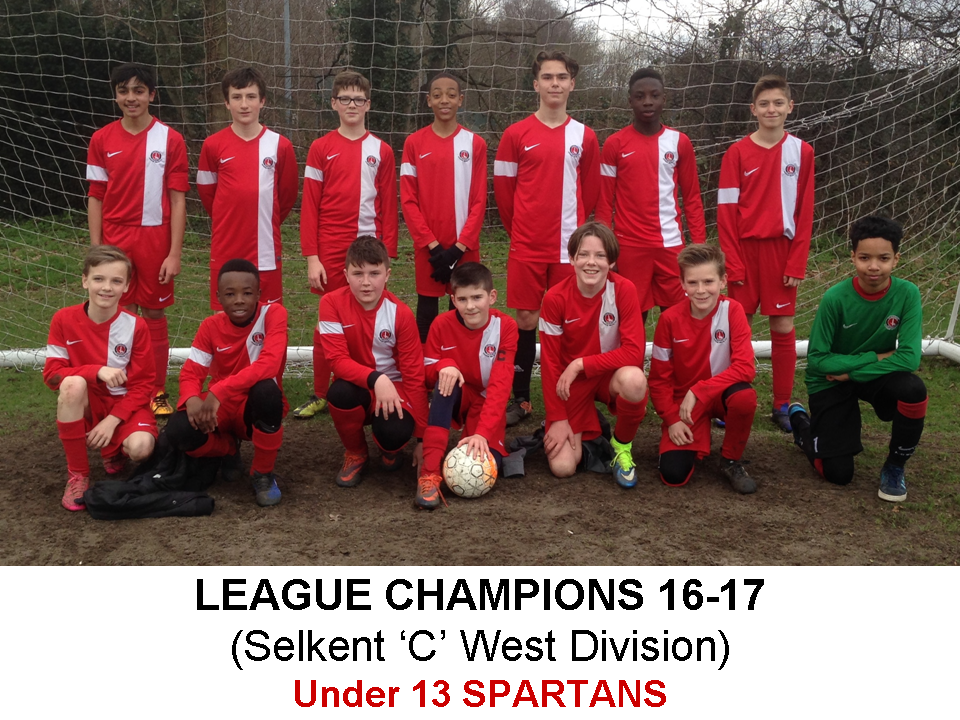 Well done boys a superb achievement. 
---
Selkent Shiel finalists – U13 Warriors, U12 Titians, U11 Athletic & U11 Sabres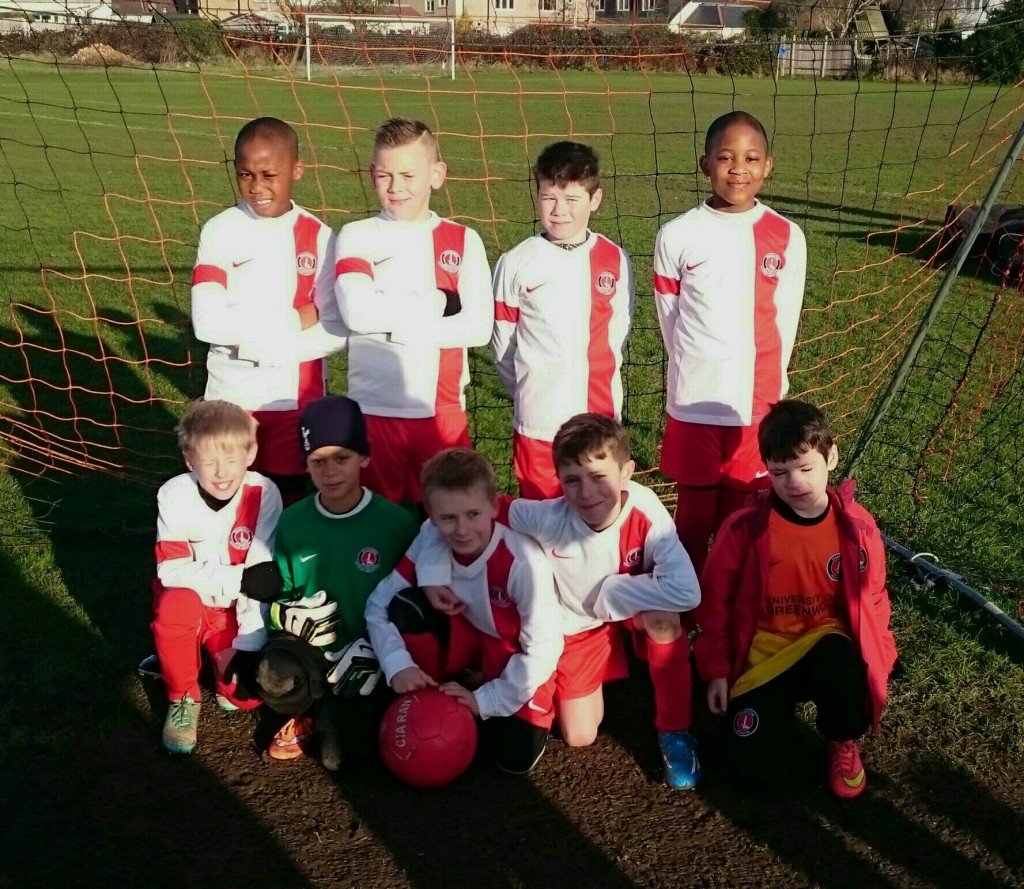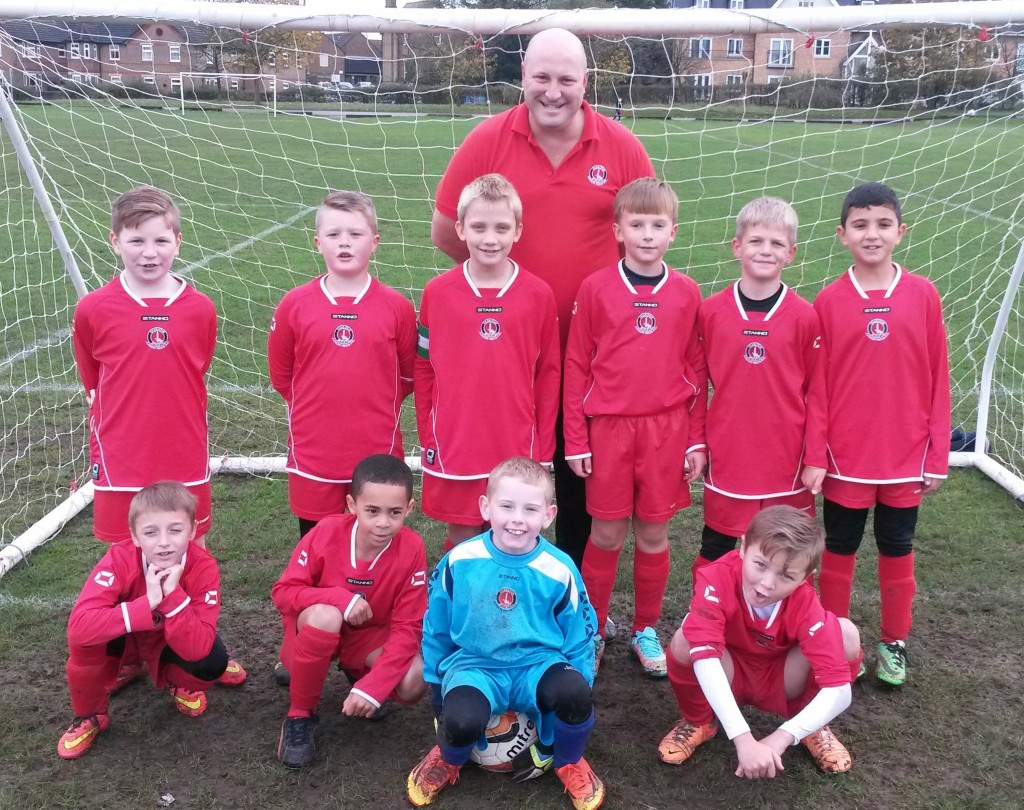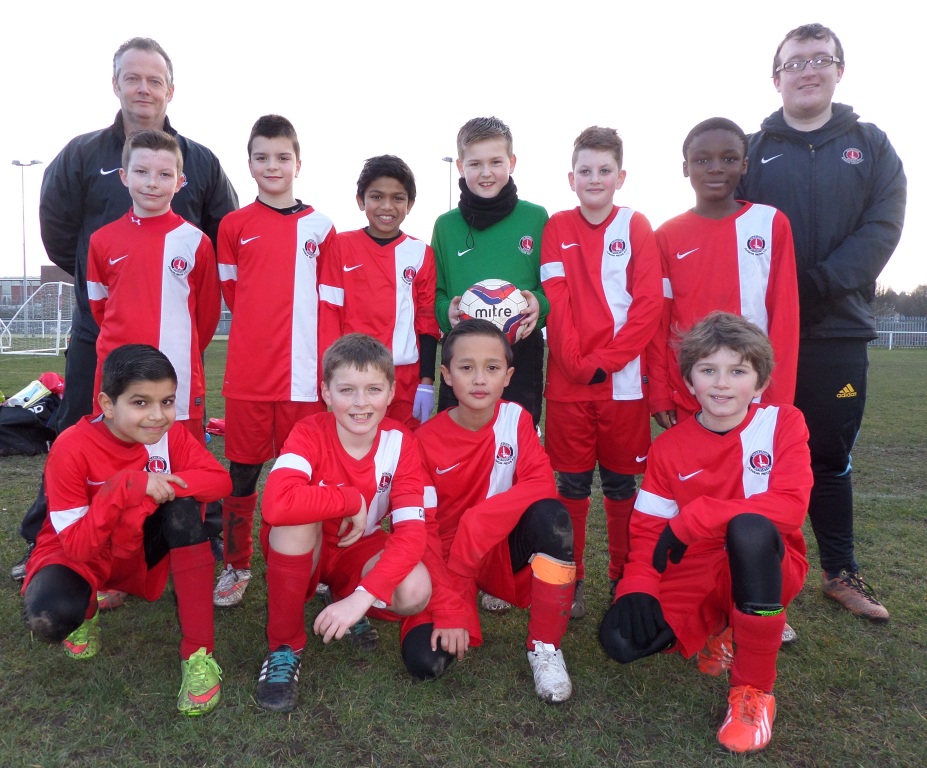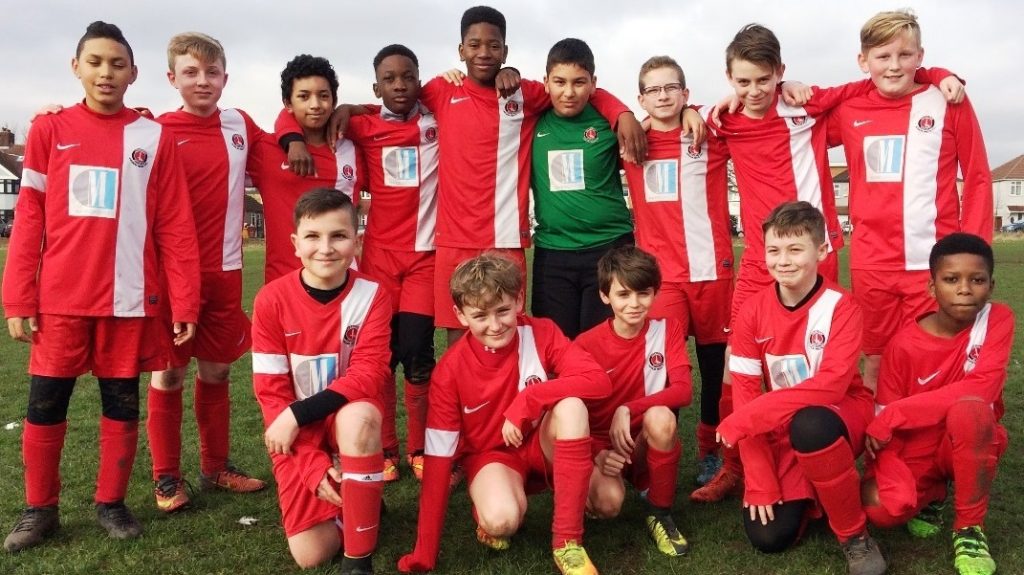 Congratulations to the U13 Warriors, U12 Titans, U11 Athletic and U11 Sabres for all reaching their Shield Finals. The Warriors have reached the Brown Shield final, the Titans will play in the Marron Shield final, the Athletics will play in the Aqua Shield Final and the Sabres have reached the Olive Shield Final.
Well done to all four teams and all the very best for the finals. 
---
Easter Break – Selkent Matches & Training Venues
Selkent League Easter Break – No League fixtures will be cast for Easter Sunday, which this year falls on Sunday 16th April. Fixtures will resume on Sunday 23rd April.
School Training Venues – The following school grounds will be closed over the Easter weekend of Saturday 15th and Sunday 16th April 2017.
Bexleyheath Academy,
Welling School,
Townley School,
Pelham School
Sherwood Park School
If you normally train at these locations, your team managers will advise of any alternative training arrangements for these dates.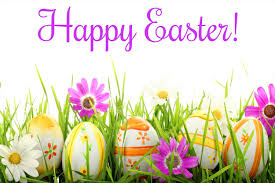 ---
Jack Petchey for March 2017
The winner of the Jack Petchey award for March 2017 is Miko from the under 11 Sabres.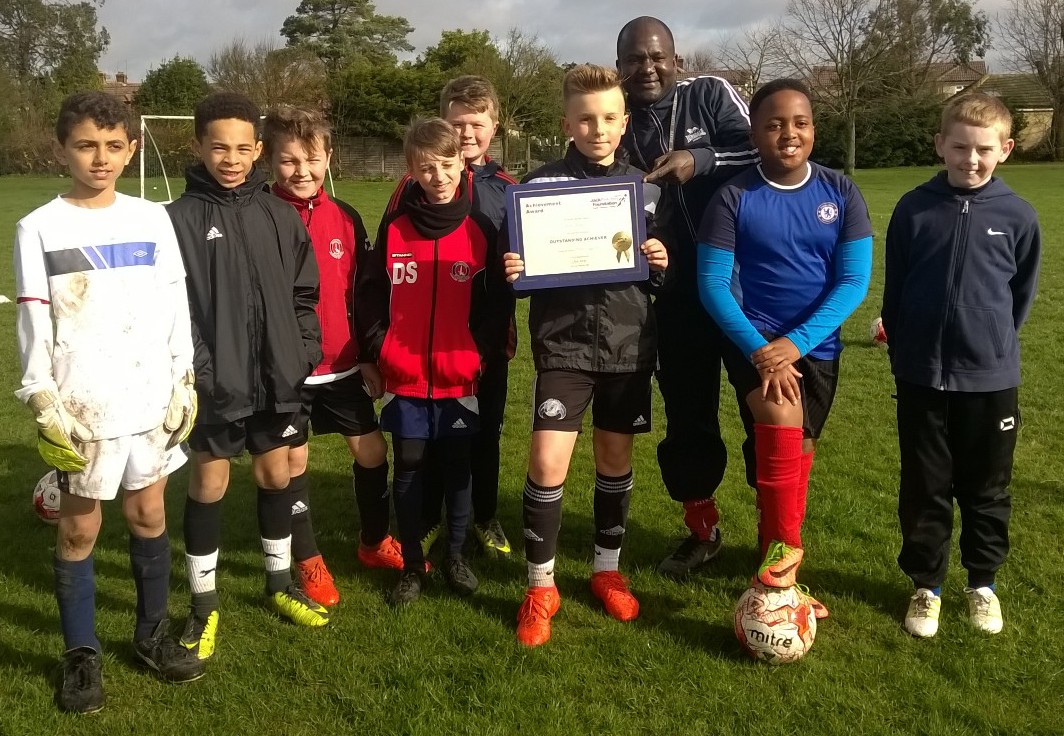 Steve Armstrong coach said " Miko has been made captain this season and has done a wonderful job. He leads by example by being first both to training and to matches. Miko also helps clear all the equipment away after eash session. He made history with his School team with them winning the treble this season and having spoken to his coach he shows the same commitment to them as well".
Well done Miko from all at Junior Reds
---
JR Wildcats First session
Below are some photos of the clubs first Junior Reds Wildcats session held on Friday 24th March 17 at the Sports Hall at Bexleyheath Academy, Graham Road, DA6 7DA.
The sessions run for an hour from 5.30pm – 6.30pm and cost £2 a week, on a simple pay and play basis. All Girl players of any ability are welcome.
For further information contact either :
---
Club Annual Presentation 2017
A date for your diaries.
Our annual Club Presentation will take place on Sunday 25th June at CAFC, The Valley.
Further details and timings will follow nearer the time.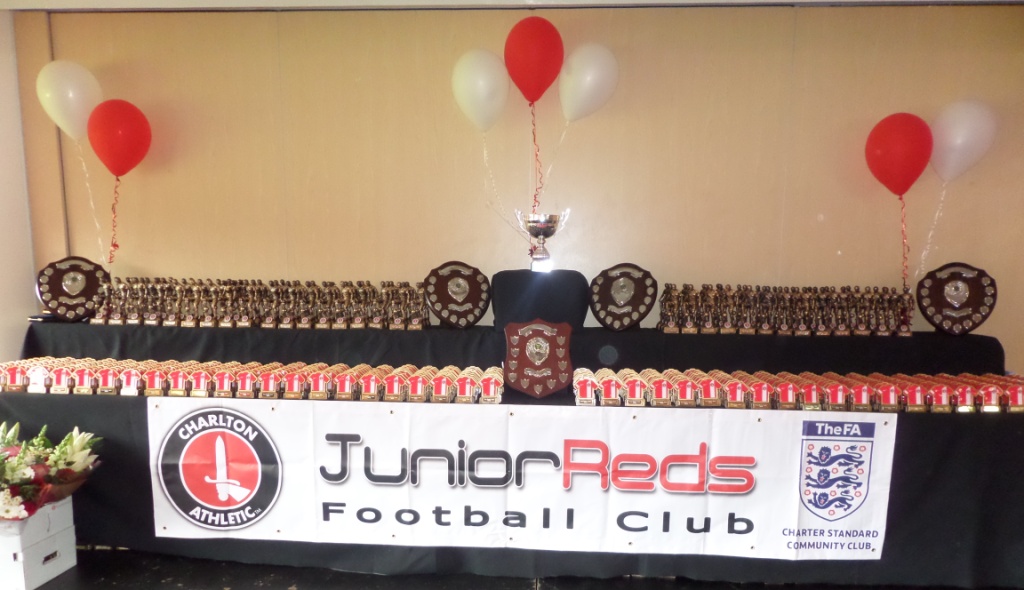 ---
U10 Girls – KG&LFL League Shield Final Winners
Having topped their group in the League Shield competition during March, our U10 Girls went on to play the two other group winners – Maidstone United and Sittingbourne – on the 26th March Shield Finals. The girls played really well and didn't concede a goal to bring the Shield back to Bexleyheath.
Congratulations to James and his team from everyone at Junior Reds.
---
Junior Reds Wildcats Football Club
Junior Reds FC is delighted to announce that it has been chosen, along with five other London Centres, to host the FA's brand new nationwide girls participation programme.
The programme will see 200 SSE Wildcats Girls' Football Clubs opening throughout England this spring, each run in conjunction with the local County FA and their key partners. The move will provide girls aged from 5 to 11 with regular opportunities to play football and take part in organised sessions in a fun, engaging and safe environment over a minimum 16 week period.
Junior Reds are proudly part of this and will be operating one of the six SSE Wildcats Soccer Centres in London. The Junior Reds Wildcats Centre will start on Friday 24thMarch. The venue will be in the Sports Hall at Bexleyheath Academy, Graham Road, DA6 7DA. The session will be for an hour from 5.30pm – 6.30pm and the cost will be £2 a week on a simple pay and play basis. All Girl players of any ability are welcome.
For further information contact either :
---
Jack Petchey for February
Jerrel of the under 16 Athletics is February's deserved winner of the Jack Petchey award.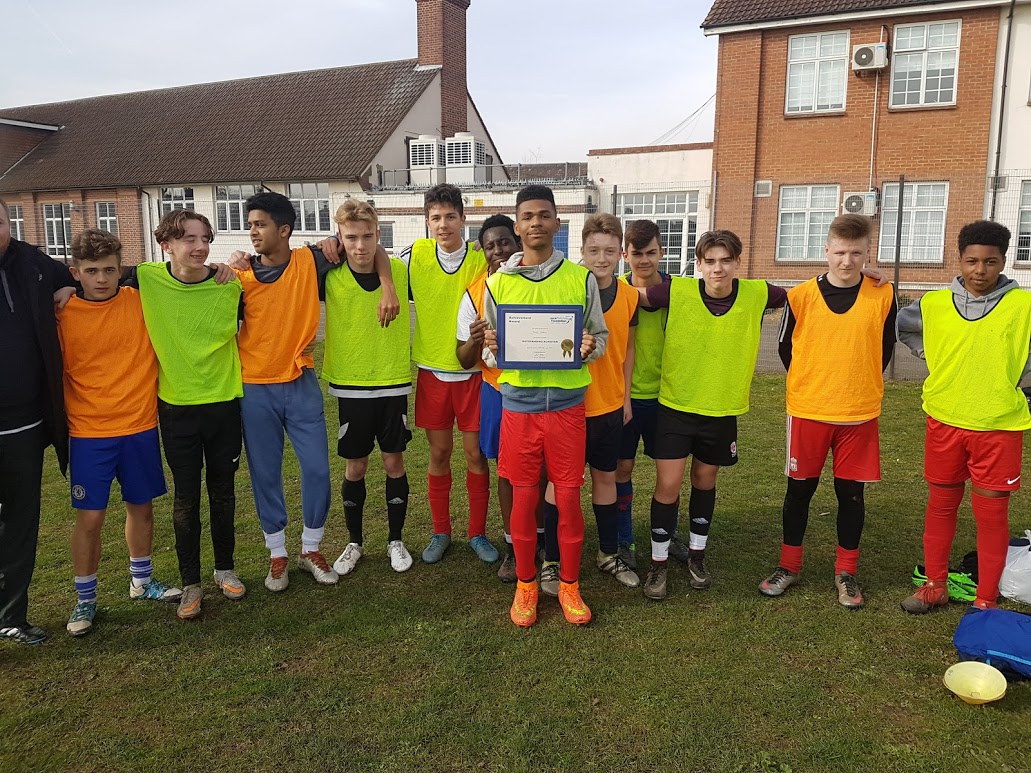 Michael Puszyk said of Jerrel: " I would like to nominate one of our players Jerrel  who has been with our team since under 14`s. Jerrel loves his football and despite having to travel from East London is an ever present at training and matches. At last week`s match at Petts Wood Jerrel had to take a tube and two buses to make the match, which shows real dedication.
He helps me out setting up and packing up at training most weeks and is a genuine pleasure to coach. Taking all this into account he has continued to improve as a player and is currently our top scorer with 18 goals in 9 matches."
Congratulations Jerrel from all at Junior Reds
---
Under 12 Knights crown league winners
CHAMPIONS!
Congratulations go to Naden and his U12 Knights on winning the Selkent U12C South Division recently.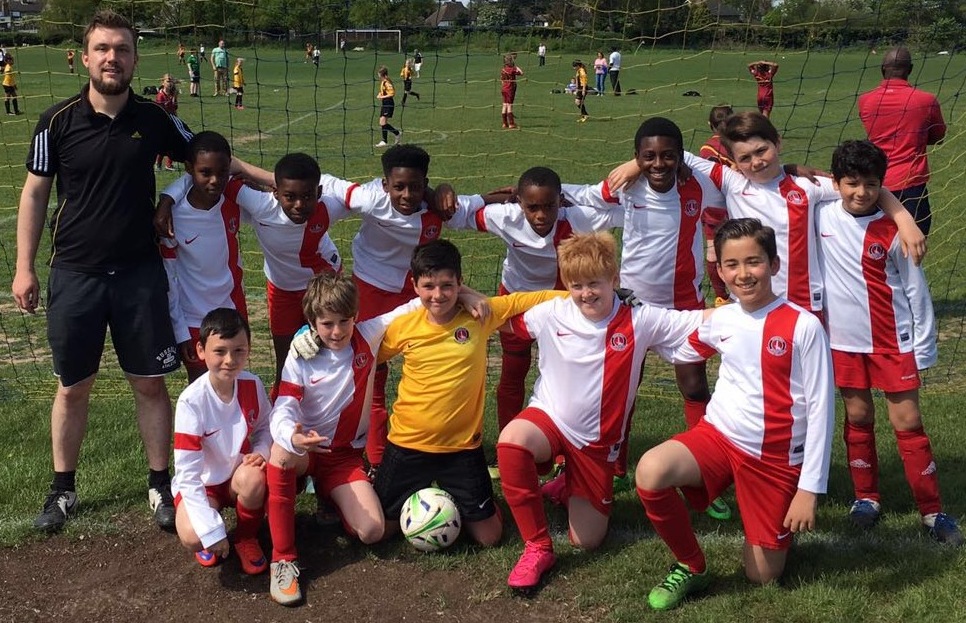 Well done lads from all at the club, a great achievement.
---
Under 15 Girls new team – Update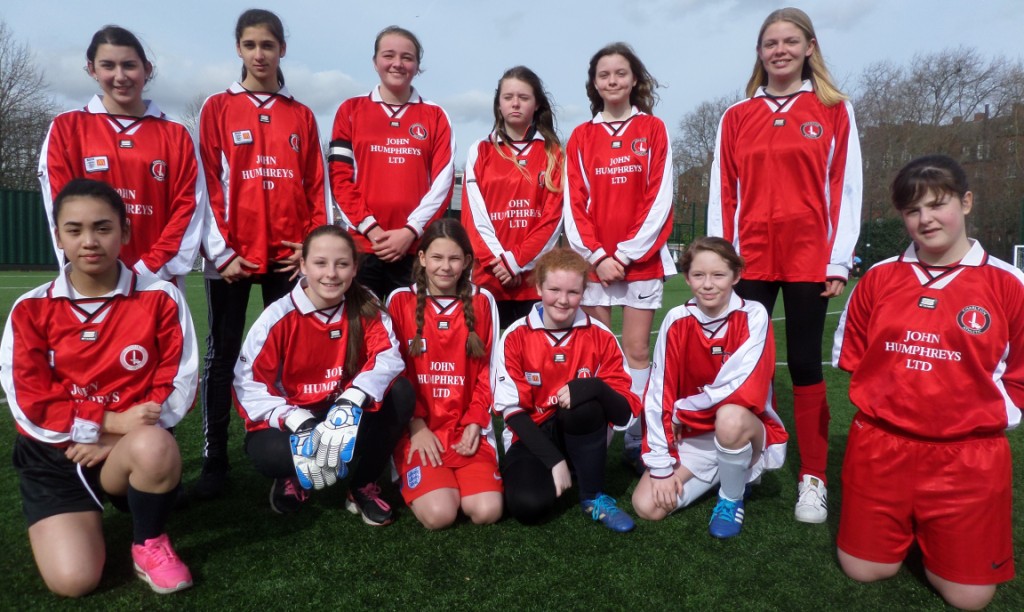 Junior Reds are forming a new Under 15 Girls team. A further step forward was taken in playing their first game against external opposition during early March in the form of Limehouse Ladies Under 15s.
Girls Coach, Clive Chivers, said "Playing other Under 15 Girls teams in organised matches is very important in building our team. Many of the girls have not played for teams before and gained a great deal in terms of match experience. 
We do still need some additional Under 15 Girl players to complete our team. We train at Bexleyheath Academy for an hour and a half on Saturday mornings at 10.00am. If interested in playing do come along or contact me on 07504 264 157 or email clive@juniorredsfc.co.uk. It is an excellent way to meet new friends; expand your social circle; improve general fitness and develop some skills".
---
London FA Girls Football Festival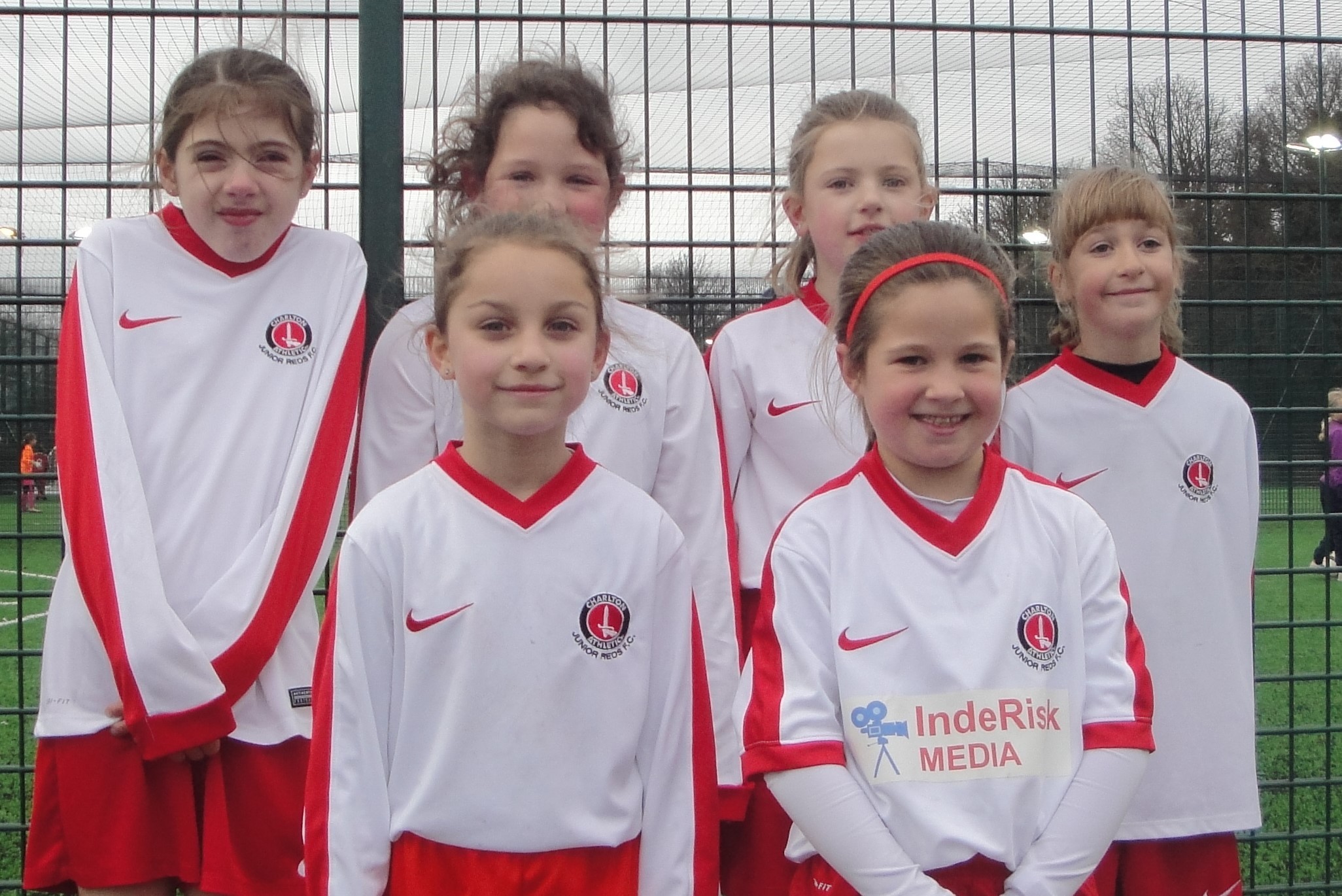 St Dunstan's College in Catford opened their new 3G facility in February and as part of this a Girls Football Festival was held by the London FA. Teams from across London took part. Junior Reds supported the opening by entering three Girls teams – one at Under 9s and two at Under 11s.
Pictured above are the Under 9 Girls – looking a bit cold – before their first of three games.
---
Well in with Nike Academy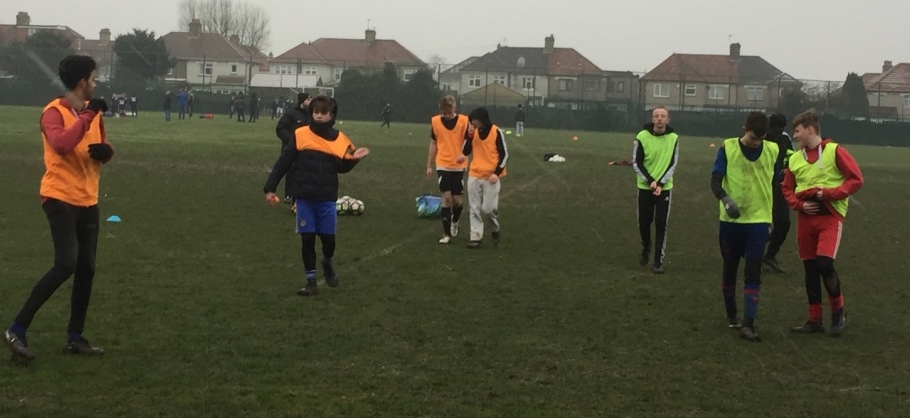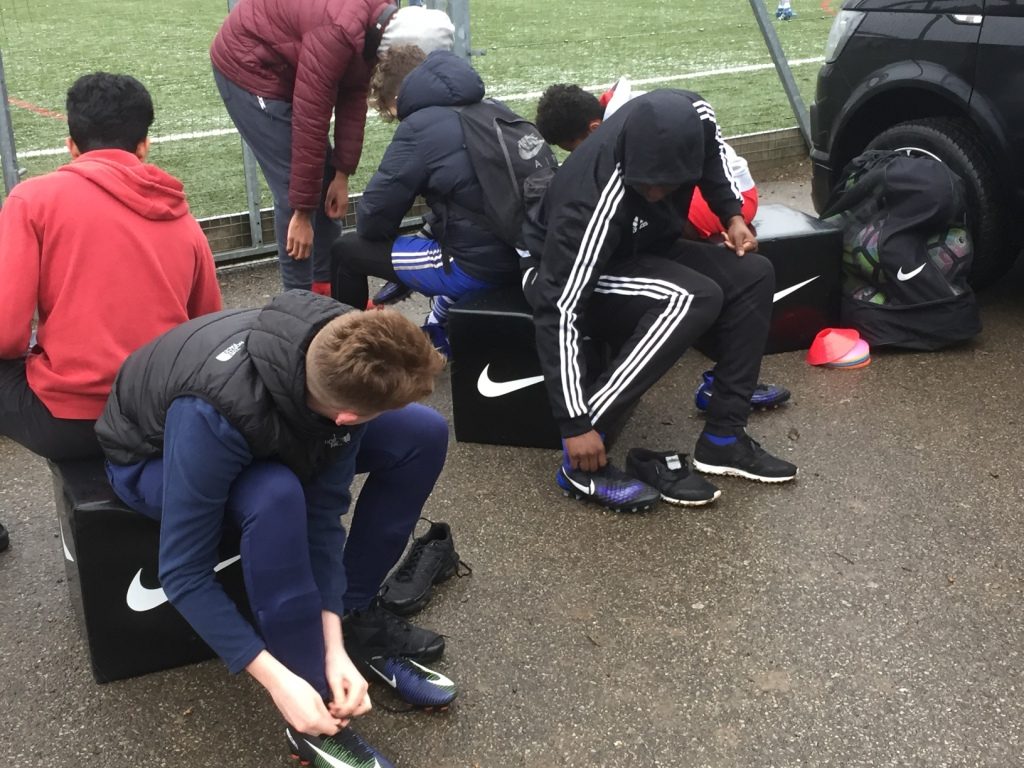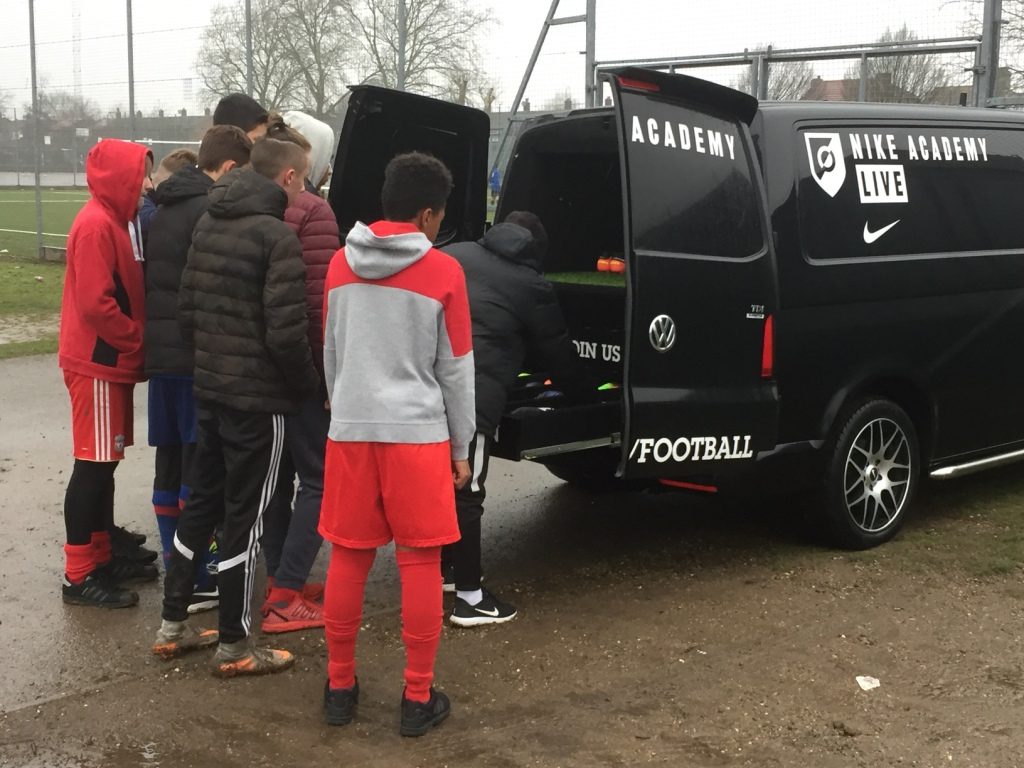 On a very cold February morning the feet of the Junior Reds Under 16 Athletic team were warmed a little thanks to the Nike Academy. Players were equipped with the latest Nike footwear for their training session at Welling School. The Nike Academy then gave a training session to the lads as part of their special visit.
---
Jack Petchey for January 2017 & "Where's Wally"?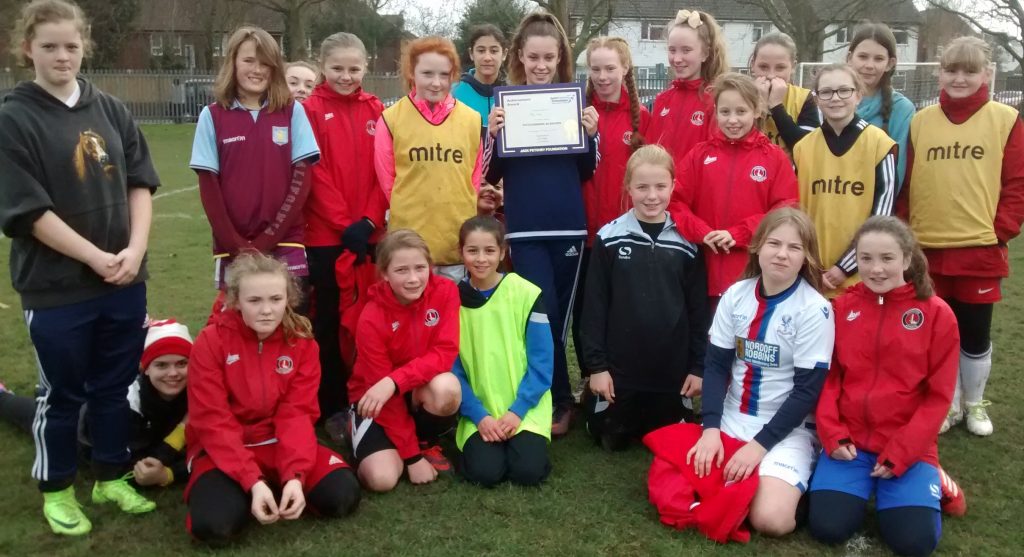 Congratulations to Holly, a member of the Junior Reds Under 13 Robins Girls team, for receiving the Jack Petchey award for January 2017. Team Manager Yusuf Kayalar said "Holly is always committed to training sessions and match days. She attends every game and at training is always willing to learn and try new skills to improve herself. Holly always fully encourages her team mates during matches. She is a great asset to my team and has been since day one".
Whilst taking the squad photo a fun moment was had in hiding Wally in the picture. Wally has a red / white hat and is hidden from view – or is she? – in the picture. No prizes though if she can be seen.
Congratulations Holly on receiving the Jack Petchey award from all at the club.
---
Goalkeeper Training returns
A warm welcome back to our Goalkeeping Coach Tony Ball. Tony's first morning back at Bexleyheath was extremely well attended with twenty six of the clubs goalkeepers turning up for training. Three separate sessions will be held for various age groups.
9.00am – 9.45am : Goalkeepers from Mini Soccer teams (U7s – U10s)

10.00am – 10.45am : Goalkeepers from 9 a side teams (being U11s – U12 Boys) + Girls

11.00am – 11.45am : Goalkeepers from U13 Boys and above
Welcome back Tony.
---
ABOUT THE CLUB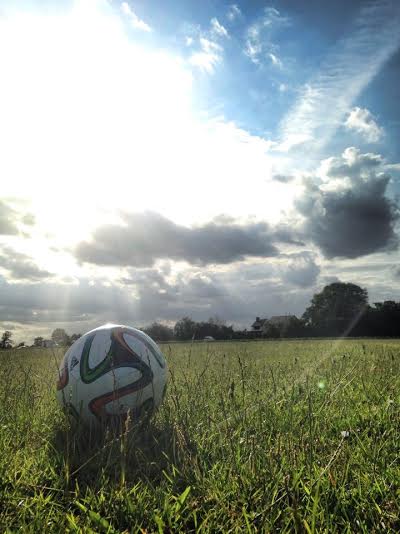 The Junior Reds Football Club was formed in 2001 to provide boys and girls, between the ages of six and eighteen, with the opportunity to compete in local Sunday Football Leagues in South East London and North Kent. The Club has steadily grown and now has over 40 teams competing in the Kent Youth League, South East London and Kent Youth League (SELKENT), Kent Ladies & Girls League and the Woolwich & Eltham Sunday FA. 
Click here to find out more details of the clubs history.
---
PLAYER & MANAGER RECRUITMENT
If you are interested in joining the Junior Reds, please contact:
Mobile: 07968 946256 or e-mail angela.wood@juniorredsfc.com
Clive Chivers, 

Club Secretary
Mobile: 07504 264157 or e-mail clive.chivers@juniorredsfc.co.uk
---