HOME
Welcome to
Junior Reds
Football Club
London FA Charter
Standard Development Club
---
CAN YOU HELP A TEAM?
Ever thought of getting more involved with Junior Reds FC? The club is totally dependant on volunteers to coach and manage a wide spectrum of teams ranging from Under 7's right through to the Senior squads.
We are always looking for new volunteers to help out within the club and have the following opportunities available :-
Coaches

Managers

Assistant Coaches

Assistant Managers
You don't have to be an experienced FA Level 1 or 2 coach as enthusiasm and reliability are just as important.
If you're interested and want to help then please contact:
Clive Chivers on 07504 264157 or e-mail clive.chivers@juniorredsfc.com
---
SATURDAY SOCCER CLUB
The Saturday Soccer Club operates every Saturday morning in Bexleyheath and is open to any ability from 5 to 10 years of age (I.e reception to Year 5). The sessions operate on a simple pay and play "casual" basis. Click on the link to find out more Saturday Soccer Club
---
LATEST NEWS
Girls at Wembley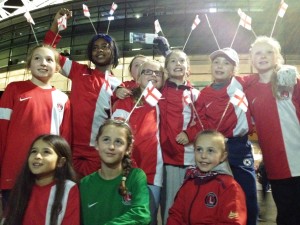 The Under 11 Girls team made a special trip to Wembley on Sunday 23rd
November to watch England Ladies play the German Ladies. Despite lots of
unconventional flag waving, a difficult journey and an England defeat, a good
time was had by all.
Girls Group Co-ordinator, Grainne Feeney, said "We have been working really
hard over the last few months and as a reward we decided to take a day off
from playing a match by visiting Wembley to see a Ladies International game.
The Girls certainly learnt from this experience and were inspired by some of
the play – especially from the German team!"
The Girls are steadily expanding this section of the Club.
If Girls (aged 7 to 14) wish to join in just come along to Bexleyheath Academy (10.30am) on a Saturday morning. You will  be very welcome.
---
Jack Petchey – November 2014 Winner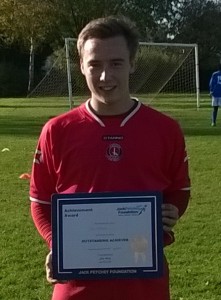 The Jack Petchey award for November 2014 is awarded to Sam of the Senior Spartans.
Lesley Price said " Since Geraint decided to step down Sam has stepped up to run the team along with Ray, which is no mean feat. The amount of work he is putting in with Ray is amazing and the team morale is on the up and up. I feel he really deserves the recognition."
Well done Sam from all at Junior Reds, keep up the good work.
---
Jack Petchey – October 2014 Winner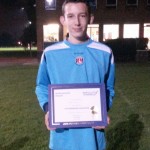 The latest winner of the Jack Petchey award for October 2014 is Daniel of the under 15 Titans.
Stuart Webb the Manager said " Daniel is our goalkeeper and has recently recovered from a back injury, but has been given the all clear to play football again. He is so determined to be a top goalkeeper that on Saturdays he goes to the Charlton challenge for both on field players and keepers with that session being held afterwards. He is always looking for ways to improve himself and is just a fantastic lad to coach. I think he would be overwhelmed with such a reward for how much effort he puts in to both training and matches." 
Well done Daniel you are a worthy winner of the Jack Petchey for October.
Congratulations from everyone at Junior Reds Football Club.
---
Under 8 Valiants named October team of the month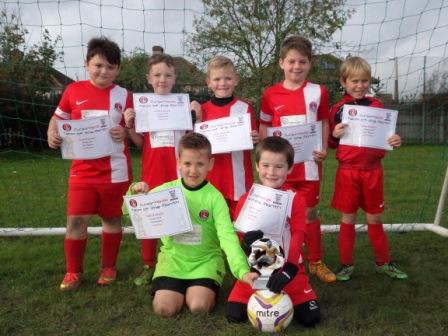 The boys enjoyed an excellent month in terms of progress both on and off the field. On the field the team won all four of their games. Off the field Team Manager Lee Ford commented "The boys have continued to show a lot of progression. They play the game in a great spirit and have been a credit to themselves and in representing the Club".
Congratulations to Team Managers Lee and Dave Banks, the boys and Parents for all their hard work.
---
Under 7 Knights make progress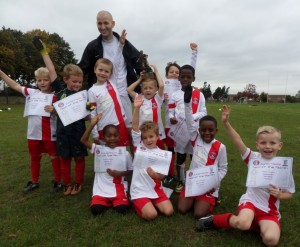 The Team of the Month for September are the Under 7 Knights managed by Shane Oake. This team are newly formed and have been recognised for their exceptional  progress during the month after an initial heavy defeat.
The Nomination made by Gary Russell stated:
"I wish to nominate the Under 7s Knights. They have only been together a couple of months and not played many games. The heart of the boys really shone through when they lost 10-1 to Dartford. They were not upset by this reverse but simply came out stronger and have really improved over the last few weeks to impress all that watch."
The picture shows they were delighted to be recognised as our first Team of the Month for this season.
Nominations can be made by Parents, Coaches or Managers for any of the Mini Soccer Teams to the Co-coordinator, Clive Hall-Strutt.
---
Jack Petchey – Sept 2014 Winner

The latest winner of the Jack Petchey award for September is Luke from the Under 14 Warriors.
Clive the Manager of the Under 14 Warriors said " I would like to nominate Luke from my team for his exemplary behaviour both on and off the pitch. 
Well done Luke you are a worthy winner and a credit to Junior Reds Football Club.
To read more "click here"
---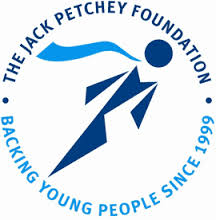 The club is pleased to announce our association with The Jack Petchey Foundation is to continue into season 14-15.  The grant allows the club to provide a monthly award to young individuals at the club (between the ages of 11 and 25) who have actively been involved in supporting the club at any level (club or team).
If you believe you have a person who should be nominated for the monthly award, then please contact Clive Hall-Strutt on the email below along with your reasons why that individual should be considered for the award.  
Email : clive.hall-strutt@juniorredsfc.com 
---
ABOUT THE CLUB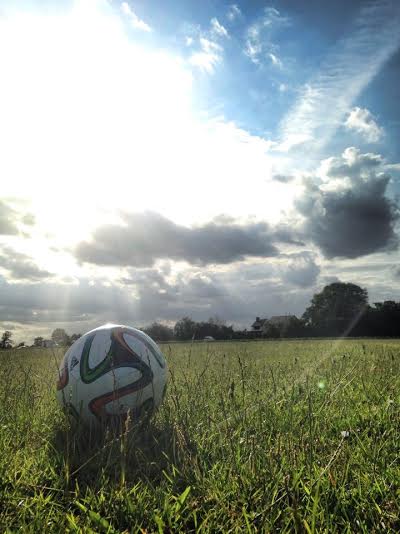 The Junior Reds Football Club was formed in 2001 to provide boys and girls, between the ages of six and eighteen, with the opportunity to compete in local Sunday Football Leagues in South East  London and  North Kent. The Club has steadily grown and now has 42 teams competing in the Kent Youth League, Bexley  and  District Junior League  or the South East London and Kent Youth League (SELKENT).    Click here to find out more details of the clubs history.
---
PLAYER & MANAGER RECRUITMENT
If you are interested in joining the Junior Reds, please contact:
Mobile: 07968 946256 or e-mail angela.wood@juniorredsfc.com
Clive Chivers, 

Club Secretary
Mobile: 07504 264157 or e-mail clive.chivers@juniorredsfc.com
Daniel Masters, 

Club Recruitment Officer
Mobile: 07957 740270 or e-mail daniel.masters@juniorredsfc.com
---