Junior Reds always welcome players from ages 6 to Adult status in all teams if vacancies exist. For information or general enquiries regarding players contact: Clive Chivers on 07504 264 157 or email: clive@juniorredsfc.co.uk .
The Saturday Soccer Club is a starting place for boys; girls and parents wishing to become involved and learn the game of football.
End of season club presentation date
Diary date: This years club presentation will take place on Sunday 30th June at CAFC, The Valley. Details to follow.
Our girls section has grown a great deal and keeps on growing. If you would like to be apart of our success - click for further information.
ub" which is held every Saturday morning 
LATEST NEWS
Geriant Jones – Junior Reds Senior Athletic
It is with great sadness we have to report Geraint Jones, Manager of Junior Reds Senior Athletic team,  passed away on the 21st April.
Geraint has been a valuable and much respected member of Junior Reds for nine seasons. Chairman, Clive Chivers, said "We are all very saddened Geraint has passed away. He was a great gentleman, very positive, always sociable and happy to help others. He worked tirelessly for his Senior team over such a long period and made football possible for so many people. Geraint is a massive loss to all fortunate to have known him."
Best wishes to Geraint's familiy at this very difficult time.
---
End of season club presentation date
🏆 Diary date: This years club presentation will take place on Sunday 30th June at CAFC, The Valley. Details to follow.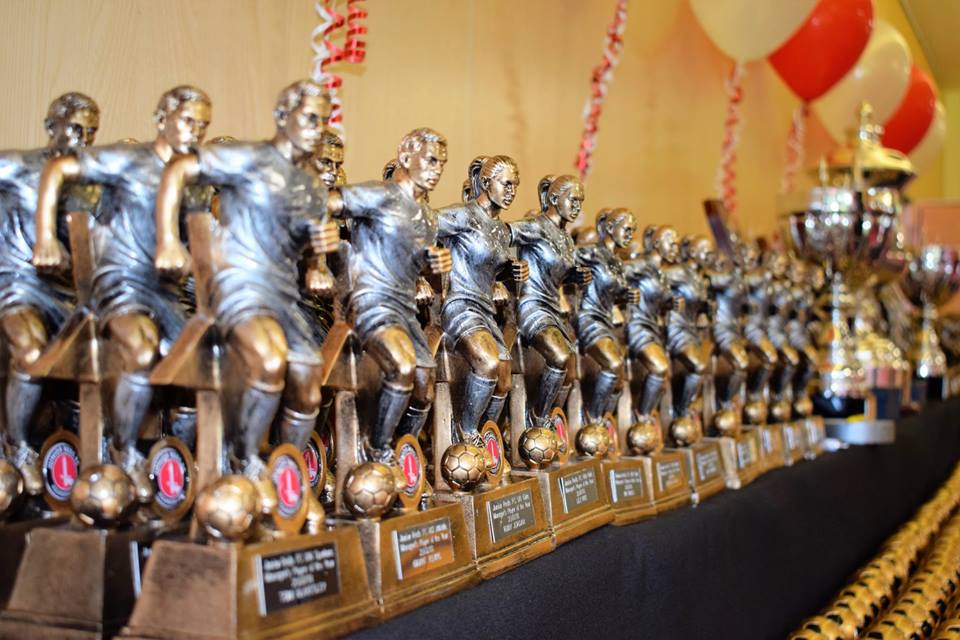 ---
Training in the snow
Our girl squads are a hardy bunch. Below are our girls training in the snowy conditions in January.
---
Merry Christmas 2018
A very merry Christmas from everyone at Junior Reds FC.
---
Laughter, Music, Dance & Games
There was laughter, music, dance and games at the Junior Reds Girls Christmas party on the 22nd December. The party was held for the first time at Coldharbour Leisure Centre in Mottingham where we enjoyed exclusive use for the evening.  
A number of party team games were played over the night with the overall winners being the "Snow" team led by Shay. Good use of their "Joker" for double points at the end!
The party was organised by a number of the Girls Coaches and special thanks go to Carl, Grainnee, Richael and Tom for their hard work in making the event possible. Tom provided the music with his new sound system playing a combination of old and current music for young and old.
---
Jack Petchey Gold Award for December 2018
Congratulations to Dilan of the U12 Titans who is the winner of the Jack Petchey award for December 2018.  Coach Dean said " Dilan always turns up to training and matches early and helps to clear away the equipment. He always gives 100% effort and helps and encourages other team members. He is a worthy winner of the Jack Petchey award for December."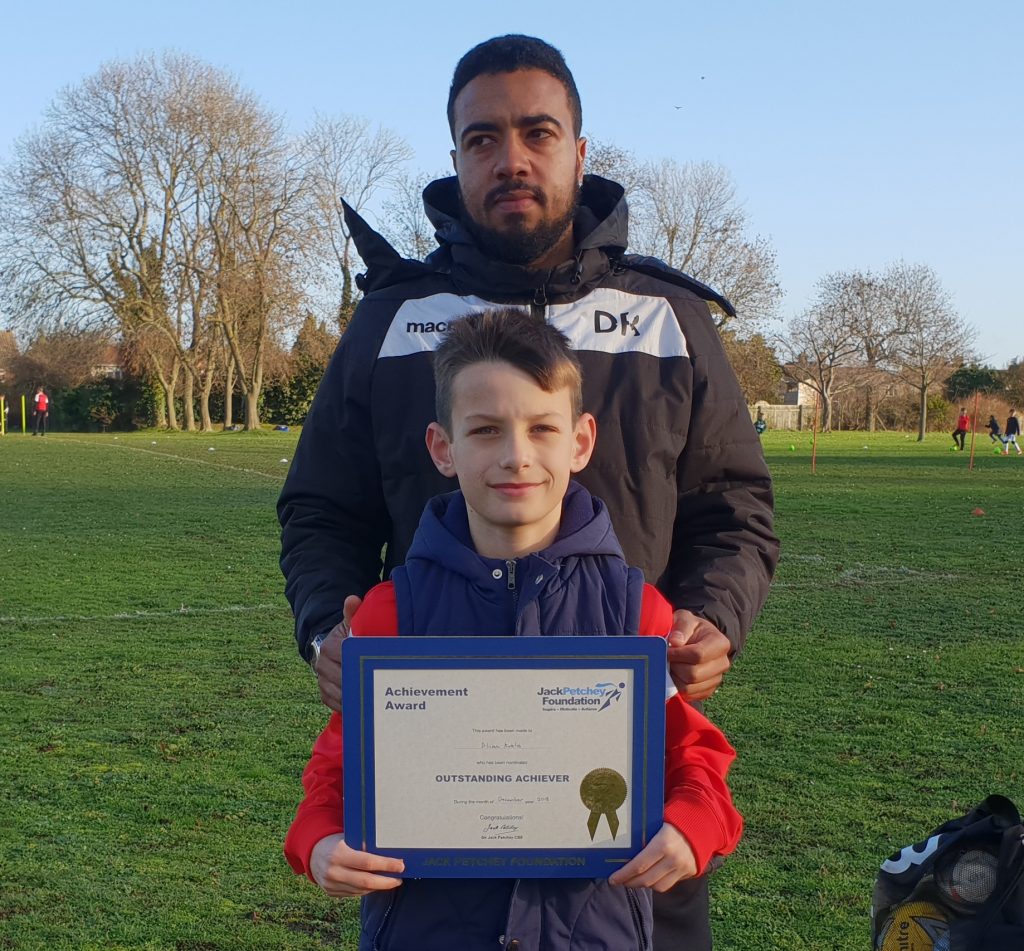 Well done Dilan from all at Junior Reds
---
Jack Petchey Gold Award for November 2018
Luke of the Under 14 Sabres is a deserved winner of the Jack Petchey gold award for November 2018. Coach Danny says " Luke is in his third season with the team and has barely missed a training session or match. He always arrives at training before the start time and is never late for a match. He always encourages his team mates and ensures that all equipment is cleared away at training. He gives others a reminder when I want the teams attention. Luke always ensures that he quickly brushes off any disappointments."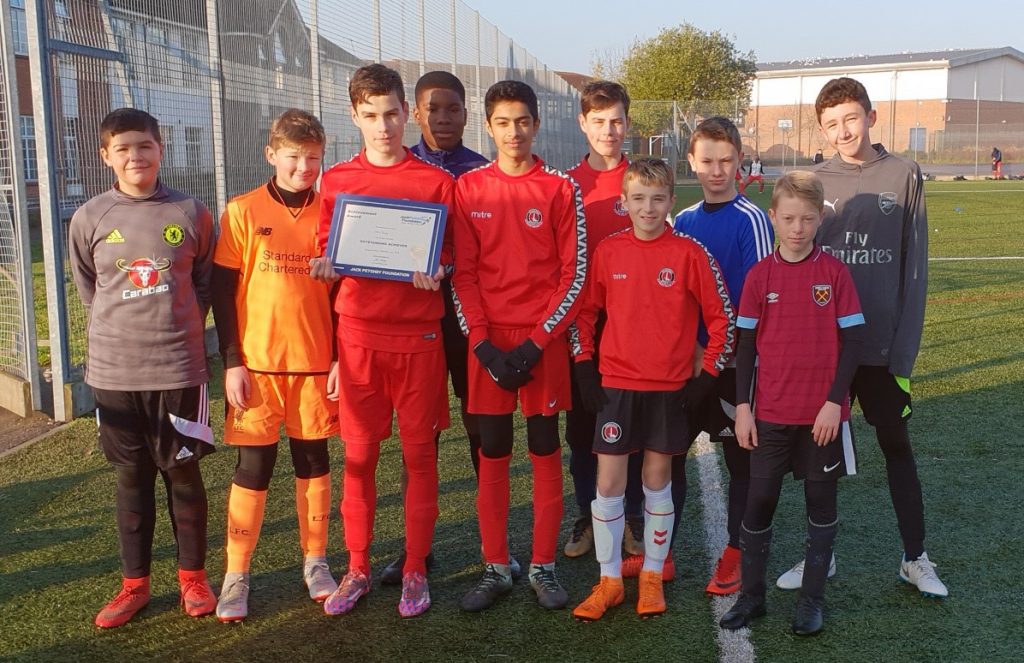 Well done Luke from all at Junior Reds
---
Jack Petchey Silver Award for November 2018
Congratulations to Grace winner of the silver Jack Petchey award for November 2018.  Manager Carl says " Grace has been with Junior Reds girls from the moment the team was formed. She has grown with the club and become a key figure within the team. She is always at training early to help set up and always last to leave. Grace always helps in introducing new girls to the team and will always help where she can. She always gives 100% to the team and shows great leadership."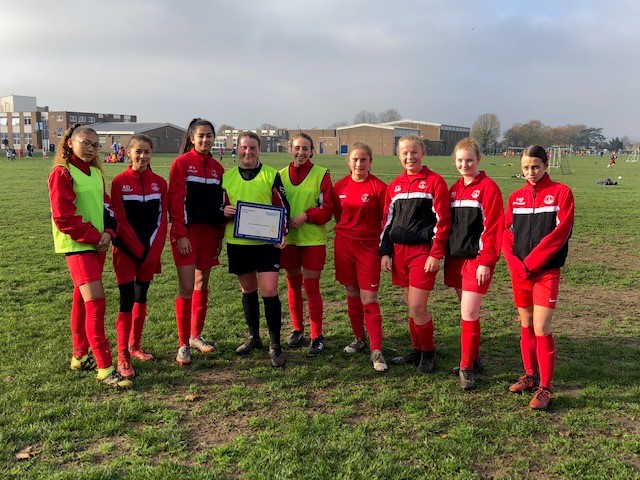 Well done Grace from all at Junior Reds
---
Jack Petchey Gold Award for October 2018
Congratulations to Habib the coach of the under 15 Roses who is the winner of the Jack Petchey gold award for October 18. Coach Clive said  "Habib is the coach that helps me with the U15 Roses Girls most Saturdays and some midweek sessions. He has assisted me now for over a year and despite being deaf and the communication challenges this posses at times, he always contributes where he is able. I give him various tasks and he undertakes these without complaint. He assists with clearing up and is a popular flexible member of the Coaching group – an asset to the Roses."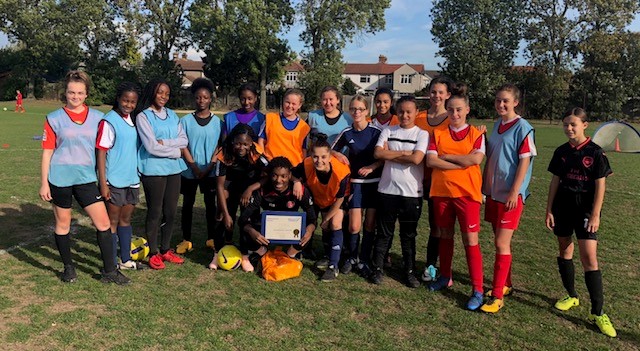 Congratulations Habib on receiving this month Jack Petchey gold award.
---
Jack Petchey Silver Award for October 2018
Congratulations to Megan of the under 16 girls who is the winner of the Jack Petchey silver award for October 18. Coach John said "Megan has grown to be a big part of this team, which is shown through her passion on and off the pitch. In matches and training she gives everything and has over the last few months started playing not only for herself but for the team. She has started to believe in herself more and more which rubs off on the team, it's fantastic to see such changes in players. She is always early for training and helps to put the goals up and has an opinion on most things from what training will be to our next game. There is so much more to this young lady I could mention but I'd be quite a while! I'd just like to thank her for all her hard work, as players like her make the coaches jobs a little easier."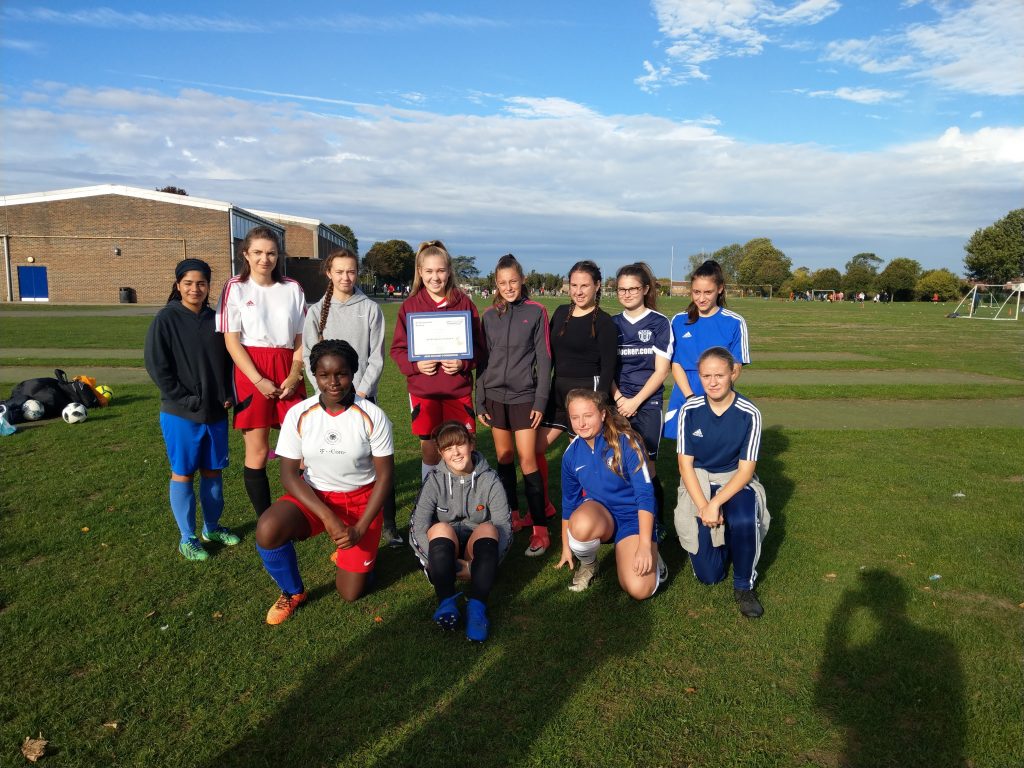 Congratulations Megan on receiving this month Jack Petchey silver award.
---
Welcome Under 14 Girls
A new Junior Reds Girls team took to the field today in preparation for the start of the season in the Kent Girls and Ladies League, Division 3. The team – Under 14 Girls – complements other Girls teams and fills a missing age group in the Club for School Year 9s.
The team has been steadily formed over this Summer and provides a greater opportunity for more Girls to play organised matches.
Team Manager is Lewis Cann. If your daughter is in School Year 9 and wishes to join a team then contact Lewis on 07722 471 840 for further details.

The team trains at Bexleyheath Academy on Saturday mornings at 10.00am. Girls of all abilities are welcome to train.
Junior Reds are forming an adult womens football team and are holding their first training session this coming Wednesday 19th September 2018.
Interested in playing in a team, or just want to train for fitness/fun. All ages and abilities welcome. 
First session is on Wednesday 19th September from 6:30pm to 8pm at Bexleyheath Academy Sports Hall.
For further details contact Yusuf on 07748 679 605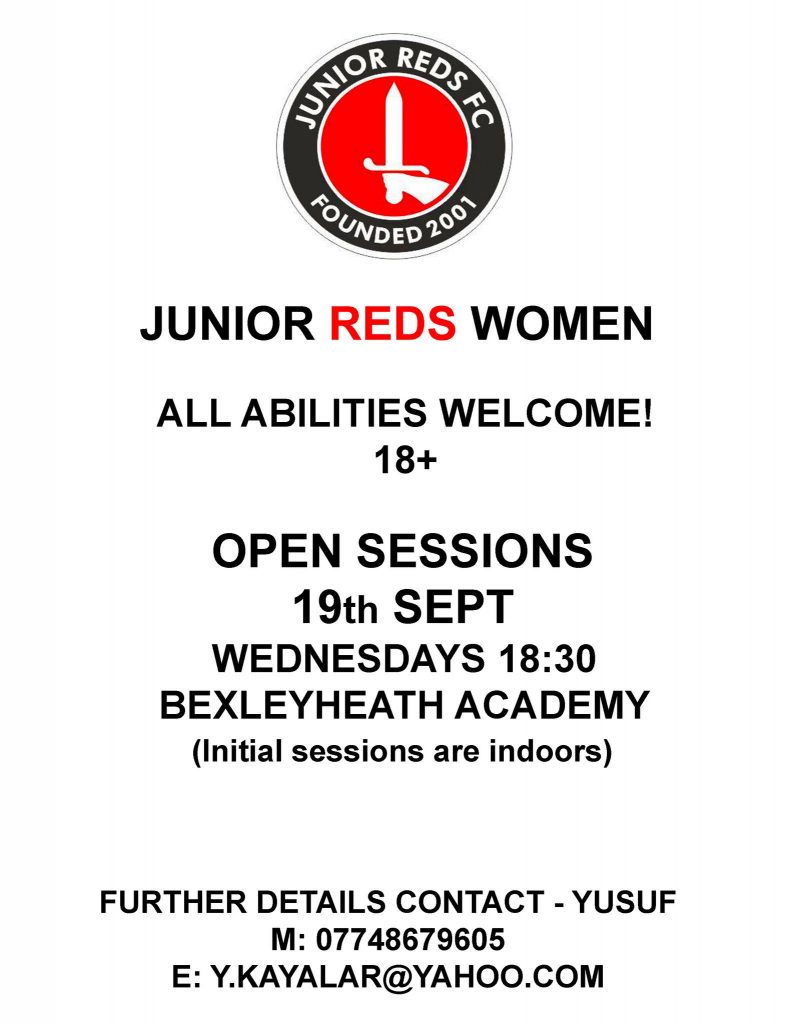 ---
Junior Reds FC to play in New League
Junior Reds FC are delighted to announce that we have been accepted as members of the THE TANDRIDGE YOUTH FOOTBALL LEAGUE for season 2018/19.
This exciting opportunity will allow us to offer football to our older age groups that don't currently exist.

---
Junior Reds support the Danson Youth Centre "Play Day"
Junior Reds were again in attendance at the annual Play Day, held at Danson Youth Centre in Bexleyheath.
The sun shone, the grass was dry and lots of fun was enjoyed by all. Junior Reds ran three popular activities comprising of a penalty shoot-out, a free kick test with manikins and several small sided games.
The Mayor and Mayoress of Bexley called in to give support and showed much interest with our activities and the Club.
Well done to all and especially Terry and Yusuf for all the energy in hot sunshine.
---
Junior Reds host CSA Impact from the USA
On Thursday evening we welcomed CSA Impact from the USA to Welling School for a series of friendly matches.
CSA Impact from Cleveland, Ohio, are on a week long tour of the UK and had already trained at St Georges Park, Arsenal and Manchester Utd before playing us on the penultimate day of their tour. Three games were played with a reception held afterwards in the school hall for players,parents and officials. Back on the pitch, Impact won all three games, beating combinations of our U14 & U12 Boys teams on the Astro and our U14 girls teams on the field.

We would like to thank CSA Impact for joining us for a very enjoyable evening and wish you all a safe journey back to the States this afternoon.
Our U7 Athletic are pictured below following their recent attendance at Footscray Tournament. 
Well done to lads, hope you had a great day. 
---
Jack Petchey Award for June 2018
Regan is pictured receiving the Jack Petchey Award for June from his Manager. Playing for Junior Reds since the age of 6, Regan always attends training and is the first to help set up and tidy up. He is the first to welcome new boys to the team and help them to settle in. This season, Regan has been working as a young career on Sundays, but he still turns up for the second half of each game and still gives his all to the team. He leads by example both on and off the pitch, giving his all every weekend. Regan has signed up for another season, which means he will have represented Junior Reds for over 11 years.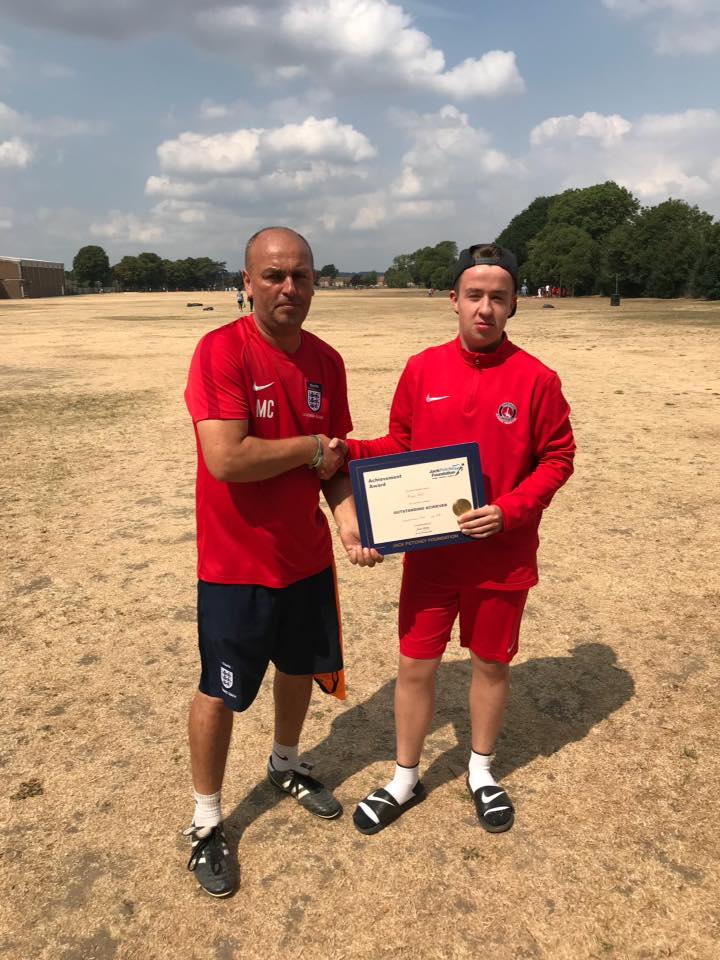 Congratulations Regan from all at the club.
---
Get Into Refereeing
Female aged 14yrs + 
✅
Interested in getting into refereeing
✅
Free kit on qualifying 
✅
Some of your course fee refunded* 
✅
Earn as you learn
✅
The Kent FA have a course for you starting on August 28th. For further details contact Nick.Dunn@kentfa.com or book on this link http://eventspace.thefa.com/k…/participant/arrangement.aspx…
*see leaflet for T&C's
---
Season 17/18  Presentation Day
Below are some photos of our squads as they receive their player trophies plus team shields and cups from this seasons achievements.
Well done to everyone involved and particular thanks to the club committee for organising a great dayfrom all the mangers, players & parents.