HOME
Welcome to
Junior Reds
Football Club
London FA
Charter 
Standard
Community Club
---
CAN YOU HELP A TEAM?
Ever thought of getting involved with Junior Reds FC?
The club is totally dependant on volunteers to coach and manage a wide spectrum of teams ranging from Under 7's right through to the Senior squads.
We are always looking for new volunteers to help out within the club and have the following opportunities available :-
Coaches

Managers

Assistant Coaches

Assistant Managers
You don't have to be an experienced FA Level 1 or 2 coach as enthusiasm and reliability are just as important.
If you're interested and want to help then please contact:
Clive Chivers on 07504 264157 or e-mail clive.chivers@juniorredsfc.com
---
SATURDAY SOCCER CLUB
The Saturday Soccer Club operates every Saturday morning in Bexleyheath and is open to any ability from 5 to 10 years of age (I.e reception to Year 5). The sessions operate on a simple pay and play "casual" basis. Click on the link to find out more Saturday Soccer Club
---
LATEST NEWS
FA Charter Standard Community Club Status awarded by FA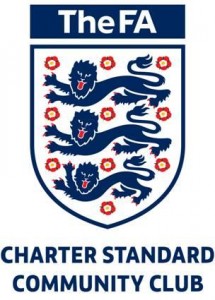 Junior Reds FC has been awarded FA Charter Standard Community Club Status by the Football Association. Only eight other clubs hold this award in London so we join an exclusive group that have attained the very highest level of the FA's Charter Standard Award Scheme.
Charter Standard Coordinator, Andy Wood remarked "Gaining Community Club Status has been part of our Development plan for a number of years now and it's taken a lot of hard work by many volunteers to get us to this stage. My thanks go to all those people, not only from within the club, but also the staff at the London FA with whom I have worked to achieve Community Club status. Well done and thanks to you all".
Junior Reds were first awarded FA Charter Standard status at the "Development" level in 2002. In the last decade several distinctions have been received in recognition of the Club's achievements. The length of time taken to reach Community status is an indication of the very high standards required. Club Chairman Clive Chivers said "I am indebted to all the Managers, Coaches and Administrative helpers in reaching this very high standard and delighted to be only the ninth Club in London to reach the top level. We have over 600 players in the Club and football is provided through the considerable commitment and dedication of over 50 volunteers". A big thanks to all and especially to Andy Wood for driving the application.
---
Kent Ladies and Girls Football League – Junior Reds Robins 2-1 Maidstone Utd.
A brilliant first game of 2015 for the girls with a 2-1 win over previously unbeaten Maidstone Utd today. Well done girls!
They certainly looked the part too in their new tracksuits supplied by sponsor Mortimer Construction, for which we would like to say a big THANK YOU!
---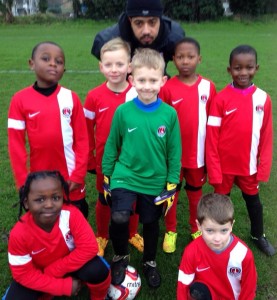 A new Under 7 team has arisen from the "Saturday Soccer Club" at Bexleyheath.
The boys have been coming along regularly for training on a Saturday and have taken a large step up in playing organised games against different opposition each week. The team are the Under 7 Sabres and are managed by Dean  Robinson.
The Sabres got off to a promising start in their first matches on Sunday. The team do still require a goalkeeper as all the boys are keen to play outfield.
If an Under 7 goalkeeper is interested in joining please contact Dean on 07876 820 206. The team train at Bexleyheath Academy on Saturday mornings.
---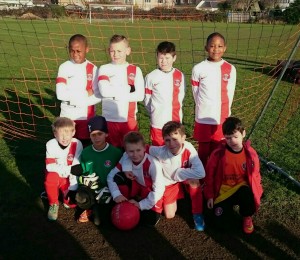 Junior Reds newest team at Under 9's made their debut in January. The lads are seen just before kick off in readiness for their entry into the Selkent League. The team are jointly Managed by Gavin Wakeman and Justin Skinner.
Gavin said "we have worked hard to form a team and the boys are eager to play regular matches. They have not played organised games so far but with their enthusiasm I am sure will quickly develop their skills in match situations."
This is Junior Reds fifth team in the Under 9 age group.
---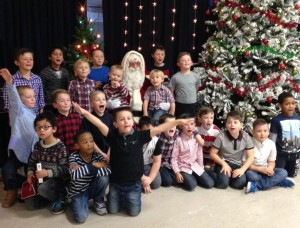 A Christmas Party was held on 13th December for members of the younger teams and "Saturday Soccer Club".
The venue was Danson Youth Centre and Father Christmas made his customary appearance to dispense seasonal cheer and presents.
Thanks to go to Pauline Berry for her organising skills and Terry Whittley
his wife Terri, Grainne Feeney and Sam Lilburn for helping to make it a fun time for the kids.
---
Father Christmas spotted!!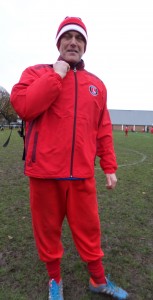 Father Christmas has been spotted walking across the Danson Youth Centre ground on Sunday.
Father Christmas was combining his role as a Junior Reds' Team Manager showing off his tracksuit. He tells me he had a weekend off from making all those toys.
A Christmas present for guessing who he is?
---
Football Remembers: Celebrating 1914 Christmas Truce match

Various Junior Reds teams joined several thousand across the United Kingdom to mark Football Remembers Week.
The unofficial ceasefire one hundred years ago in December 1914 saw British and German soldiers across the Western Front play football together. This was one of the most iconic moments of World War I. 
These 'Moment in History' pictures are being displayed on a website called www.FootballRemembers.com
Pictured above are the U8 Addicks, U8 Knights, U11 Robins & U14 Valiants teams that took part in this special event.
---
Selkent Managers Training Course – Junior Reds well represented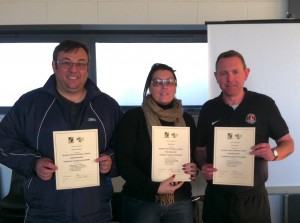 Congratulations to Andy Wood, Kelly King and Daren Proberts who completed the brand new Selkent Managers In-Service Training Course on Saturday.
Twenty four managers from across the league took part in the very first Managers Training course held over three days with a mixture of both classroom and practical elements including Management Philosophy, Psychology, Match Day Management and Coaching Principles. The course was tutored by Alex Welsh and Tina Mapes,
both highly respected 'A' Licence Coaches along with Sally Dolan (Selkent League Secretary) who was on hand at the end to award certificates to all the candidates.
Andy said "this was an excellent course and I would recommend it to all our Selkent Team Managers. Everyone would benefit from attending".
Andy, Kelly & Darren – A big thank you for your time and commitment in representing the club.
---
Tribute to Ben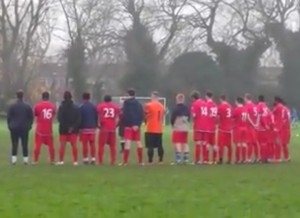 Yesterdays Junior Reds Spartans  game against AFC Sporting Meridian was dedicated to the memory of Ben Purdy, who played for the Spartans and sadly passed away last week.
All teams in the Woolwich & Eltham District Alliance League paid their respects to Ben with a minutes applause before their games.
Ben's parents were also in attendance at the match to see just how much their son meant to the team. The Spartans won the game 4-0.
---
Ben Purdy
It is with great sadness that the club has been advised of the death of Ben Purdy. Ben, who was just 18 years of age, played for the Sunday (Adult) Spartans and died last Monday. 
Manager Geraint Jones said of Ben :  
"Ben has been with the team since the age of sixteen, and has been embraced by his older team mates as a little brother, going on various social outings and football competitions, enjoying and giving plenty of banter in return.
I first came into contact with Ben, when Sam, told me that he had a little cousin who was quite handy, and that I should consider signing him. He came to summer training, and played in our pre-season matches.  I was impressed with his positive attitude, and his friendly personality fitted perfectly within the ethos of Junior Reds, and I signed him immediately.
For those who do not know Ben, I can say that he was truly a young gentleman, kind, polite and always wanting to help, He would never shy away when I was looking for someone to run the line, when he was a substitute, he would volunteer!
Ben went through life with a smile on his face, he loved his football and his team, and was a very promising full back.  His team mates will miss him dearly, but he will never be forgotten".
Our heartfelt condolences go to all his family and friends.
---
ABOUT THE CLUB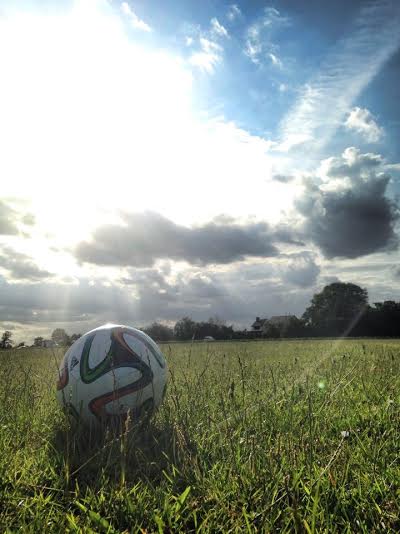 The Junior Reds Football Club was formed in 2001 to provide boys and girls, between the ages of six and eighteen, with the opportunity to compete in local Sunday Football Leagues in South East  London and  North Kent. The Club has steadily grown and now has 42 teams competing in the Kent Youth League, Bexley  and  District Junior League  or the South East London and Kent Youth League (SELKENT). 
Click here to find out more details of the clubs history.
---
PLAYER & MANAGER RECRUITMENT
If you are interested in joining the Junior Reds, please contact:
Mobile: 07968 946256 or e-mail angela.wood@juniorredsfc.com
Clive Chivers, 

Club Secretary
Mobile: 07504 264157 or e-mail clive.chivers@juniorredsfc.com
Daniel Masters, 

Club Recruitment Officer
Mobile: 07957 740270 or e-mail daniel.masters@juniorredsfc.com
---