HOME
Welcome to
Junior Reds
Football Club
London FA
Charter 
Standard
Community Club
---
CAN YOU HELP A TEAM?
Ever thought of getting involved with Junior Reds FC?
The club is totally dependant on volunteers to coach and manage a wide spectrum of teams ranging from Under 7's right through to the Senior squads.
We are always looking for new volunteers to help out within the club and have the following opportunities available :-
Coaches

Managers

Assistant Coaches

Assistant Managers
You don't have to be an experienced FA Level 1 or 2 coach as enthusiasm and reliability are just as important.
If you're interested and want to help then please contact:
Clive Chivers on 07504 264157 or e-mail clive.chivers@juniorredsfc.com
---
SATURDAY SOCCER CLUB
The Saturday Soccer Club operates every Saturday morning in Bexleyheath and is open to any ability from 5 to 10 years of age (I.e reception to Year 5). The sessions operate on a simple pay and play "casual" basis. Click on the link to find out more Saturday Soccer Club
---
LATEST NEWS
Under 12 Athletic crowned Selkent B (North) champions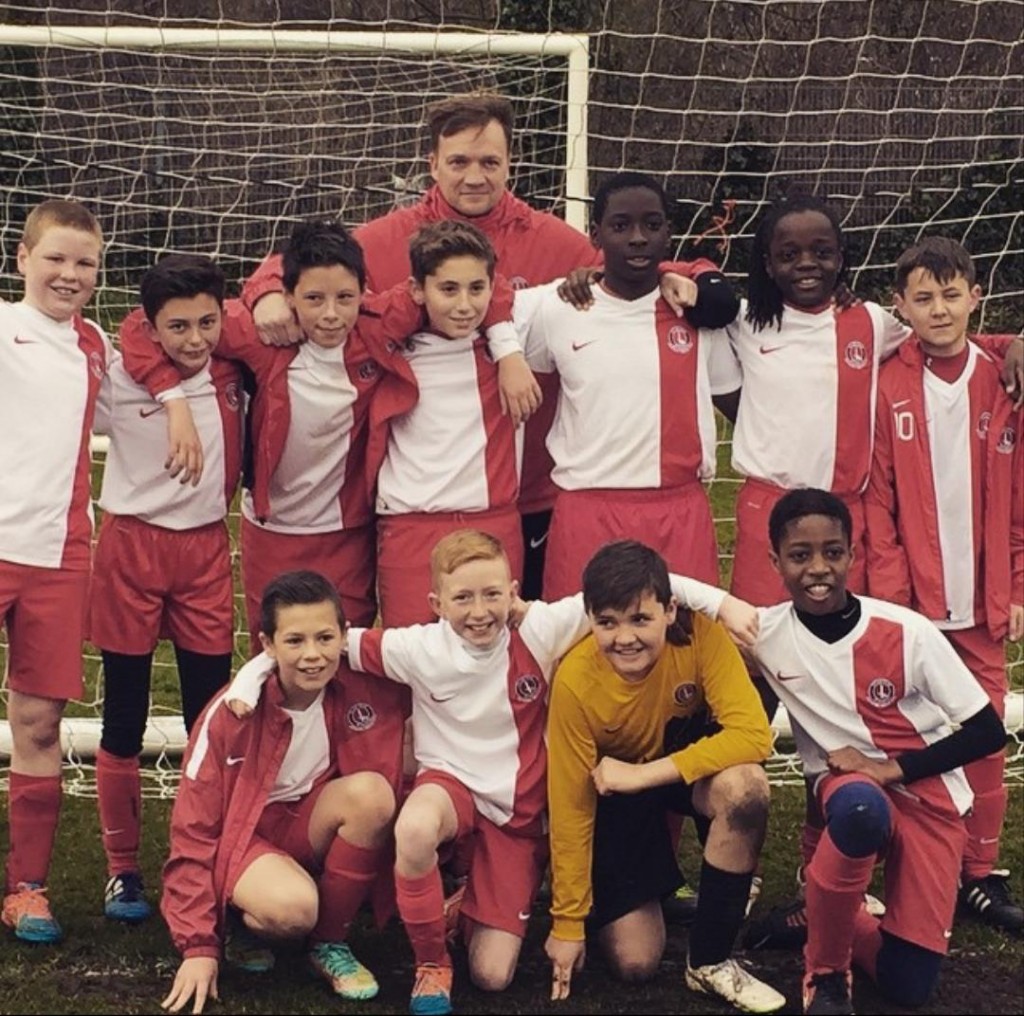 A fantastic season for the U12 Athletic team have seen them win the Selkent B (North) division winning 13 games, drawing 2 and losing 1, with just 14 goals conceded.
Manager Daniel stated "After a strong pre-season we went into the season with a real optimism to do well. A frustrating opening day defeat away to Orpington was the only game we never really turned up, from then on we picked up momentum and never looked back. We played some great football throughout the season, scoring the most goals and conceding the least. 
The deciding game for the title came against the only team that could have caught us, Petts Wood. In front of 100+ supporters we sealed the league with a convincing 4-0 win. It's been a long journey since we started this team 5 years ago but with the introduction of some new players last summer, we stepped up and fully deserved our success.
Congratulations to Daniel and the boys for a brilliant achievement.
---
FA Level 2 qualification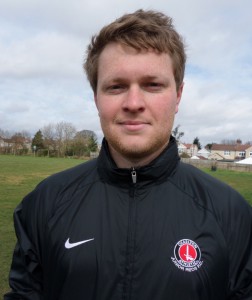 Liam Stoker becomes a FA level 2 coach
Our congratulations go to Liam Stoker who has recently passed his assessment to become a fully qualified FA Level 2 coach.
Liam stated "I would recommend the course to other coaches within the club. If anyone would like to know more about the course or what it entails I'm more than happy to provide any help or advice if they require".
A great achievement Liam, well done from all at the club.
---
Under 12 Sabresc crowned Selkent B (East) champions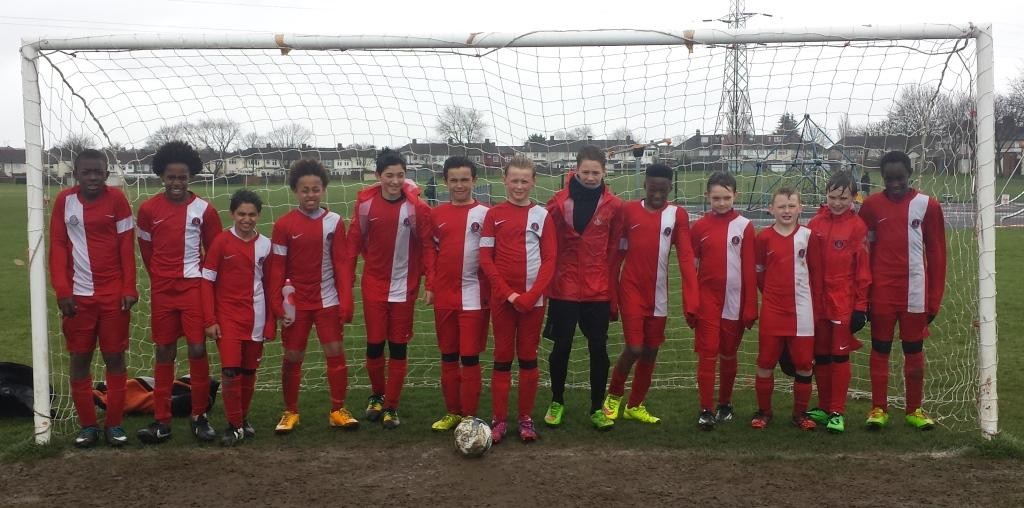 The U12 Sabres win the Selkent U12B East Division. 
An amazing season has seen the boys being the only team in the Selkent u12 to be unbeaten in league and league cup during 2014/2015 season. The stats are impressive with an unbeaten run of 22 games and scoring 85 goals and only conceding 17, which is obviously less than 1 goal per game!!!
This has resulted in the team winning the league with 4 games to spare and also reaching the Selkent cup final.
Congratulations to Nik, Spence and the boys for a brilliant achievement.
---
Under 14 Spartans crowned Selkent B (West) champions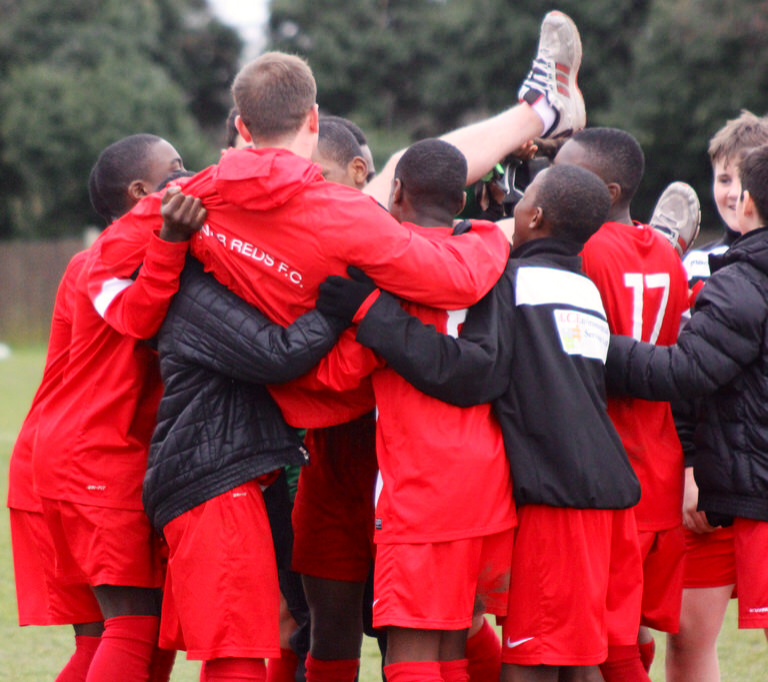 The U14 Spartans were crowned Champions of the Selkent U14B West Division.
The Spartans have secured the title with a game to spare after winning 14 out of their 15 league games so far this season.
Sam Lilburn, Manager of the Spartans said "I am extremely proud of what the boys have achieved this season.  They have worked so hard at training and have performed to an exceptional standard during their matches on a Sunday.  The B West league is a very competitive one and is full of teams that have pushed us all the way, so to win this league in the manner that we have is an outstanding achievement".
Congratulations to Sam and the boys for a great achievement.
---
Jack Petchey Award – March 2015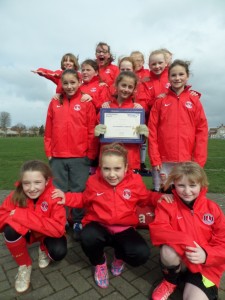 The winner of the Jack Petchey award for March is Mia.
Mia plays for our new girls team the under 11 Junior Reds Robins. "She has been an incredible asset to the team, especially as she stepped up when we didn't have a goalie, despite that not being her usual position. She is enthusiastic, and a real team player"
Congratulations and well done Mia on this thoroughly deserved award.
---
Meet the Ground Steward (Number 2) – Sam Hamilton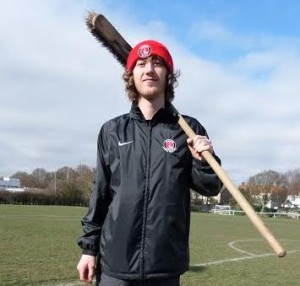 The Club are fortunate to have two Stewards attending to our mini soccer ground at Danson Youth Centre on match days.
Sam Hamilton (pictured) will be seen alternate Sundays and shares the role with John Keane.
Do say "hello" when you see him next and of course help him to keep the ground tidy.
---
Team of the Month – February 2015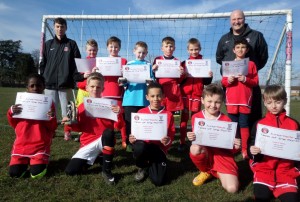 February recognition for the Under 9 Sabres.
Congratulations go to all the lads and Coaches in picking up the coveted "Team of the Month" award for February. The team have made excellent progress over the whole season with some fine performances in February. Pictured are the lads with their award during a break in training at Bexleyheath Academy.
Manager Darren Barlow said "I am very proud of the boys, they have come such a long way over the past year. They are a great bunch of kids to coach, very enthusiastic, they play for one another which shows on the pitch &  formed part of the reason we gained promotion & had great results in the new Division. Its great the team were recognised for their achievements with this award. Well done Sabres" 
---
Jack Petchey Award – February 2015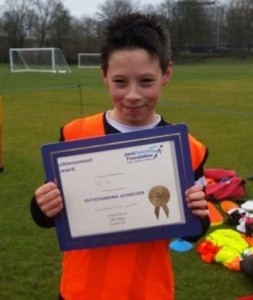 Toby from the U12 Athletic is the February winner of the Jack Petchey Achievement Award.
Toby's Manager Daniel Masters said; "Toby is my team captain and sets a superb example. At training he pays a real interest in how we set up the drills and, once we explain the topic of the session, provides support to us coaches and encouragement to the players. A real maturity for someone of his age. 
His attitude towards improving as a player has recently been rewarded by being selected to represent his district. I cannot praise this lad highly enough, not only as a 
player but as a young man, and if you were to watch him play he is a real credit to both our team and the club."                                                                                                                                                                                    
---
FA Charter Standard Community Club Status awarded by FA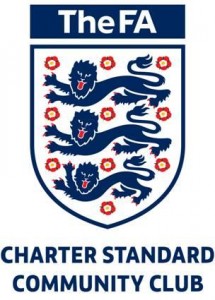 Junior Reds FC has been awarded FA Charter Standard Community Club Status by the Football Association. Only eight other clubs hold this award in London so we join an exclusive group that have attained the very highest level of the FA's Charter Standard Award Scheme.
Charter Standard Coordinator, Andy Wood remarked "Gaining Community Club Status has been part of our Development plan for a number of years now and it's taken a lot of hard work by many volunteers to get us to this stage. My thanks go to all those people, not only from within the club, but also the staff at the London FA with whom I have worked to achieve Community Club status. Well done and thanks to you all".
Junior Reds were first awarded FA Charter Standard status at the "Development" level in 2002. In the last decade several distinctions have been received in recognition of the Club's achievements. The length of time taken to reach Community status is an indication of the very high standards required. Club Chairman Clive Chivers said "I am indebted to all the Managers, Coaches and Administrative helpers in reaching this very high standard and delighted to be only the ninth Club in London to reach the top level. We have over 600 players in the Club and football is provided through the considerable commitment and dedication of over 50 volunteers". A big thanks to all and especially to Andy Wood for driving the application.
---
ABOUT THE CLUB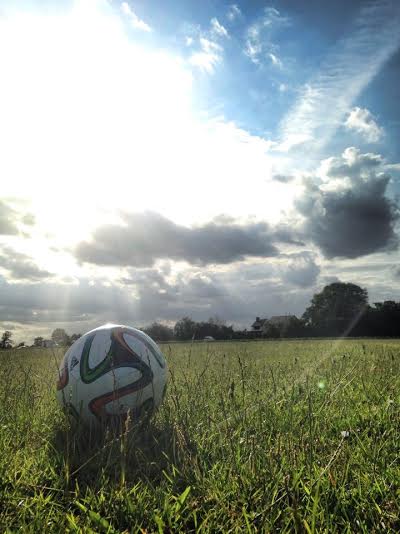 The Junior Reds Football Club was formed in 2001 to provide boys and girls, between the ages of six and eighteen, with the opportunity to compete in local Sunday Football Leagues in South East  London and  North Kent. The Club has steadily grown and now has 42 teams competing in the Kent Youth League, Bexley  and  District Junior League  or the South East London and Kent Youth League (SELKENT). 
Click here to find out more details of the clubs history.
---
PLAYER & MANAGER RECRUITMENT
If you are interested in joining the Junior Reds, please contact:
Mobile: 07968 946256 or e-mail angela.wood@juniorredsfc.com
Clive Chivers, 

Club Secretary
Mobile: 07504 264157 or e-mail clive.chivers@juniorredsfc.com
Daniel Masters, 

Club Recruitment Officer
Mobile: 07957 740270 or e-mail daniel.masters@juniorredsfc.com
---