HOME
Welcome to
Junior Reds
Football Club
London FA
Charter 
Standard
Community Club
---
PLAYERS WANTED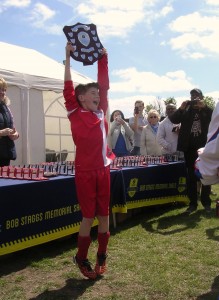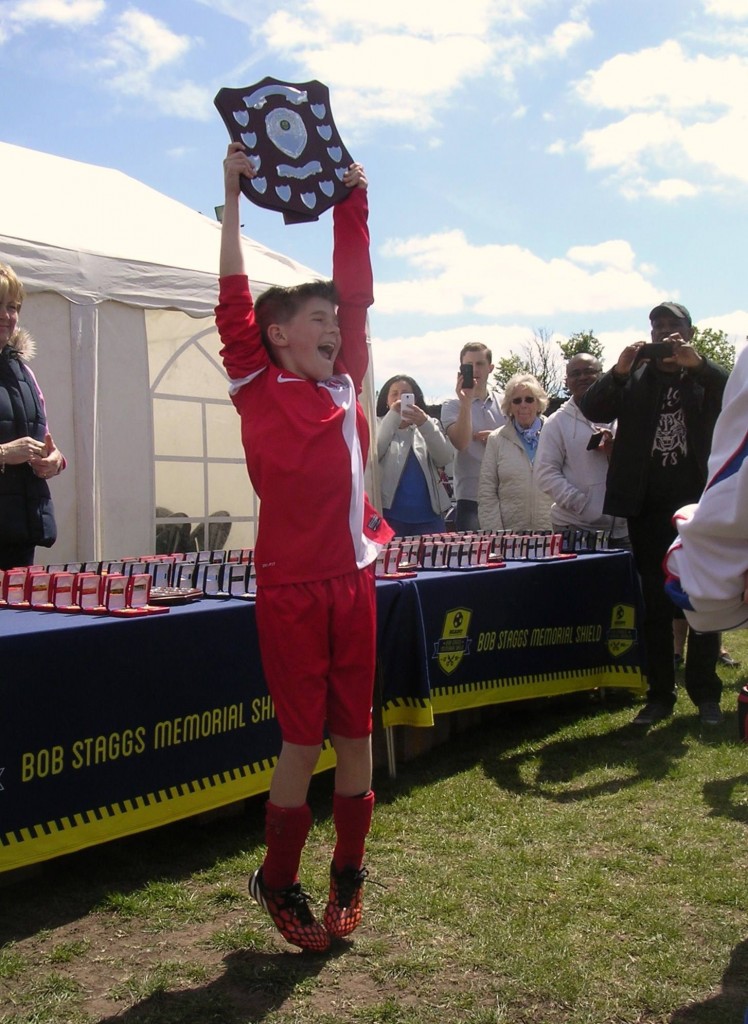 We are currently looking for both Girls and Boys of all ages to join current teams.
Check out our "Players Wanted" page or click on the following link: New Players Wanted 
Alternatively you can contact our player recruitment team : 
Clive Chivers, Club Secretary – Mobile: 07504 264157 or e-mail clive.chivers@juniorredsfc.com
Daniel Masters, Club Recruitment Officer – Mobile: 07957 740270 or e-mail daniel.masters@juniorredsfc.com
---
SATURDAY SOCCER CLUB
The Saturday Soccer Club operates every Saturday morning in Bexleyheath and is open to any ability from 4 to 9 (i.e. School Year 4). The sessions operate on a simple pay and play "casual" basis. Click on the link to find out more Saturday Soccer Club
---
LATEST NEWS
Can you spot your Manager?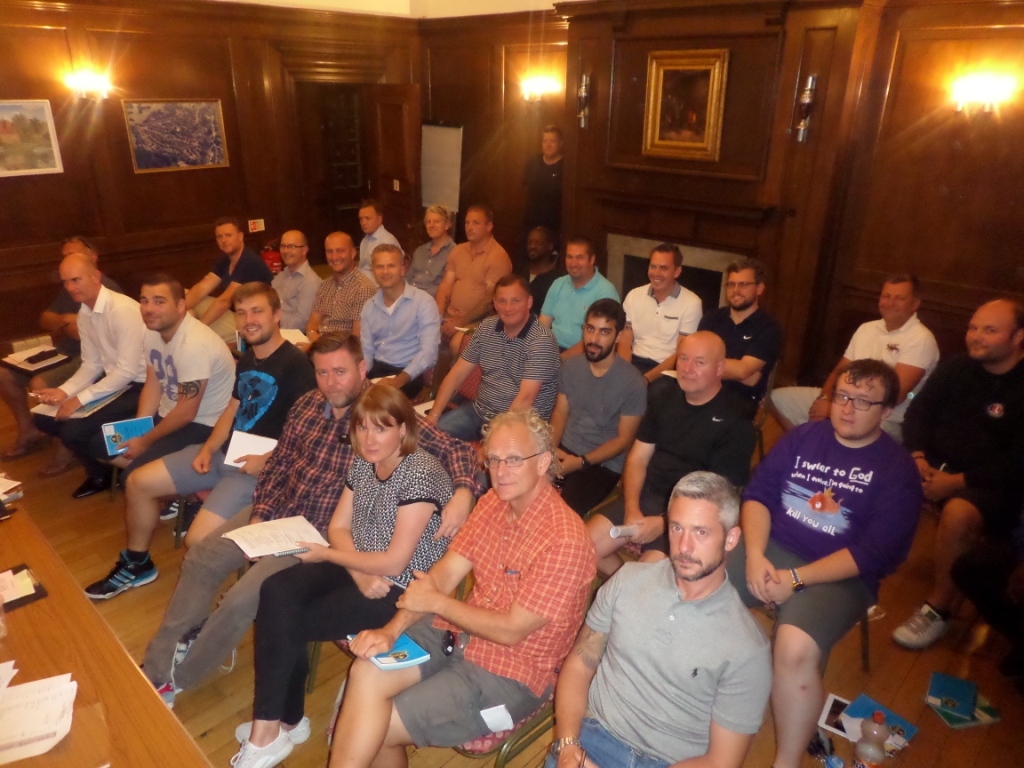 Many people often feel the Summer is the quite period of the year for a Football Club. This is not the case as much work is required in organising teams for the season ahead including the booking/ paying for football pitches; F.A Affiliation of teams; recruiting and registration of players; procuring kit etc. In fact this Summer nine teams have been formed from Under 7s to Under 21s and even a new Saturday Adult team.
Junior Reds hold a meeting in early September to update Managers on changes and to refresh all on the Match day requirements for the various Leagues the Club complete. The meeting is a rare opportunity for all Managers to come together to exchange experiences and ideas.
Pictured at Shrewsbury House Community Centre are a large number of Managers and Coaches at the September meeting all attentive, Can you spot your Manager?
---
Girls football – coming together pre season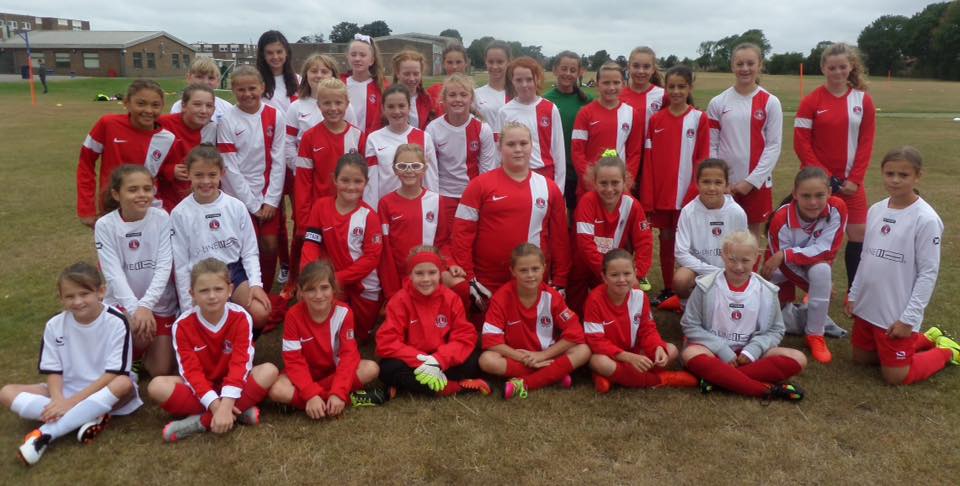 One of the growth areas of the Club has been in Girls football. Over the Summer two new teams have been formed at Under 9s and 11s. On the 4th September four of the teams at Under 10s, 11s, and 13s (two sides) came together for pre-season matches. Pictured are the four teams prior to kick off. 
If your daughter wishes to join one of the Girls teams from ages 8 to 14, or to simply come along to training on Saturday mornings, contact Clive on 07504 264 157 or email clive@juniorredsfc.co.uk
---
Saturday Adult team – a big step forward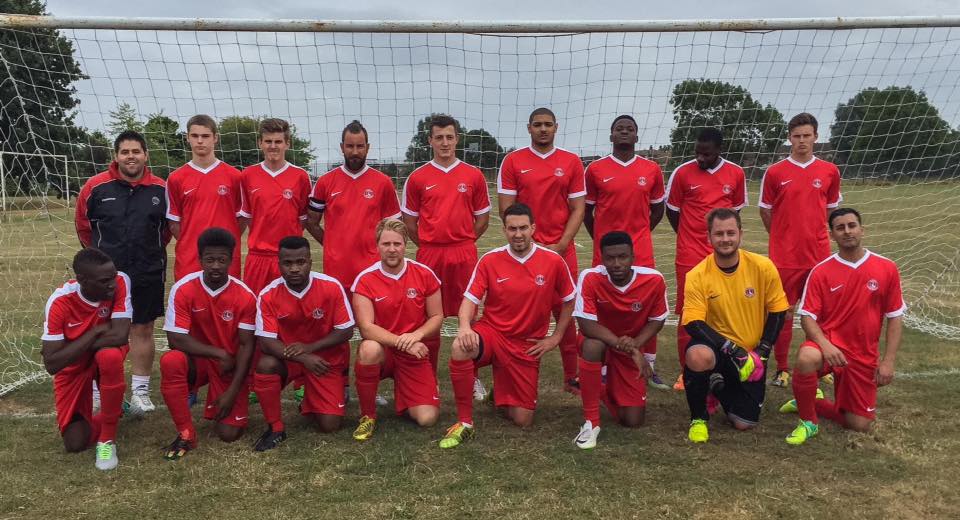 During this Summer the Club and Manager Helder Ribeiro, in particular – have been busy in forming a new Adult Saturday football team. A big step forward was taken on the 3rd September when the team played their very first organised match against opposition AFC Bexley. Helder reported on this event "We started in control of the game and played some great football leading to winning a penalty in the 20th minute. This moment to make history in scoring our first goal, however, was not to be as the penalty was missed by our Captain. We remained largely in control of the game but were outdone by some bad defending a minute before the break. The second half – although seeing many team changes – still saw a solid display from us including Junior Reds hitting the post and having a few good chances. Two mistakes again say Bexley score two soft goals to run out winners 3 – 0. We are now looking forward to starting our League campaign next week."
Squad: Paul B (GK), Rory, Ryan, Ronnie, Sid, Myles, Pawel, Andy (Captain), Mukz, Nick, Toyeeb, Greg, Dave, Sam, Joshua
If interested in playing for the Adult Saturday team contact Helder on 07932 393 899 or email helderaraujo1984@gmail.com
---
Andrew Wood recognised at the FA Community Awards
Junior Reds FC were particularly honoured when Andrew Wood was nominated by the London FA for an 'Outstanding Contribution to Community Football Award. Andy works behind the scenes in the Club with a long list of roles including Assistant Secretary, Kit Manager, Charter Standard Officer, Coach Education Co-ordinator and Match Day Ambassador. Andy also takes on the challenge of organising the Presentation – a huge task.
Andy attended the FA Community Shield match on the 7th August at Wembley Stadium as a special guest of the Football Association. His role and the Club were recognised at the Award ceremony. The ultimate winner of the national award was Andrew Martin from the East Riding FA.
Andy is pictured (left) with the Community Shield before Manchester United took this back to Old Trafford later in the day – having beaten Leicester City by two goals to one.
Congratulations Andy, very well deserved wishes from all at the club.
---
Triathlon triumph – it takes 3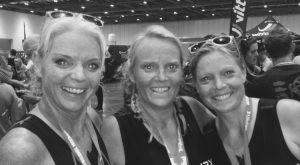 Congratulations to Graine Feeney – the Club's Girls Development Officer – in completing the London Triathlon event for charity in August.
The "Triathlon" 
is a continuous event comprising swimming, cycling and running with no rest 
in between. 
Graine writes "Undergoing major heart surgery at any age is tough. For my 28 
year old nephew who was born with a heart  efect he had known the day would 
come and it did in January 2016.  Thankfully he has made a good recovery but 
he will have to continue to be monitored and may need further surgery. My 
sisters and I decided we would do something to help, but as none of us are 
medically trained we opted for the London Triathlon. Our goal was to raise 
£1,000 in aid of the British Heart Foundation as without their support and 
research people like him would not survive.  On Saturday 6 August we 
completed our challenge, not only finishing the triathlon but also raising 
more than our target.  A BIG thank you to all our supporters!".
A great achievement ladies and a massive well done from all at Junior Reds
---
Fun Day at Danson Youth Centre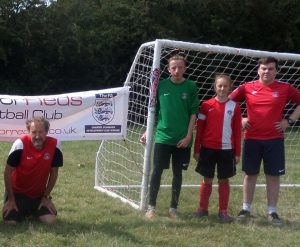 J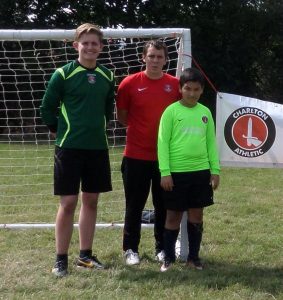 unior Reds FC provided football activities at the Danson Youth Centre 'Fun Day'. The event was again very well attended. To cope with demand two "Beat the Goalie" penalty shoot-out competitions were provided together with an obstacle course time trial.
Special thanks must go to our five goalkeepers. These were Abi Potter-Scarborough (U13 Girls), Ahmet Aydin (U13 Warriors); Callum Puszyk (Under 16 Athletic), Tom Forest and Matthew Fendick. All worked hard dealing with the continuous number wishing to take penalties. The adult helpers for the day were Terry McGrath; Yu Arai, and Claire Puszyk.
A big thank you to everyone who helped on the day.
---
JR Saturday Adults join the Bromley & District League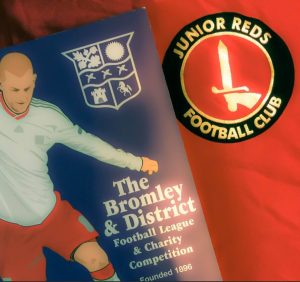 It was previously reported a new Junior Reds Adult team is being formed to play football on Saturday afternoons. In July the team took a major step forward by being elected as a member of the Bromley and District League.
Team Manager, Helder Ribeiro, said "Joining the Bromley and District League is a significant milestone in our journey to form a new Adult team. Our first League game is now approximately 6 weeks away. We currently train in Danson Park at midday on Saturdays. In joining the League we will now increase this to Wednesday evenings as well so we are better prepared".
Helder added " We still have work to do and a few additional players are required. If you are aged 18+ and interested in playing Saturday afternoon football please contact me or simply come along to either our Wednesday or Saturday training sessions in Danson Park".
Helder can be contacted on  07932 393 899 or email : helderaraujo1984@gmail.com
---
Breaking news – FA announces plans to tackle unacceptable behaviour towards match officials in Grassroots Football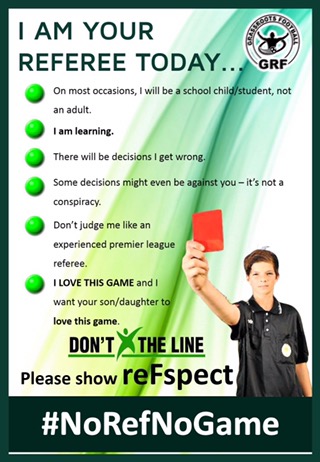 This ruling by the FA will affect grassroots football, not just the professional game. So to all of our players – especially in the adult teams – please have a read. Let's use this as an opportunity to rid the game of this unacceptable behaviour, not to mention the suspensions and the fines that follow!
Follow the link: breaking-news-fa-announces-plans-to-tackle-unacceptable-behaviour-towards-match-officials/
---
Stuart & Jemma – Congratulations on your special day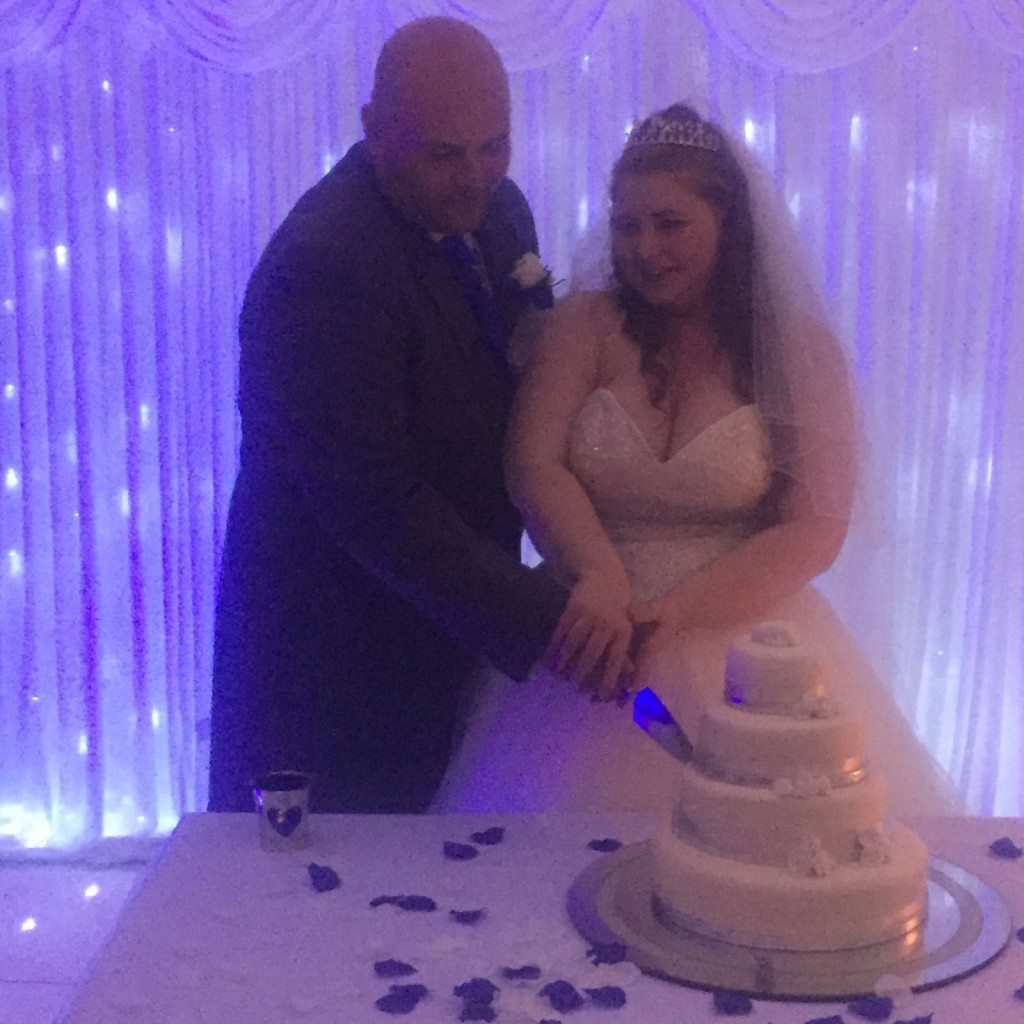 It was a very special day for Stuart Webb (our Under 21 team manager) and his Fiancé Jemma on the occasion of their wedding on the 16th July. They were married at Our Lady of Lourdes Church in Lee and enjoyed a reception at the Holiday Inn in Bexley. A great first signing of the year Stuart.
Best wishes to both of you from all at the club.
---
U15 Athletic Tournamnet Winners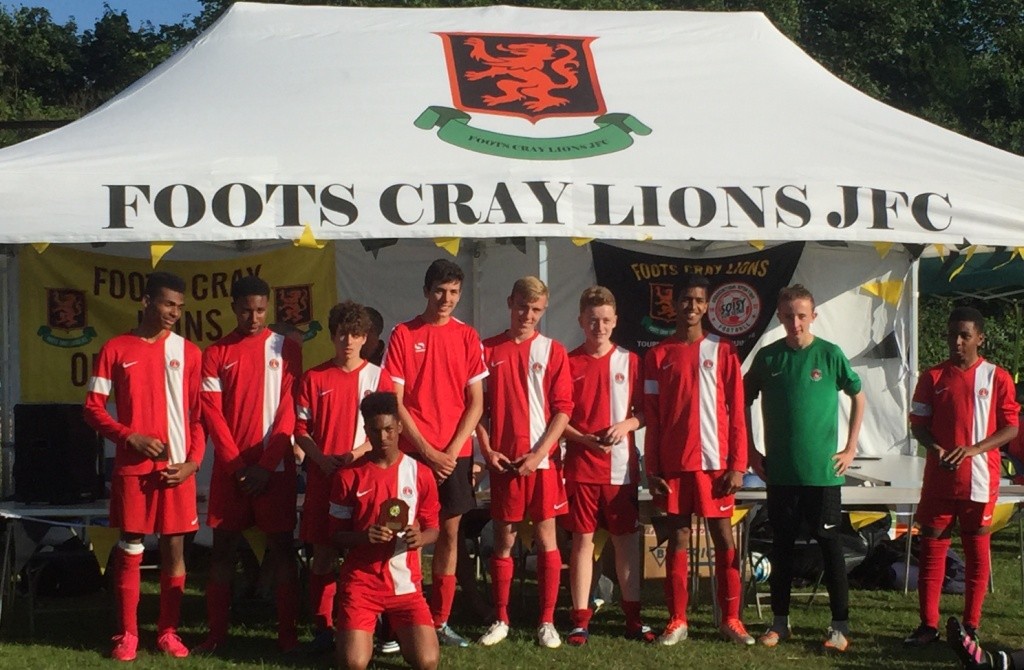 Junior Reds U15 Athletic spent Saturday afternoon at the Footscray International Summer Festival of Football. Kicking off at 2pm in very hot conditions they kept four clean sheets in five group games on the way to the final. The final was a very competitive match against Dartford Blue which saw JR Athletic win 1-0 with a late first half strike to lift the trophy.
Well done Michael and the lads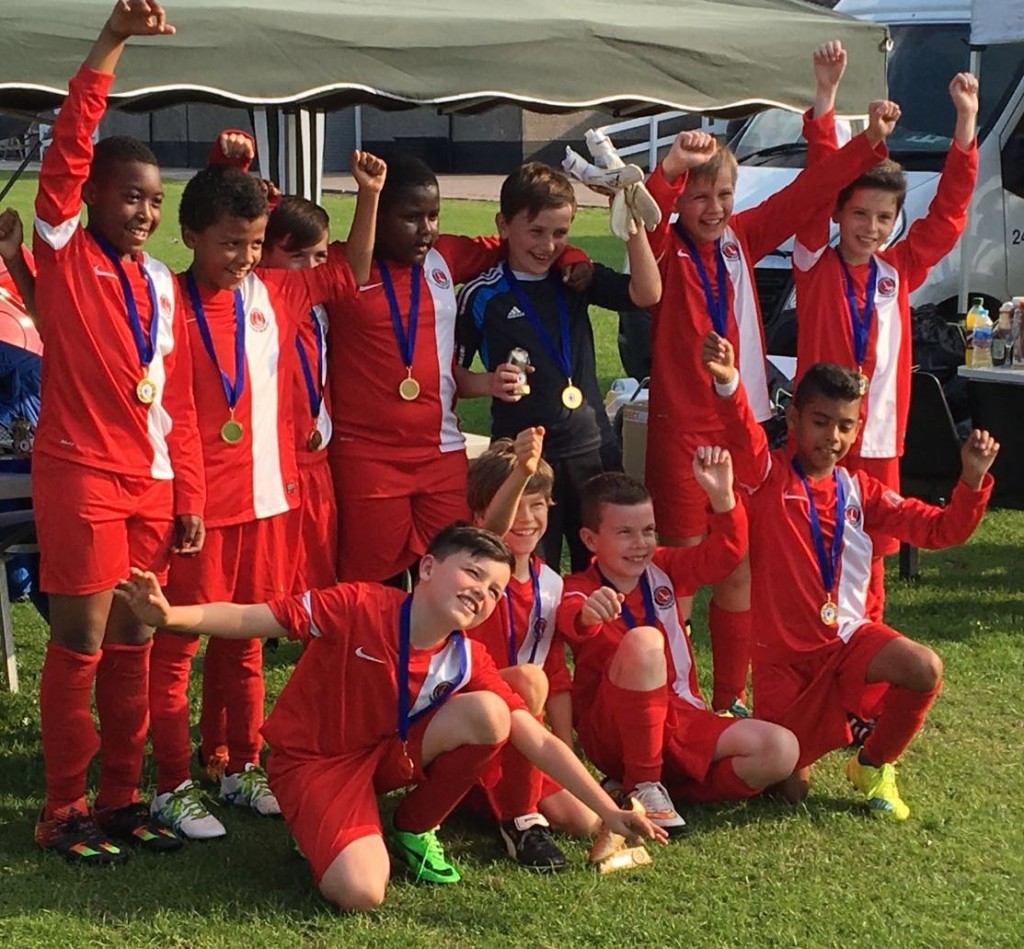 Junior Reds U10 Knights had a good weekend after they became the Kent Football United shield winners 2016.
The boys deservedly won the semi final after it went to a penalty shoot and went on to beat Dulwich United in the final.
Manager Chris Sawyer said "The boys should be very proud of themselves as it was the last chance to win a trophy at the mini soccer stage of their progress".
Well done boys from all at Junior Reds. 
---
U14 Spartans Victory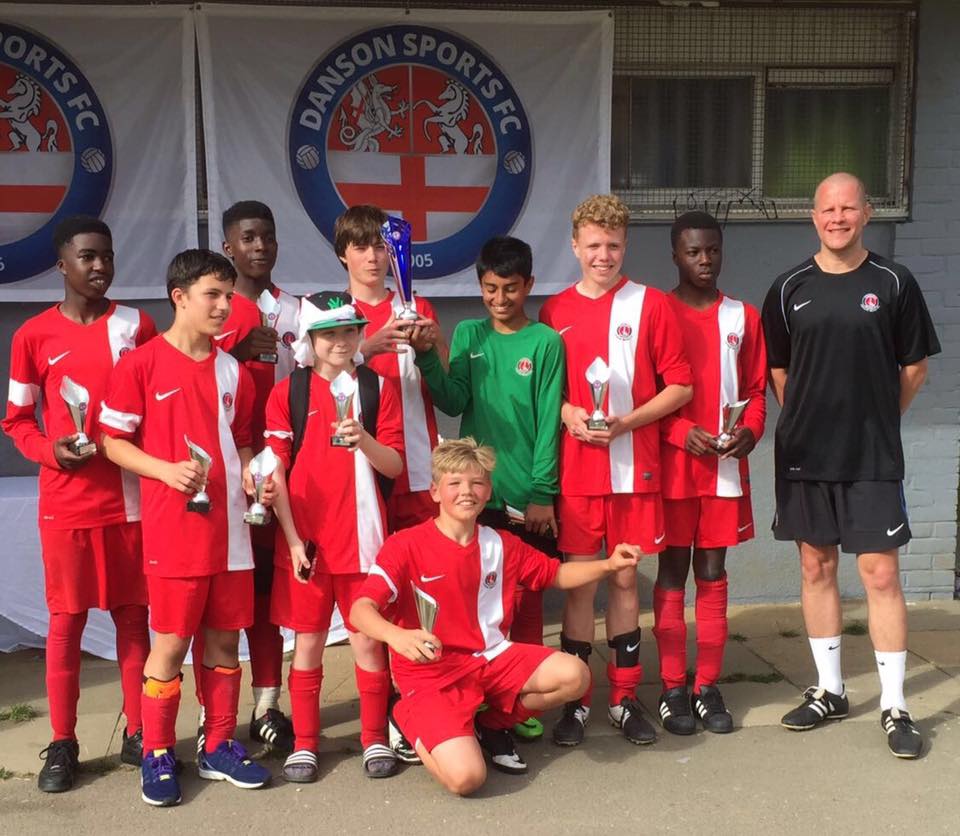 The U14 Spartans are pictured above winning the Danson Sports Tournament on Sunday 16th July.
Well done to Nathan and the lads.
---
U13 Athletic at the Valley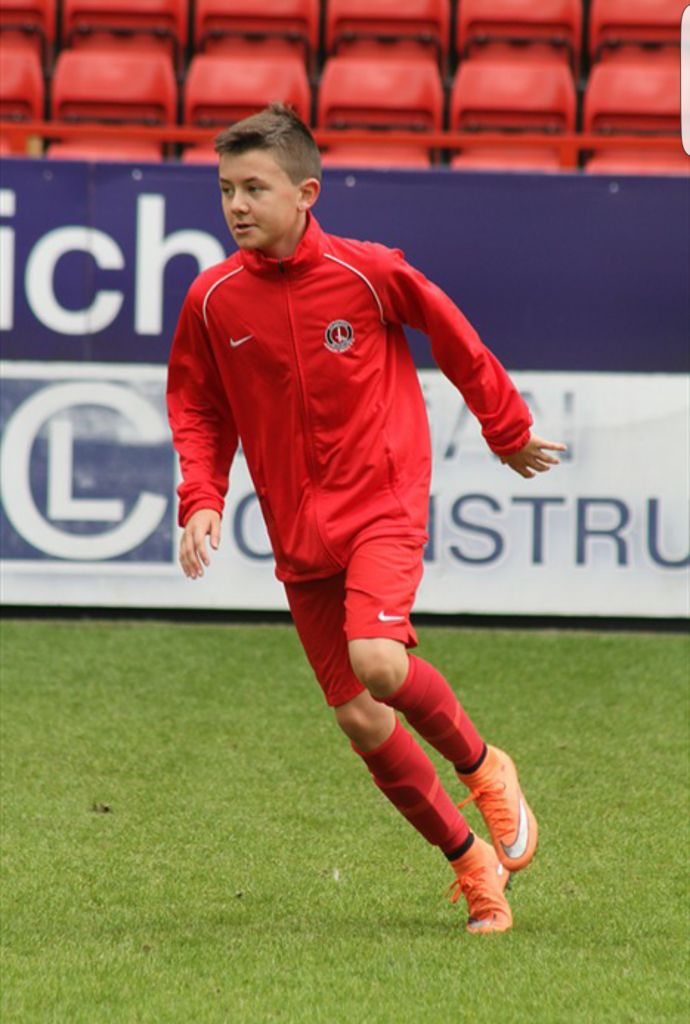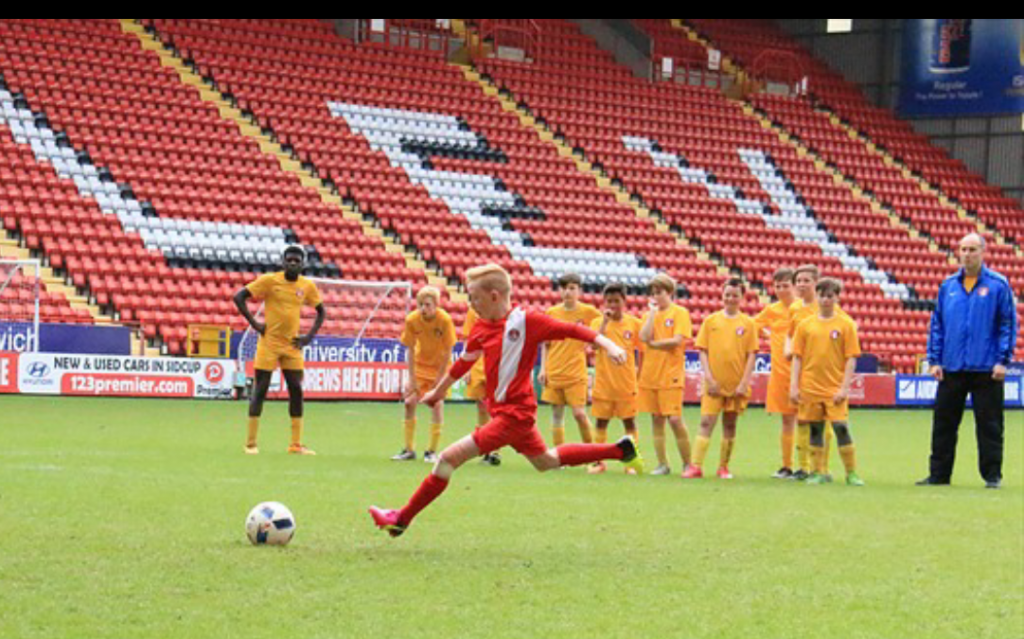 Our U13 Athletic side have also played a match on the beautiful Valley turf recently. Manager Daniel stated "We recently ended our league campaign in a credible third place, and as a thank you to the team for putting 100% effort in week after week, I arranged for the squad to play a game at The Valley. We chose Chipstead Warriors of the Tandridge League as our opponents having recently played out a close 3-3 draw with them. The boys did fantastic on the day, winning 6-3. It was also nice that Clive Chivers and Andy Wood could be there to witness how far this group have come since we started the Athletics 6 years ago.
Well done lads sounds like you've been really busy post season.
---
U13 Athletic take on Europe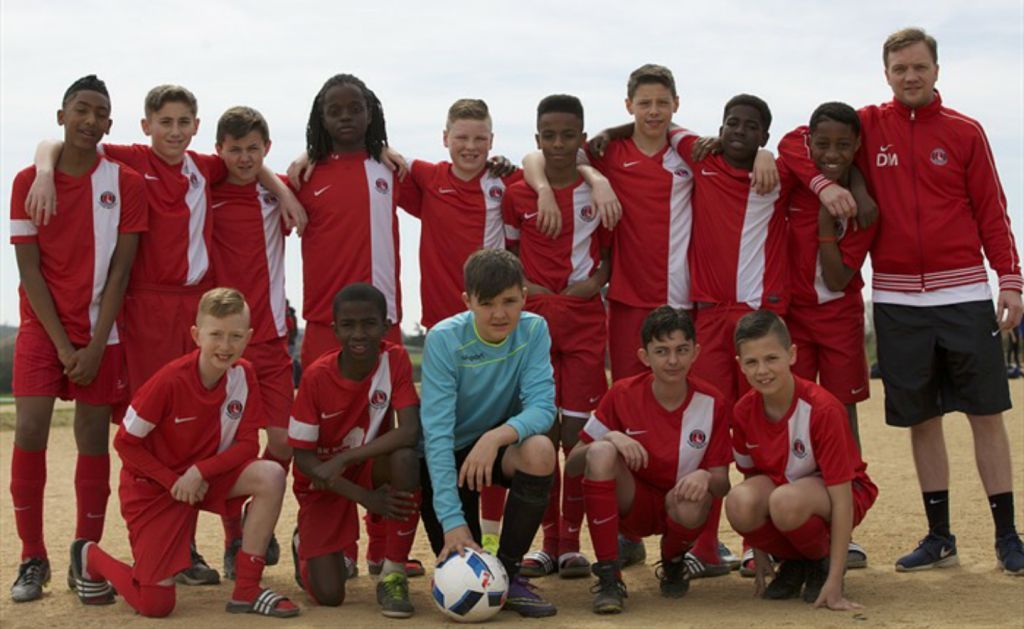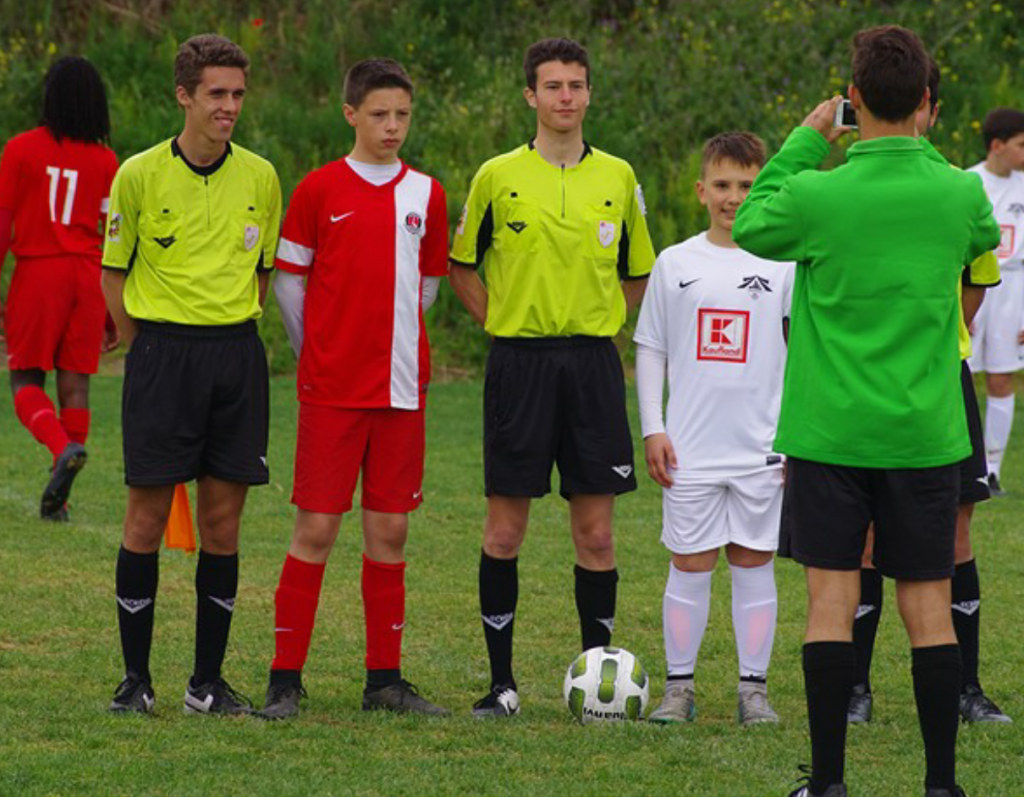 Our U13 Athletic squad travelled to Barcelona recently to participate in a European tournament. Manager Daniel said of the trip "We set out for our annual European tour this year and having competed for the last 2 years in Holland, decided to take on the Copa Costa Brava tournament in Barcelona. We cruised though the group games against teams from Germany, Belgium and Switzerland, winning 5 out of 5. As the week progressed it was clear that the team running away with group 2 were FC Frankfurt and we seemed destined to meet them in either the semi or the final. The semi finals consisted of us along with 3 German teams and we found ourselves up against FC Marzahn, who had finished runners up to Frankfurt. After a fairly comfortable 6-0 win we then had to prepare for the final. The Frankfurt side were an academy team and we're all technically very well drilled. In a close game we had a goal disallowed and a header cleared off the line in the final few seconds which took it to penalties. Inevitably, we all know how games end on penalties against the Germans 's and we ended the week as runners up. It was a credit to the team that the organisers and other teams managers made a point of complimenting us for our style of play and attitude throughout the tournament.
Well done to all involved and for representing the club abroad.
---
Vote Andy Wood – Outstanding Contribution to Community Football Award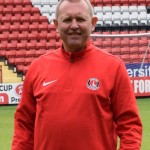 Our Asst Secretary Andy Wood needs your vote. Following his recent success at the County and Regional Awards, he is now one of six nominees from across the country going for the 'Outstanding Contribution' National Award. It's decided by you the public. It's simple, The one with the most votes wins, so using the link below, please take a moment to vote for Andy and make him our national winner.
http://www.thefa.com/my-football/community/fa-community-awards/peoples-award/voteforyourhero/2016/andrew-wood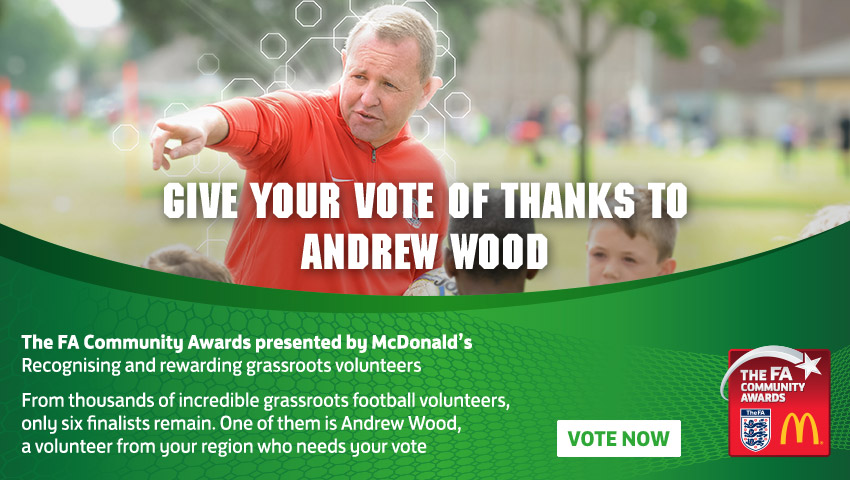 Best of luck Andy.
---
Raffle Winners
Well done to Taylor from the U8 Valiants, seen here picking up his presentation raffle prize at Bexleyheath yesterday.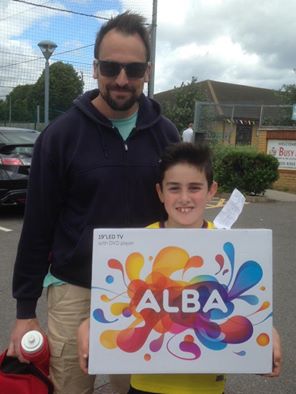 The other winners (most of whom have been now been contacted) are:-
TV DVD combo – Taylor (U8 Valiants)
NutriBullet – Vince
Driving Lessons – Chris Sawyer
Box of Chocolates – Prashidha Pradham
Champagne – Michael McDermott
Whisky – Harley (Saturday School)
Champagne afternoon tea – U15 Valiants player
Afternoon Tea – cooper
Football Shirt – Andrew Ackroyd (U11 Knights)
Football shirt – Ray Dicker
Nivea Set – Oscar (U10 Knights)
Wine – Kieran
Wine – Louise
Face cream and lotion – Brian McKenna
Nail set – Jane
Well done to all the raffle winners and a big thank you to all those who kindly provided the prizes.
---
Jack Petchey award for June 2016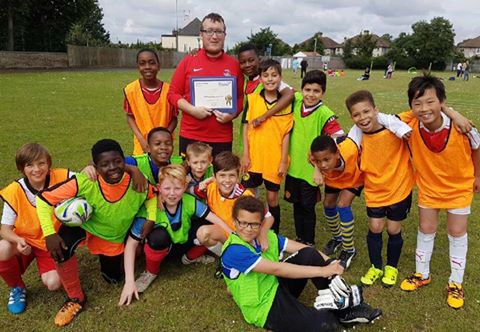 Congratulations to U11 Titans Coach Michael Barlow, our June winner of the 'Jack Petchey' Achievement Award. Michael (pictured here with his players) receives this award for his work setting up and coaching in our successful after school coaching programme, which has seen the club run football sessions in various primary schools across Bexley Borough this year.
Well done Michael from all at Junior Reds.
---
Junior Reds FC End of Season Presentation
On Sunday 26th June 2016, the club held the annual end of 15/16 season awards. There was a great turn out by all the teams. Special thanks to Keith Peacock, Paul Mortimer and Jonathan Fortune for supporting the day and presenting the players with their awards and Dave Lockwood for announcing all the teams to the stage.
 Below are a few of the photographs taken on the day. More images are available to view on our Facebook page.
A big thank you and well done to the ever hard working members of the committee for arranging another successful event.
---
U9 Spartak win Tournament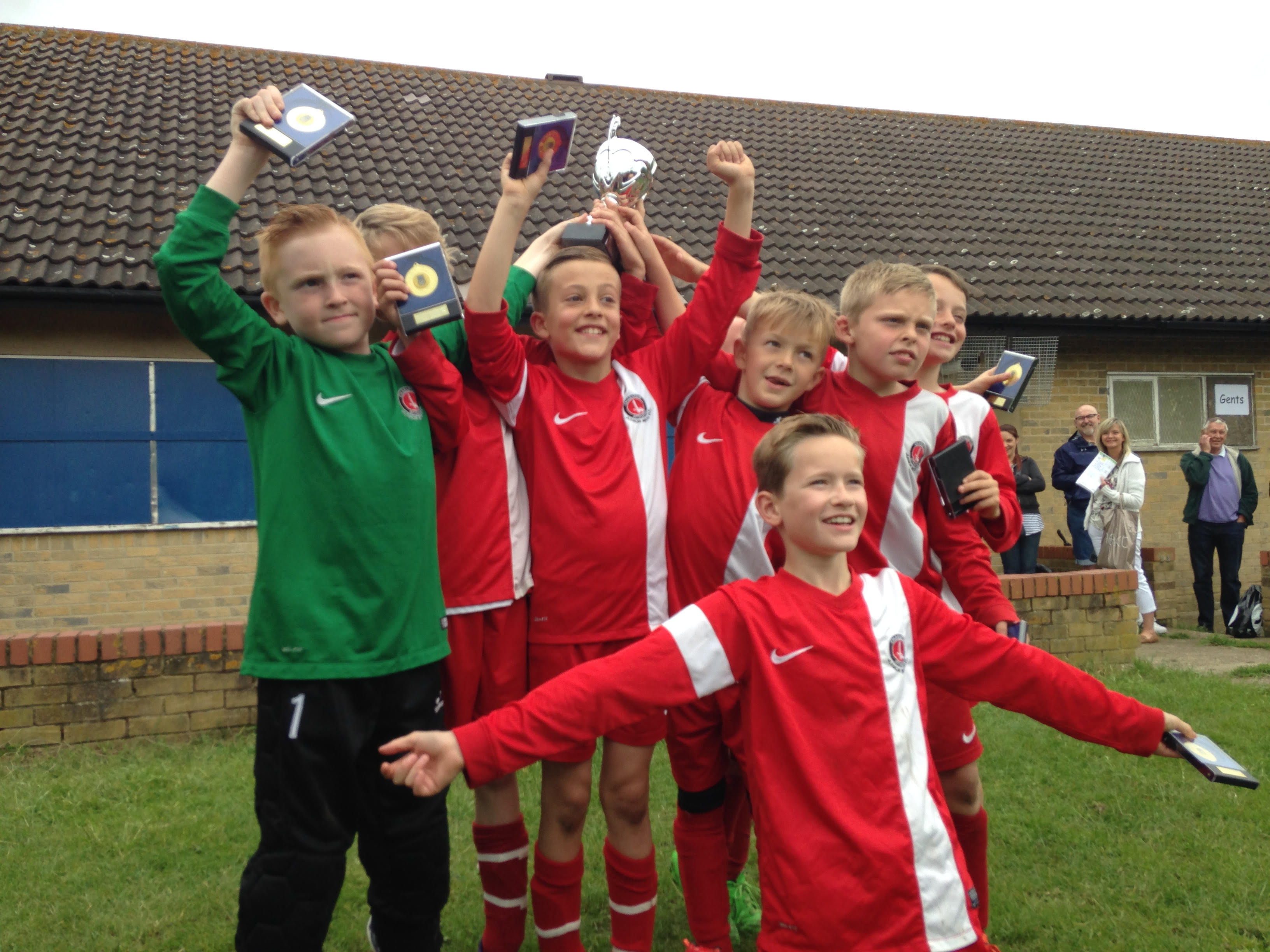 Well done to Junior Reds U9 Spartak who were the winners of the Sutton Dynamos Tournament on Saturday 18th June.
Congratulations to Justin and the boys.
---
Outstanding Contribution to Community Football Award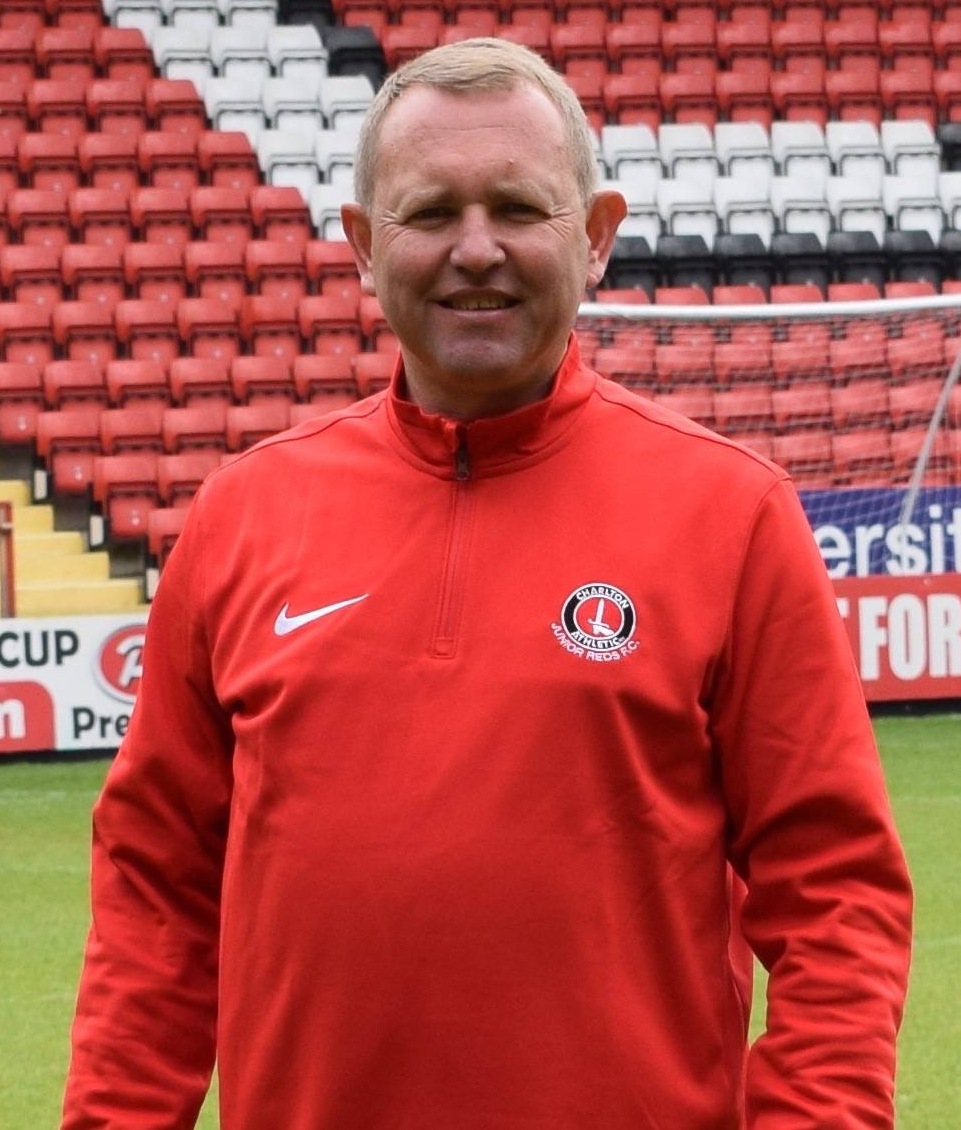 Congratulations to Club Assistant Secretary Andy Wood, who has been recognised by the FA for his work with Junior Reds Football Club and will receive an 'Outstanding Contribution to Community Football Award' for both the London FA and Regional FA. He now goes forward to compete for the National Award, which will take place at the Community Shield at Wembley in August.
Great achievement Andy and many congratulations from all at JRFC. 
---
Aaron passes level 2 coaching badge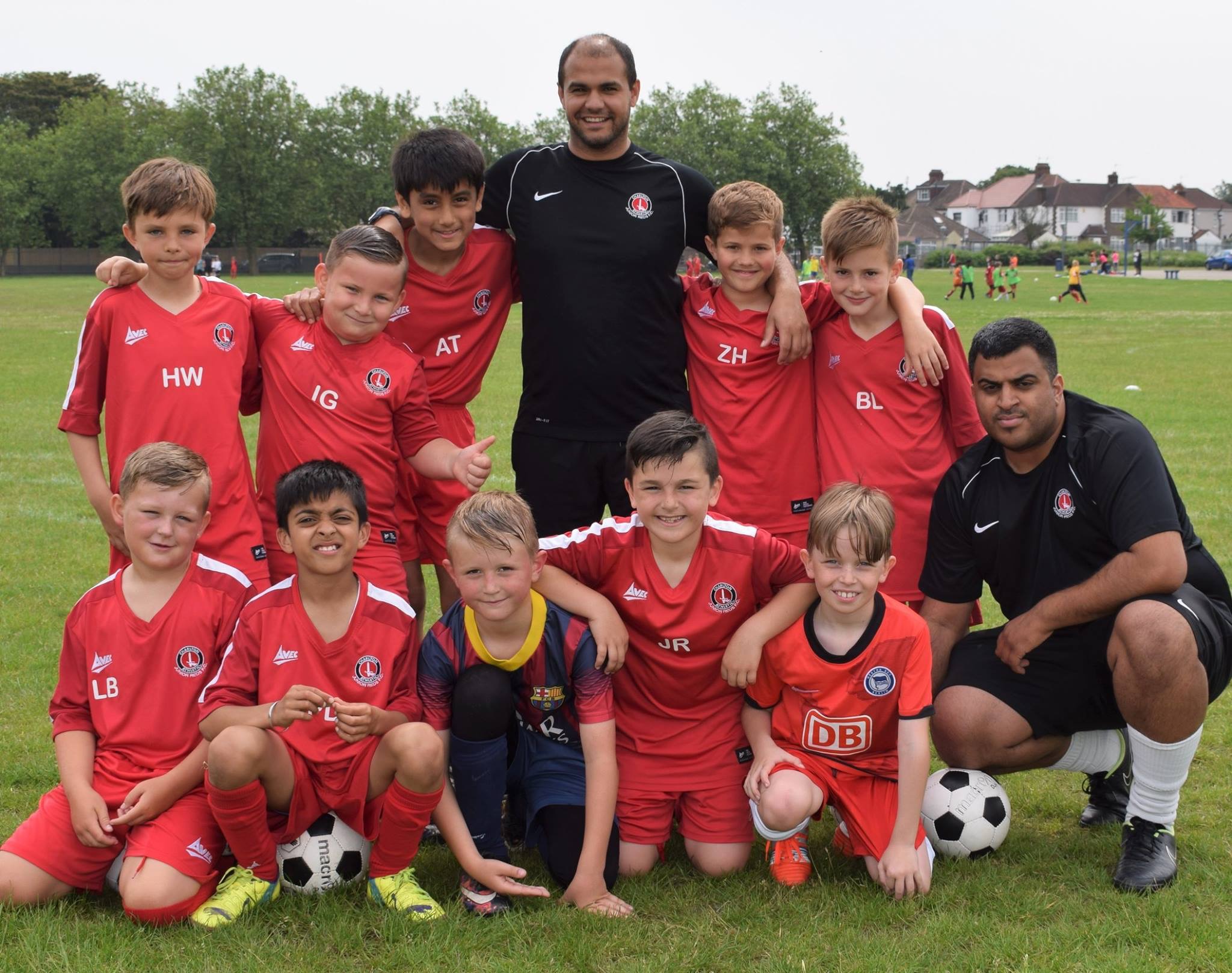 Congratulations to U9 Sabres Coach Aaron Hughes (pictured in the back row) who successfully passed his FA Level Two Coaching Course in June.
Well done Aaron from all at the club.
---
Junior Reds FC Presentation 2016 – Sunday 26th June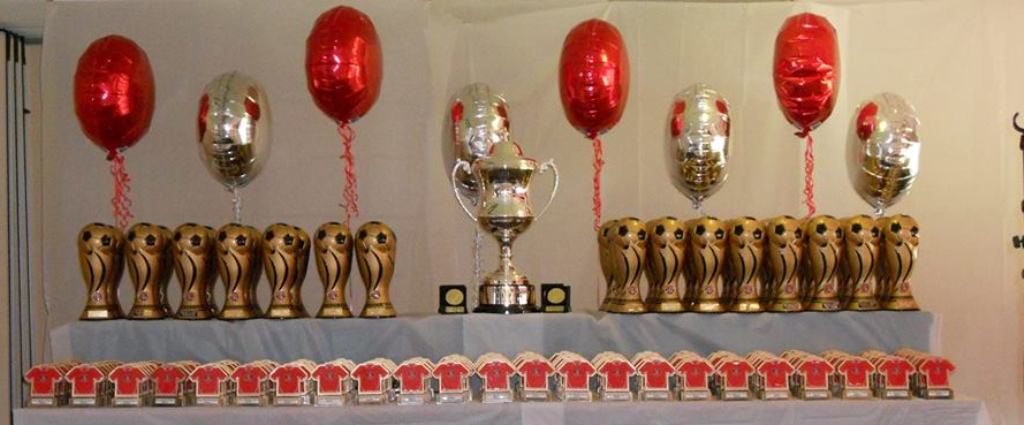 We are proud to announce details of this years Junior Reds end of season presentation, to be held at the North Stand, Charlton Athletic FC, The Valley, Floyd Road, SE7 8BL. The day will consist of three presentations. Entry is free and the doors will open 30 minutes before each presentation. Car parking is available in the West Stand Car Park. There will be an official souvenir programmes (£3), a raffle and pay bar available.
Presentation times for each team are as follows. Please take a moment to have a look at which show you are in. If you are unsure, please ask your team manager.
Show 1 – 11am – 12:30pm: – Saturday Club, U8 Valiants, U8 Warriors, U16 Knights, U16 Sabres, U16 Titans, U16 Warriors, U9 Spartak, U10 Sabres, U10 Knights, U10 Warriors and U10 Athletic.
Show 2 -1:45pm – 3pm: – U7 Valiants, U7 Knights, U14 Athletic, U14 Spartans, U15 Spartans, U15 Valiants, U15 Athletic, U15 Warriors, U9 Robins, U9 Titans, U9 Sabres, U9 Knights, U9 Valaints and U9 Athletic.
Show 3 – 4pm -5:30pm: – U11 Warriors, U11 Knights, U11 Titans, Adult Spartans, Adult Athletic, Adult Seniors, U13 Warriors, U13 Titans, U13 Athletic, U12 Girls, U12 Robins, U12 Warriors, U12 Spartans and U12 Knights. 
---
Junior Reds Girls go Dutch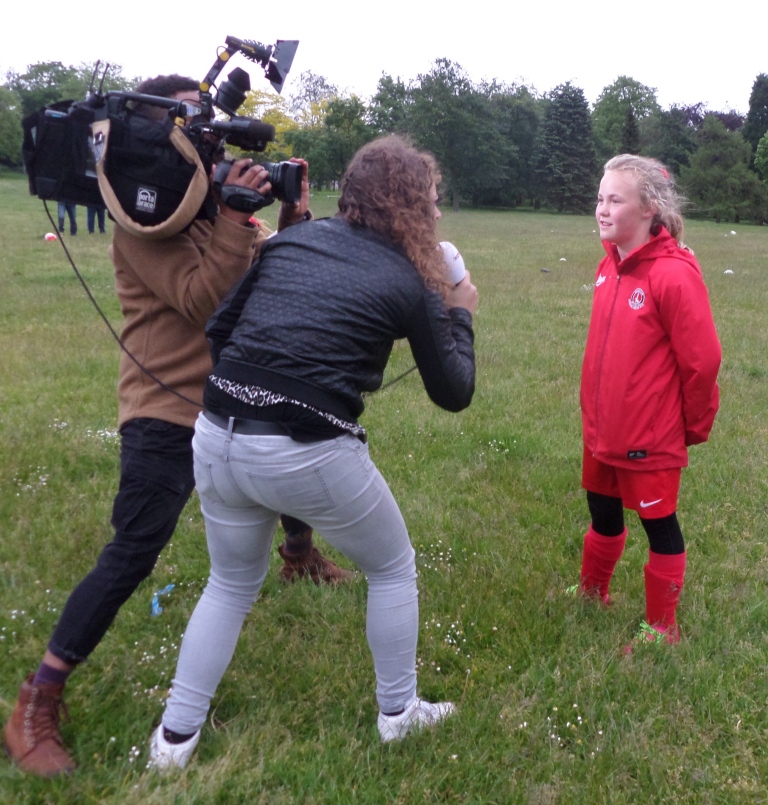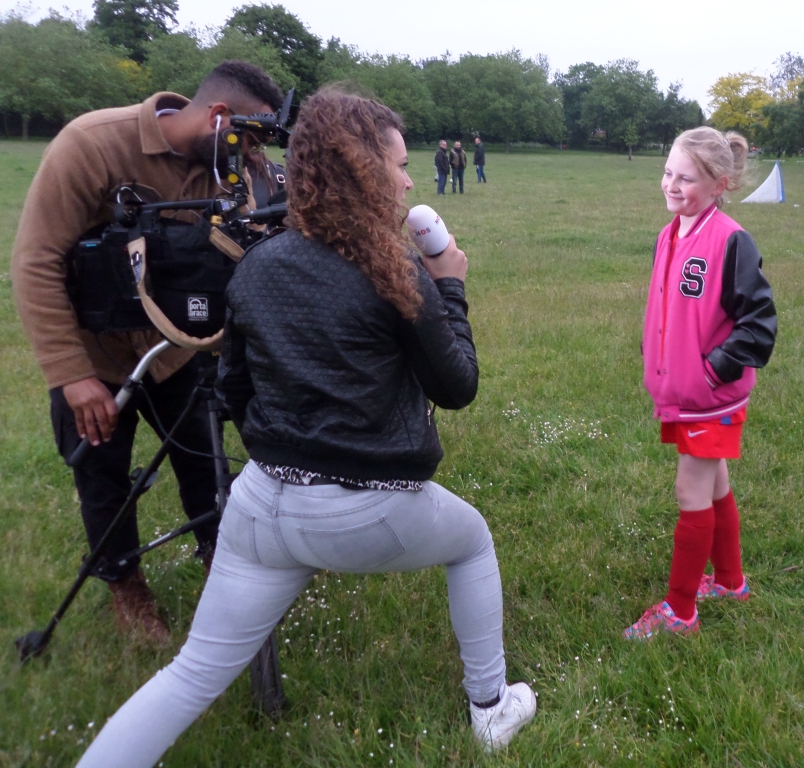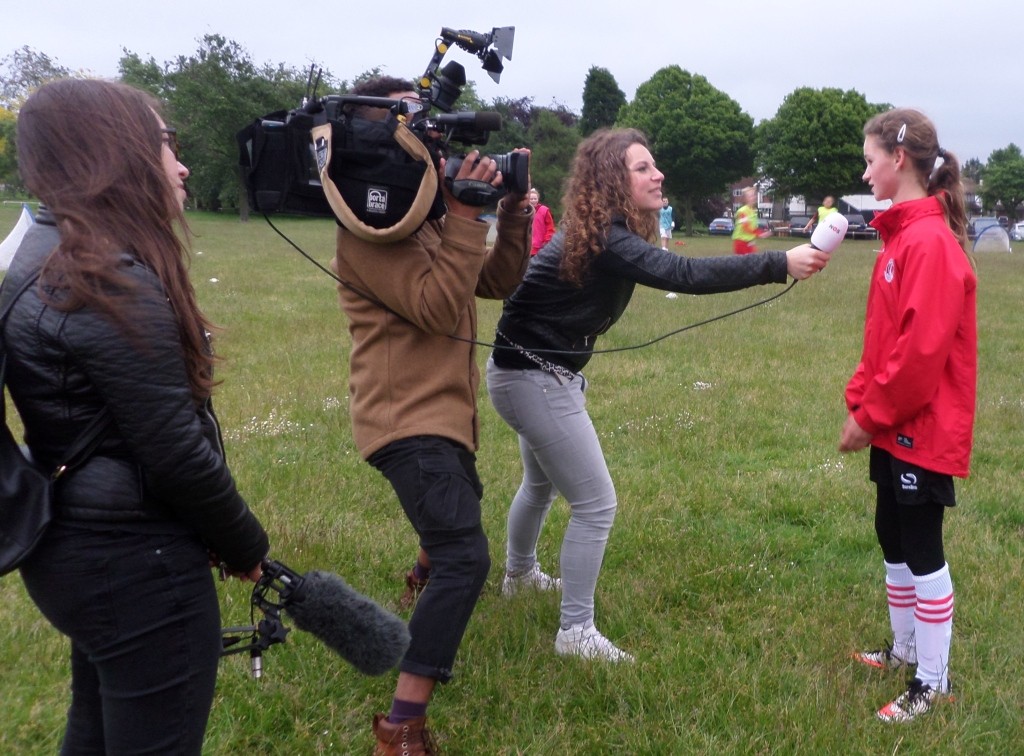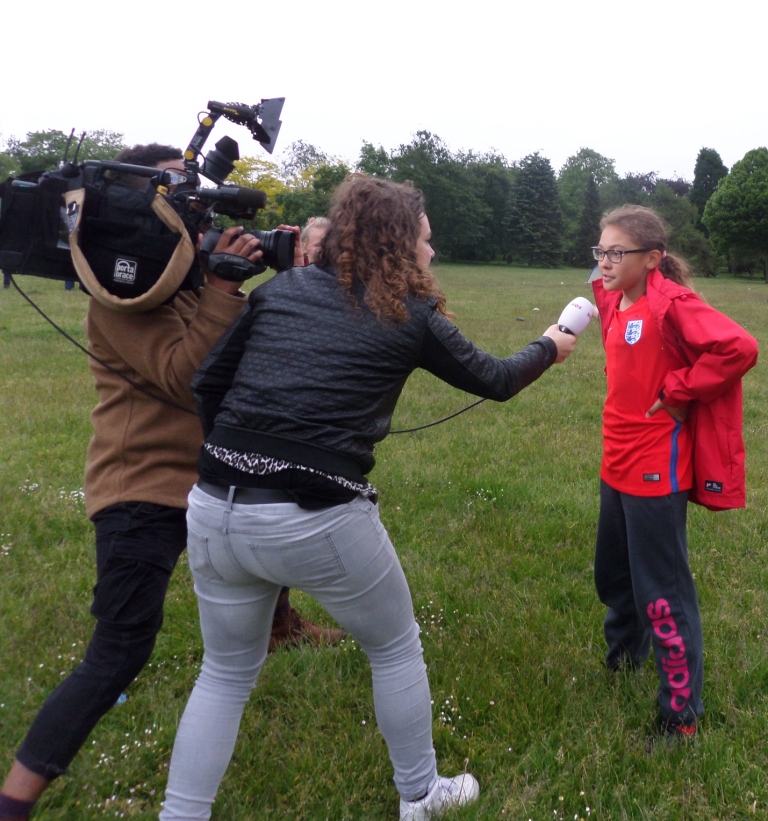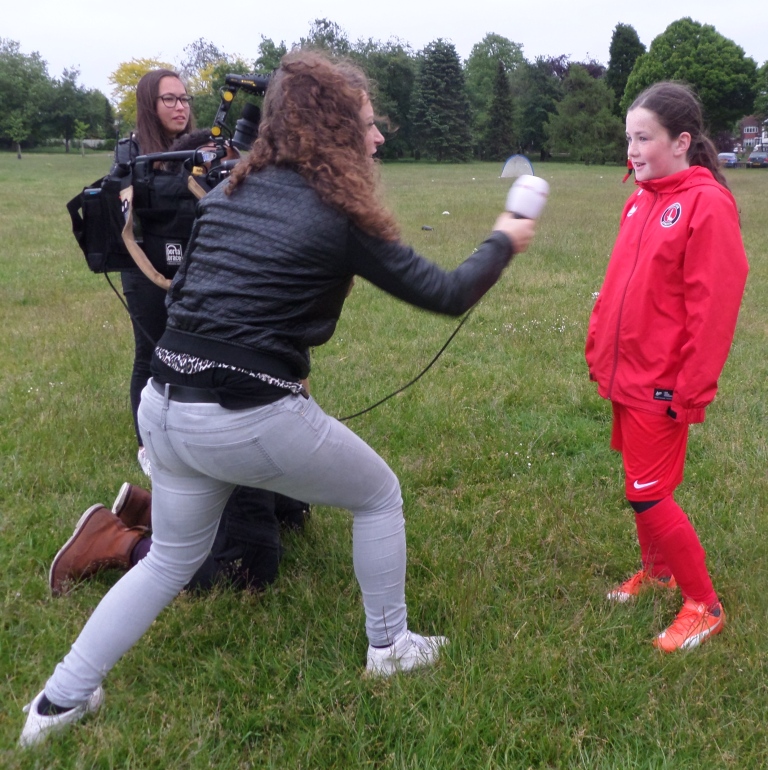 The Dutch Public Television Broadcaster NOS (comparable to the BBC) visited
the Junior Reds Girls during May as part of a television News programme
covering the UEFA European Championship in France.
The cameras recorded a training session; a practice match between England (in red) and Holland (in
Orange bibs) and a rendition of the National Anthem (sung perfectly). A
number of the Girls gave interviews on England's chances in the European
Championships and why Dutch children should support England.
---
Jack Petchey award for May 2016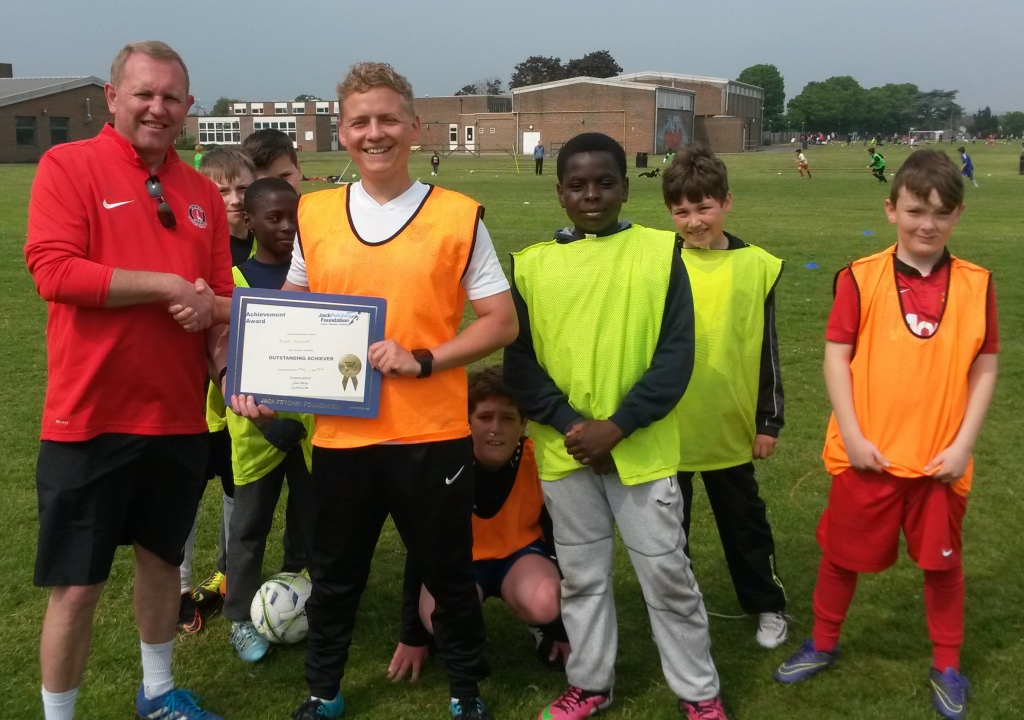 Pictured is Michael McDermott, Coach of the U11 Warriors, a deserved winner of the May 'Jack Petchey' Achievement Award receiving his certificate from Andy Wood at Bexleyheath Academy.
Clive Hall-Strutt, Club Coordinator for the scheme, said " Michael is a worthy winner of this award. He has worked very hard gaining his coaching qualifications so that he can give his team the best quality training sessions possible. His team always look forward to his imaginative and innovative coaching sessions and have shown a marked improvement since he took over running the team,"
So well done again Michael from all at Junior Reds.
Remember if you know anybody aged between 11 and 25 who you feel could be a nominee for a Jack Petchey award please let Clive know at Clivehall-strutt@sky.com
---
Bob Stagg Finalists – Sunday 22nd May
Well what a day we had on 22-05-16. Six teams playing in the Selkent Bob Staggs Memorial Shield Finals across two different venues. Our day kicked off at 10am in glorious sunshine at Barnet Wood Road with the U14 Spartans and finished in a torrential rain storm at the Meridian with the U13 Warriors in the last game of the day at 5:30pm. We had tears of joy and tears in defeat.
Whether you won or whether you lost, you were all brilliant. 
U14 Mauve Shield Winners – Junior Reds Spartans
U12 Blue Shield Winners – Junior Reds Knights
U14 Orange Shield Winners – Junior Reds Athletic
U12 Aqua Shield Finalists – Junior Reds Spartans
U11 Olive Shield Finalists – Junior Reds Knights
We would like to congratulate everyone of you for taking part and representing Junior Reds Football Club and making it such a memorable day.
---
Tina Marshall Trophy – Girls U12's retain their title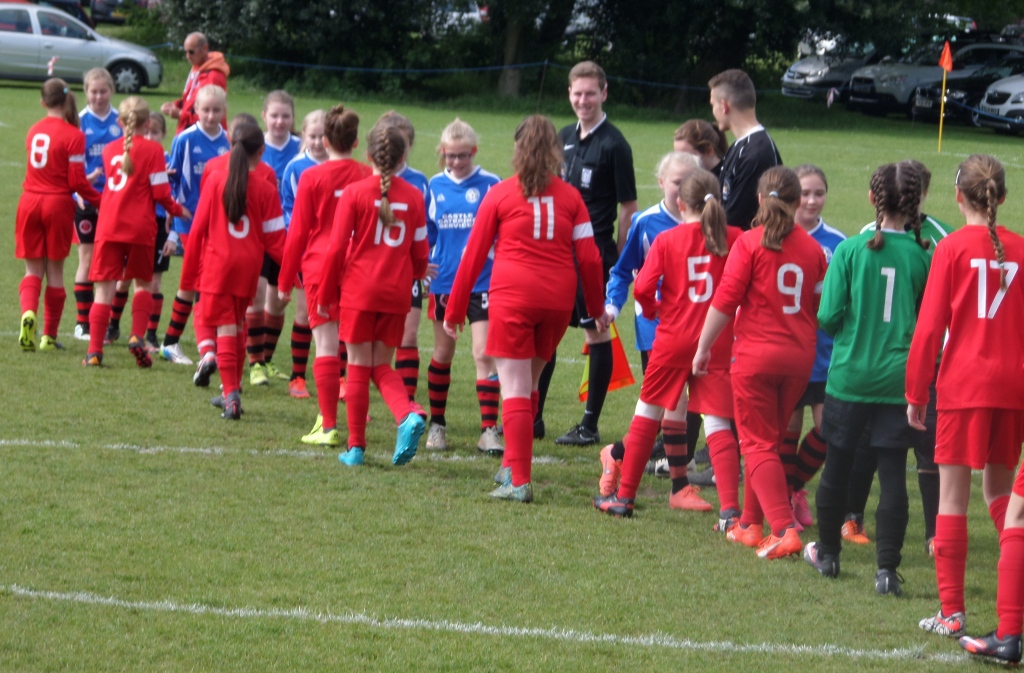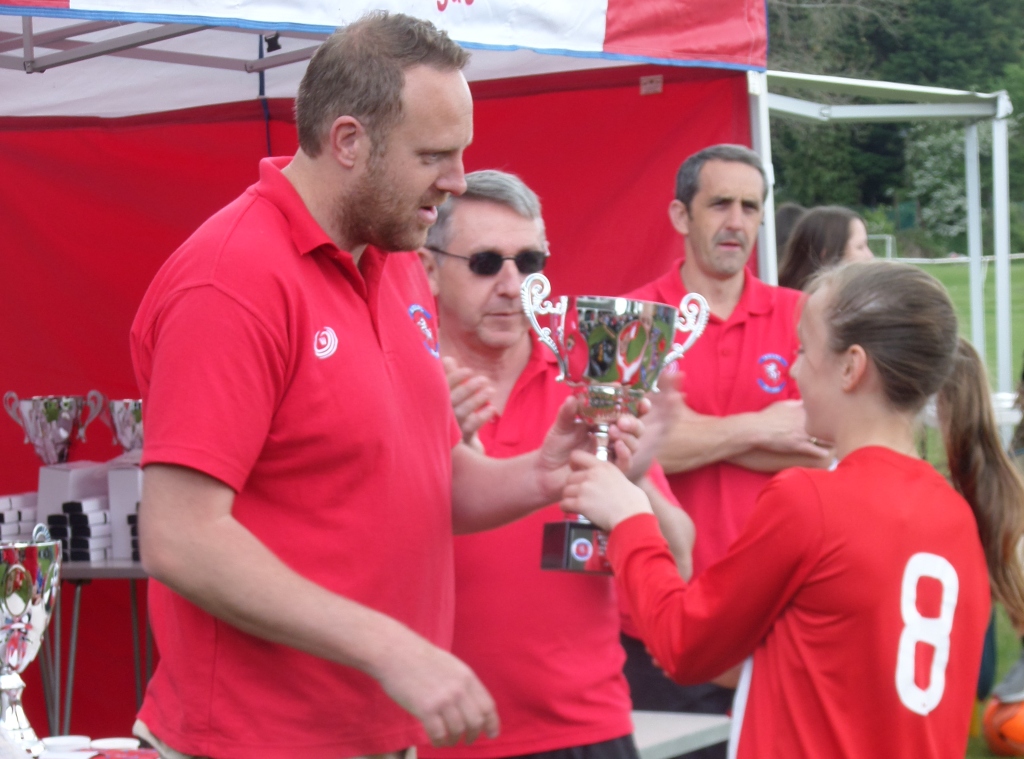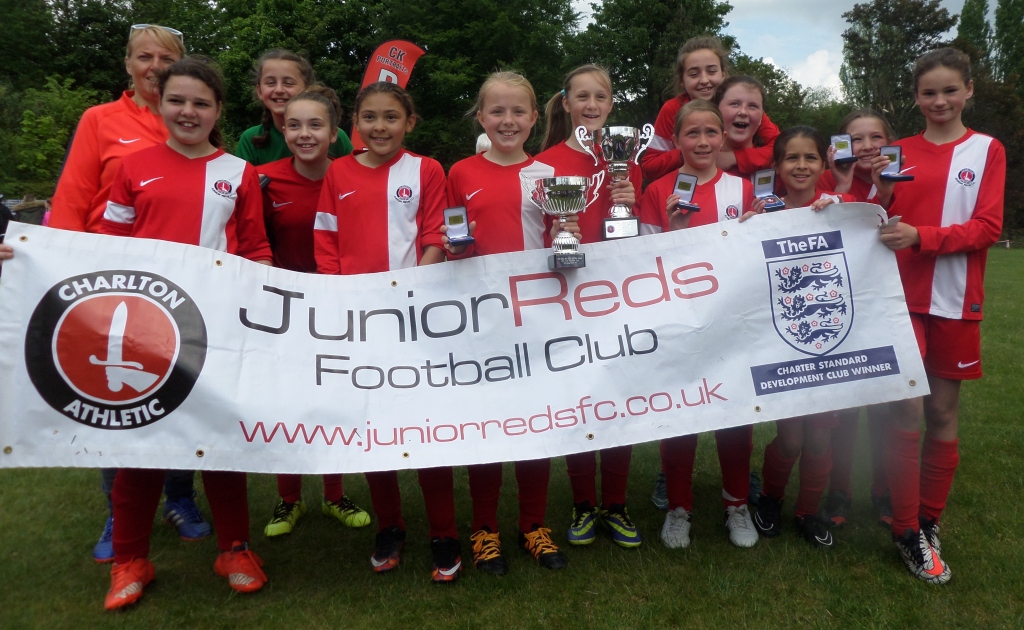 The sun shone, the sky was blue and the grass was very green at Cobdown Sports & Social Club in May as Junior Reds Girls Under 12's came to defend their Tina Marshall trophy from the previous season. Their opponents in the final were the same as last season – Castle Colts.
A fantastic game took place with all girls from both teams showing their skills and commitment to their teams. Castle Colts started very strongly yet it was Junior Reds that took the lead at 12 minutes into the game with a long range speculative shot from Libby Miller. Castle Colts shortly restored parity with a fine cross. Junior Reds winner came at the 25 minute mark with a long range "lob" over the advancing goalkeeper from Shay Bennett, to make the final score 2-1.
Thanks to Team Manager Peter Clarke and the Castle Colts girls for a great game again. See you next season in another final? Finally thanks to the KFLFL Committee and helpers for their hard work in organising 12 Cup Finals to the highest standard on the same day.
Well done girls a great achievement.
---
Junior Reds Seniors – Plumstead Challenge Cup Glory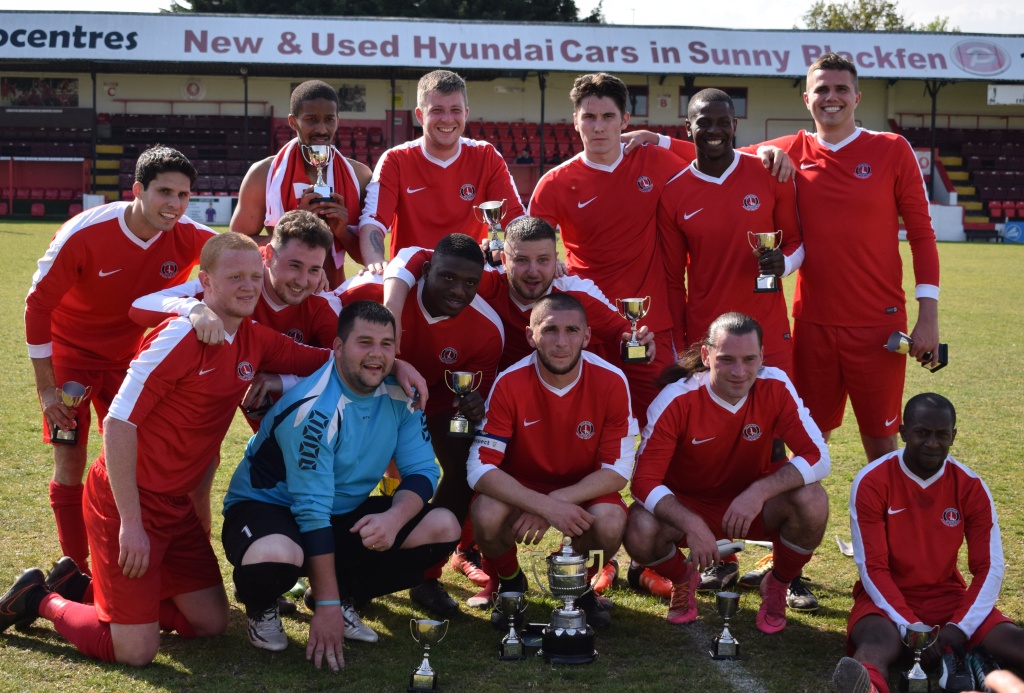 A thrilling afternoon at Park View Road, Welling saw Junior Reds Seniors beat Footscray Lions 3-1 to lift the Plumstead Challenge Cup. Goals from Adam Tarrant, Jordan McTigue and Aaron Jeffery were good enough to clinch victory against a spirited Lions team in front of a crowd of 254.
Congratulations lads from all at the club.
---
ABOUT THE CLUB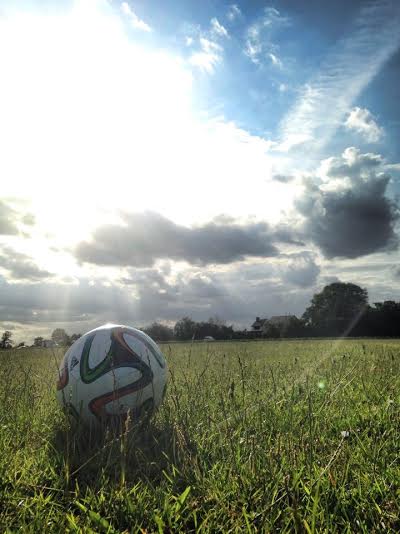 The Junior Reds Football Club was formed in 2001 to provide boys and girls, between the ages of six and eighteen, with the opportunity to compete in local Sunday Football Leagues in South East London and North Kent. The Club has steadily grown and now has over 40 teams competing in the Kent Youth League, South East London and Kent Youth League (SELKENT), Kent Ladies & Girls League and the Woolwich & Eltham Sunday FA. 
Click here to find out more details of the clubs history.
---
PLAYER & MANAGER RECRUITMENT
If you are interested in joining the Junior Reds, please contact:
Mobile: 07968 946256 or e-mail angela.wood@juniorredsfc.com
Clive Chivers, 

Club Secretary
Mobile: 07504 264157 or e-mail clive.chivers@juniorredsfc.com
Daniel Masters, 

Club Recruitment Officer
Mobile: 07957 740270 or e-mail daniel.masters@juniorredsfc.com
---