HOME
Welcome to
Junior Reds
Football Club
London FA
Charter 
Standard
Community Club
---
CAN YOU HELP A TEAM?
Ever thought of getting involved with Junior Reds FC?
The club is totally dependant on volunteers to coach and manage a wide spectrum of teams ranging from Under 7's right through to the Senior squads.
We are always looking for new volunteers to help out within the club and have the following opportunities available :-
Coaches

Managers

Assistant Coaches

Assistant Managers
You don't have to be an experienced FA Level 1 or 2 coach as enthusiasm and reliability are just as important.
If you're interested and want to help then please contact:
Clive Chivers on 07504 264157 or e-mail clive.chivers@juniorredsfc.com
---
SATURDAY SOCCER CLUB
The Saturday Soccer Club operates every Saturday morning in Bexleyheath and is open to any ability from 5 to 8 years of age. The sessions operate on a simple pay and play "casual" basis. Click on the link to find out more Saturday Soccer Club
---
LATEST NEWS
New Players Wanted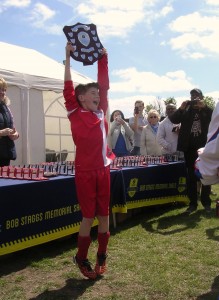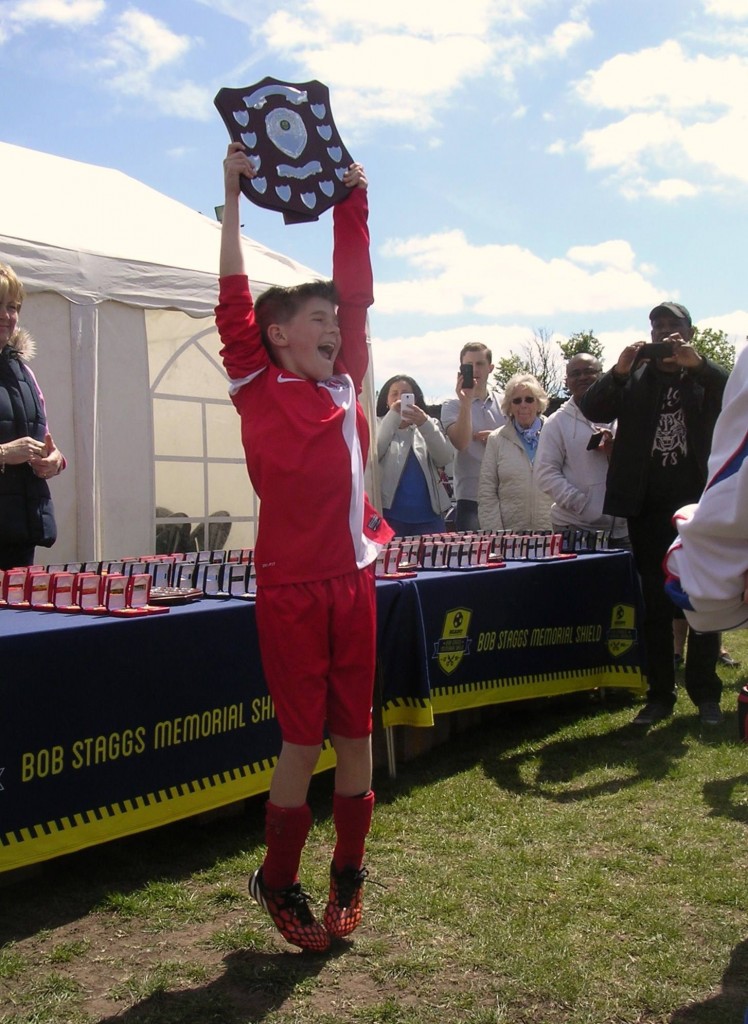 Do you want to play football?
Want to join one of our current teams?
We are currently looking for new players from ADULTS to UNDER 7's. 
Check out our "Players Wanted" page or click on the following link: New Players Wanted 
Alternatively you can contact our player recruitment team : 
Clive Chivers, 

Club Secretary
          Mobile: 07504 264157 or e-mail clive.chivers@juniorredsfc.com
Daniel Masters, 

Club Recruitment Officer
         Mobile: 07957 740270 or e-mail daniel.masters@juniorredsfc.com
---
Sydney at the Lane!!
Sydney from the U9 Girls was a mascot at the FA Cup match between Tottenham and Leicester at White Hart Lane. Sydney was escorted out onto the pitch by Spurs defender Kieran Trippier.
We all hope you had a fantastic day out!

---
FA Coach Mentoring Programme Contniues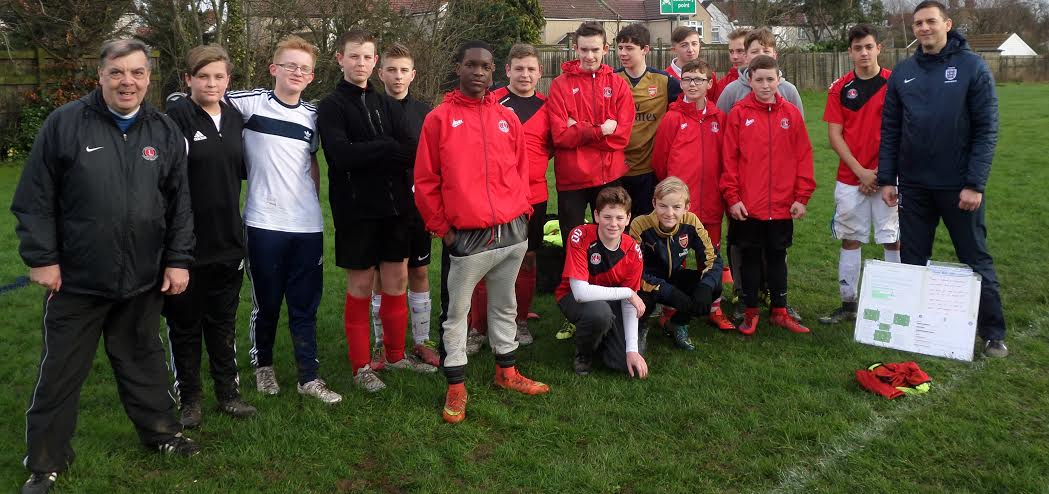 The FA Coach Mentoring programme continued at Junior Reds on January 9th with the U15 Warriors. Our FA Coach Mentor, David Streetley was in attendance to take the Warriors through a training session at Bexleyheath Academy. 
Manager Clive Hall Strutt said "I really welcome some input from external sources. This gives me an opportunity to acquire some new ideas from a different perspective and I will be happy to cascade these back to my fellow Team Managers and Coaches". Further sessions are being planned, with the U15 Athletic next up and more to follow over the next couple of months.
---
Happy New Year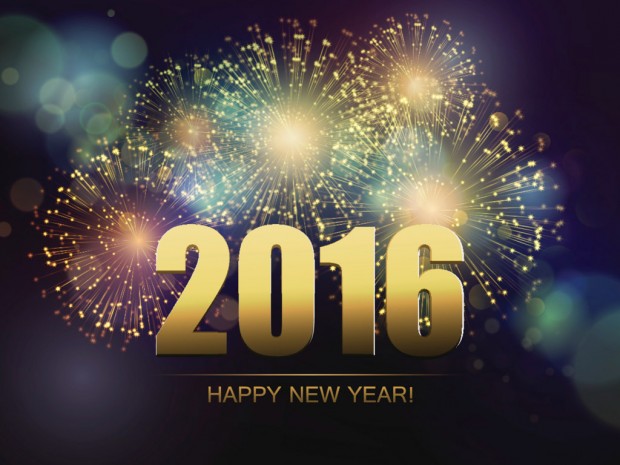 The club wishes to extend a Happy New Year to all our players, managers, coaches, parents and all club committee members.
Here's to a successful 2016 for all our Junior Reds teams.
---
It's in the bin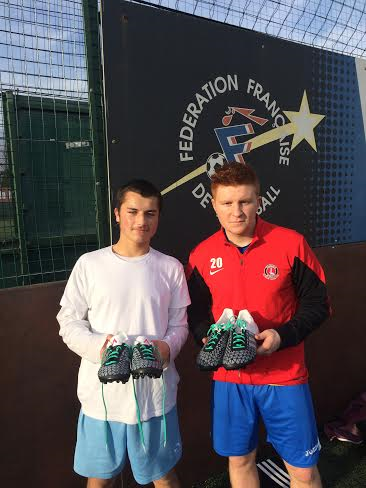 Congratulations to Marcus Young (left) and Ben Malyon from the Seniors Athletic team who both won a pair of Adidas football boots. They won their boots after the recent match on Hackney Marshes by chipping the ball into a wheelie bin in a 'Beat the Bin' challenge.
Well done gentlemen.
---
Jack Petchey award for November 2015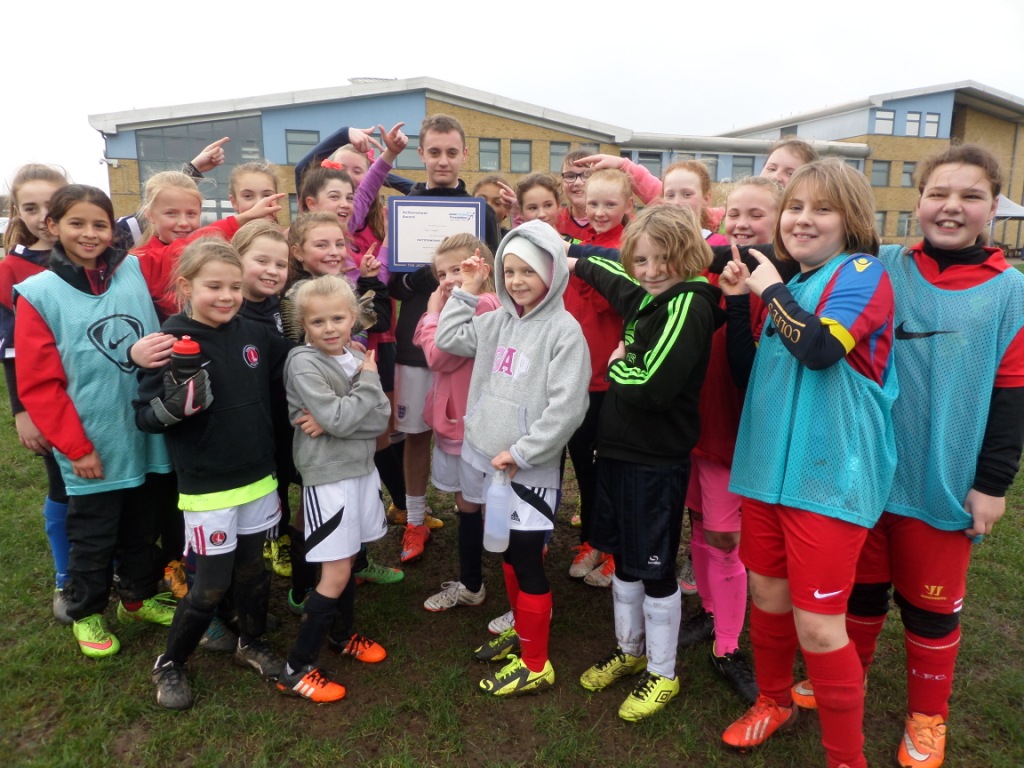 Jake was specially recognised in December for his services to Junior Reds. Jake was presented with the "Jack Petchey" award for his work with the Under 12 Girls section by Co-ordinator, Clive Hall-Strutt. Jake has been an ever present twice a week since the early Summer and assisted with the successful Danson Fun Day in August. Recently Jake qualified as one of the Club's youngest ever Coaches. Coach Yusuf Kayalar said "Jake is a valuable member of the Girls football section. He is always reliable, punctual and gives excellent support to me in Managing the Robins. He is a pleasure to work with and a popular Coach".
Congratulations Jake from all at the club.
---
FA Coach Mentor Programme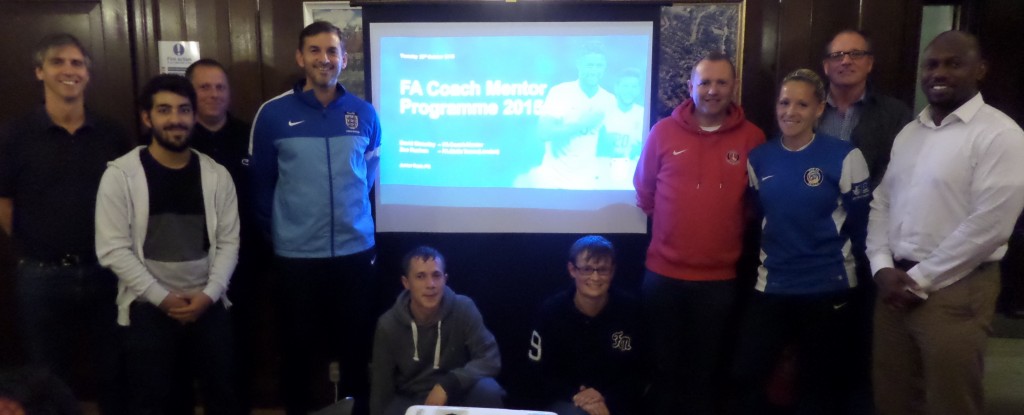 A number of club coaches met with representatives from the Football Association In October as part of the FA Coach Mentor Programme. The aim of the scheme is to support and develop the coaches within our Cub, providing new ideas and impartial advice.
This meeting introduced our mentors and an overview of the scheme was provided. Several "Coach the Coach" events are planned in the months ahead.
Watch out for more news in the coming weeks of these events.
---
Jack Petchey award for October 2015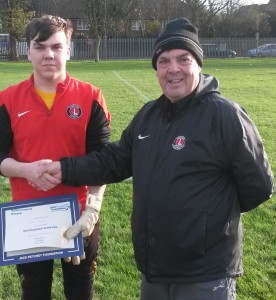 Thomas was awarded the Jack Petchey award for the month October. Thomas has received his award for his hard and continued support for the club and is pictured above receiving his award from Clive Hall Strutt.
Congratulations Thomas from all at the club.
---
Jack Petchey award for September 2015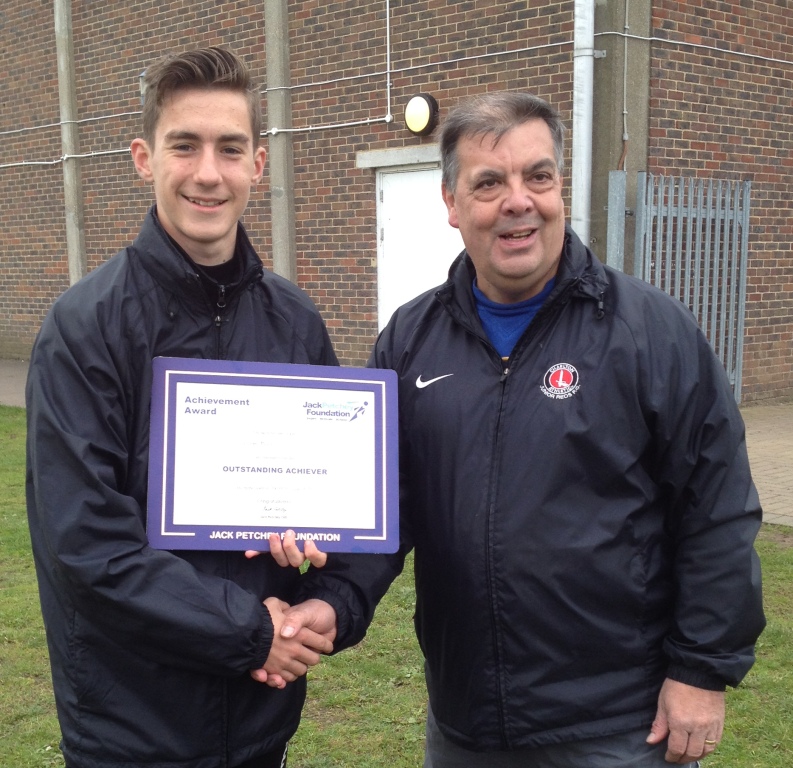 George has been awarded the Jack Petchey Achievement Award for September 2015. 
Manager Alan said "George supports me in coaching the u12 Spartans squad. He is a continual inspiration for different training drills (especially the agility ladder) and the boys really respect George's input. He also completed his refereeing course last year and has officiated a number of games last season and this. At school he has completed the First for Sport Level 2 Award for Leadership through Football. Finally George is always willing to help the club and this year he attended the Danson Fun Day were he assisted in running one of the "beat the goalie" stands.
Keep up the good work George".
Congratulations George from all at the club.
---
Jack Petchey Crystal Awards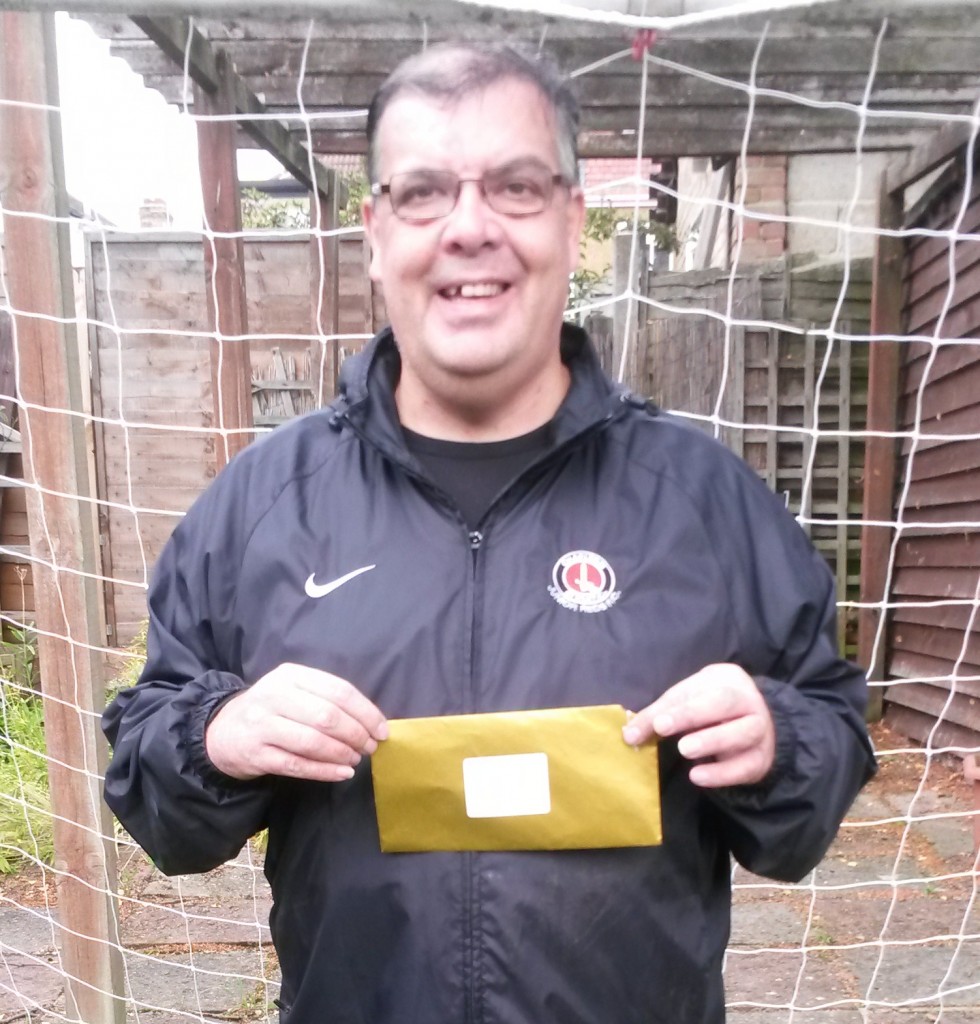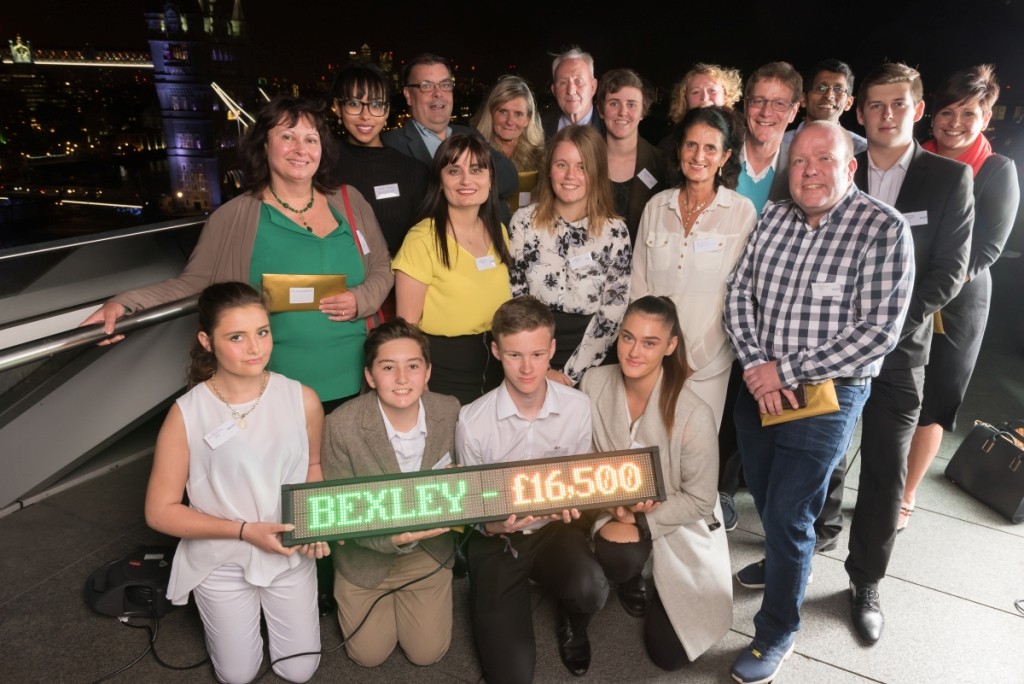 The Jack Petchey Crystal Awards held at City Hall, London on Friday 2nd October marked the 15th anniversary of the Jack Petchey Foundation and the milestone of having given £100m to youth projects in London and Essex.
To mark the occasion Junior Reds were given a £1,500 award in recognition of their amazing work with young people. Clive Hall-Strutt collected the golden ticket on behalf of the Junior Reds and said. "It gave me great pleasure to receive the award of behalf of the club recognising the excellent efforts of the young people who are amongst the Junior Reds membership. Interestingly of over 2,000 schemes that are running only 150 received these prestigious awards. So well done everyone at Junior Reds." The plan is to spend the money on new first aids kits for all of our teams.
Jack Petchey CBE said " I am proud of all the programmes we have been involved in and every single young person who has participated. We aim to help young people believe that "If I think I can, I can, so that whatever their background, they will achieve, they will make positive contributions to society and they will be satisfied in their lives. I am so committed to this that aged 90 I still come to the office every day. It is why we have given £100m to realise this."
---
Girls football tournament and the sun shone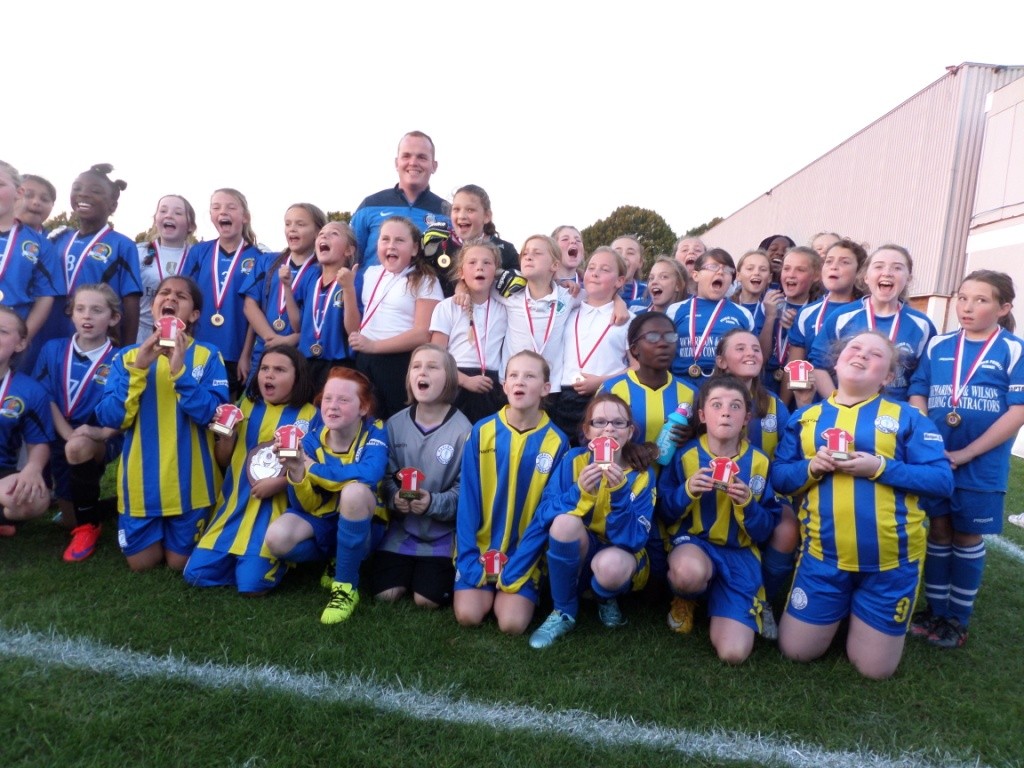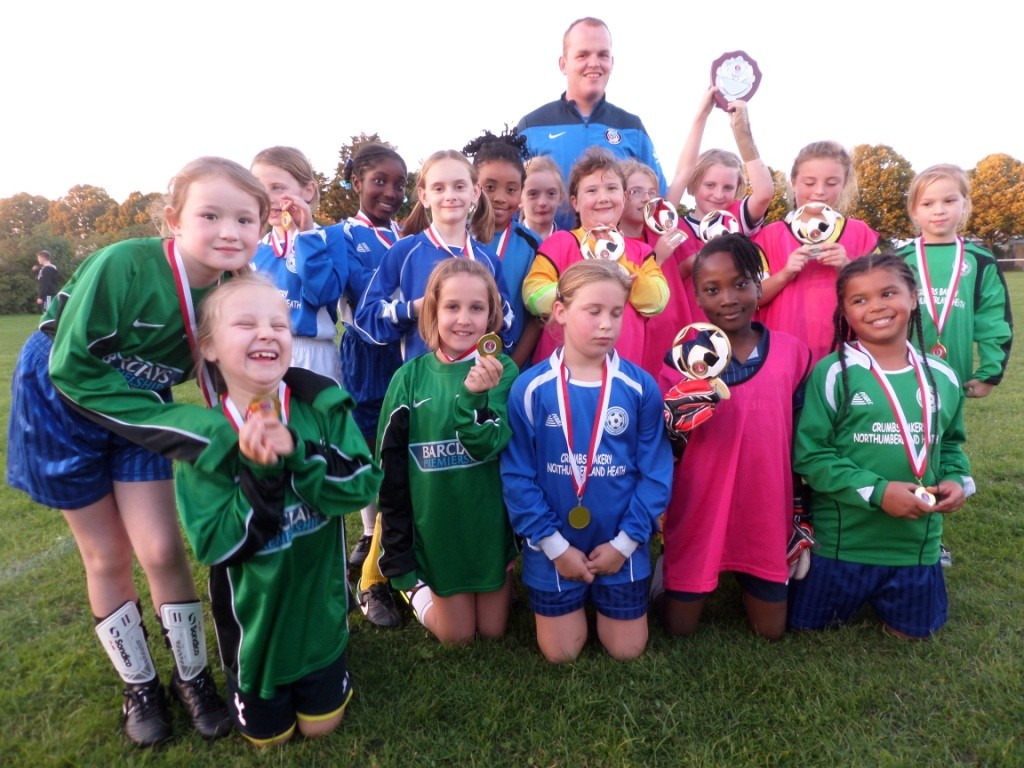 Junior Reds are an enthusiastic supporter of Girls football. The Club organised a small tournament in early October between three Primary Schools – Bedonwell, Northumberland Heath and Pelham. Two competitions took place with one for School Years 3-4 and another for 5-6. The sun shone throughout and all girls played with enthusiasm and skill.
Club Chairman, Clive Chivers explained "We are keen to promote Girls football and in South East London few opportunities sadly exist. We try to play our part and have organised two tournaments for girls over the past few months. If girls wish to continue to play they are more than welcome to come along each Saturday morning to Bexleyheath Academy (start 10.00am) and to join our expanding Girls football session. We particularly require a couple of Under 9s and 12 players for our three teams."
Bedonwell won the Year 5/6 competition piping Pelham by just one point in a close contest. 
Clive can be contacted on 07504 264 157 if you are interested in joining the Girls section of the Club.
---
Nike Partner Club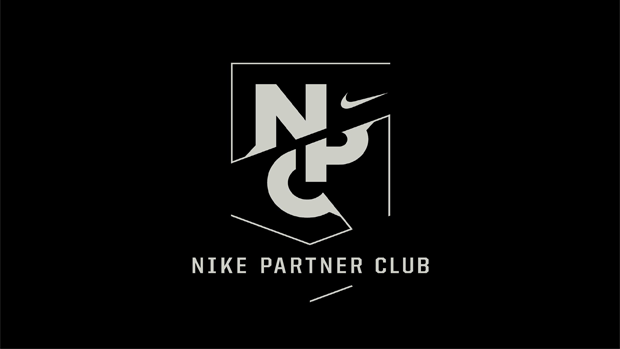 Junior Reds FC and Nike are delighted to announce an exciting new three year partnership as part of the 'Nike Partner Club Programme'. Over the next three seasons the club will wear Nike playing kit. In return Nike will provide certain benefits including a club training bursary, free product allowances and invitations to special Nike partner events at St George's Park. The club will also be entitled to promote itself as one of an elite group of 'Nike Partner Clubs' and utilise Nike branding in doing so. Richard Edwards of Nike UK stated, "We are delighted to announce that Junior Reds FC have become a Nike Partner Club. The Club is one of the top Junior Football Clubs in London and we look forward to our partnership with the Club for the next three years" . Andy Wood said on behalf of the club" we are delighted to have Nike as a partner. To have one of the largest and most respected names in Football support the club just shows how far we have come. We look forward to a productive partnership with Nike over the next three seasons".
---
ABOUT THE CLUB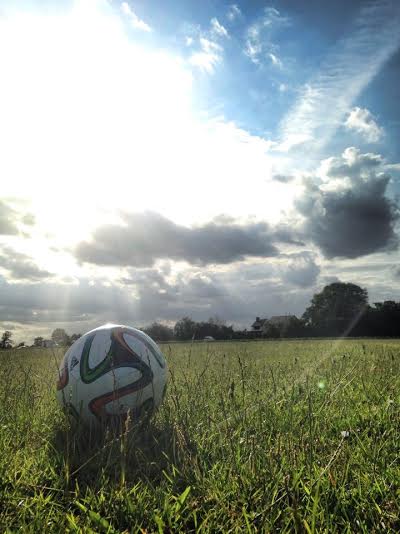 The Junior Reds Football Club was formed in 2001 to provide boys and girls, between the ages of six and eighteen, with the opportunity to compete in local Sunday Football Leagues in South East London and North Kent. The Club has steadily grown and now has over 40 teams competing in the Kent Youth League, South East London and Kent Youth League (SELKENT), Kent Ladies & Girls League and the Woolwich & Eltham Sunday FA. 
Click here to find out more details of the clubs history.
---
PLAYER & MANAGER RECRUITMENT
If you are interested in joining the Junior Reds, please contact:
Mobile: 07968 946256 or e-mail angela.wood@juniorredsfc.com
Clive Chivers, 

Club Secretary
Mobile: 07504 264157 or e-mail clive.chivers@juniorredsfc.com
Daniel Masters, 

Club Recruitment Officer
Mobile: 07957 740270 or e-mail daniel.masters@juniorredsfc.com
---