HOME
Welcome to
Junior Reds
Football Club
London FA
Charter 
Standard
Community Club
---
CAN YOU HELP A TEAM?
Ever thought of getting involved with Junior Reds FC?
The club is totally dependant on volunteers to coach and manage a wide spectrum of teams ranging from Under 7's right through to the Senior squads.
We are always looking for new volunteers to help out within the club and have the following opportunities available :-
Coaches

Managers

Assistant Coaches

Assistant Managers
You don't have to be an experienced FA Level 1 or 2 coach as enthusiasm and reliability are just as important.
If you're interested and want to help then please contact:
Clive Chivers on 07504 264157 or e-mail clive.chivers@juniorredsfc.com
---
SATURDAY SOCCER CLUB
The Saturday Soccer Club operates every Saturday morning in Bexleyheath and is open to any ability from 5 to 8 years of age. The sessions operate on a simple pay and play "casual" basis. Click on the link to find out more Saturday Soccer Club
---
LATEST NEWS
New Players Wanted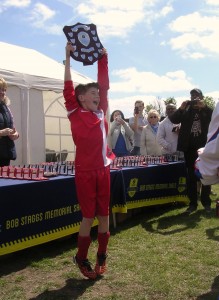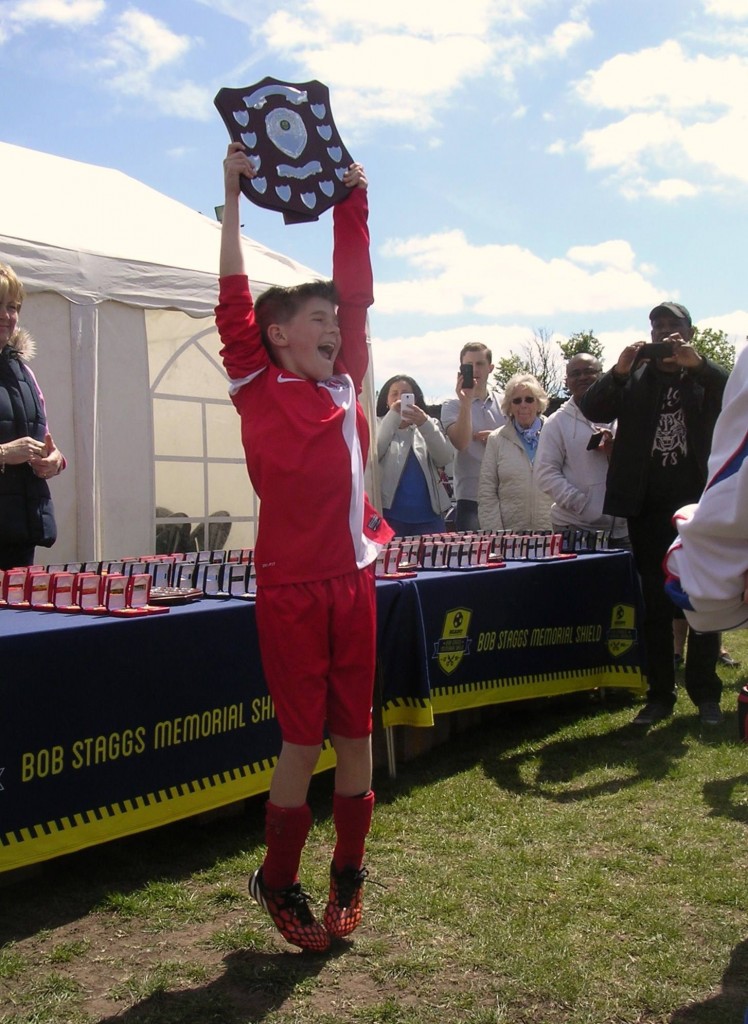 Do you want to play football?
Want to join one of our current teams?
We are currently looking for new players from ADULTS to UNDER 7's. 
Check out our "Players Wanted" page or click on the following link: New Players Wanted 
Alternatively you can contact our player recruitment team : 
Clive Chivers, 

Club Secretary
          Mobile: 07504 264157 or e-mail clive.chivers@juniorredsfc.com
Daniel Masters, 

Club Recruitment Officer
         Mobile: 07957 740270 or e-mail daniel.masters@juniorredsfc.com
---
Junior Reds Seniors – Plumstead Challenge Cup Glory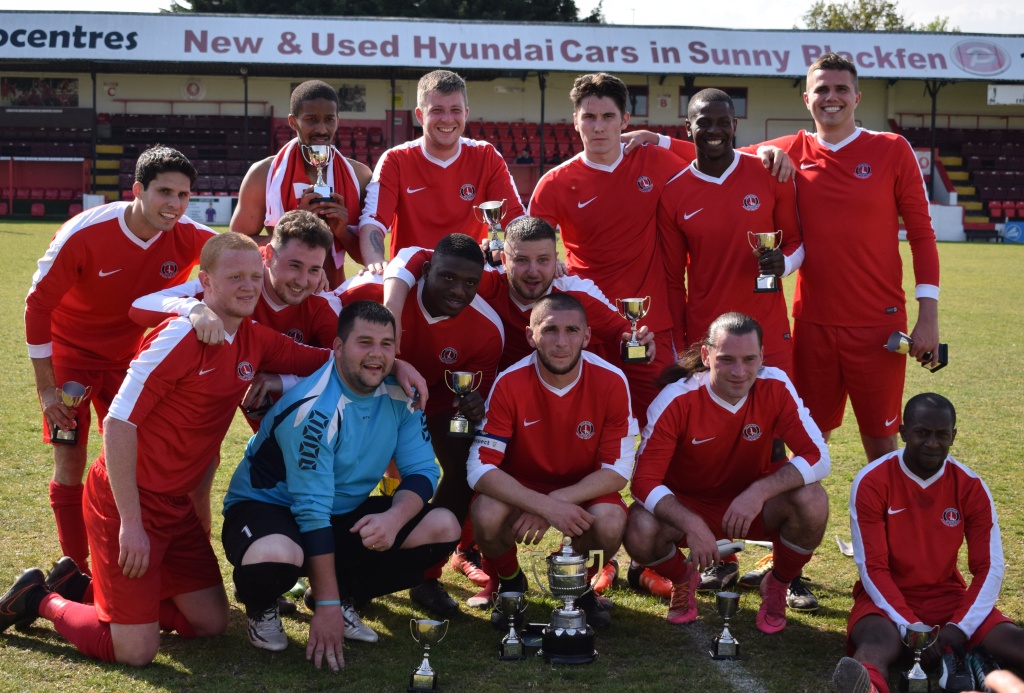 A thrilling afternoon at Park View Road, Welling saw Junior Reds Seniors beat Footscray Lions 3-1 to lift the Plumstead Challenge Cup. Goals from Adam Tarrant, Jordan McTigue and Aaron Jeffery were good enough to clinch victory against a spirited Lions team in front of a crowd of 254.
Congratulations lads from all at the club.
---
Tom attends the Young Leaders Conference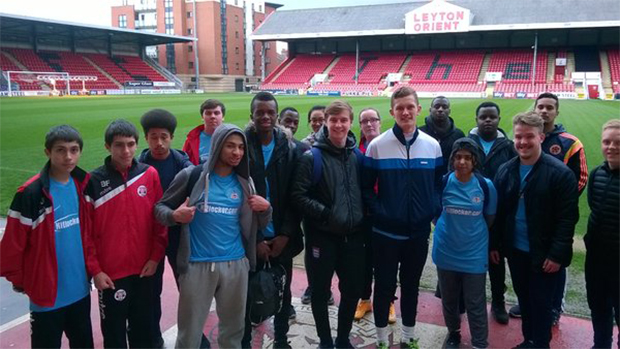 On the 7th of April the London FA Youth Council hosted a conference at Leyton Orient FC aiming to bring together and upskill young coaches, referees and volunteers from across the capital.  Our very own Tom Forrest (pictured here at the back on the left) from the Saturday Club was there. Tom spent the day attending various workshops ending with a tour of the Stadium.
Read more on the London FA website at http://www.londonfa.com/news/2016/apr/youth-council-hosts-conference-for-the-capitals-young-leaders#oYEtvuildQvwiEjp.99
Well done Tom
---
JR Seniors – Presidents Cup Final
W&ESFA Presidents Cup Final – Junior Reds Seniors vs Eltham Phoenix 'B'.
Date : Sunday 15th May 2016.
Kick off: 14:30.
Venue: To be confirmed.
Best of luck lads for the 8th May from all at the club.
---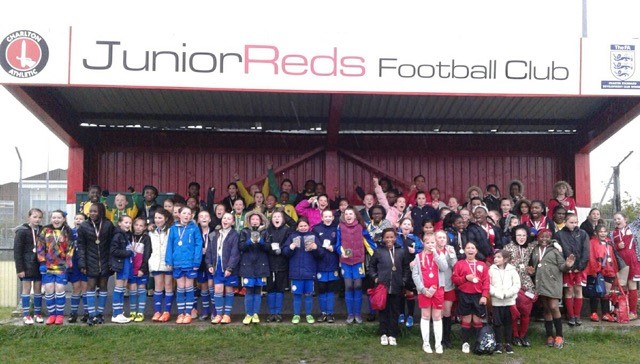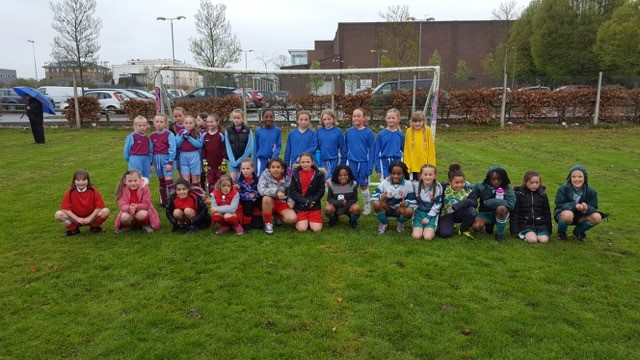 Junior Reds organised a football tournament on Friday 22nd April for Girls in local Primary Schools. A record nine Schools attended with thirteen teams taking part – Alexander McLeod, Barnehurst, Bedonwell, De Lucy, Fosters, Gravel Hill, Pelham, St. Thomas Moore and Westgate. Due to numbers a tournament for School Years 3 and 4 was held at Crook Log Sports Centre and another for School Years 5 and 6 at Danson Youth Centre, Bexleyheath.
The rain did not spoil the enjoyment of the girls and for many this was their first experience in playing organised matches. The Year 5 & 6 tournament was won for the third successive occasion by Bedonwell with Pelham again finishing second on goal difference.
Girls Coach, Yusuf Kayalar, explained " We are keen to promote Girls football in the area and wish to expand the Girls football with new teams from Under 8s to 14s for next season. This tournament both promoted Girls football and increased awareness of our plans".
If your daughter is interested in joining one of the new teams please contact Yusuf on 07748 679 605 or Clive on 07504 264 157 or email Clive@juniorredsfc.co.uk.
---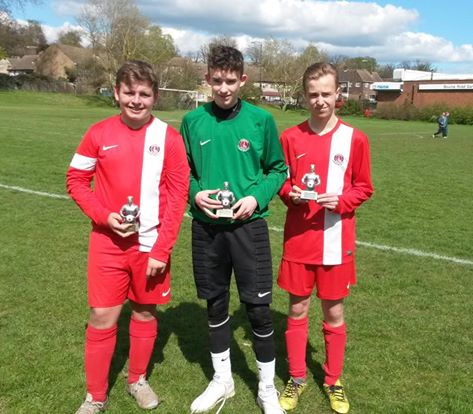 Pictured are Tyler, Declan and Luke from the U15 Warriors, all of whom celebrated making 100 appearances for the team.
Manager Clive Hall Strutt said " It is a terrific achievement to make so many appearances for one team especially as we have not exactly been laden with trophies over the last few years. These boys reflect what we are all doing this for, enjoying their football week in and week out and always giving their best for the team irrespective of the result.
Well done again Tyler, Declan and Luke here`s to the next hundred.
---
JR Seniors – Cup final details
Plumstead Challenge Cup Final – Junior Reds Seniors vs Footscray Lions.
Date : Sunday 8th May 2016.
Kick off: 14:30.
Venue: Erith & Belvedere FC.
Entrance Fees: Adults £3, U16's free.
Best of luck lads for the 8th May from all at the club.
---
Spartans U12's – Shield Finalists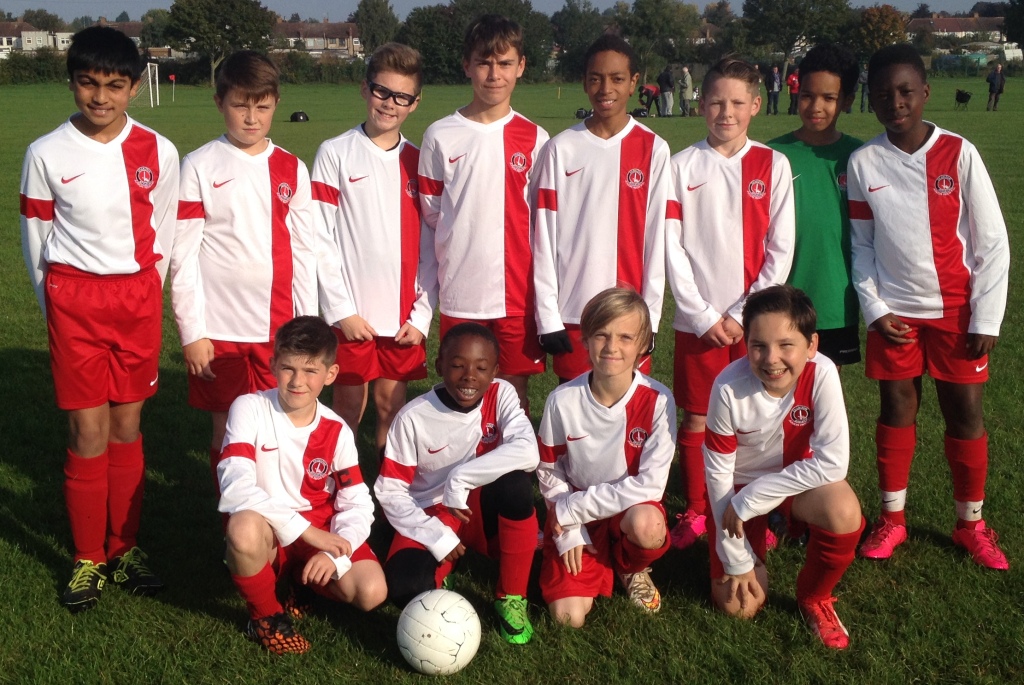 Congratulations to our U12 Spartans team on reaching the Selkent U12 Bob Staggs (Aqua) Shield Final where they will play Academix.  Shield Final details to follow.
Well done to the boys and team manager Alan and best of luck in the final.
---
Sam Lilburn, our U15 Spartans Manager, is once again running in the London Marathon on Sunday 24th April for Children with Cancer UK. If you would like to sponsor Sam then follow the link.
Good luck Sam!
Sam Lilburn is raising money for Children with Cancer UK by taking part in the 2016 Virgin Money…
UK.VIRGINMONEYGIVING.COM

|

BY SAM LILBURN
---
Jack Petchey award for April 2016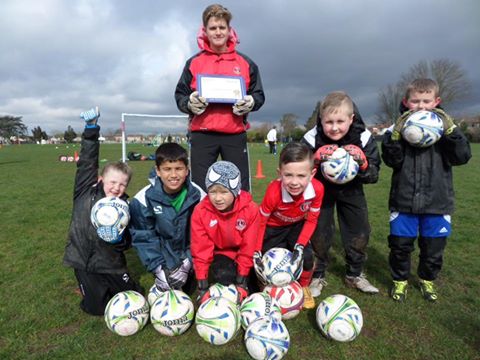 The Jack Petchey Special Achievement Award for April went to Matthew. Matthew is one of our dedicated specialist Goalkeeping Coaches and attends sessions at Bexleyheath Academy each Saturday morning. His colleague, Tony Ball, said "Matt has been a member of the Club for several years and was always a star performer between the sticks in the team he represented. We are fortunate to have the services of Matt in passing on his skills and experience to a number of our younger goalkeepers. He has an excellent rapport with the players and sets the highest standards. All our goalkeepers have greatly benefited from his Coaching skills"
Well done Matthew from all at Junior Reds a worthy winner of the Jack Petchey for April 2016.
---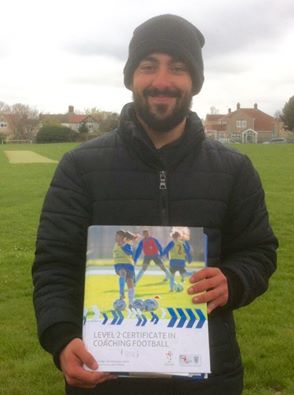 Yusuf Kayalar our U12 Robins Manager passed his FA Level 2 Assessment at Bexleyheath Academy last weekend. Yusuf put the girls though a session on switching play under the watchful eye of Anthony Ferguson from the FA and passed with flying colours.
Congratulations Yusuf from everyone at the club.
---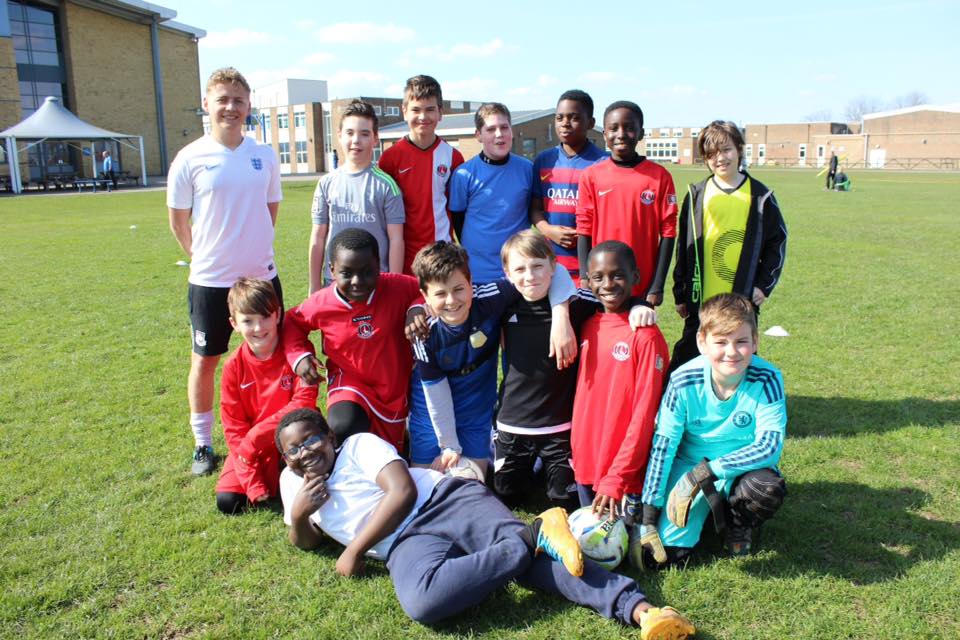 Michael McDermott would like to thank Junior Reds FC for helping him successfully complete his FA Level 2 Coaching Badge.
Micheal said "I have had a lot of support from coaches and officials from the club. My main thanks has to go to Junior Reds Under 11's Warriors for giving 100% effort in training and enabling me to make our sessions as fun as possible, whilst being able to develop them as a team and as individuals. They let me try some unorthodox and imaginative training sessions to get different results. They are a great team and were a pleasure to work with, as they all enjoy football and all want to learn new skills to add to their games, which has made my job just that little bit easier and more enjoyable. 
With my FA Level 2 Coaching Badge now completed I can continue helping and progressing the team to new levels and better playing abilities.
Well done Michael and the Under 11 Warriors.
---
London Marathon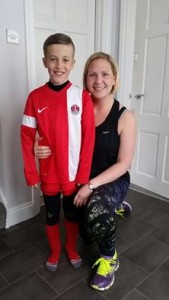 On the 24th of April one of our players parents Mel Keen will be taking part in her first London Marathon.
Whilst tackling the 26 miles Mel will also be raising money for the charity "Get Kids Going!". This is a charity that gives disabled children the opportunity to participate in sport as well as inspiring them to compete in sporting events by providing grants to help with training, physiotherapy, training and competition fee's. Get Kids Going also supply youngsters with manual wheelchairs for everyday use at home and school. We all wish Mel the very best of luck.
---
Girls meet Ladies
The Junior Reds U9 and U12 girls teams were special guests of the Charlton Athletic Ladies team last weekend.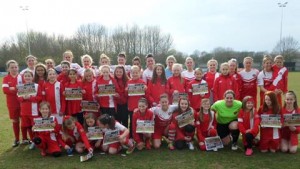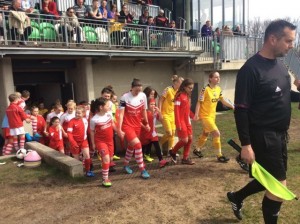 Nearly 30 Junior Reds players attended the FA Women's Premier Southern Division League match verses Lewes Ladies, played at Sporting Club Thamesmead. Several of the Junior Reds members were team mascots and many collected autographed photos at the end of the game. It was a good day for the Ladies as they won 2-1, scoring a last minute winner to keep alive their promotion hopes.
A special mention and thanks to Yusuf Kayalar, our U12 Manager for arranging the day.
---
Jack Petchey award for March 2016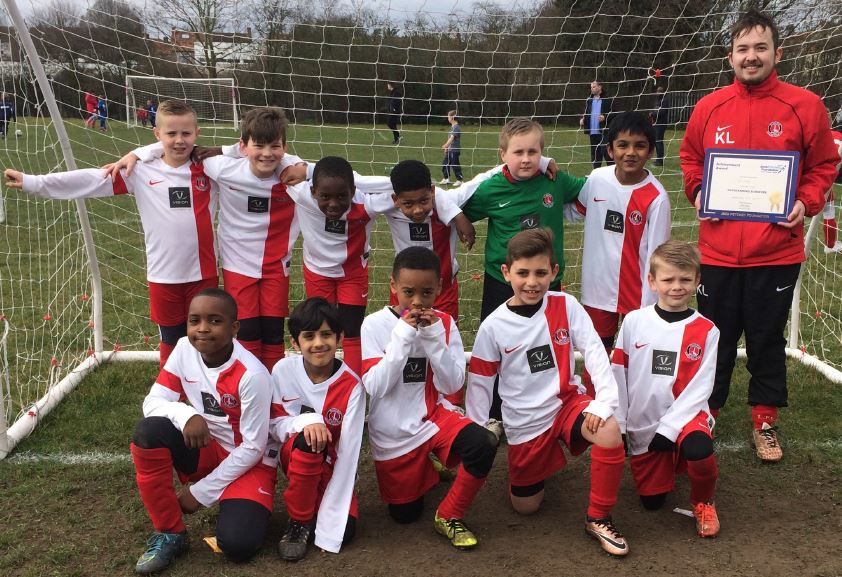 Karl Manager of the Under 9 Knights is the worthy winner of the Jack Petchey for March 2016.
Karl has been a team manager for three seasons now and deserves recognition for his dedication. He always attends training and matches promptly, setting high standards in terms of sportsmanship and organisation. Karl has always supported the club`s wider activities including the fun day at the Danson Youth Centre so well done again Karl.
Well done Karl from all at the club.
---
New Under 12 team for next season (2016/2017) : Players required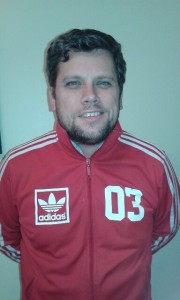 Over this Summer we are pleased to announce the formation of a new and additional team at the Under 12 age group. The team will train on Saturday mornings at Bexleyheath Academy and the Manager will be Danny Court (pictured). The team will play in the Selkent League. The team are starting to recruit players. To be eligible players must be in current School Year 6 with a date of birth between 01-09-2004 and 31-08-2005.
If interested in joining this new team, or requiring further details, Danny can be contacted on 07867 803 963 and email dannycourt@live.com
---
Under 13 Sabres are having a brilliant season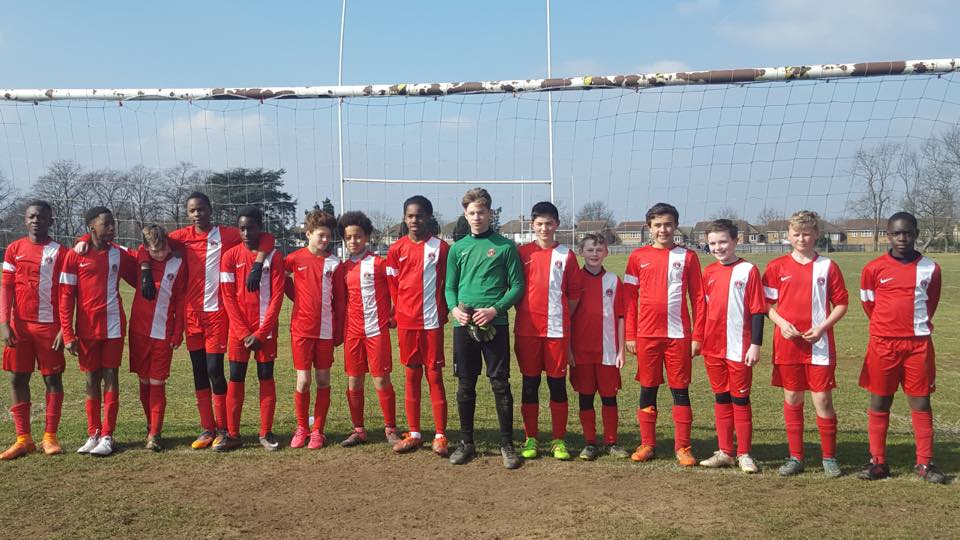 Congratulations to the Under 13 Sabres team. In March the team won the Selkent "A" Division with games to spare. To top this the team have now reached the final of the Selkent Cup Final. Joint Team Manager Spencer Cross said "The season started on the back of us winning a number of pre-season tournaments, and we carried this form into the league. Whilst the boys are all individually talented, they play for each other and the team spirit is first class. The team have not lost a league game since 2013 and have won the A league this year with 16 straight wins so far. The run in the selkent cup has also been impressive with us making the final and we have every intention of winning it and making sure junior reds name is on it this year!"
Best of luck in the final from everyone at the club.
---
Goalkeepers raising the bar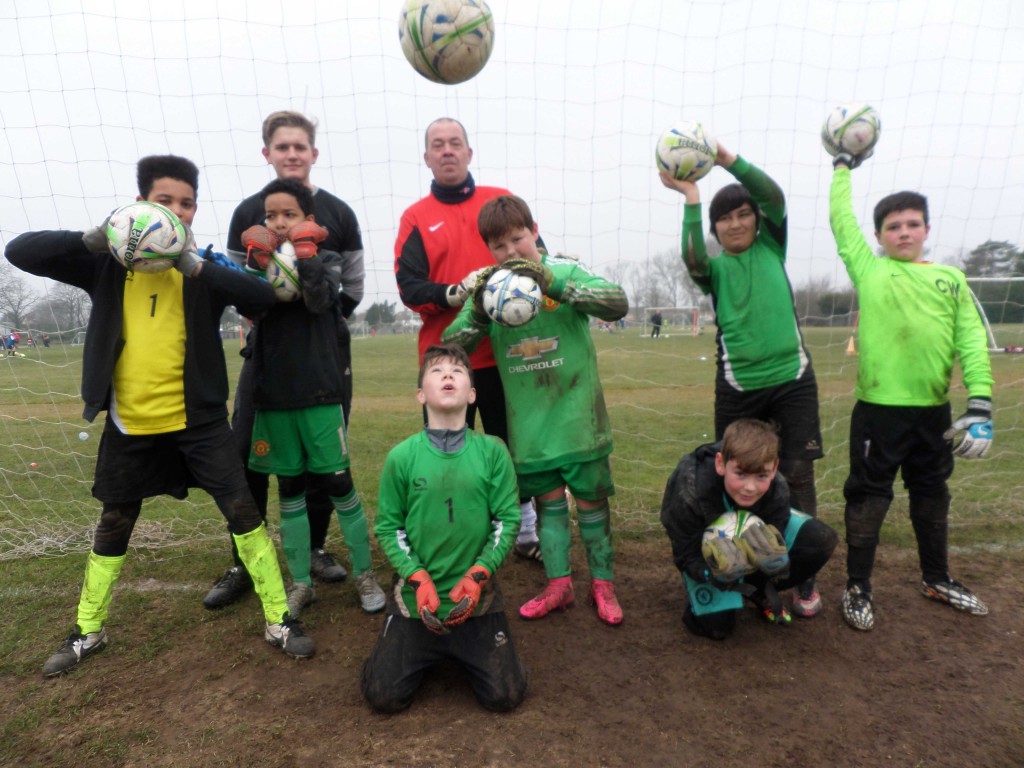 Goalkeepers are often the neglected during Team Coaching sessions. Team Managers have to give attention to the outfield players due to pressures on numbers.
To rectify this Junior Reds hold specialist training sessions just for goalkeepers. These are held at Bexleyheath Academy on Saturday mornings under the watchful eye of Goalkeeper Coach, Tony Ball.
Tony said "Over the last three years we have provided specialist Coaching sessions for Goalkeepers. All players have greatly benefitted and I have seen real progress in areas such as technique and confidence. Goalkeepers still train with their teams so they do not lose out on the social aspect of being with their friends. We have developed a strong bond and regularly exchange stories of the highs and lows from our matches across the Club as a team goalkeeper."
Pictured above are some of the younger goalkeepers demonstrating their saving techniques getting bodies behind the ball.
---
Jack Petchey award for Feb 2016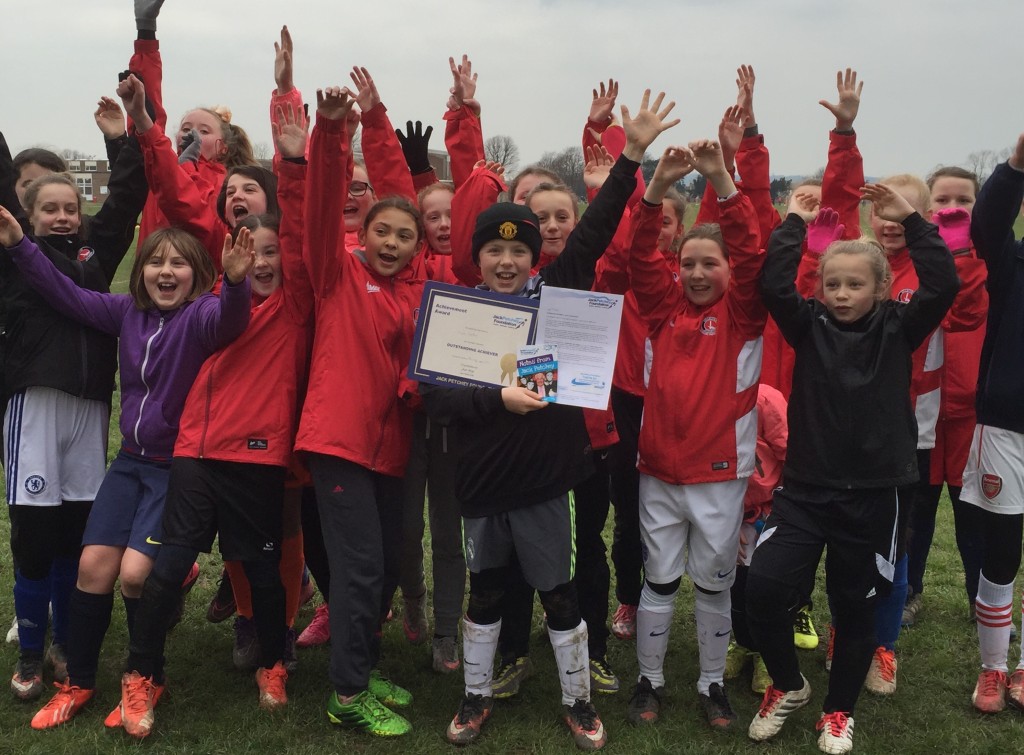 Ciara of the Junior Reds U12 is the February 2016 winner of the Jack Petchey Award.
"Ciara has been a great team member showing enthusiasm at both training and games. She encourages others and is happy to help everyone with their development. Ciara has played up a year both this season and last, but that has never stopped her getting involved".
Well done Ciara from all at Junior Reds a worthy winner of the Jack Petchey for February 2016.
---
Under 9 Girls take their bow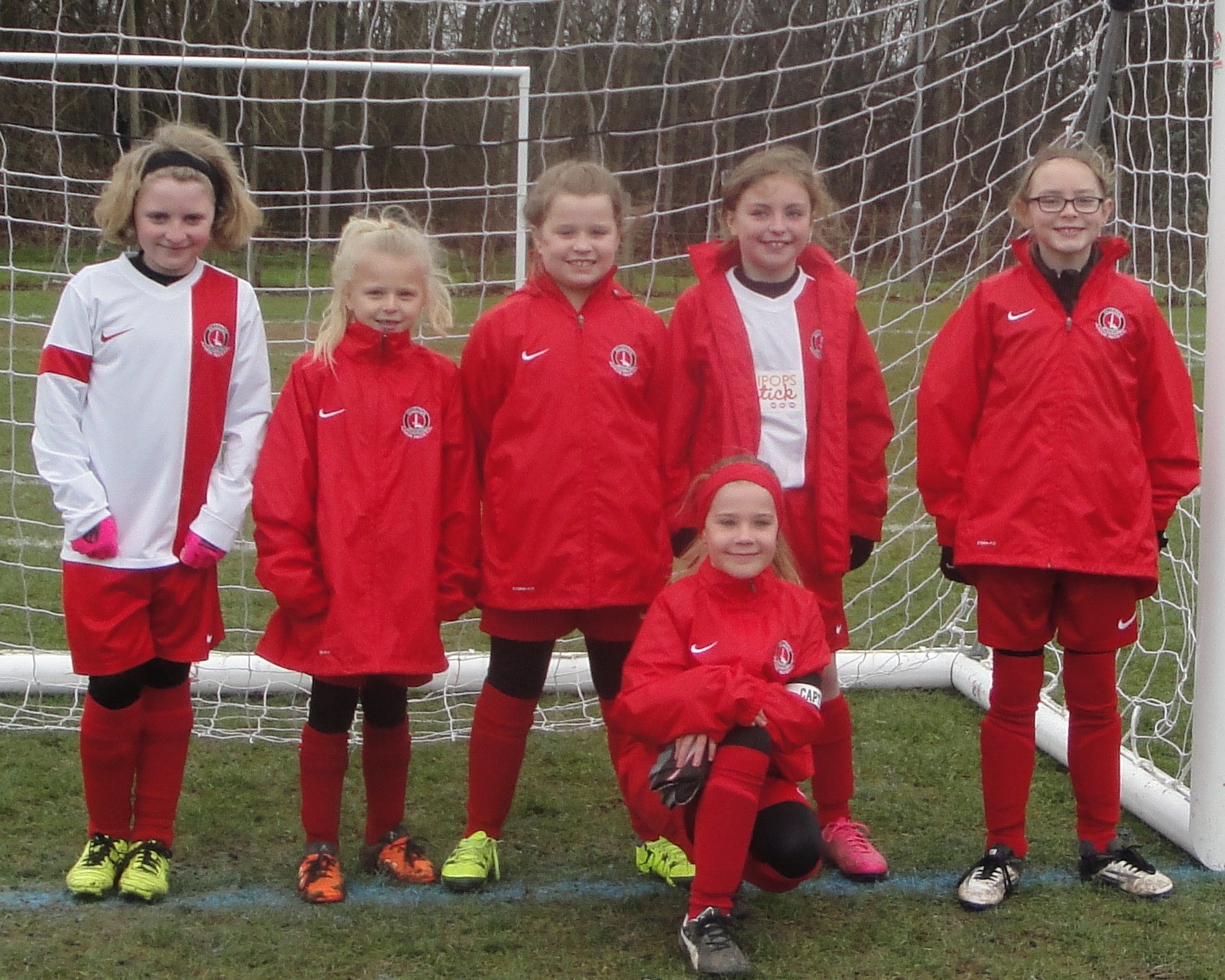 The newest team in the Club are the Under 9 Girls. In February they took to the stage playing their first game in the Kent Girls & Ladies League against Kings Hill from the Maidstone area.
Manager Terry Whittley commented "The girls have only just been formed as a team and were very excited to play their first match in their new kit. They have never played organised games against opposition and understandably they were a nervous. The girls did quickly settle down and their performance was very encouraging".
Junior Reds are planning to form additional Girls teams at Under 9s, 10s 11, 12s and 13s for next season. We do require additional players in certain of these age groups. If interested in joining one of these teams or just joining the Girls football group please contact Clive on 07504 264 157 or email clive@juniorredsfc.co.uk or Grainne on 07828 164 557 for further details. The Girls train at Bexleyheath Academy on Saturday mornings.
---
New Adult Team – Saturday afternoon football?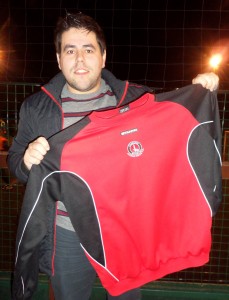 A new Adult team is being formed to play matches on Saturday afternoons for next season. This will give our older "Youth" players a route into Adult football for those wishing to play on Saturday afternoons. The Saturday team will compliment Junior Reds existing three Adult teams currently playing on Sunday mornings.
The Manager will be Helder Riberio (pictured). Helder probably needs no introduction as some will remember he previously served as a Team Manager for four seasons with one of our "Sabres" Youth teams.
Helder explained "I am excited to return to Junior Reds and am looking forward to forming a new Adult team to play matches on Saturday afternoons. Since I left the Club in 2010 I have expanded my knowledge of Adult Mens' football as both a Coach and Team Manager. I am keen to put this knowledge to practical use and to help develop the Saturday afternoon Adult section of the Club. We are now at the player recruitment stage and will be building the team over the next few months".
If you are interested in joining this team or require further information Helder can be contacted on 07932 393 899 or email helderaraujo1984@gmail.com.
---
ABOUT THE CLUB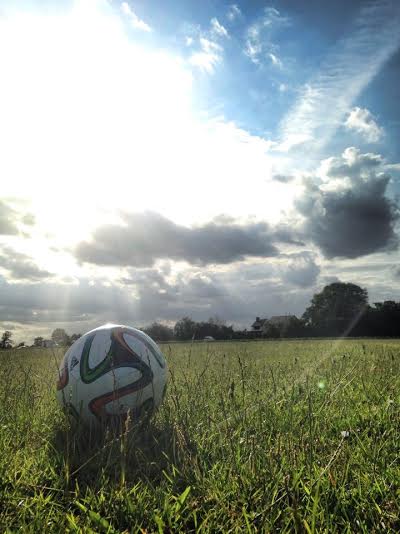 The Junior Reds Football Club was formed in 2001 to provide boys and girls, between the ages of six and eighteen, with the opportunity to compete in local Sunday Football Leagues in South East London and North Kent. The Club has steadily grown and now has over 40 teams competing in the Kent Youth League, South East London and Kent Youth League (SELKENT), Kent Ladies & Girls League and the Woolwich & Eltham Sunday FA. 
Click here to find out more details of the clubs history.
---
PLAYER & MANAGER RECRUITMENT
If you are interested in joining the Junior Reds, please contact:
Mobile: 07968 946256 or e-mail angela.wood@juniorredsfc.com
Clive Chivers, 

Club Secretary
Mobile: 07504 264157 or e-mail clive.chivers@juniorredsfc.com
Daniel Masters, 

Club Recruitment Officer
Mobile: 07957 740270 or e-mail daniel.masters@juniorredsfc.com
---