HOME
Welcome to
Junior Reds
Football Club
London FA
Charter 
Standard
Community Club
---
PLAYERS WANTED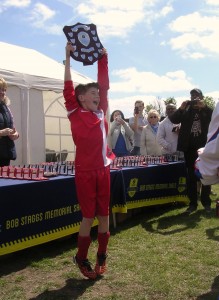 We are currently looking for both Girls and Boys of all ages to join current teams.
Check out our "Players Wanted" page or click on the following link: New Players Wanted 
Alternatively you can contact our player recruitment team : 
Clive Chivers, Club Secretary – Mobile: 07504 264157 or e-mail clive.chivers@juniorredsfc.com
Daniel Masters, Club Recruitment Officer – Mobile: 07957 740270 or e-mail daniel.masters@juniorredsfc.com
---
SATURDAY SOCCER CLUB
The Saturday Soccer Club operates every Saturday morning in Bexleyheath and is open to any ability from 5 to 8 years of age. The sessions operate on a simple pay and play "casual" basis. Click on the link to find out more Saturday Soccer Club
---
LATEST NEWS
Junior Reds FC Presentation 2016 – Sunday 26th June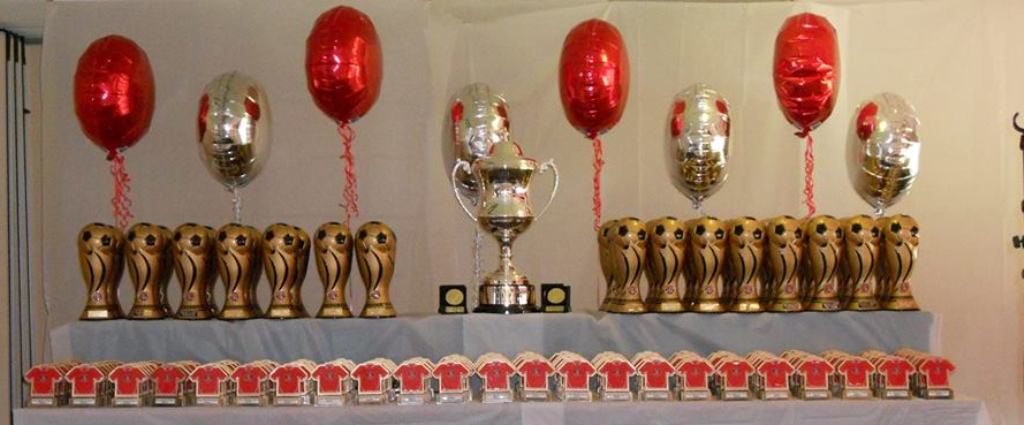 We are proud to announce details of this years Junior Reds end of season presentation, to be held at the North Stand, Charlton Athletic FC, The Valley, Floyd Road, SE7 8BL. The day will consist of three presentations. Entry is free and the doors will open 30 minutes before each presentation. Car parking is available in the West Stand Car Park. There will be an official souvenir programmes (£3), a raffle and pay bar available.
Presentation times for each team are as follows. Please take a moment to have a look at which show you are in. If you are unsure, please ask your team manager.
Show 1 – 11am – 12:30pm: – Saturday Club, U8 Valiants, U8 Warriors, U16 Knights, U16 Sabres, U16 Titans, U16 Warriors, U9 Spartak, U10 Sabres, U10 Knights, U10 Warriors and U10 Athletic.
Show 2 -1:45pm – 3pm: – U7 Valiants, U7 Knights, U14 Athletic, U14 Spartans, U15 Spartans, U15 Valiants, U15 Athletic, U15 Warriors, U9 Robins, U9 Titans, U9 Sabres, U9 Knights, U9 Valaints and U9 Athletic.
Show 3 – 4pm -5:30pm: – U11 Warriors, U11 Knights, U11 Titans, Adult Spartans, Adult Athletic, Adult Seniors, U13 Warriors, U13 Titans, U13 Athletic, U12 Girls, U12 Robins, U12 Warriors, U12 Spartans and U12 Knights. 
---
Junior Reds Girls go Dutch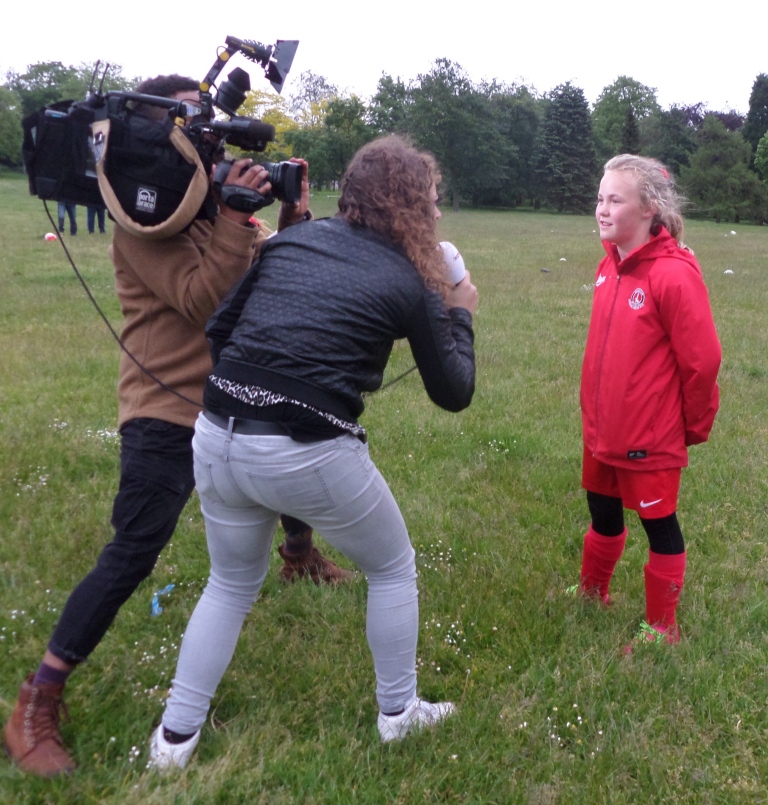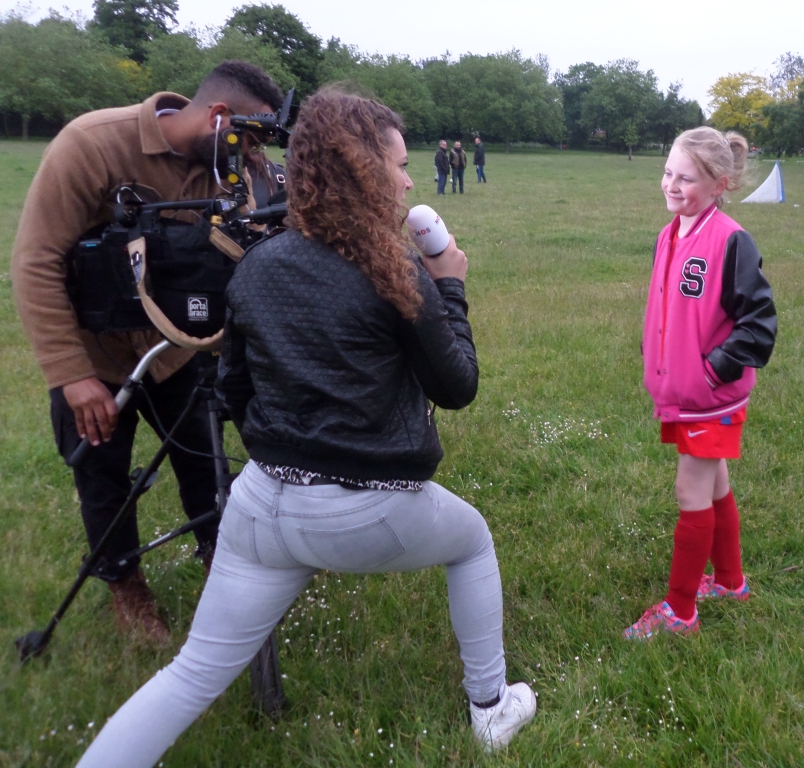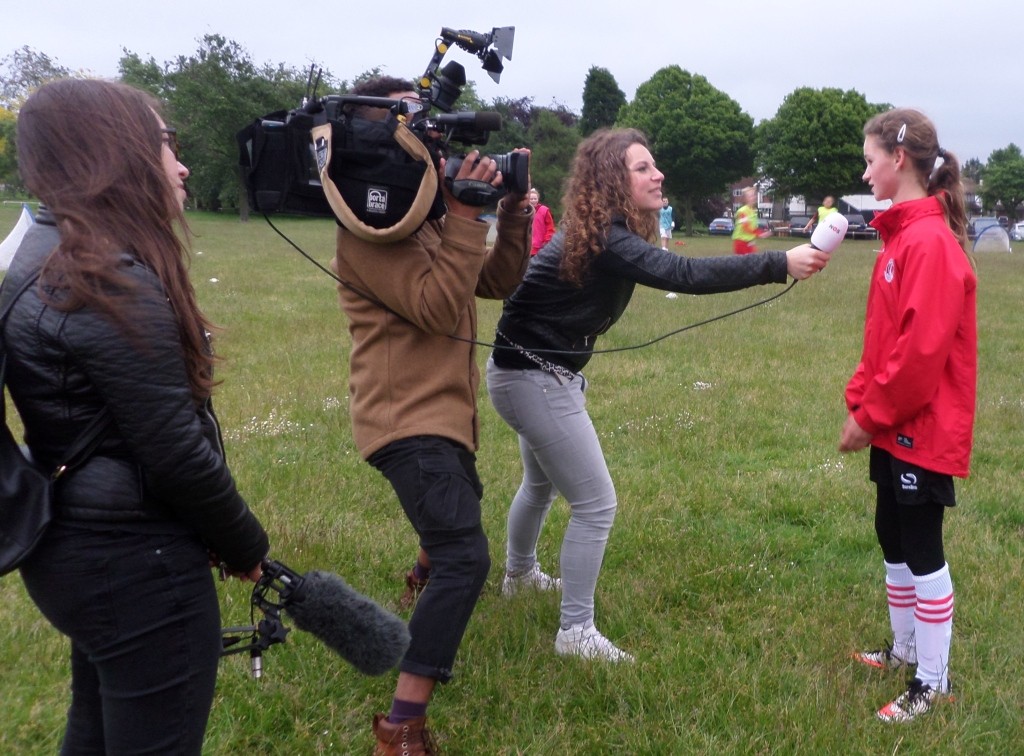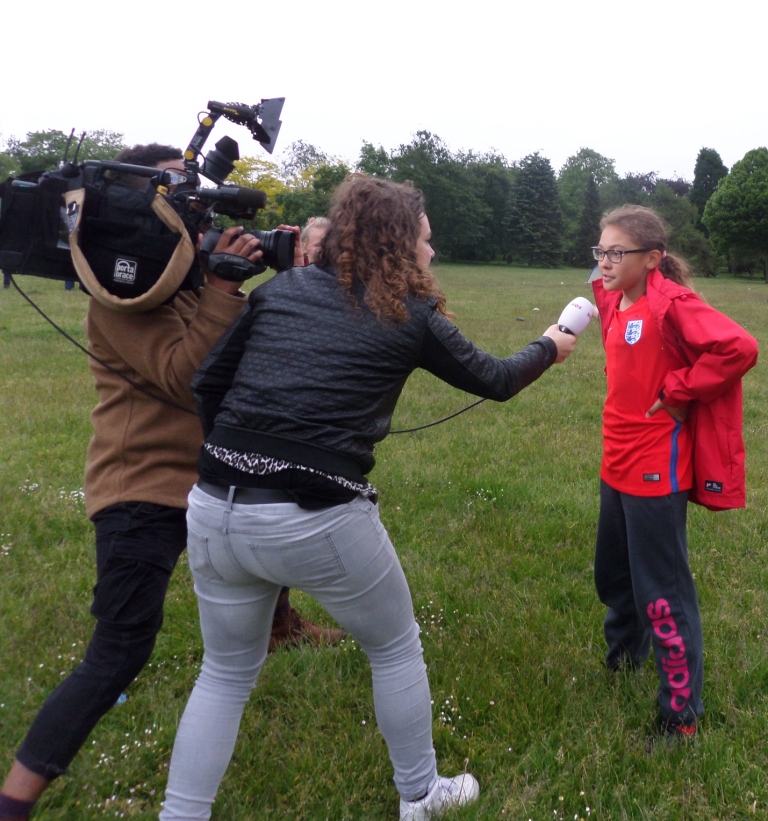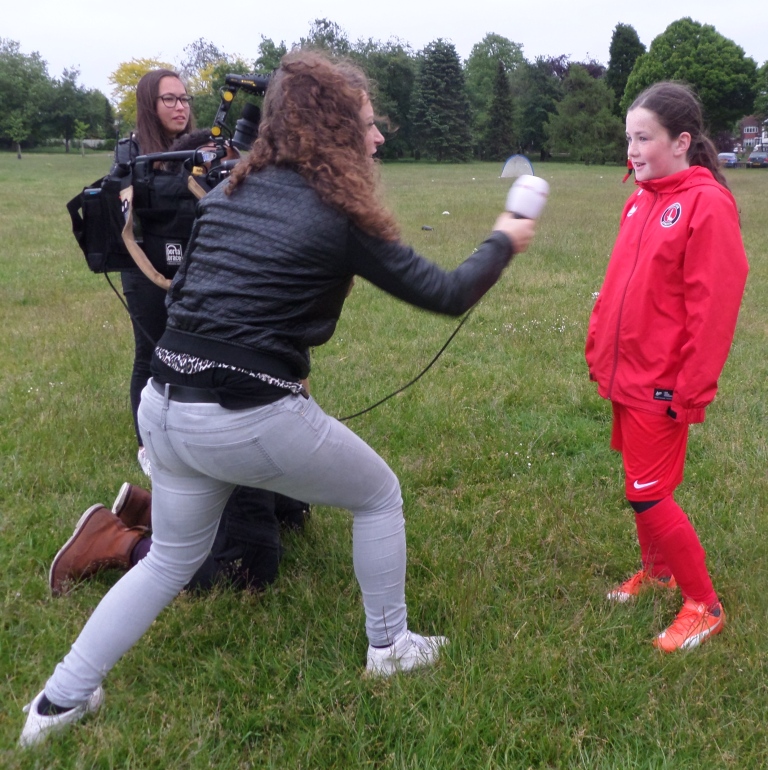 The Dutch Public Television Broadcaster NOS (comparable to the BBC) visited
the Junior Reds Girls during May as part of a television News programme
covering the UEFA European Championship in France.
The cameras recorded a training session; a practice match between England (in red) and Holland (in
Orange bibs) and a rendition of the National Anthem (sung perfectly). A
number of the Girls gave interviews on England's chances in the European
Championships and why Dutch children should support England.
---
Jack Petchey award for May 2016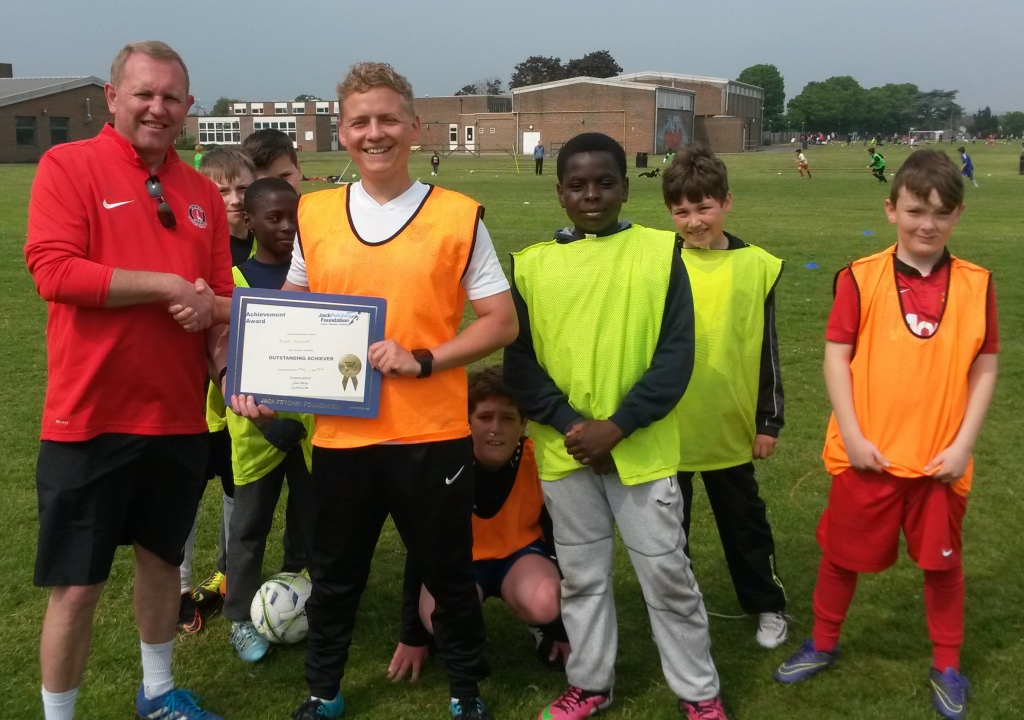 Pictured is Michael McDermott, Coach of the U11 Warriors, a deserved winner of the May 'Jack Petchey' Achievement Award receiving his certificate from Andy Wood at Bexleyheath Academy.
Clive Hall-Strutt, Club Coordinator for the scheme, said " Michael is a worthy winner of this award. He has worked very hard gaining his coaching qualifications so that he can give his team the best quality training sessions possible. His team always look forward to his imaginative and innovative coaching sessions and have shown a marked improvement since he took over running the team,"
So well done again Michael from all at Junior Reds.
Remember if you know anybody aged between 11 and 25 who you feel could be a nominee for a Jack Petchey award please let Clive know at Clivehall-strutt@sky.com
---
Bob Stagg Finalists – Sunday 22nd May
Well what a day we had on 22-05-16. Six teams playing in the Selkent Bob Staggs Memorial Shield Finals across two different venues. Our day kicked off at 10am in glorious sunshine at Barnet Wood Road with the U14 Spartans and finished in a torrential rain storm at the Meridian with the U13 Warriors in the last game of the day at 5:30pm. We had tears of joy and tears in defeat.
Whether you won or whether you lost, you were all brilliant. 
U14 Mauve Shield Winners – Junior Reds Spartans
U12 Blue Shield Winners – Junior Reds Knights
U14 Orange Shield Winners – Junior Reds Athletic
U12 Aqua Shield Finalists – Junior Reds Spartans
U11 Olive Shield Finalists – Junior Reds Knights
We would like to congratulate everyone of you for taking part and representing Junior Reds Football Club and making it such a memorable day.
---
Tina Marshall Trophy – Girls U12's retain their title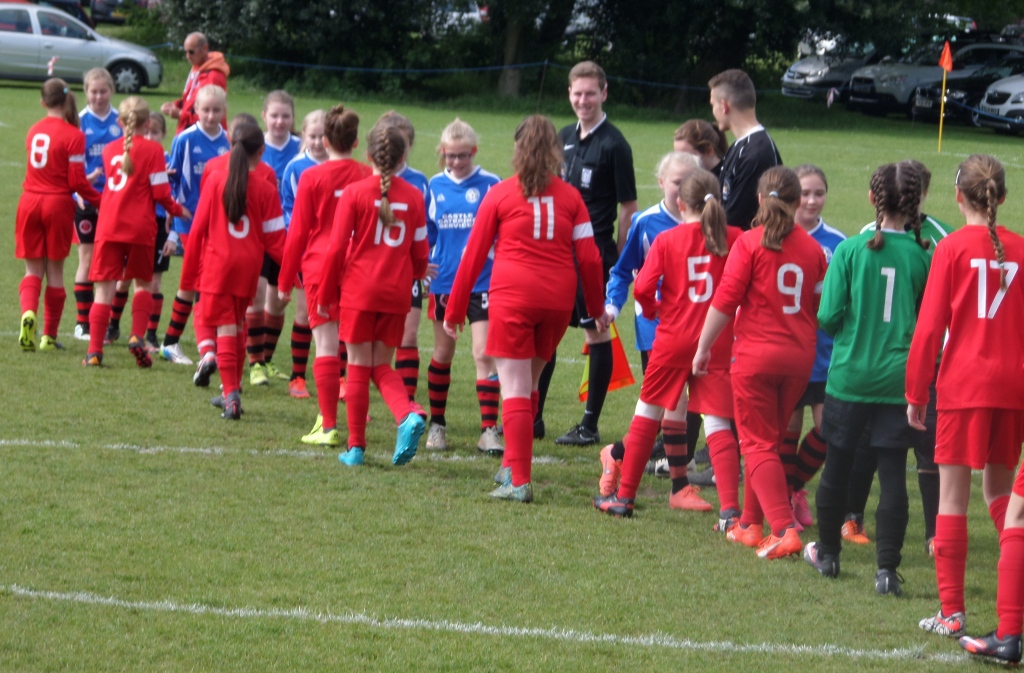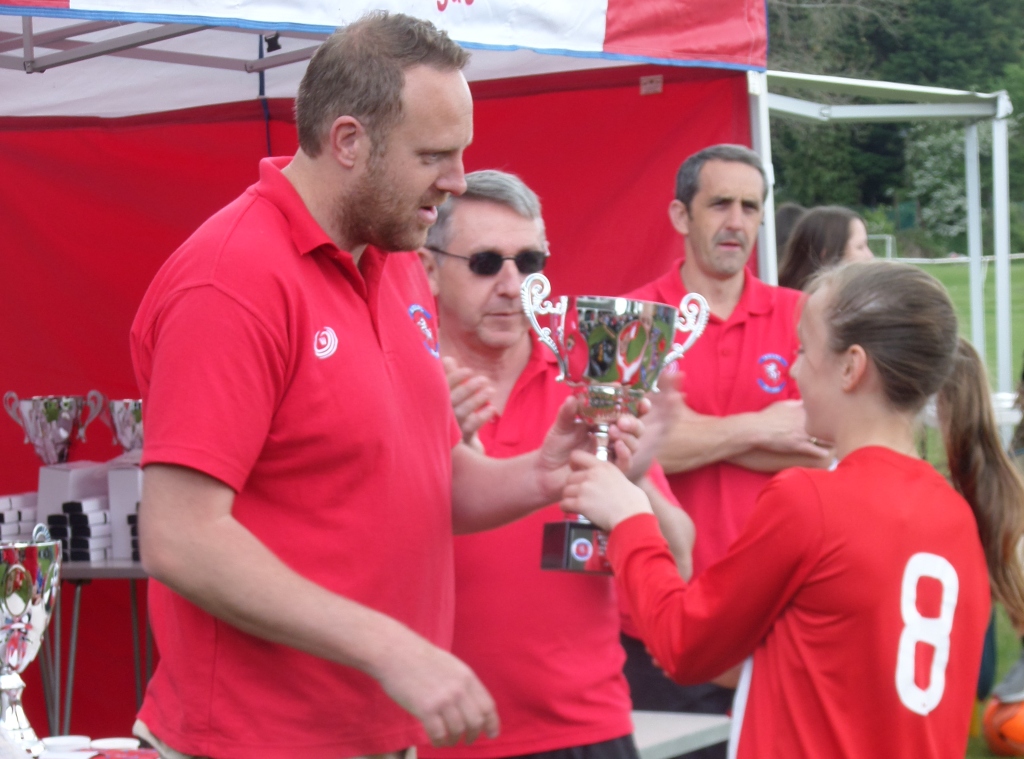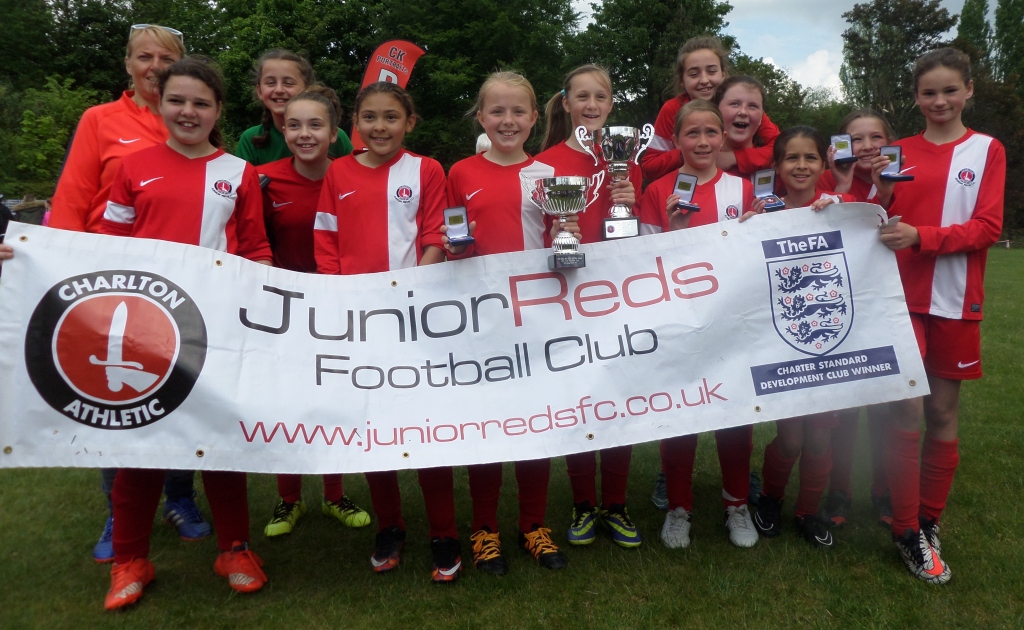 The sun shone, the sky was blue and the grass was very green at Cobdown Sports & Social Club in May as Junior Reds Girls Under 12's came to defend their Tina Marshall trophy from the previous season. Their opponents in the final were the same as last season – Castle Colts.
A fantastic game took place with all girls from both teams showing their skills and commitment to their teams. Castle Colts started very strongly yet it was Junior Reds that took the lead at 12 minutes into the game with a long range speculative shot from Libby Miller. Castle Colts shortly restored parity with a fine cross. Junior Reds winner came at the 25 minute mark with a long range "lob" over the advancing goalkeeper from Shay Bennett, to make the final score 2-1.
Thanks to Team Manager Peter Clarke and the Castle Colts girls for a great game again. See you next season in another final? Finally thanks to the KFLFL Committee and helpers for their hard work in organising 12 Cup Finals to the highest standard on the same day.
Well done girls a great achievement.
---
Senior Girls tournament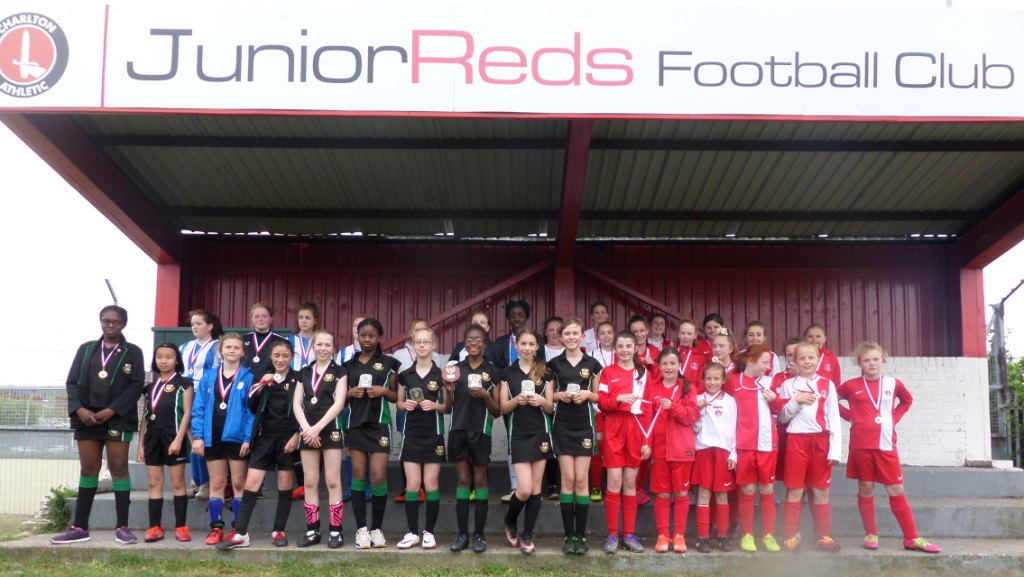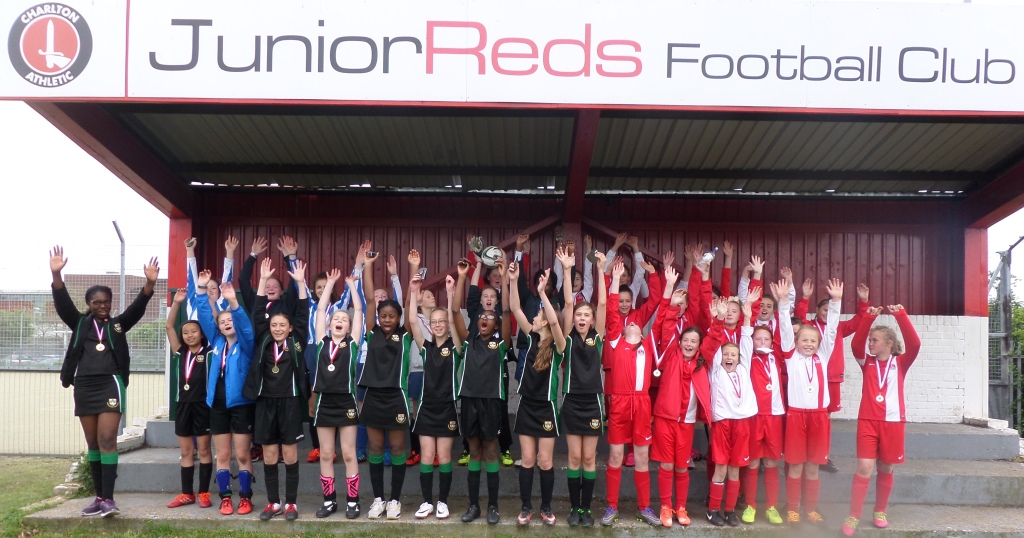 To promote Girls football at Senior Schools a small 5 a side tournament was held at Danson Youth Centre in May for Girls in School Years 6, 7 and 8.
This was the first time such a tournament for Senior Schools was organised by the Club. Five teams took part and much skill was in evidence. The eventual winners were Dartford Grammar Girls School – impressively winning all four of their games.
If you are interested in joining one of the Junior Reds Girls teams please contact Grainne on 07828 164 557 or Clive on 07504 264 157 or email Clive@juniorredsfc.co.uk.
---
U10 Sabres at the Valley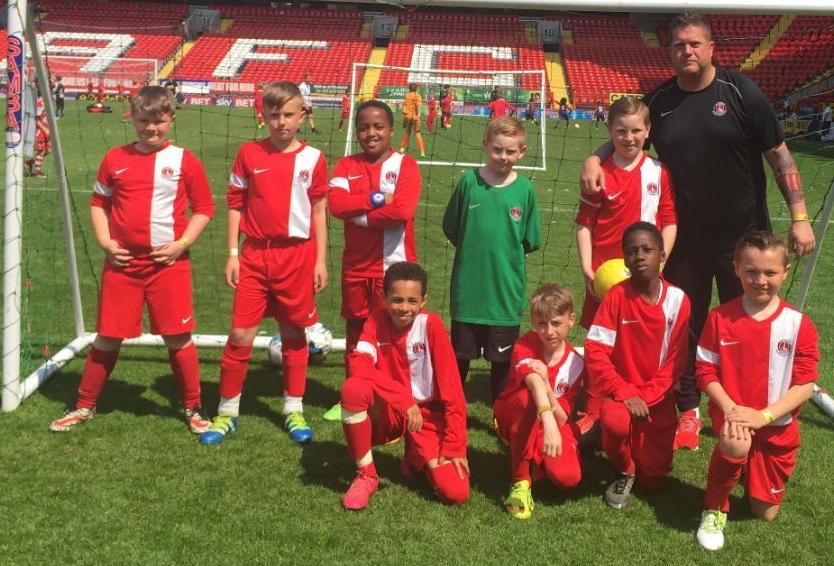 The U10 Sabres are pictured here on the pitch at the Valley after taking part in a 7-a-side Youth Football Tournament earlier in May. The boys had a good group stage, winning four and drawing one of their games before eventually going out in the Semi-Final.
Well done boys, sounds like it was a great experience.
---
Junior Reds Seniors – Plumstead Challenge Cup Glory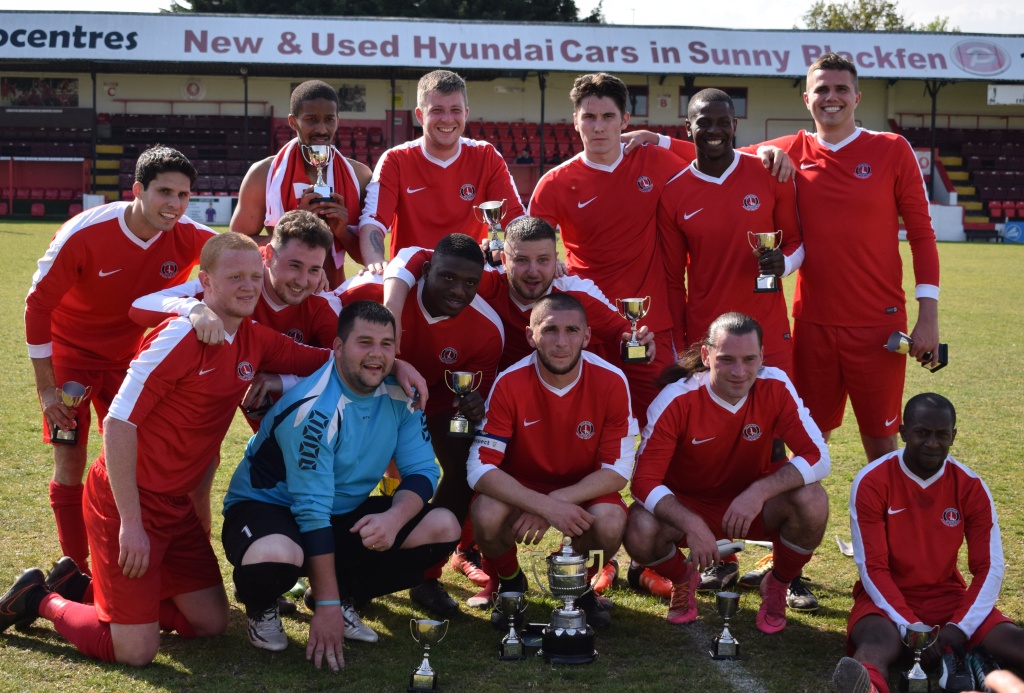 A thrilling afternoon at Park View Road, Welling saw Junior Reds Seniors beat Footscray Lions 3-1 to lift the Plumstead Challenge Cup. Goals from Adam Tarrant, Jordan McTigue and Aaron Jeffery were good enough to clinch victory against a spirited Lions team in front of a crowd of 254.
Congratulations lads from all at the club.
---
Tom attends the Young Leaders Conference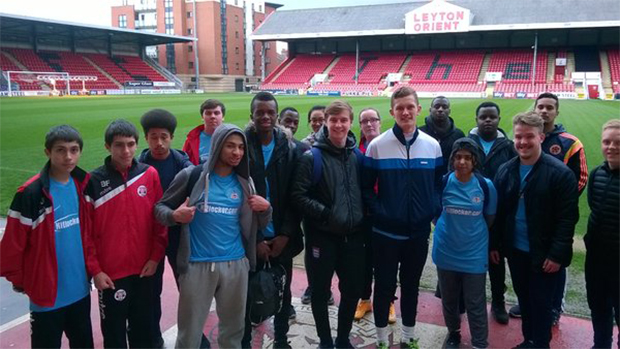 On the 7th of April the London FA Youth Council hosted a conference at Leyton Orient FC aiming to bring together and upskill young coaches, referees and volunteers from across the capital.  Our very own Tom Forrest (pictured here at the back on the left) from the Saturday Club was there. Tom spent the day attending various workshops ending with a tour of the Stadium.
Read more on the London FA website at http://www.londonfa.com/news/2016/apr/youth-council-hosts-conference-for-the-capitals-young-leaders#oYEtvuildQvwiEjp.99
Well done Tom
---
JR Seniors – Presidents Cup Final
W&ESFA Presidents Cup Final – Junior Reds Seniors vs Eltham Phoenix 'B'.
Date : Sunday 15th May 2016.
Kick off: 14:30.
Venue: To be confirmed.
Best of luck lads for the 8th May from all at the club.
---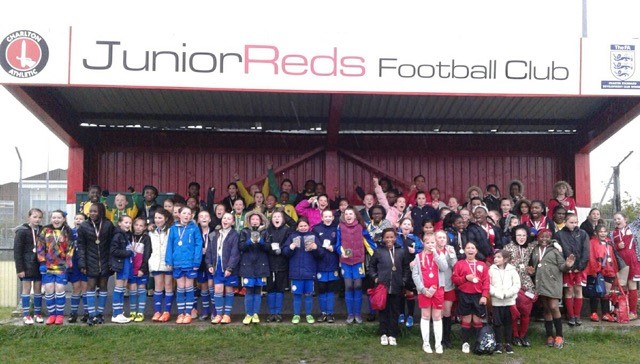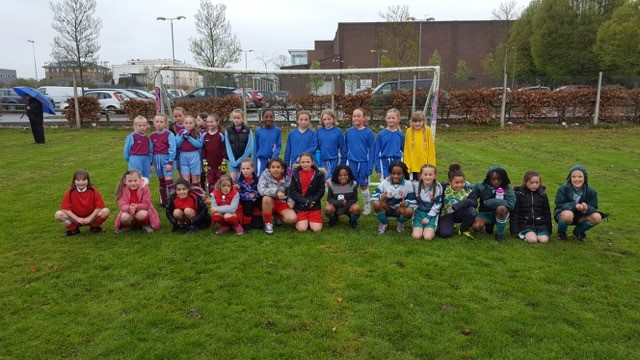 Junior Reds organised a football tournament on Friday 22nd April for Girls in local Primary Schools. A record nine Schools attended with thirteen teams taking part – Alexander McLeod, Barnehurst, Bedonwell, De Lucy, Fosters, Gravel Hill, Pelham, St. Thomas Moore and Westgate. Due to numbers a tournament for School Years 3 and 4 was held at Crook Log Sports Centre and another for School Years 5 and 6 at Danson Youth Centre, Bexleyheath.
The rain did not spoil the enjoyment of the girls and for many this was their first experience in playing organised matches. The Year 5 & 6 tournament was won for the third successive occasion by Bedonwell with Pelham again finishing second on goal difference.
Girls Coach, Yusuf Kayalar, explained " We are keen to promote Girls football in the area and wish to expand the Girls football with new teams from Under 8s to 14s for next season. This tournament both promoted Girls football and increased awareness of our plans".
If your daughter is interested in joining one of the new teams please contact Yusuf on 07748 679 605 or Clive on 07504 264 157 or email Clive@juniorredsfc.co.uk.
---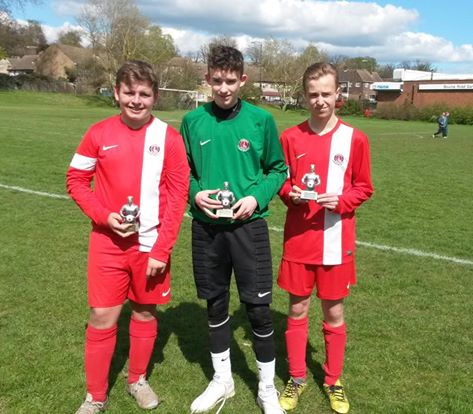 Pictured are Tyler, Declan and Luke from the U15 Warriors, all of whom celebrated making 100 appearances for the team.
Manager Clive Hall Strutt said " It is a terrific achievement to make so many appearances for one team especially as we have not exactly been laden with trophies over the last few years. These boys reflect what we are all doing this for, enjoying their football week in and week out and always giving their best for the team irrespective of the result.
Well done again Tyler, Declan and Luke here`s to the next hundred.
---
JR Seniors – Cup final details
Plumstead Challenge Cup Final – Junior Reds Seniors vs Footscray Lions.
Date : Sunday 8th May 2016.
Kick off: 14:30.
Venue: Erith & Belvedere FC.
Entrance Fees: Adults £3, U16's free.
Best of luck lads for the 8th May from all at the club.
---
Spartans U12's – Shield Finalists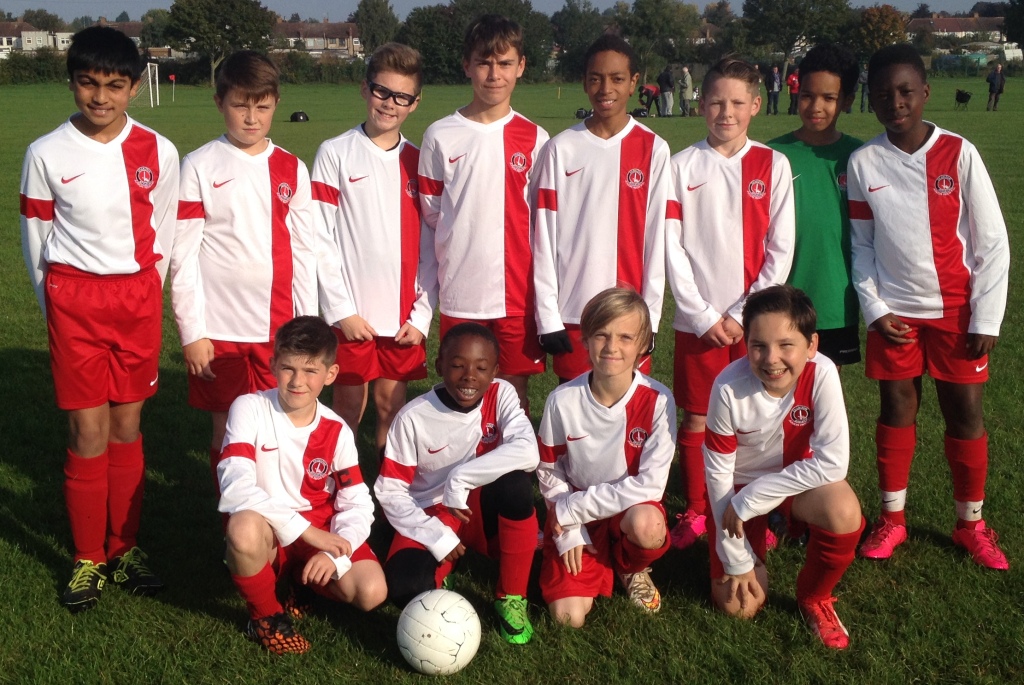 Congratulations to our U12 Spartans team on reaching the Selkent U12 Bob Staggs (Aqua) Shield Final where they will play Academix.  Shield Final details to follow.
Well done to the boys and team manager Alan and best of luck in the final.
---
Sam Lilburn, our U15 Spartans Manager, is once again running in the London Marathon on Sunday 24th April for Children with Cancer UK. If you would like to sponsor Sam then follow the link.
Good luck Sam!
Sam Lilburn is raising money for Children with Cancer UK by taking part in the 2016 Virgin Money…
UK.VIRGINMONEYGIVING.COM

|

BY SAM LILBURN
---
Jack Petchey award for April 2016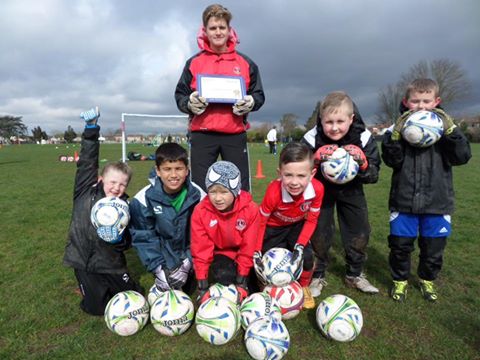 The Jack Petchey Special Achievement Award for April went to Matthew. Matthew is one of our dedicated specialist Goalkeeping Coaches and attends sessions at Bexleyheath Academy each Saturday morning. His colleague, Tony Ball, said "Matt has been a member of the Club for several years and was always a star performer between the sticks in the team he represented. We are fortunate to have the services of Matt in passing on his skills and experience to a number of our younger goalkeepers. He has an excellent rapport with the players and sets the highest standards. All our goalkeepers have greatly benefited from his Coaching skills"
Well done Matthew from all at Junior Reds a worthy winner of the Jack Petchey for April 2016.
---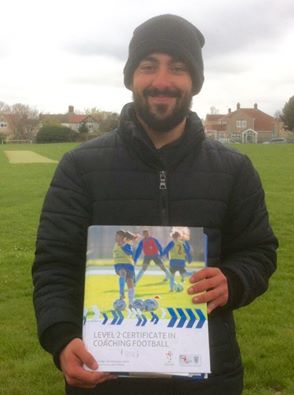 Yusuf Kayalar our U12 Robins Manager passed his FA Level 2 Assessment at Bexleyheath Academy last weekend. Yusuf put the girls though a session on switching play under the watchful eye of Anthony Ferguson from the FA and passed with flying colours.
Congratulations Yusuf from everyone at the club.
---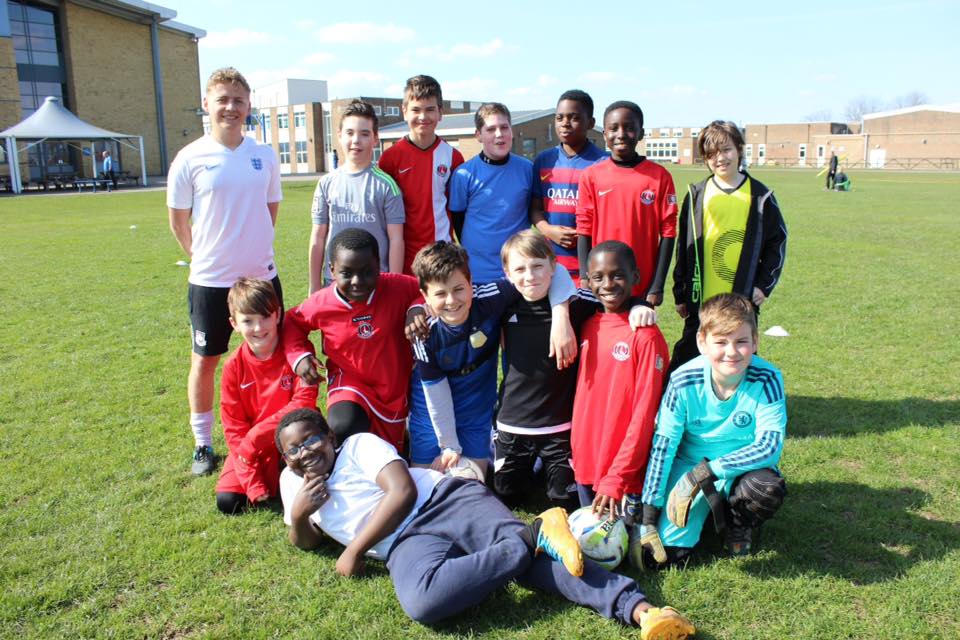 Michael McDermott would like to thank Junior Reds FC for helping him successfully complete his FA Level 2 Coaching Badge.
Micheal said "I have had a lot of support from coaches and officials from the club. My main thanks has to go to Junior Reds Under 11's Warriors for giving 100% effort in training and enabling me to make our sessions as fun as possible, whilst being able to develop them as a team and as individuals. They let me try some unorthodox and imaginative training sessions to get different results. They are a great team and were a pleasure to work with, as they all enjoy football and all want to learn new skills to add to their games, which has made my job just that little bit easier and more enjoyable. 
With my FA Level 2 Coaching Badge now completed I can continue helping and progressing the team to new levels and better playing abilities.
Well done Michael and the Under 11 Warriors.
---
ABOUT THE CLUB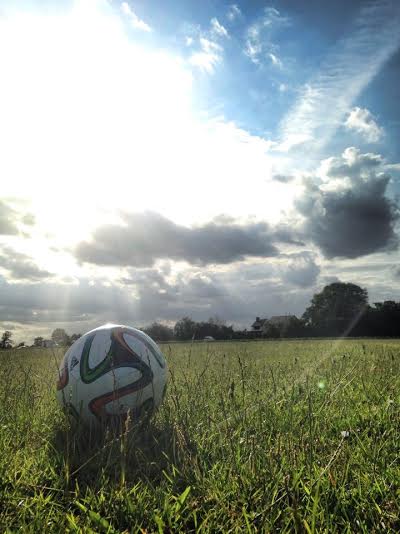 The Junior Reds Football Club was formed in 2001 to provide boys and girls, between the ages of six and eighteen, with the opportunity to compete in local Sunday Football Leagues in South East London and North Kent. The Club has steadily grown and now has over 40 teams competing in the Kent Youth League, South East London and Kent Youth League (SELKENT), Kent Ladies & Girls League and the Woolwich & Eltham Sunday FA. 
Click here to find out more details of the clubs history.
---
PLAYER & MANAGER RECRUITMENT
If you are interested in joining the Junior Reds, please contact:
Mobile: 07968 946256 or e-mail angela.wood@juniorredsfc.com
Clive Chivers, 

Club Secretary
Mobile: 07504 264157 or e-mail clive.chivers@juniorredsfc.com
Daniel Masters, 

Club Recruitment Officer
Mobile: 07957 740270 or e-mail daniel.masters@juniorredsfc.com
---