HOME
---
Welcome to
Junior Reds
Football Club
London FA
Charter 
Standard
Community Club
---
PLAYERS WANTED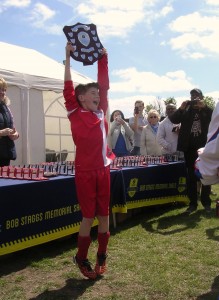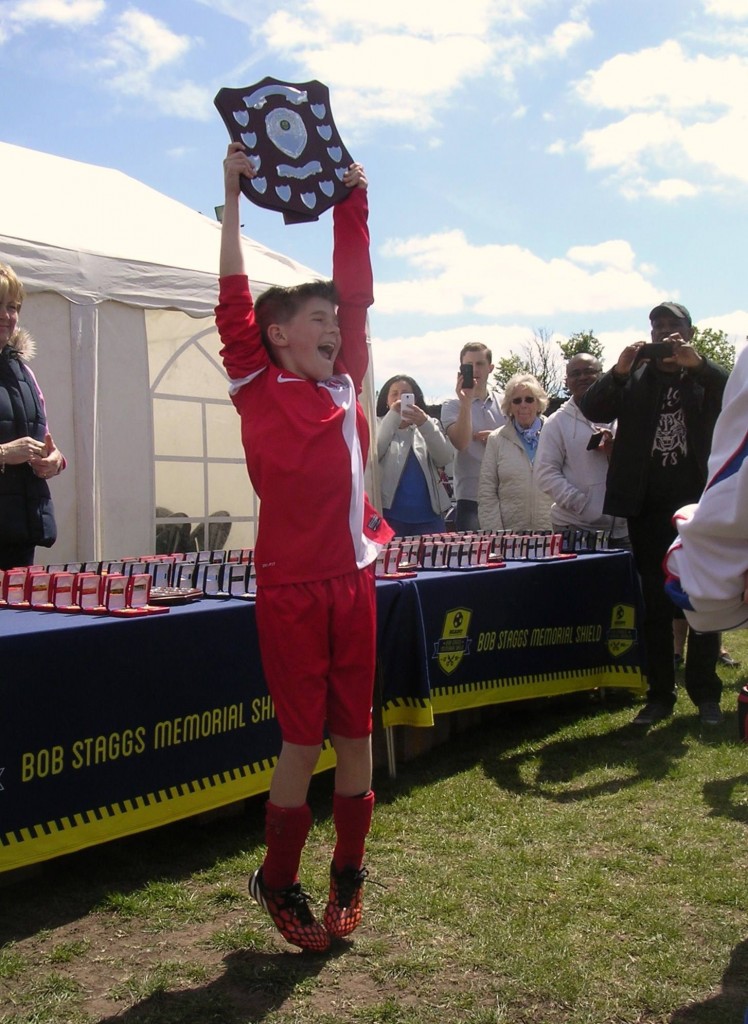 We are currently looking for both Girls and Boys of all ages to join current teams.
Check out our "Players Wanted" page or click on the following link: New Players Wanted 
Alternatively you can contact our player recruitment team: 
Clive Chivers (Club Secretary) : Mobile – 07504 264157 or e-mail – Clive@juniorredsfc.co.uk
---
SATURDAY SOCCER CLUB
Junior Reds FC run a casual based football group called  "Saturday Soccer Club" which is held every Saturday morning (see starting times below) at Bexleyheath Acadamy (post code DA6 7DA) for both boys and girls and is open to any ability.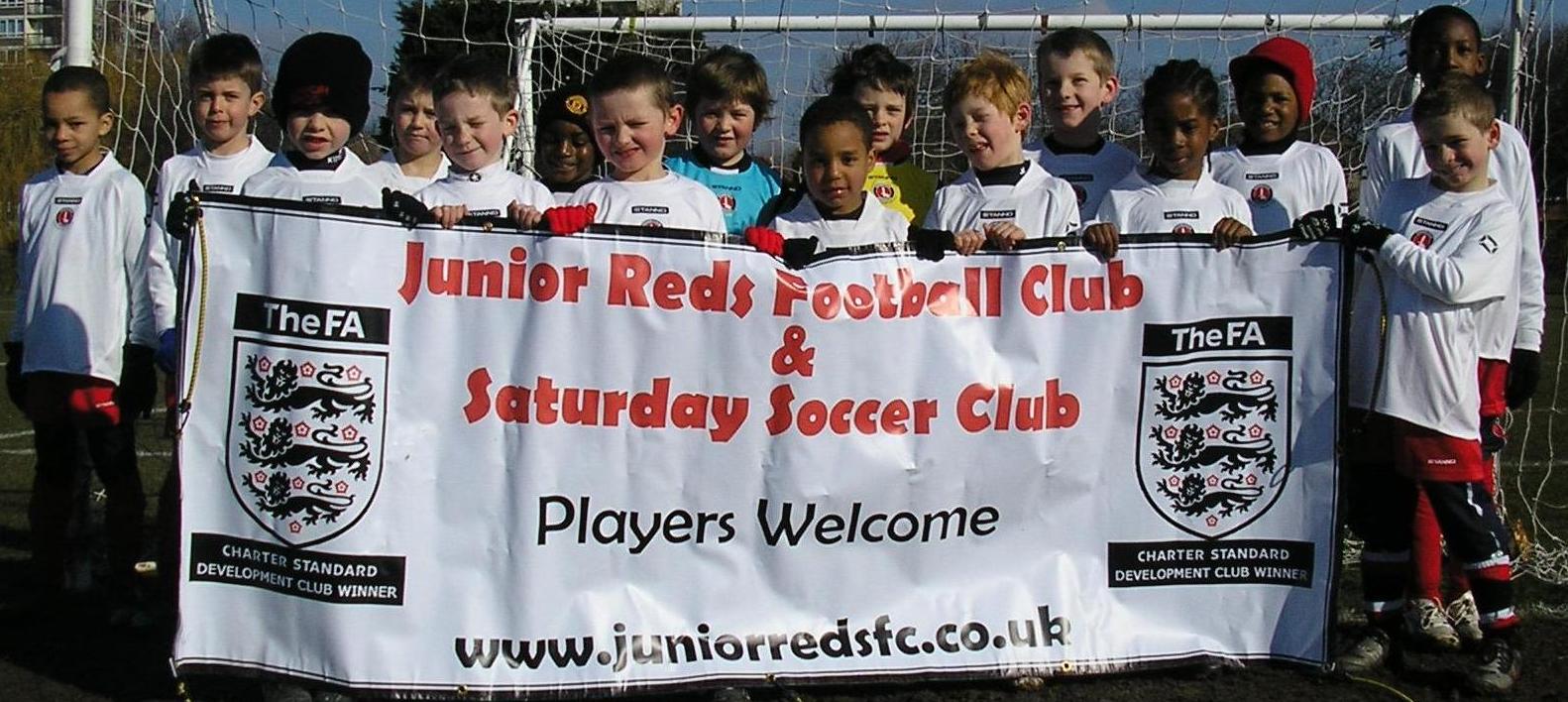 BOYS SESSIONS are for age groups 4 to 8
Ages 4, 5 & 7 year olds start at 9.30am.

Ages 6 & 8 year olds start at 10.30am.
GIRLS SESSIONS are for age groups 6 to 15.
Ages 10 to 15 years old start at 10.00am.

Ages 6 to 9 years old start at 10.30am.
Please note the girls train jointly with the current girls teams (i.e. teams and casual players combined).
Theses sessions operate on a simple pay and play "casual" basis, cost per session is £5.
Click on the link to find out more: Saturday Soccer Club
---
LATEST NEWS
End of Season Presentation Day – Sunday 1st July 2018
Below are details of this years club presentation day:
North Stand Suite (North Stand Entrance)
Charlton AFC
The Valley
Floyd Raod
Charlton
SE7 8BL
Presentation One: 11AM – Saturday Club, U16's,U17's and Girls Section.
Presentation Two: 1:45pm – U7's,U8's,U13's,U12's & U11's
Presentation Three: 4pm – U14's, Adults, U15's, U9's & U10's
Free Entry – Doors open 30 mins before each show.
Free Car Park (West Stand) and on street parking around the stadium.
Souvenir Prgramme £3 and Rafle
Pay Bar and Hot food available
---
U7 Valiants – At the Bridge!!
Our U7 Valiants having the time of their lives at Stamford Bridge on 26th May 18.
Our U17 Athletic were runners up at the Danson Sports FC U17 Tournament on 26th May 18. They lost 1-0 to Crayford Arrows in the Final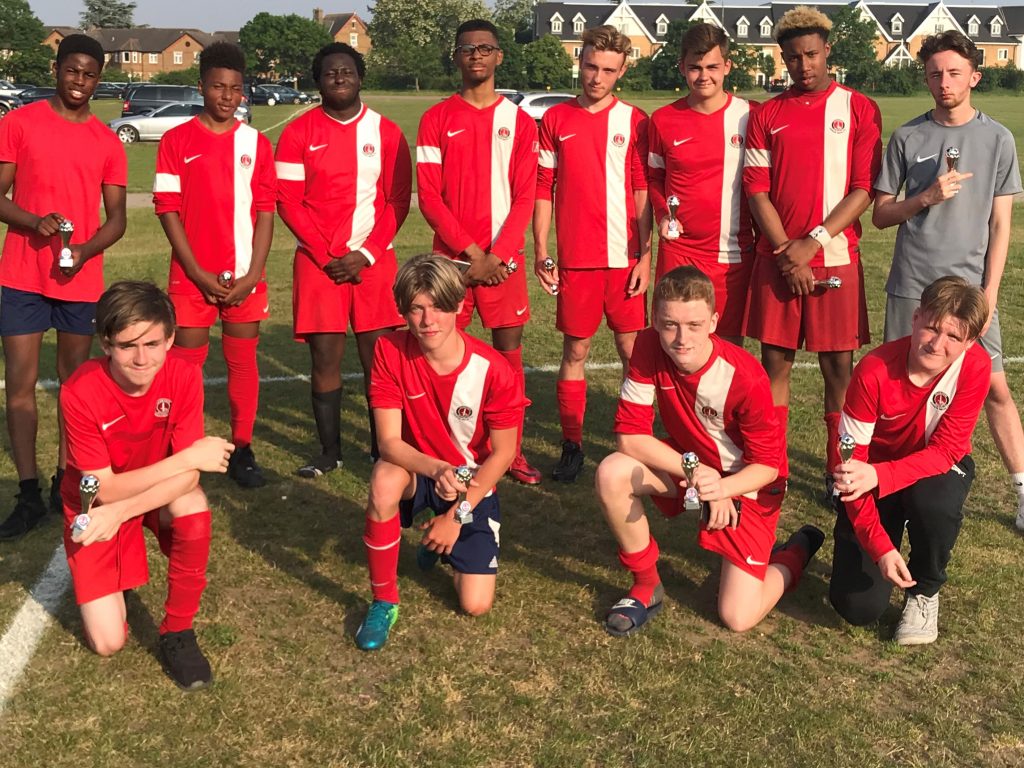 Well done gents, a sterling effort.
---
U15 Titans – Tournament winners
Our U15 Titans have won today's Danson Spots FC U15 Tournament. Congratulations to you all!
---
U14 Knights – Tournament winners
Our U14 Knights have won the Parkwood Rangers Tournament 2018. They beat Hayden Youth 2-0 in todays final to lift the trophy.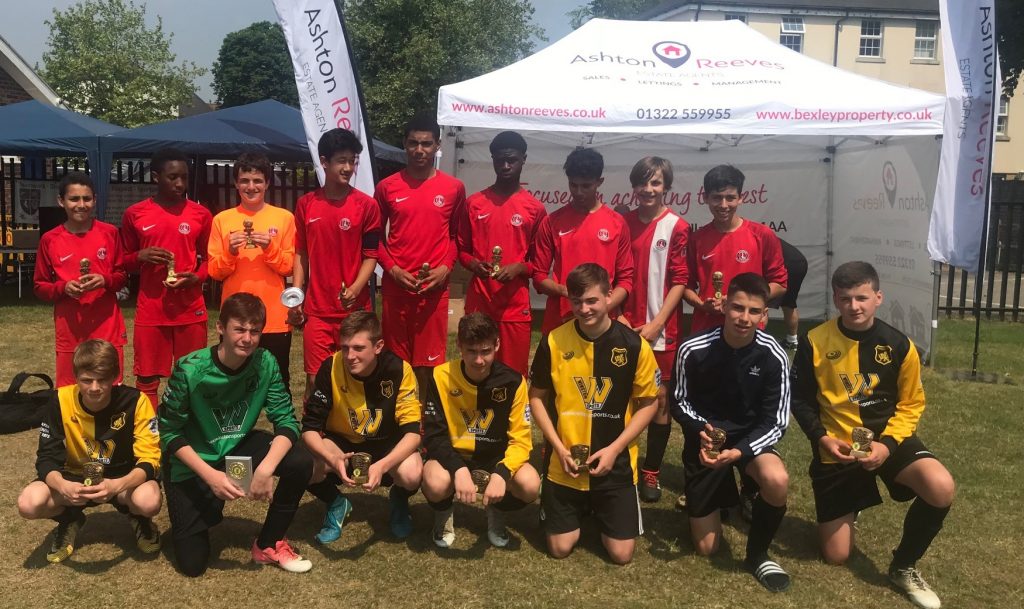 We would also like to congratulate Stephen Benson and Joseph Ladapo who are joining Southend United and Charlton Athletic respectively and wish them all the best for their futures.
---
U13 Knights : Shield winners
Our Junior Reds U13 Knights won the Bob Staggs U13 Green Shield Winners 2018. They beat SC Thamesmead in the final to lift the shield. 
---
U17 Valiants : League & Shield double
Junior Reds U17 Valiants are the Bob Staggs : Green Shield Winners 2018. The Valiants beat Real Gima 3-0 in the final held on Sunday 20th May 18 to complete a league and shield double. 
Congratulations to Mark and his squad on a fantastic season.
🏆
---
U13 Titans : Bob Staggs Shield Finalists
Our Junior Reds U13 Titans were Bob Staggs Brown Shield Finalists on Sunday 20th May 18. They battled really hard but its wasn't to be, losing 3-0 to Eversley Rangers in the final. After such a challenging season they did extremely well just to get to the final. So hold your heads up high boys, you did the club proud.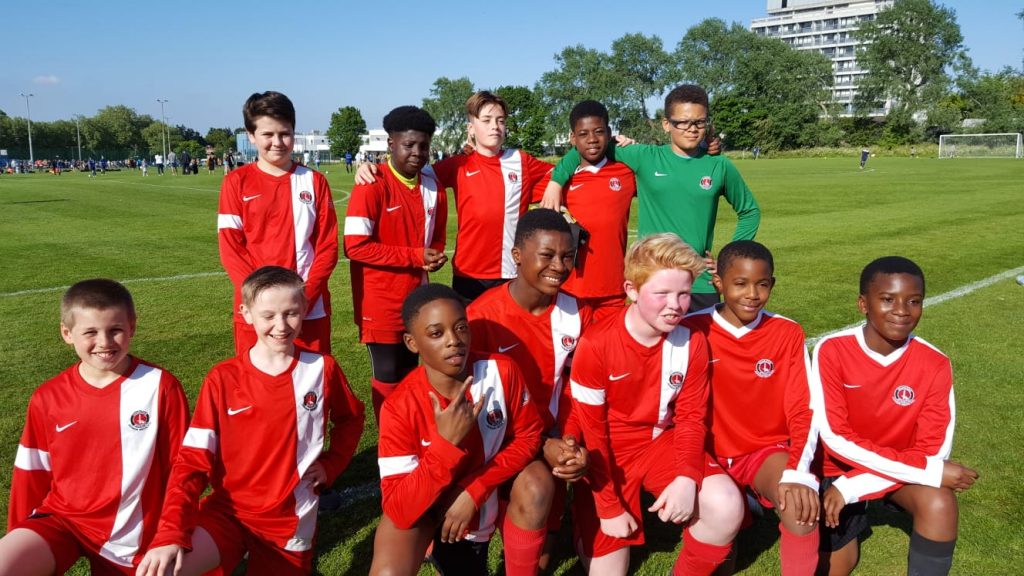 ---
Ashford Tournament Winners – U10's
Congratulations to the Junior Reds U10 Sabres for being crowned Ashford Tournament Winners 2018.
Well done lads a terrific achievement.
---
KG&LFL Cup Finals
Brilliant day out at the Kent Girls & Ladies Finals on 13th May 18. Congratulations to everyone who took part and many thanks to Leigh,Mike and the Committee for hosting an excellent event!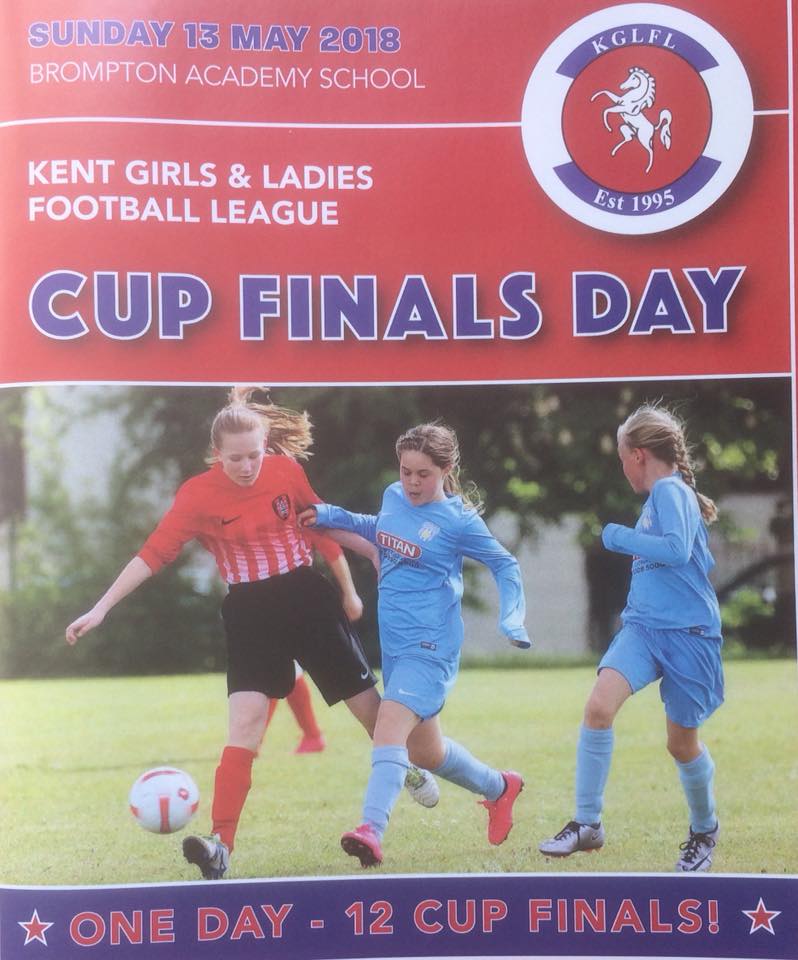 ---
KG&LFL Fair play Awards
The Junior Reds U14 Roses have been awarded the KG&LFL Division Two, Fair Play Team Award & Fair Play Supporters of the Year.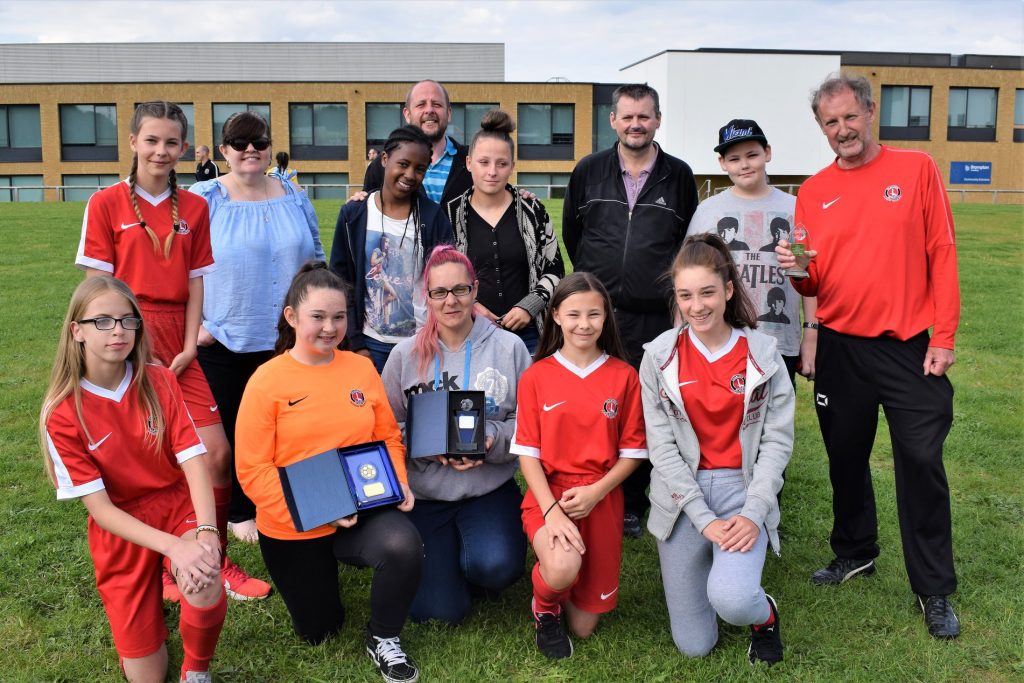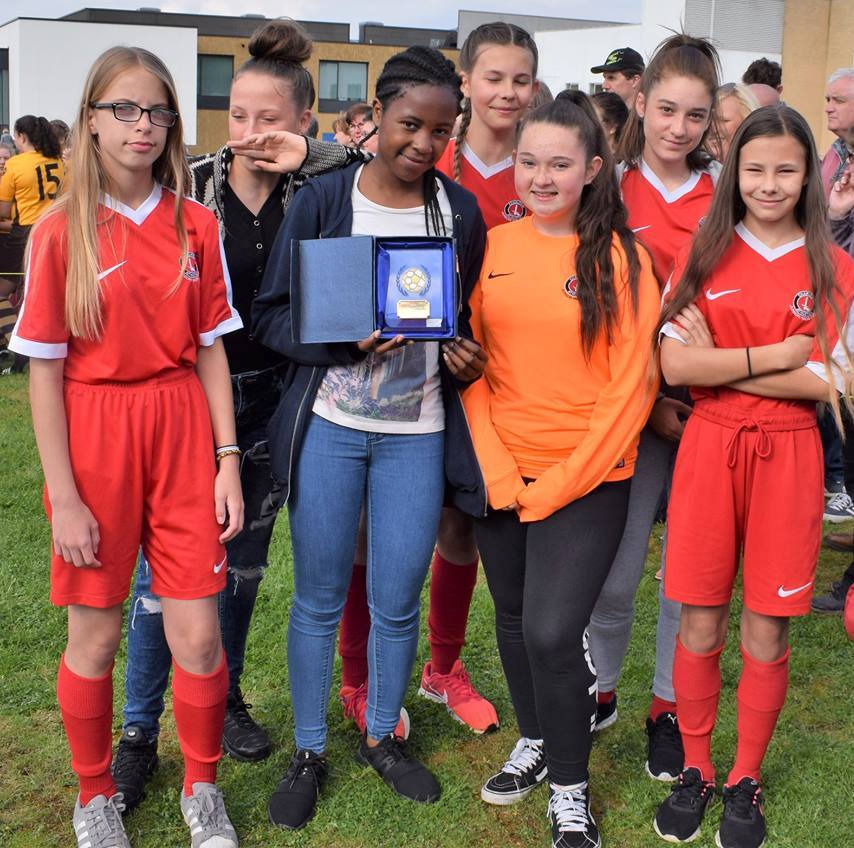 ---
Clive gets manager of the year
Our very own Clive Chivers was awarded the title of Manager of the Year 2018 from the KG&LFL League. Clive manages the U14  Roses squad of girls.
Well done Clive from all at the club.  
Junior Reds U10 Girls – KG&LFL League Shield Runners Up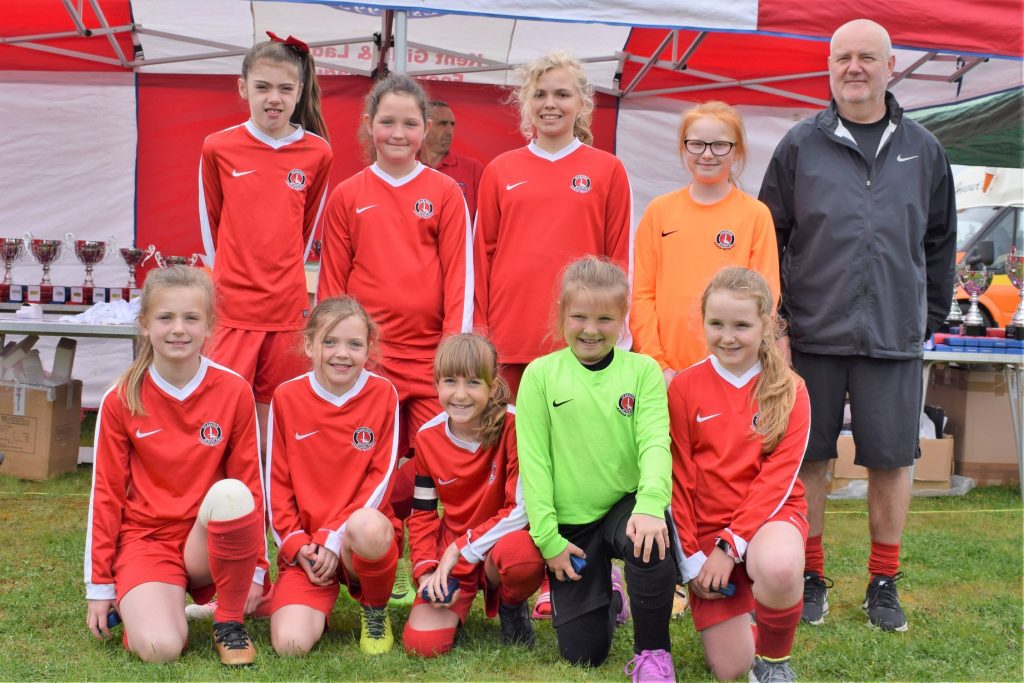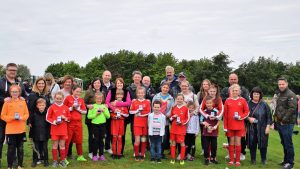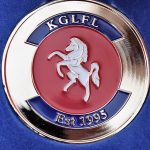 Well done girls on reaching the final.
---
U14 Girls – League Champions 2018
Congratulations to our Junior Reds U14 Girls on winning the KG&LFL Division One 9v9 & 11v11.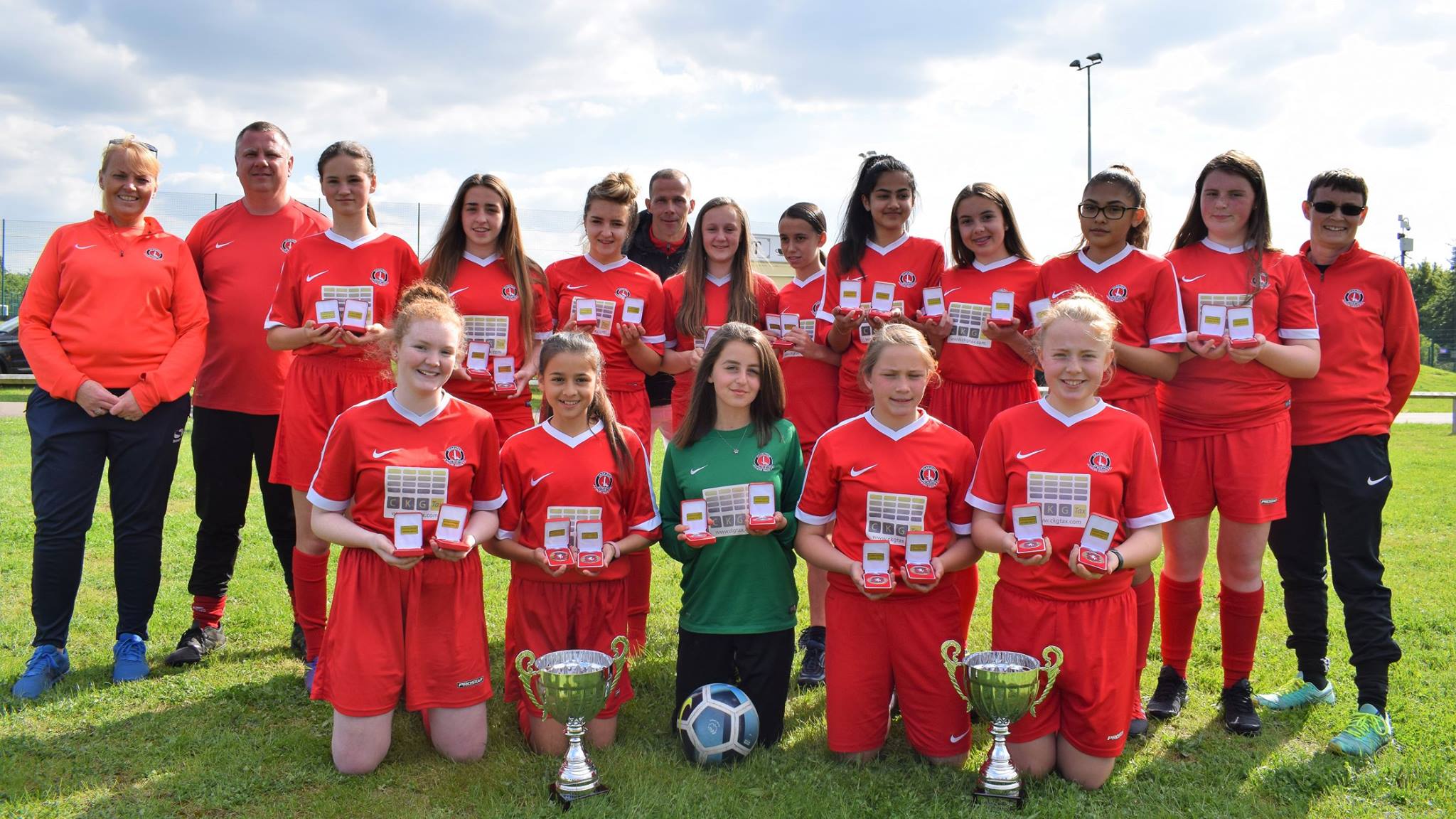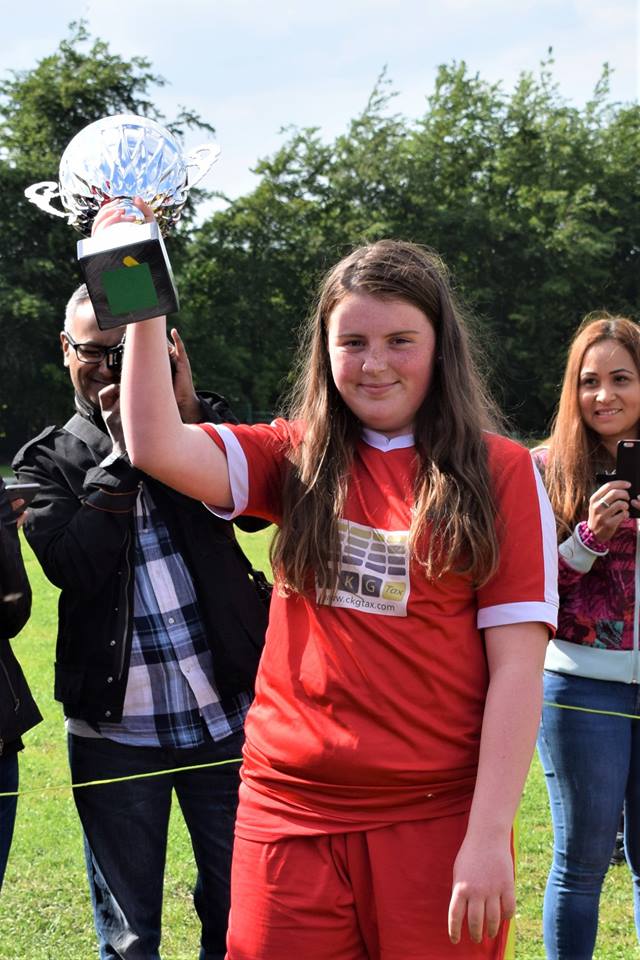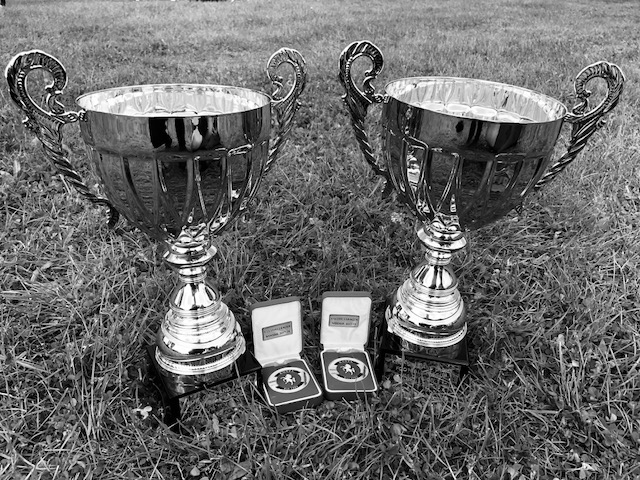 ---
U16 Girls – Cup Finalists 2018
Pictured below are our Junior Reds U16 Girls, Tina Marshall Cup Finalists 2018.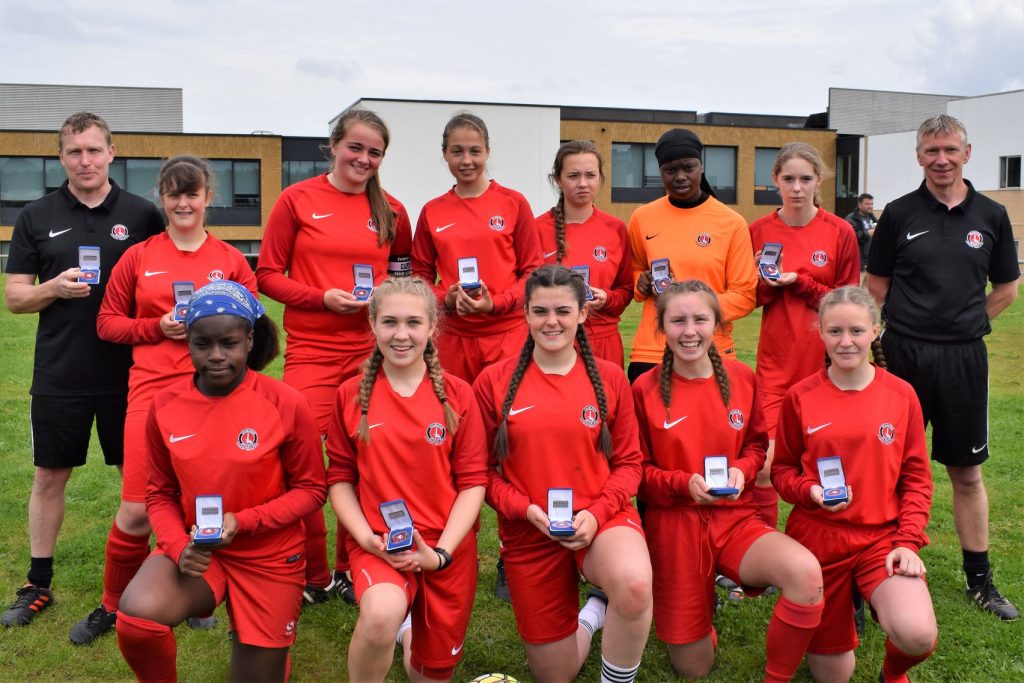 Well done girls on reaching the final.
---
U12 Girls – League & Cup Double Winners 2018
Our Junior Reds U12 Girls where crowned both KG&LFL League & Cup Winners. Giving them the prestigious honour of being crowned double trophy winners for season 17-18.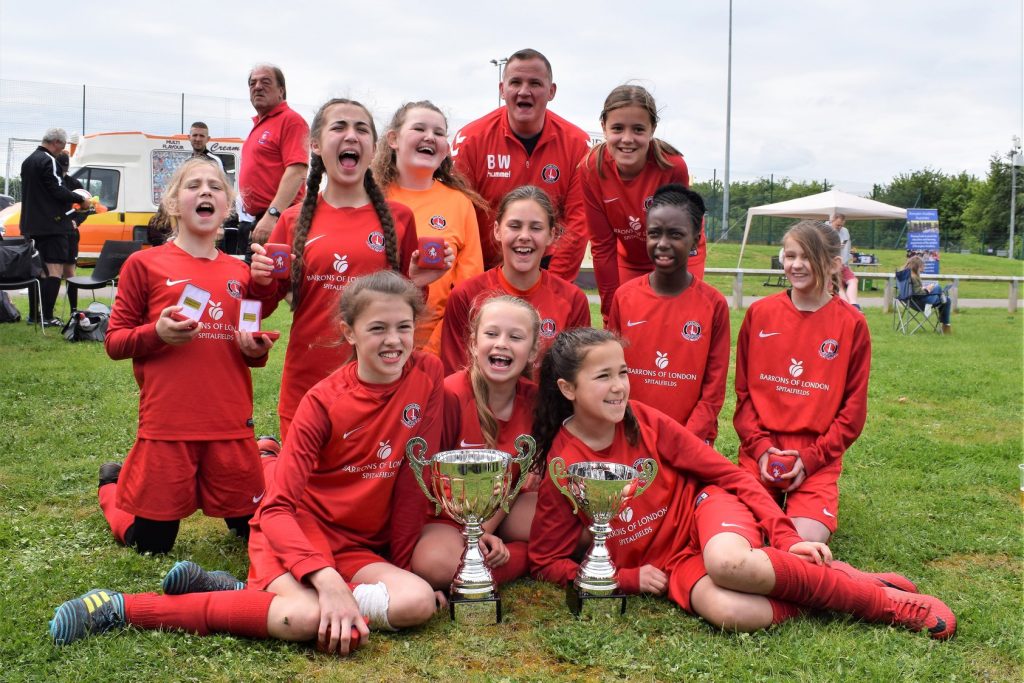 A great achievement girls. Well done from all at the JRFC.
---
U12 Girls – League Cup Winners 2018
Well done to our U12 Girls on becoming KG&LFL League One Champions 2018.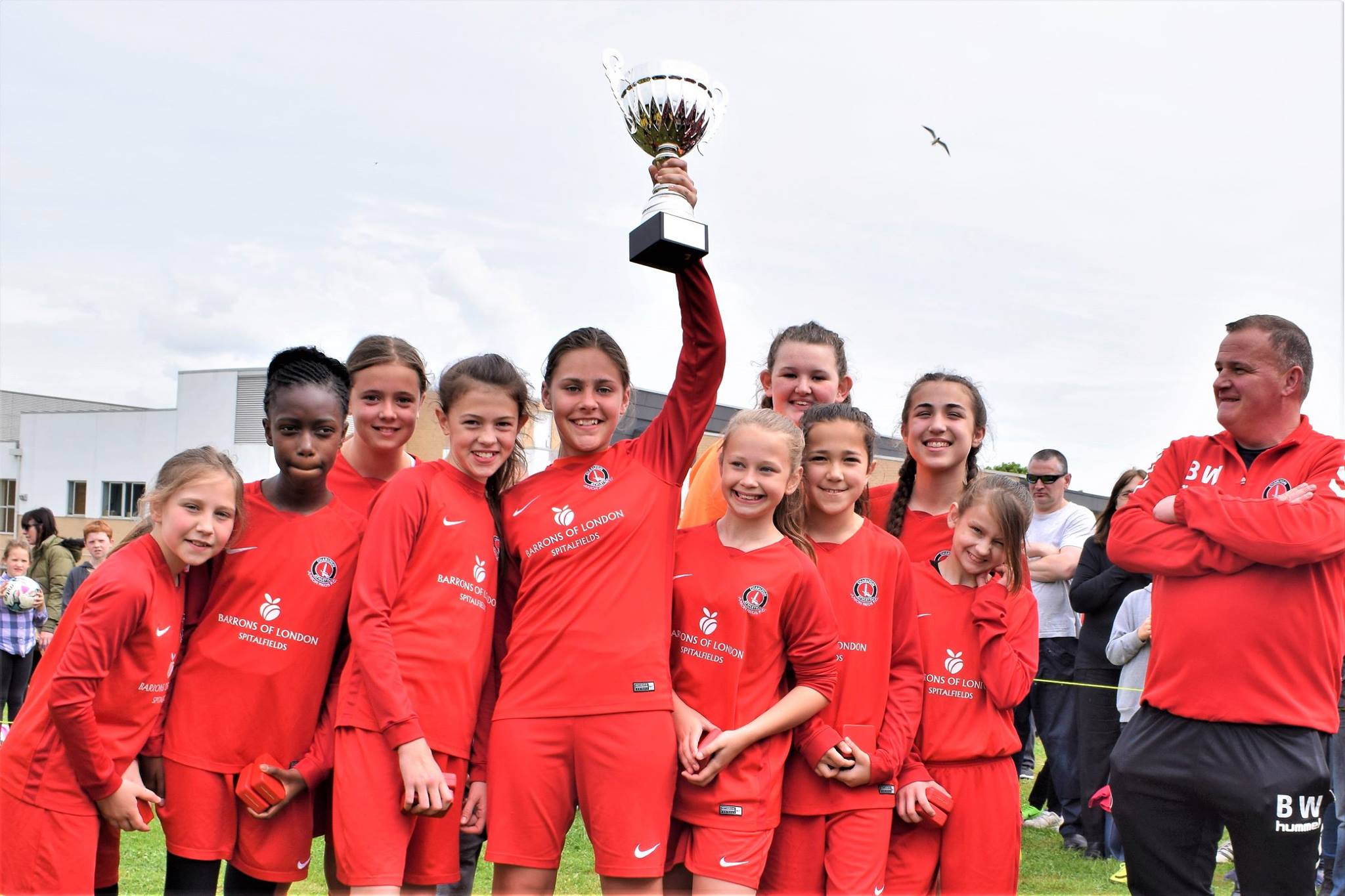 Congratulations girls from all at Junior Reds FC.
---
U12 Girls – League Cup Winners 2018
Well done to our U12 Girls on becoming KG&LFL League Cup Winners 2018 beating Dartford FC in the final.
Our U9 Girls won the Kent Girls & Ladies Football League (KG&LFL) – Gold Group, Shield Winners in May 2018.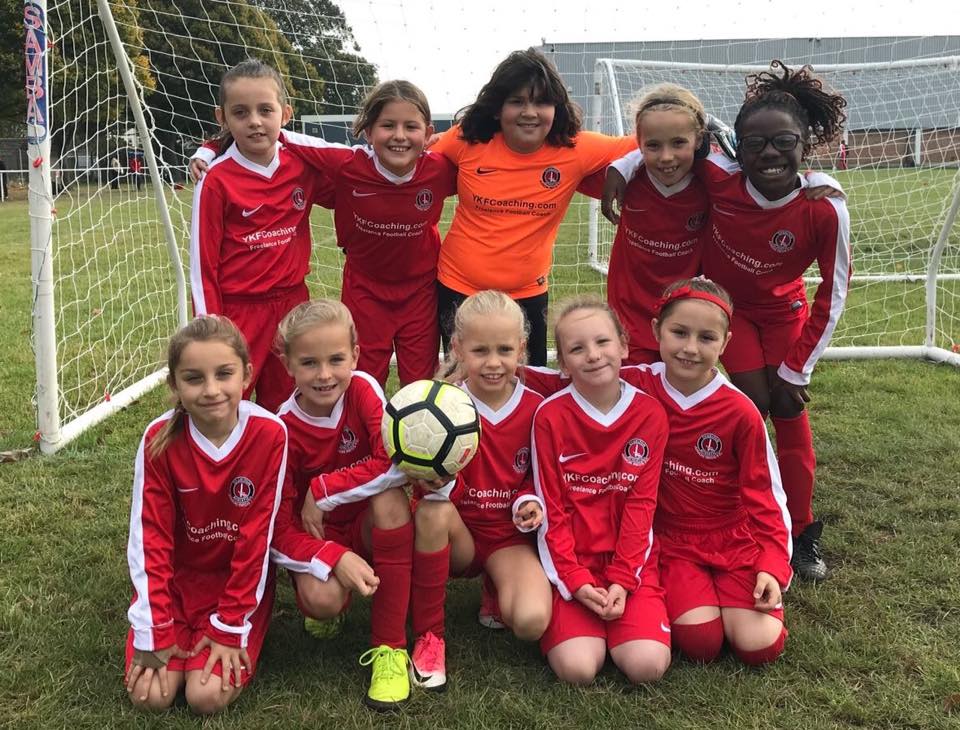 Congratulations girls from everyone at Junior Reds FC. 
---
JRFC – General Data Protection Regulations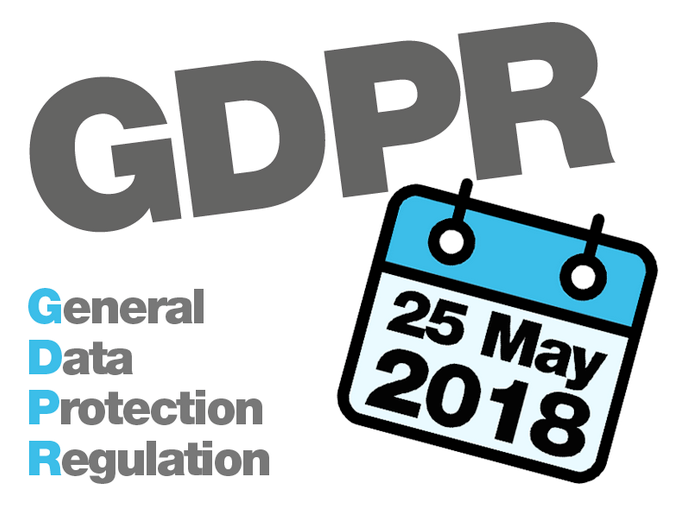 Junior Reds Football Club take your privacy very seriously.
In line with new regulations an update Privacy Notice has been published today. This notice can be found under the club information tab or alternative you can click on the link below.
Link: http://juniorredsfc.co.uk/club-information/privacy-notice/
---
Junior Reds Athletic (Adults) – Ben "goal machine" Maylon
Hat trick hero and goal machine Ben Malyon scored three goals in Sunday's Bert Holloway Final, which brings this seasons tally to an impressive fifty one goals.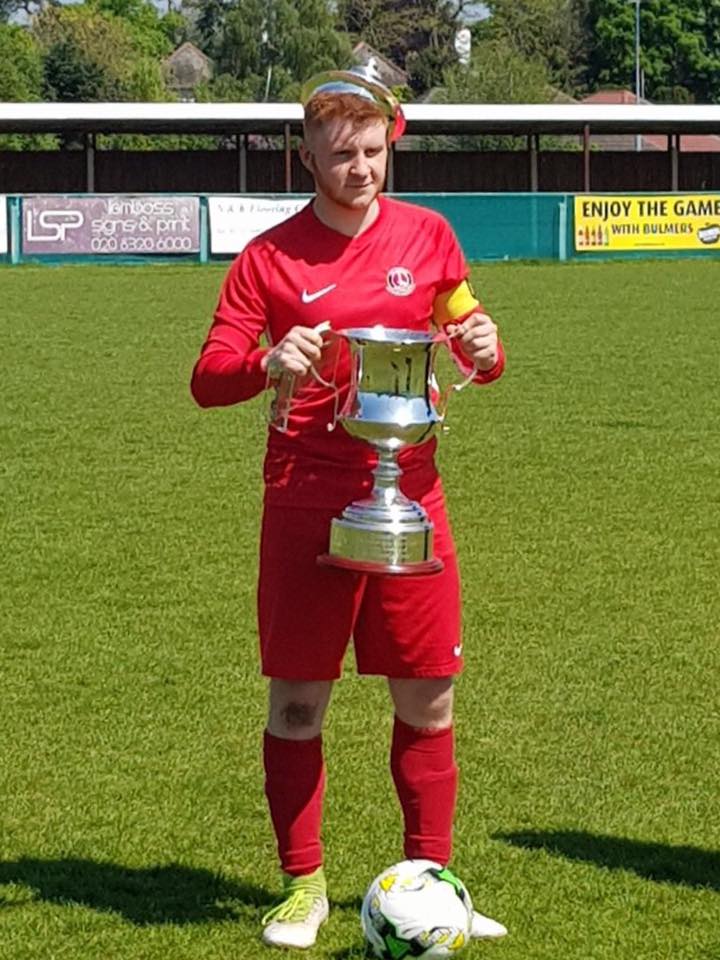 Congratulations Ben on a fantastic season.
⚽
⚽
⚽
🏆
---
Junior Reds Athletic (Adults) – Cup Winners
Our Junior Reds (Adult) Athletic squad became the Bert Holloway Memorial Trophy Winners 2018 following their match against St Micheals on Sunday 6th May 2018.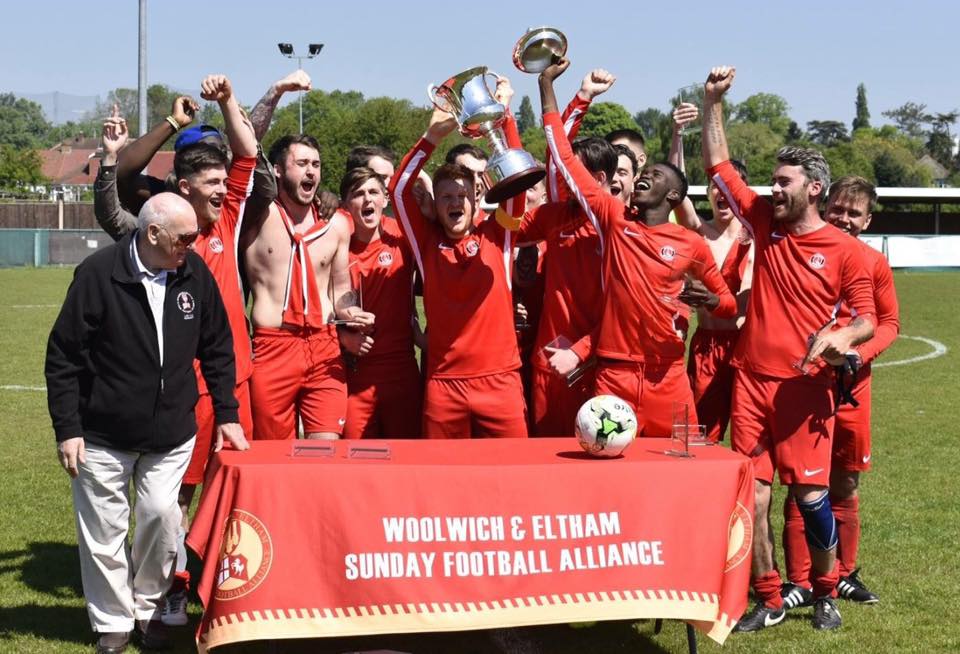 Congratulations gentlemen from all at Junior Reds FC.
---
U7 Athletic Vase Final
Our U7 Athletic squad played in the Selkent Vase Final on the 6th May 2018. They are pictured below with their runners up medals. Their manager, coach and parents were all very proud of the way they played and what a fantastic end to their first season together!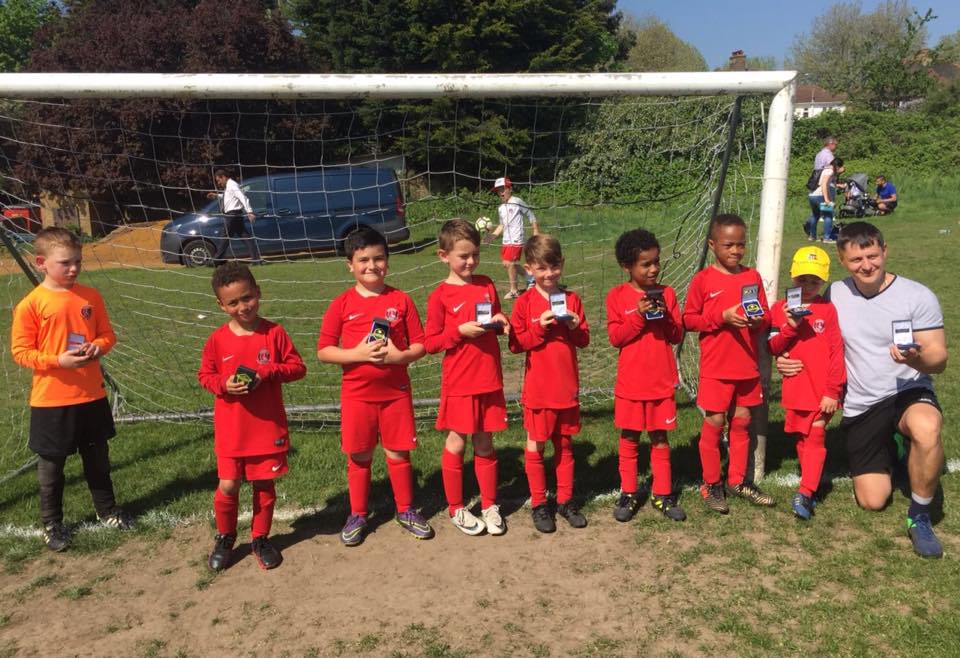 Congraulations boys a great achievement by the team.
---
Junior Reds FC Girls Primary School Tournament
Junior Reds FC hosted its annual Girls Primary School Tournament on Friday evening 4th May 2018 at its mini soccer base at Danson Youth Centre in Bexleyheath.
Six local Primary Schools from Bexley and Bromley took part – Barnehurst, Bedonwell, Burstead Woods, De Lucy, St George's (Bickley), and Saint Fidelis. Junior Reds U9s also took part.
The tournament was an opportunity for girls to play a series of matches against other Schools. Many girls – especially those in School Years 3 & 4 – were playing their first ever organised matches. At the end, all the girls were presented with participation medals.
Junior Reds holds girls only training at Bexleyheath Academy on Saturday mornings. All abilities are welcome. Contact clive@juniorredsfc.co.uk for further details.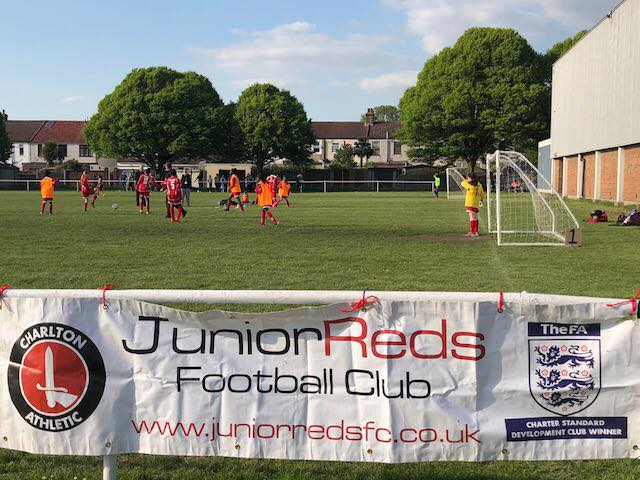 ---
KG&LFL U12 & U16 Girls Cup Final dates
Our U12's and U16's girls squads will play their respective cup finals on Sunday 13th May 2018. Details below :-
U12 League Cup Final
Dartford FC vs Junior Reds FC
Kick Off: 10am, Pitch 6
U16 Tina Marshall Cup Final
Junior Reds FC vs Ashford Angels
Kick Off: 10am, Pitch 2
Venue : Brompton Academy School, Marlborough Road, Gillingham, Kent ME7 5HT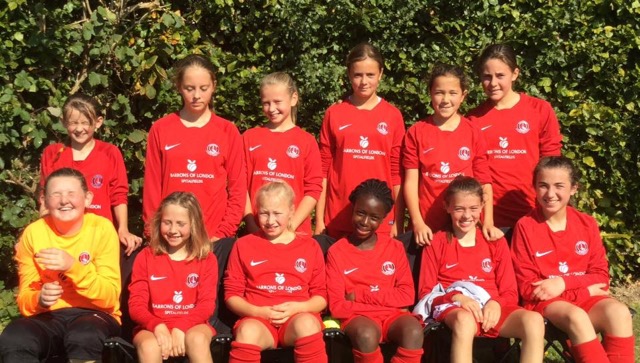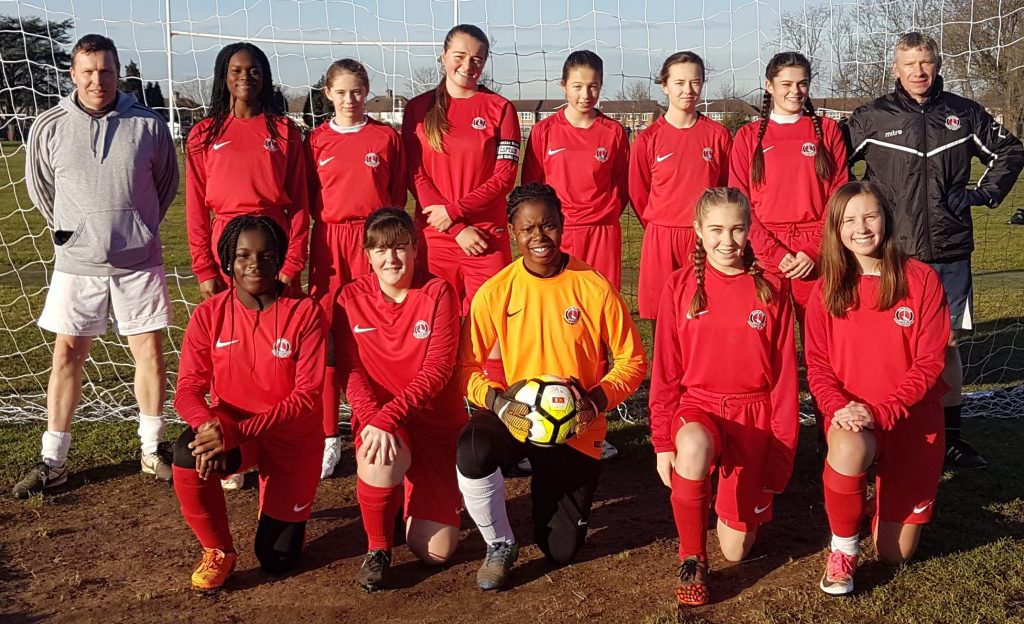 Good luck girls from at at Junior Reds FC
---
U13 Titans – Bob Staggs Shield Finalists
Congratulations to our U13 Titans who are through to the Selkent U13 Bob Staggs Memorial Brown Shield Final.
They will play Eversley Rangers in the Final.
---
Jack Petchey Girls Award – April 2018
Congratulations to Georgia from our U14 Robins on receiving the Jack Petchey Award for April.
Manager Yusuf said, "Georgia shows great talent with the ball during training and matches. Good striker of the ball, technically great, creative too. She's always taking on board information during training, whether it's technical, positional or tactical information and working on it straight away. I have no doubt she can play any level she wants to or thrive in anything she puts her mind to. She has a great attitude to team work and working hard. Often after training she'll take a ball and practise her freekicks and penalties. Sometimes reserved but always a big part of the team on and off the pitch. A real leader on the pitch with her skill, creativity, work rate and attitude."
Congratulations Georgia from all at Junior Reds FC.
---
Jack Petchey Award for April 2018
Congratulations to Hubert from our U15 Titans who is the recipient of the Jack Petchey Award for April.
His Coaches commented "Hubert has been with the team for 8 years. He is the team Captain and sets an example to all the players in terms of commitment in training and matches. He is always punctual, guides the team through the warm-up exercises, and offers constant guidance and encouragement to everyone throughout their matches. Hubert is also a fun person to be with, he's passionate about what he does, with an adventurous personality."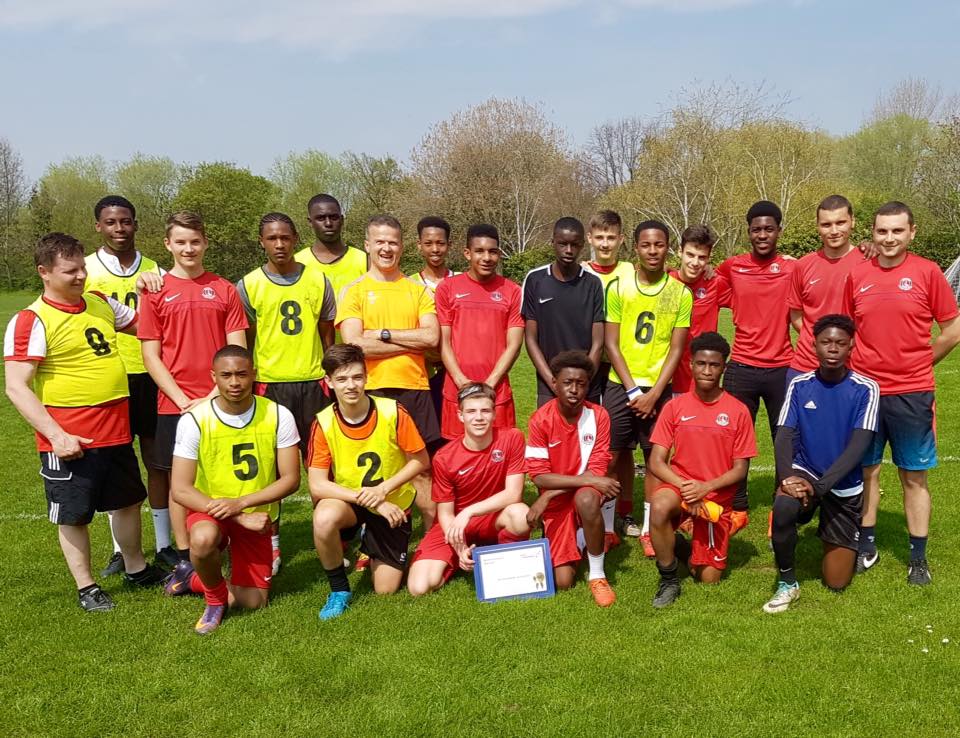 Congratulations Hubert from all at Junior Reds FC.
---
April U8's KG&LFL Festival
Our U8 Girls team (pictured in white shirts) were at Petts Wood FC on 22nd April 2018 taking part in the April KG&LFL Football Festival.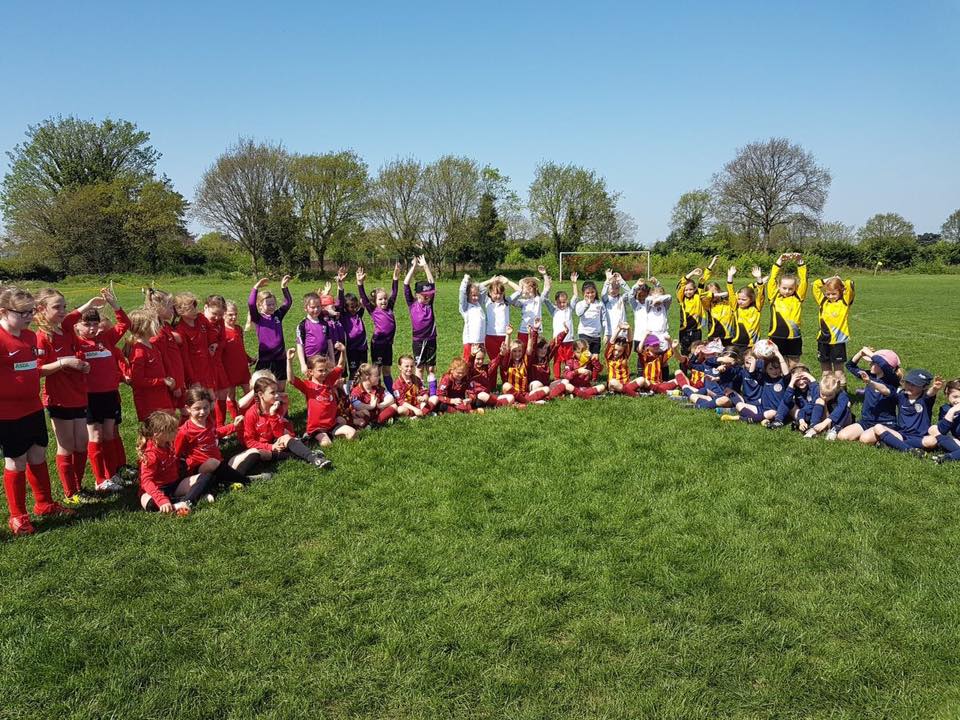 Many thanks to Petts Wood FC for hosting the event.
---
U14 Roses – a little piece of history 
It has taken a long time – 23 matches in fact – but on the 22nd April the Under 14 Roses experienced their first ever win as a team.
The Girls were newly formed last September with many having never played in teams before. The season started with a 10 nil thumping to emphasise the size of the task against established teams. Very gradually though performances have got stronger as player confidence and pitch awareness improved.
Manager Clive explained " The girls have really worked hard both individually and as a team over this season. Despite defeats they have to their credit never been dispirited. A great deal of satisfaction comes from seeing individuals getting better and better each week".
The Roses eventually achieved their first win with a 9 goals to one victory in an impressive performance and have good cause to celebrate.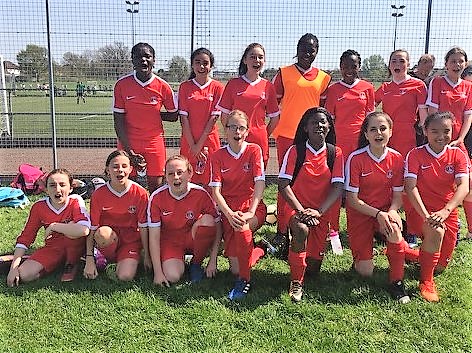 Congratulations girls.
---
U14 Spartans – Selkent league 'B' (East) winners
LEAGUE CHAMPIONS – Our U14 Spartans have won the Selkent B (East) Division today (22nd April 18) with three games still to play. This is the Spartans second successive league title after winning the the C (West) Division last season.
Many congratulations Alan to you and your squad. Back to back league titles is a fantastic achievement!
---
Saturday Soccer School
So nice to see the sun out and so many children enjoying our popular Saturday Soccer School. If you want to join in the fun see the attached flyer or contact Clive or Angela for more details.
---
Jack Petchey Award for March 2018
Congratulations to Tommy from our U16 Spartans for winning the Jack Petchey Award for March. His Coach said "Tommy has been my vice captain for league games this year and plays in central defence. In addition to his hard work and commitment on the pitch Tommy has been an asset in supporting coaching the team. As a new team at the beginning of the season we were conceding more goals than we should and Tommy suggested a change of tactics which was instrumental in improving our defensive play and significantly reduced the number of goals being conceded. In addition to this when I have been unable to take training on Saturday mornings due to work commitments Tommy has stepped forward and taken the training sessions and planned his own coaching drills."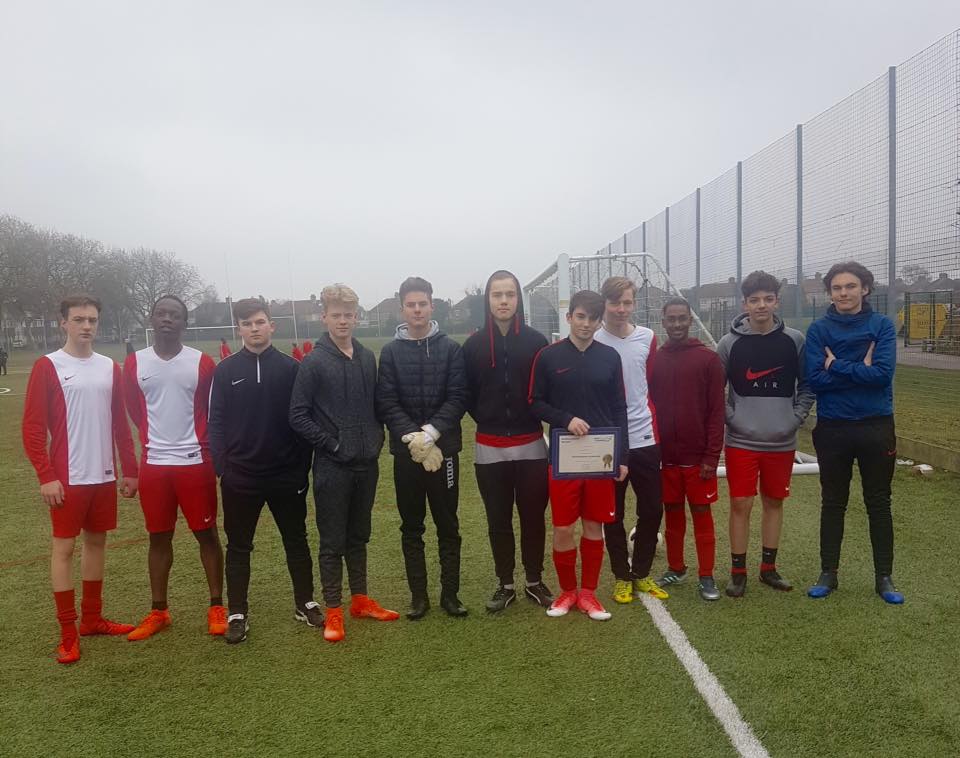 Well done Tommy from all at Junior Reds FC.
---
JR Athletic (Seniors)  reach Bert Holloway Trophy semi-final
Our Athletic (Sunday) senior team, who play in the W&ESFA league, have reached the Semi-Final of the Bert Holloway Trophy after topping their qualifying group. They will play Woolwich Spartans First at Hall place on the 22nd April for a place in the Final.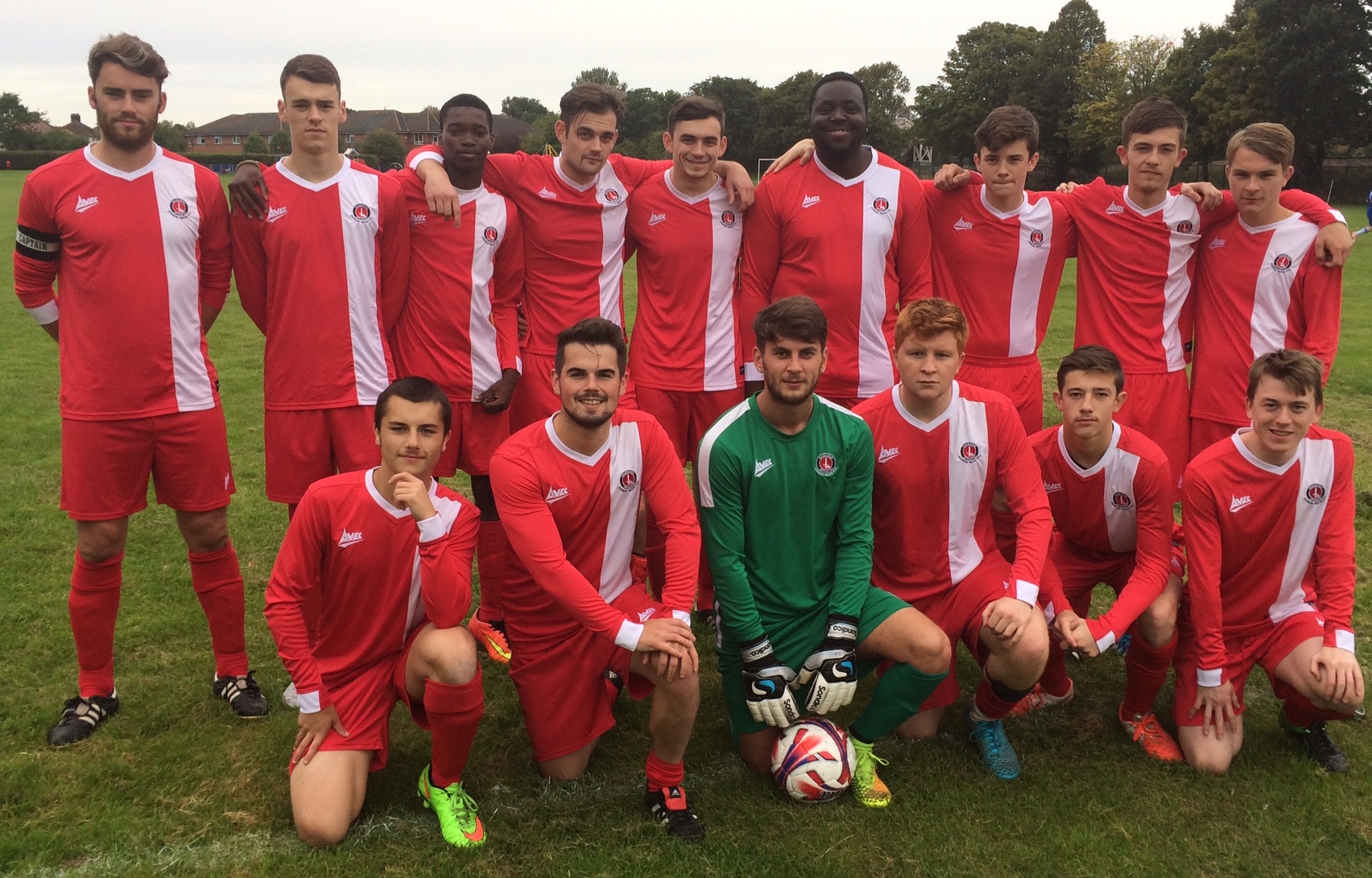 Good luck to Geraint and his squad.
---
U15 JR Warriors – Selkent Division C league winners
Many congratulations to Steve and his squad on winning the Selkent U15 'C' Division today with two games to spare.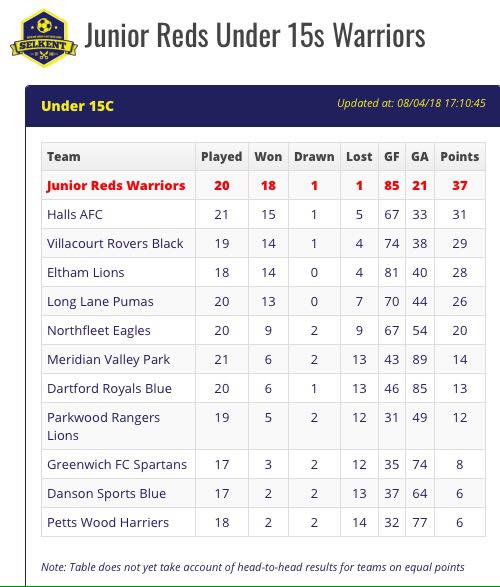 Many congratulations boys on a terrific season.
---
Jack Petchey Girls Award – March 2018
Mariam a member of the Under 14 Girls Roses. – received the Jack Petchey Silver Girls award for March during a recent training session. Team Manager, Clive said "Mariam has a first class attitude in always giving her very best at training and in matches. She shows respect and values to all her colleagues, is very sociable and sets the highest standards in sportsmanship. Mariam assists me in the clear up with equipment and even volunteered to clean our training bibs – a very special task! Mariam is an excellent role model for the other girls in the team."
Mariam has been an ever present in the team this season taking part in all 21 games to date.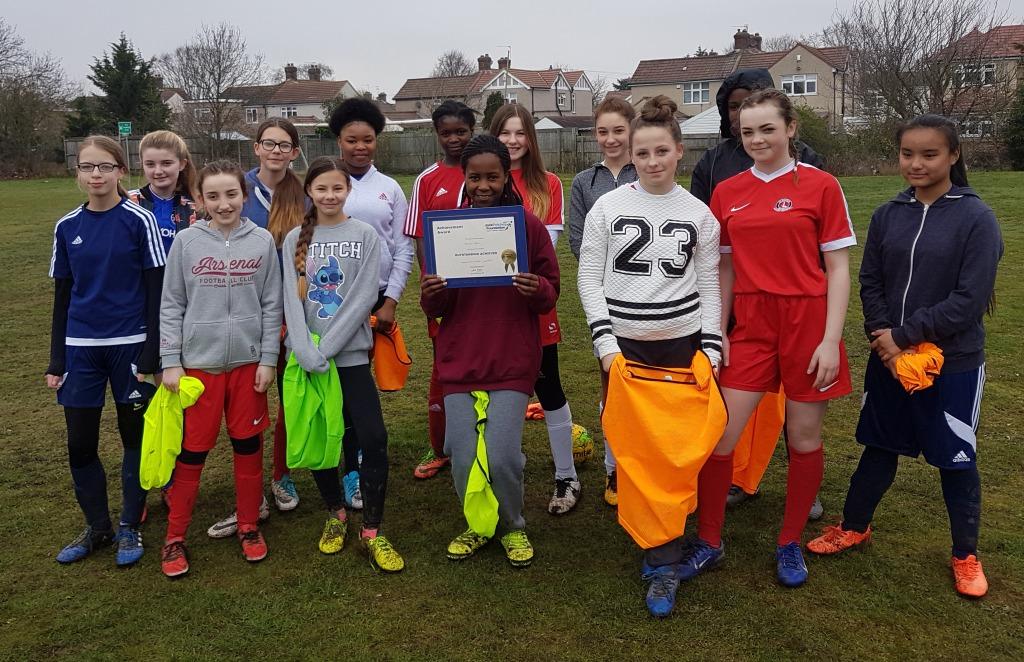 Congratulations from all at Junior Reds.
---
U16 Girls reach cup final
Our U16 Girls are through to the KG&LFL Tina Marshall Cup Final. They beat Anchorian Angels Hearts 2-0 in this afternoons cup Semi-Final.
Congratulations Girls and best of luck for the final!
---
U14 KGLFL League One Winners
Many congratulations to our U14 Girls team for winning the KG&LFL Division One league title.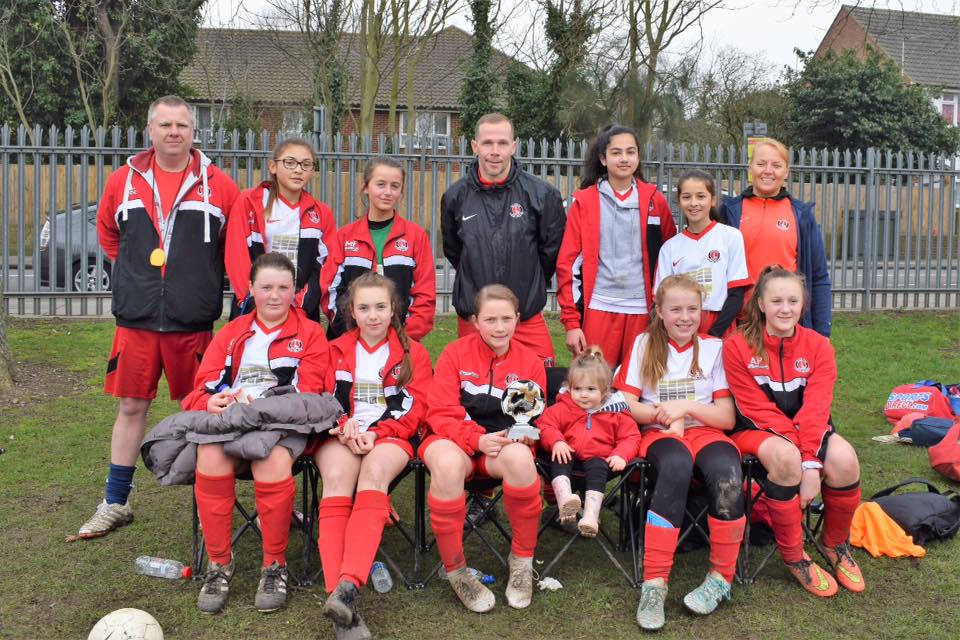 Congratulations to all the girls and coaches involved. A great achievement by all.
---
U8 KG&LFL Tournament – March 2018
Many thanks to Larkfield Ladies for hosting this months U8 KGLFL Football Tournament. Junior Reds Girls are pictured here (white shirts) with all the other teams and special guest, local MP and Sports Minister Tracey Crouch.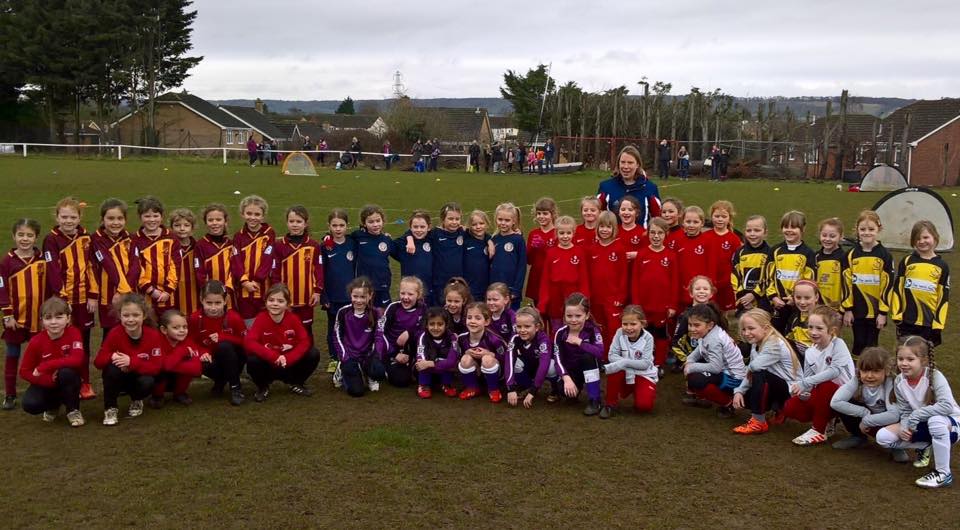 ---
Weekend Training – Saturday 3rd March 2018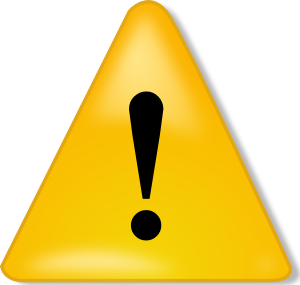 Due to the adverse weather conditions, all training venues will be CLOSED on Saturday 3rd March 2018.
Venue locations : Bexleyheath Academy, Pelham School, Welling School, Townley Grammar and Hall Place, are all closed. This means team training, Saturday Soccer School and Goalkeeper School have all been cancelled!
The status of Sundays games will be notified to Managers separately via email.
---
Get Into Refereeing…
The Kent FA are keen to support more females in becoming referees.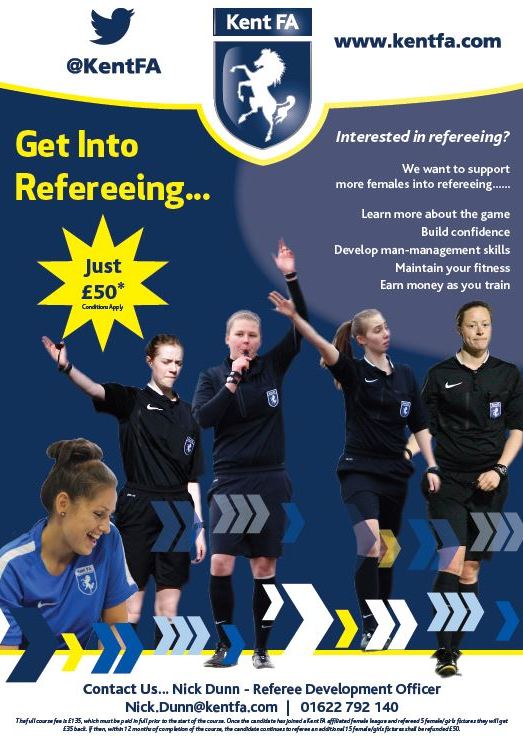 If you're interested in becoming an official for the beautiful game then contact: Nick Dunn – Referee Development Officer (email: Nick.Dunn@kentfa.com | Phone: 01622 792 140) for more information.  
---
Selkent League Champions (Division C)
Our U17 Valiants have won the Selkent U17 C Division.
Many congratulations to Mark and his squad for a brilliant season.
👏
⚽
🏆
KG&LF U12 Champions (Division 1)
LEAGUE CHAMPIONS – Our U12 Girls are confirmed as KG&LFL Division One Winners.
Many congratulations to Bob and the girls from all at Junior Reds FC 
⚽
🏆
👏
---
Jack Petchey Award for Feb 2018
Well done to Aaron (pictured below) of the under 15 Warriors, winner of this months gold Jack Petchey award.
Coach Steve said " Aaron is my captain, who plays as a central defender for the team. Not only does he use his mouth more than other players on the field, holding lines and motivating the other players is also an integral part of the training sessions. He sends me drill ideas throughout the week and details of positions and play, but also assists with stabilising the team. Aaron is a real credit to the team and I am proud to have him as my captain."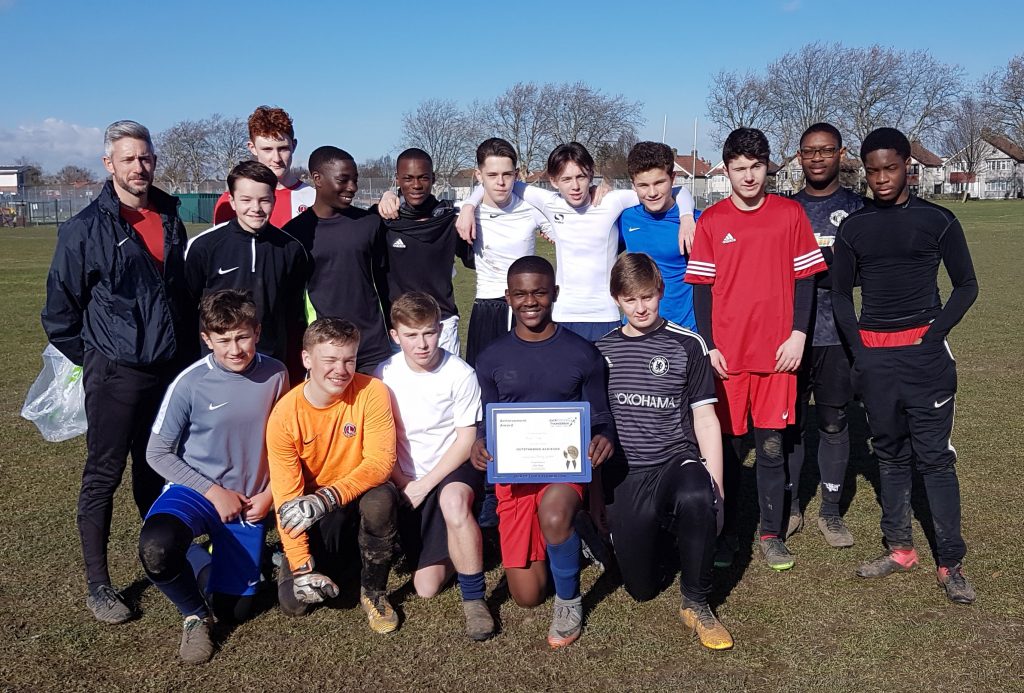 Congratualtions on your award Aaron from all at Junior Reds FC
---
Jack Petchey Award Girls for Feb 2018
Congratulations to Freya of the under 12 girls team, who is the this months Jack Petchey Girls award winner.
Coach Bob says " Freya is a ray of optimism and sunshine no matter what the weather. She is a best friend and inspirational to everyone in the team. A leader from the front, one hundred per cent is the normal starting point for Freya. She is a constant source of entertainment, never complains and always plays for the team."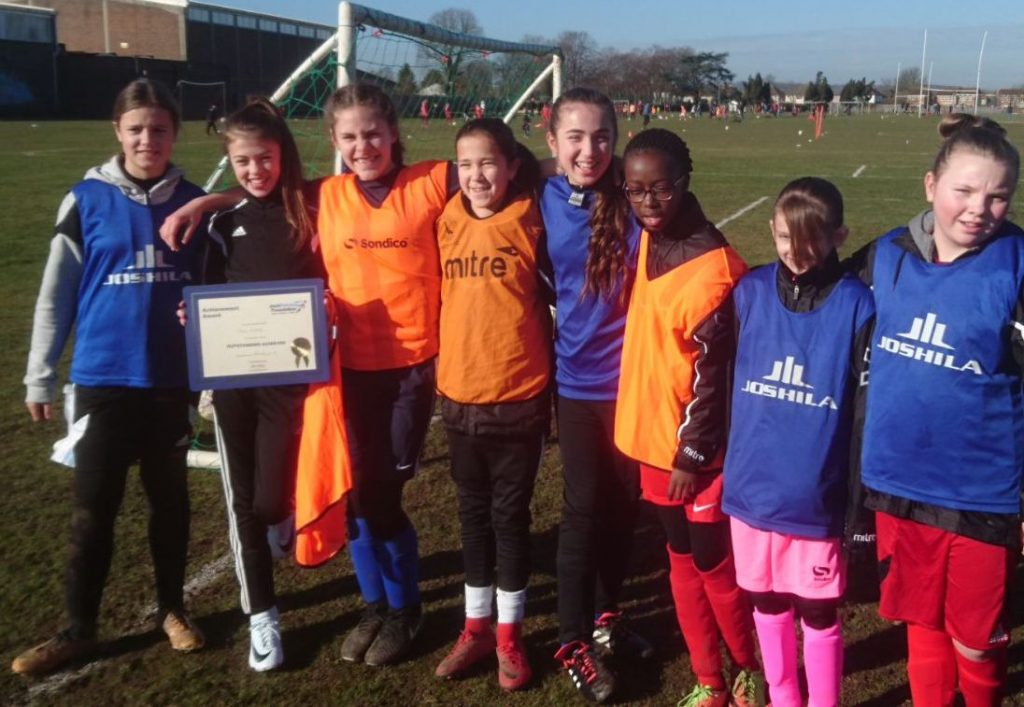 Well done Freya from all at Junior Reds FC
---
Girls squads through to Quarter / Semi & Final of different cup competitions
Our U12 Girls have been drawn a home tie in the AFA Capital Cup Semi-Final. They will play Alexandra Park West Girls (who beat Tottenham Hotspur Ladies 10-1) on Sunday 18th February.
Our U12 Girls are also through to the KG&LFL League Cup Final after beating Club Langley 3-2 in the Semi-Final on the 4th Feb 2018.
Our U14 Roses squad are through to the quarter final of the KGLFL Tina Marshall Trophy and will play Anchorians on the 4th March 2018.
Good luck to both girls squads!
---
Spartans U14's Reach Cup Semi Finals
Our U14 Spartans beat Guru Nanak Youth from the Selkent A league 3-1 on the 28th Jan 18, to seal a place in the Selkent Challenge Cup Semi-Finals. They now meet Dulwich Village Black in the semi final on the 18th March 2018.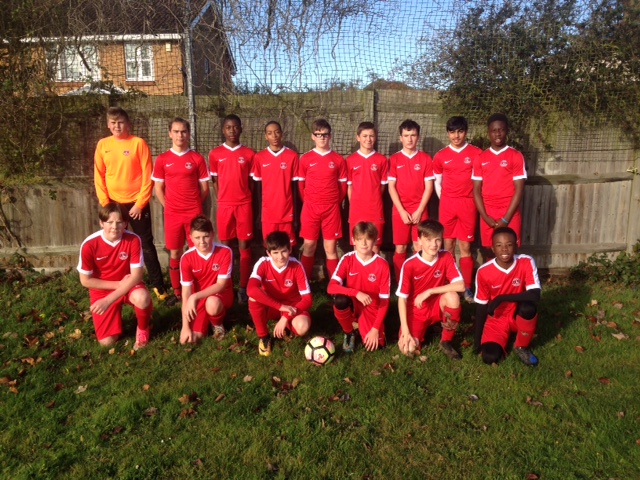 Well done lads and best of luck in the semi final.
---
Jack Petchey Award Girls for Jan 2018
Congratulations to our U8 Girls and Community Coach Chloe on receiving the Jack Petchey Achievement Award for January.
Chloe attends each Saturday the U8's training session, devoting her time to making her group a success. Chloe first appeared as a helper in the late Summer of 2016. Feedback from parents at a recent tournament was very positive and appreciative of her efforts in coaching the Under 8 girls. In addition Chloe helps at the Friday night primary school sessions helping to promoting girls football, which she has been doing for several months.
Well done Chloe from all at Junior Reds
---
Date for the diary – Club Presentation Day
A date for all your diaries, this years Club Presentation day will take place on Sunday 1st July 2018 at Charlton Athletic FC.
We look forward to seeing you all on the day.
---
ABOUT THE CLUB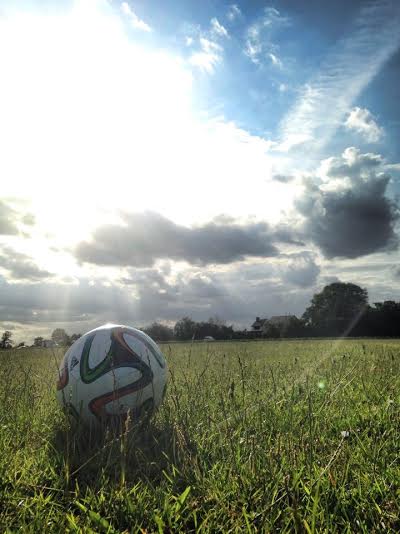 The Junior Reds Football Club was formed in 2001 to provide boys and girls, between the ages of six and eighteen, with the opportunity to compete in local Sunday Football Leagues in South East London and North Kent. The Club has steadily grown and now has over 40 teams competing in the Kent Youth League, South East London and Kent Youth League (SELKENT), Kent Ladies & Girls League and the Woolwich & Eltham Sunday FA. 
Click here to find out more details of the clubs history.
---
PLAYER & MANAGER RECRUITMENT
If you are interested in joining the Junior Reds, please contact:
Mobile: 07968 946256 or e-mail angela.wood@juniorredsfc.com
Clive Chivers, 

Club Secretary
Mobile: 07504 264157 or e-mail clive@juniorredsfc.co.uk
---