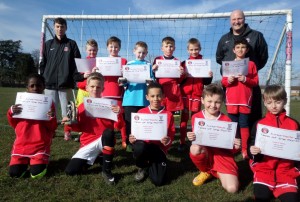 TEAM OF THE MONTH – February 2014 Winner
Under 9 Sabres
Manager : Darren Barlow 
Manager Darren said "I am very proud of the boys, they have come such a long way over the past year. They are a great bunch of kids to coach, very enthusiastic, they play for one another which shows on the pitch &  formed part of the reason we gained promotion & had great results in the new Division. Its great the team were recognised for their achievements with this award. Well done Sabres"
---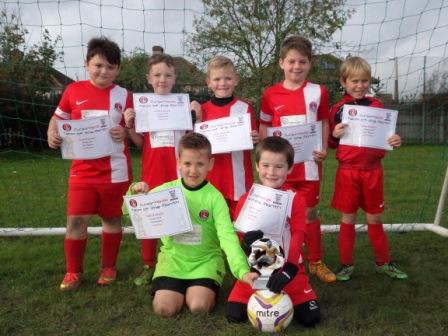 TEAM OF THE MONTH – October 2014 Winner
Under 8 Valiants
Managers : Lee Ford & Dave Banks
The boys enjoyed an excellent month in terms of progress both on and off the field. On the field the team won all four of their games. Off the field Team Manager Lee Ford commented "The boys have continued to show a lot of progression. They play the game in a great spirit and have been a credit to themselves and in representing the Club".
Congratulations to Team Managers Lee and Dave Banks, the boys and Parents for all their hard work.
---
T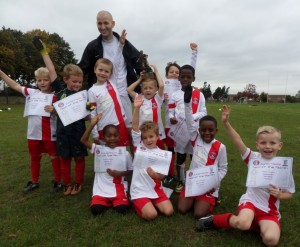 EAM OF THE MONTH – September 2014 Winner
Under 7 Knights
Manager: Shane Oake
The Team of the Month for September are the Under 7 Knights managed by Shane Oake. This team are newly formed and have been recognised for their exceptional  progress during the month after an initial heavy defeat.
The Nomination made by Gary Russell stated: "I wish to nominate the Under 7s Knights. They have only been together a couple of months and not played many games. The heart of the boys really shone through when they lost 10-1 to Dartford. They were not upset by this reverse but simply came out stronger and have really improved over the last few weeks to impress all that watch."
The picture shows they were delighted to be recognised as our first Team of the Month for this season.
Nominations can be made by Parents, Coaches or Managers for any of the Mini Soccer Teams to the Co-coordinator, Clive Hall-Strutt.
---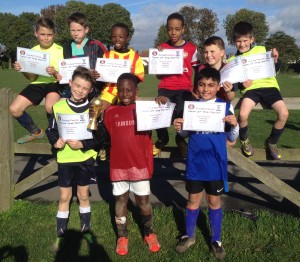 TEAM OF THE MONTH – October 2013 Winner
Under 10 Spartans
Manager: Alan Boulton
The Under 10 Spartans have enjoyed a very successful start to the season. The boys are currently sitting in second place in their Division and have proven particularly strong in home matches with three consecutive wins. Coach Alan has been impressed and said " I have a great squad of boys and Parents. I am not only building a great little football team but also the boys are becoming good friends".
The Under 10 Spartans are deservedly our October "Team of the Month". Well done Alan and John.