Monthly Archives:
June 2014
Junior Reds Football Club attended their first fete of the summer this afternoon at Gallions Mount Primary School in Plumstead.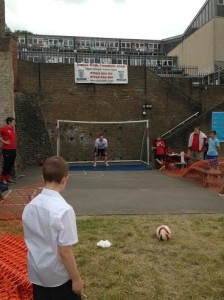 The afternoon went extremely well with the JRFC coaches speaking to over 100 children and parents whilst putting on the ever popular 'beat the goalie' stall.
The warm weather saw a record crowd at the fete with JRFC raising £50 for the school in the process.
Sam Lilburn said "My thanks go to Gary Russell, Karl Lucken, Jamie Hyam and young Goalkeeper Bobby Dunne for their fantastic efforts at the fete this afternoon".
"We are now looking forward to the rest of the summer fetes that are coming up over the next few weeks".
If you would like to volunteer to help at the fetes please contact Sam Lilburn on 07532230533.