Daily Archives:
07/19/2014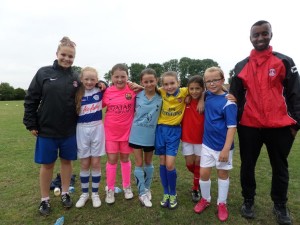 After a five year absence the club are forming an Under 11 girls football team for next season.
The team train at Bexleyheath Academy at 10.00am on a Saturday morning.
All girl players in years 5 or 6 at School, interested in playing football and the possibility of joining a team are welcome.
Please contact Grainne Feeney on 07828 164 557.
Chairman, Clive Chivers, said "We are determined to form a new girls football team for next season and have made a very encouraging start. It is something that has been long overdue but we have recruited two very capable coaches and now need to expand our girl players to compete in a league next season.
This is an exciting development for the Club and we fully support this initiative to provide football to all. If interested please come along to Bexleyheath Academy at 10.00am on a Saturday morning".

Over the Summer Junior Reds have been busy supporting Schools in their fund raising activities.
On the 19th July we operated very popular "Beat the Goalie" attraction at St. Michael's School in Welling. Lots of children took part and all received a prize. At the end a mass game of football was played. Children all showed their potential and in case of injuries the St. John's Ambulance were in attendance to help.
 Our picture shows players and St Johns having a half time rest. A prize for the first to spot a dummy.