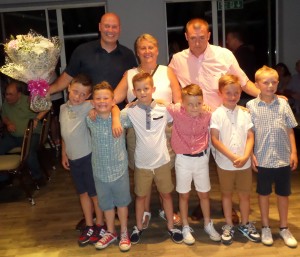 It was a special occasion at Eltham Warren Golf Club last Friday (18th July) as the Under 7 Athletic team paid tribute to Pauline Berry upon her retirement.
Pauline has been active with Junior Reds over several years and has undertaken numerous roles in that time. Pauline has been a Team Manager of an Under 16s; a Saturday Soccer Club Coach; Club Social Secretary; Danson Ground Steward when required and last season as mentor to a new team at Under 7s.
Under 7 Athletic Team Managers Terry Jolly and Jamie Delaney were keen to organise a special tribute and kept their plans secret for several weeks. The Managers said "Pauline showed us how to organise a team and she has been very supportive in many ways. Pauline was our Referee; constantly fair and ever present to give advice. We will miss her although I know the boys will always be hers and she will be keen to follow their progress".
The Club will greatly miss her numerous services. She was ever reliable; extremely dedicated with at times a sense of humour.