Monthly Archives:
August 2014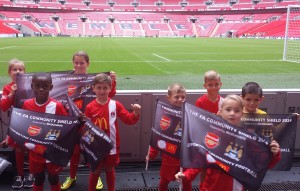 Our under 8's Addicks made an appearance at last weekends FA Community Shield game between Arsenal and Manchester City thanks to their sponsor McDonalds in Sidcup. The squad took part in a once-in-a-lifetime opportunity by joining in the Club Twinning Team Parade at Wembley Stadium.
They were the youngest team there and they represented the club really well, behaving impeccably given the time spent waiting between the rehearsal and the actual parade.
The team were given flags and banners to wave as they paraded around the hallowed turf and received generous applause from all sides of the stadium.
When asked about the day the squad said "they were so excited and felt extremely important during the actual parade".
Managers Mike & Ben said "we were so proud of them and I know that the memories of walking out on the hallowed turf will never be forgotten".